Quilting is a part of the Southwest Virginia culture.  Born out of necessity, it is also an art.   As I meet people and their quilts, I'll try to include them on this page.
The beautiful quilt below is the 2014 Mendota Communty Cemetery quilt.    It's called "Crossroads".    I placed a sheet on the fence and hung the quilt so you can see the pattern.   We raffled this quilt off in August, 2014, after selling over 2100 tickets at $1.00 each.  Diane Fleenor Salyer, a local person, won the quilt.  She was so excited, and this quilt is treasured today by Diane and will be a heirloom tomorrow for her family.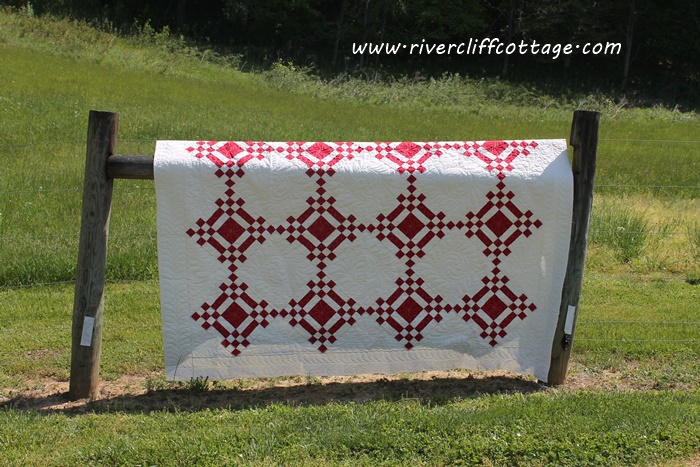 Here's the quilt in a rocking chair. I love this quilt.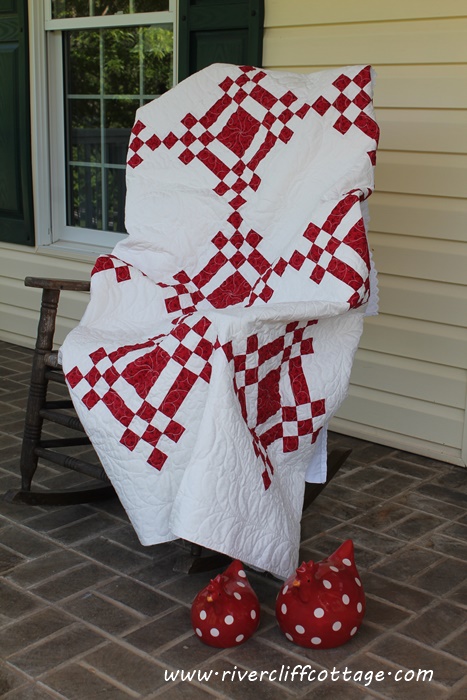 At the 2013 Mendota Heritage Festival, the Mendota United Methodist Church hosted the quilts.   We did not have as many quilts to show as usual, but there still were plenty to admire.
This quilt top pictured below has not yet been quilted.  It is a lap quilt made by my sisters, Nancy Barker Booher, and Pat Barker Gardner.   I bought the fabric but didn't participate in piecing it — they are doing an extraordinary job.   I like the black-and-white checkered border and appreciate the assistance of the owner of the Virginia Highlands Quilt Shop for helping me pick it out.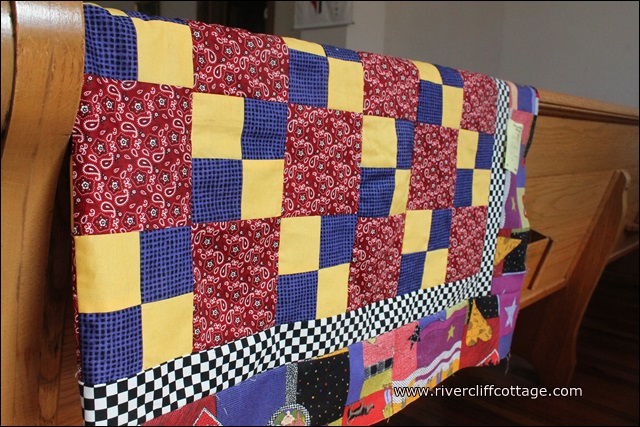 If you are interested in genealogy in Mendota, you'll come across Ruth and Roy Nickels' name. This beautiful quilt pictured below was made by Ruth and given to her daughter-in-law, Ann Nickels. Beautiful.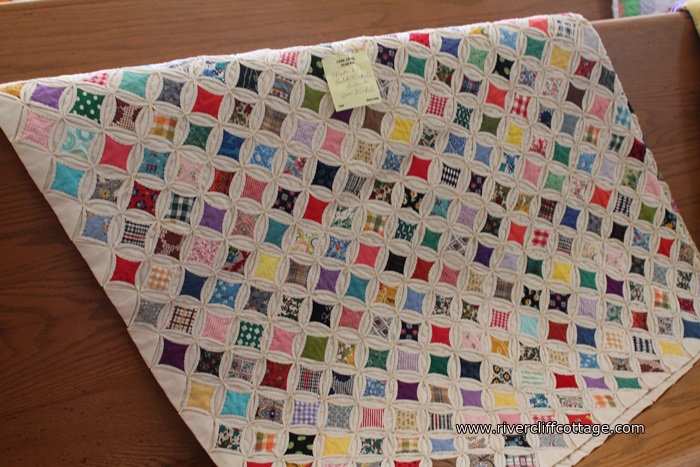 Marge Dean's quilt…I love this pattern and colors.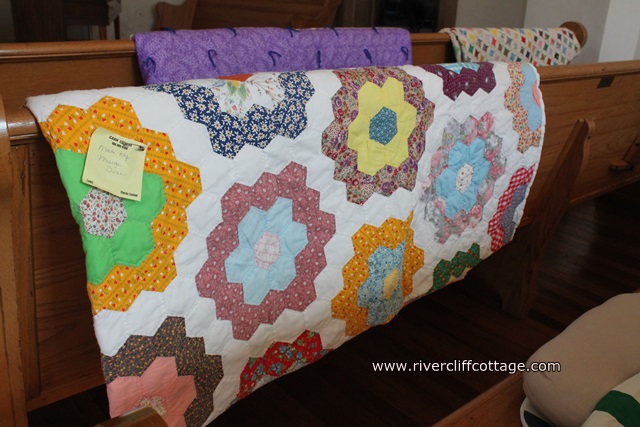 The quilt pictured below is mine. I won it at a silent auction benefiting the victims of the Glade Spring tornado two years ago. It's one of the most beautiful quilts I've ever seen.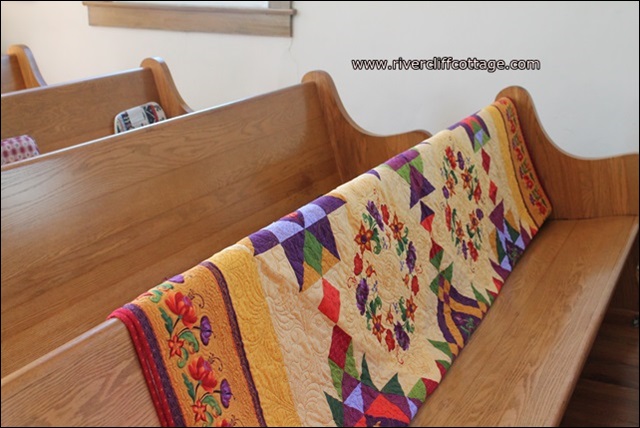 The color combination in this quilt shared by Irene Porter is a feast for the eyes. Irene's husband is Pastor Bill Porter of Mendota United Methodist.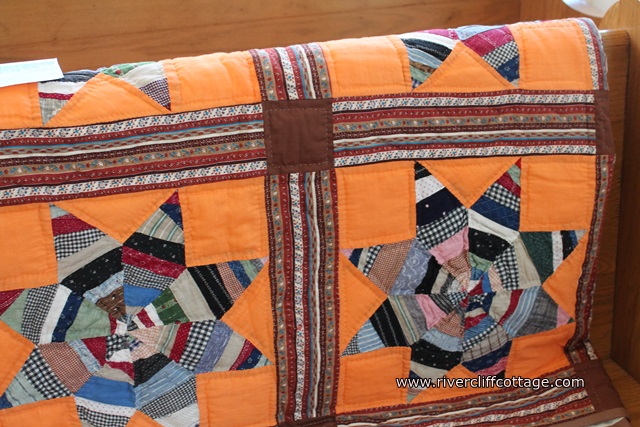 This reminds me of a "Quilt Parade."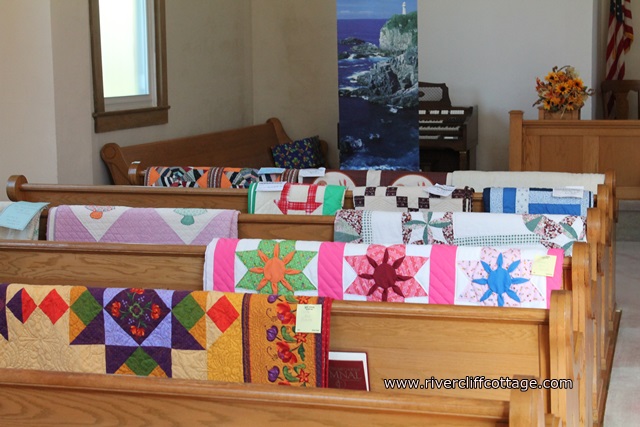 I hope you enjoyed the 2013 Mendota Heritage Festival Quilts. Keep reading…there is more about out local quilts below.
* * * * * * *
Update:  Following the entry below, "I'll Fly Away" was won by Mrs. Ruth Rice.     She and her family have donated it back to the Mendota Cemetery Association, and it is being "re-raffled" (is that a word) with a raffle drawing date in December, 2013.
The 2013 Mendota Cemetery Quilt is pictured below, and you can see a few more pictures here in this post.   This is an amazing quilt created by talented, giving women in Mendota.   We're currently raffling this quilt off for $1.00 per ticket.  All proceeds benefit the Mendota Community Cemetery — a peaceful place that has never charged or turned away a family in need.   Quilting?  Women gathering and giving?  A rural community that comes together  again and again when there is a need?    That may not sound like 2013 but it is Mendota.   Here's "I'll Fly Away."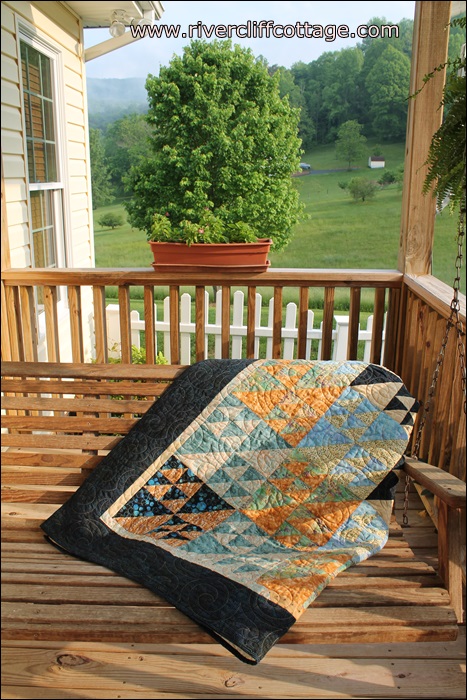 For the Mendota Cemetery fundraising project for 2012, 30 women participated in the creation of the Common Ground quilt.   Chris Schanzenbach led the group. The quilt will be given away at the Mendota Homecoming on the 4th Sunday in August.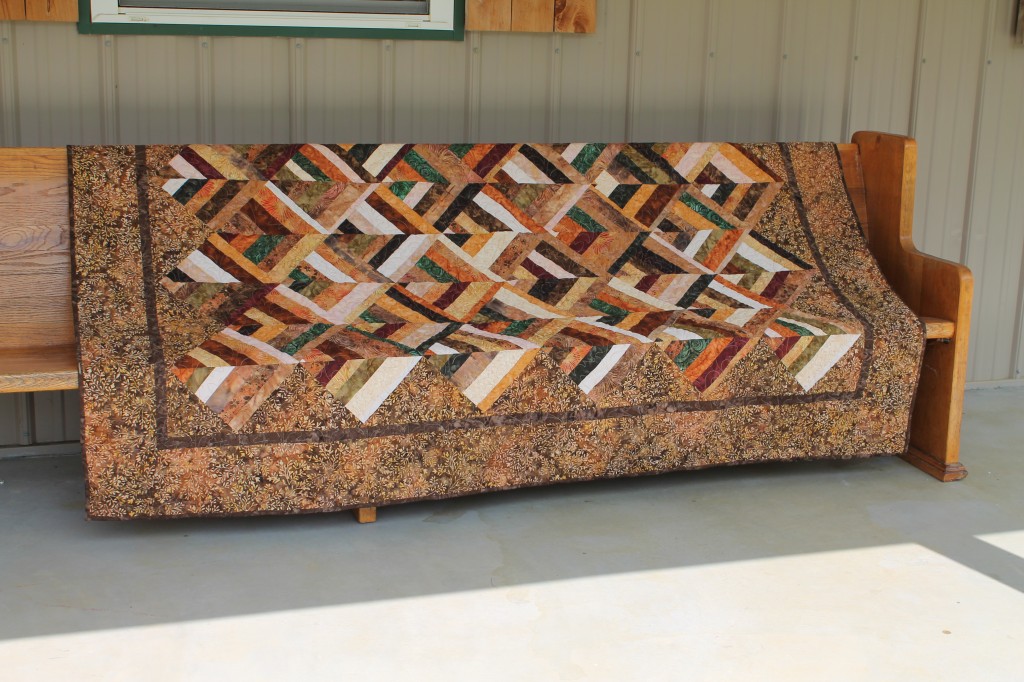 The photo below is of Chris and her daughter, Erin. Chris will be teaching quilting in the fall in Mendota. I hope to take her class.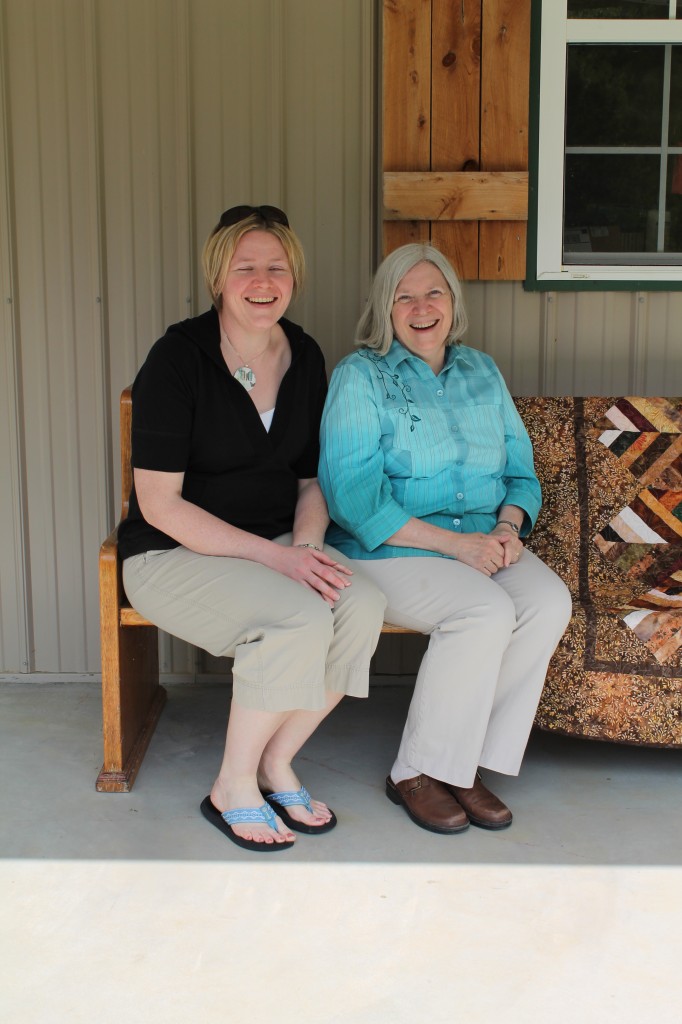 * * * * * * *
"Turkey Tracks" featured below was created by Mrs. Ruby Parker when she was in her 70's. The quilt is hand pieced and hand stitched and the completion date of December 3, 1987 is embroidered on the quilt. Mrs. Parker sang in the Mt. Vernon choir and died two years ago–well into her 90's. Her son and daugher-in-law (Jack and Joanne Parker) donated the quilt to support the 2012 Mt. Vernon Cemetery Fundraising. It was raffled on Memorial Day and was won by Jamie Wood of Hiltons, Virginia. Interestingly, her barn has the same quilt square on it. The quilt raised over $1400.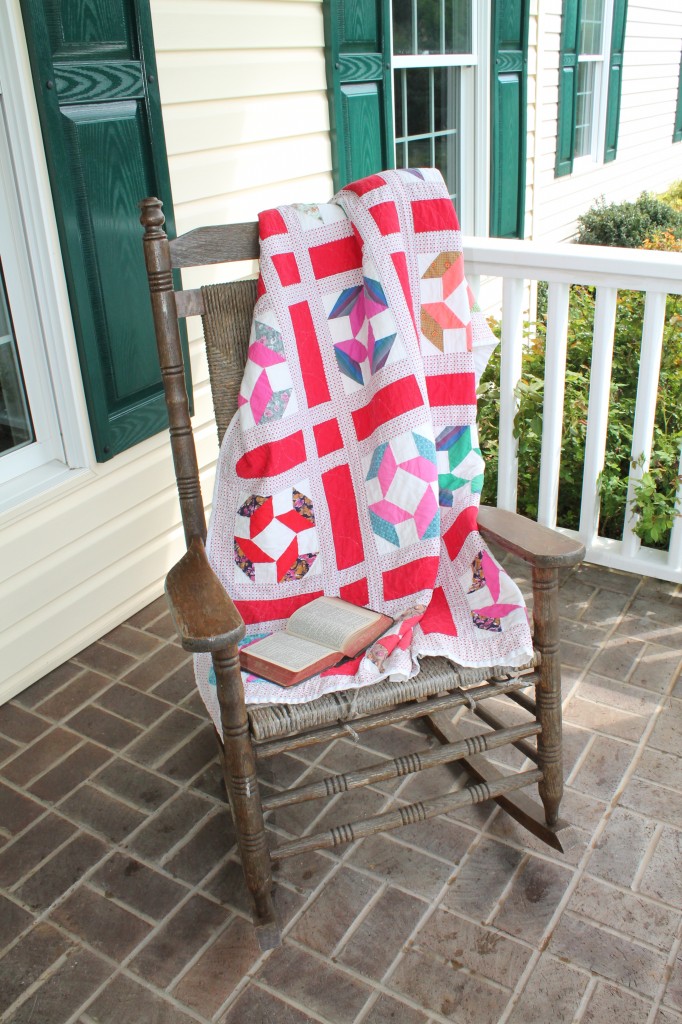 * * * * * * *
I get so many compliments on this quilt.  It was made for me by Mrs. Edgar "Joyce" Sproles of Mendota.    It is another one of my treasures.  She is also a treasure.  While she has many health challenges, she continues to create.  I like the way she put these colors together.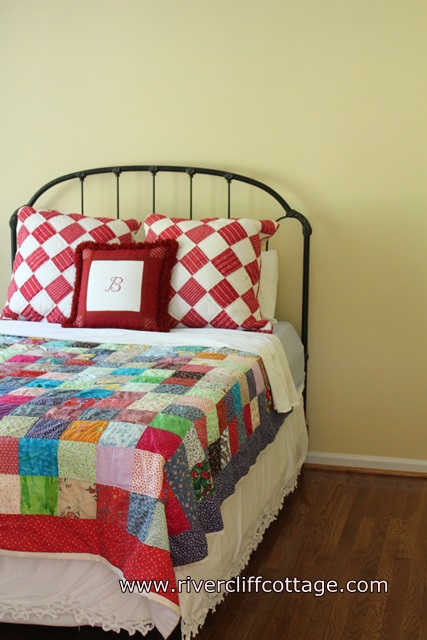 This quilt was made for me by Mrs. Ruby Smith. She was in her late 80's when she machine pieced and hand stitched this double wedding ring pattern. I recently gave it to my nephew as a wedding gift.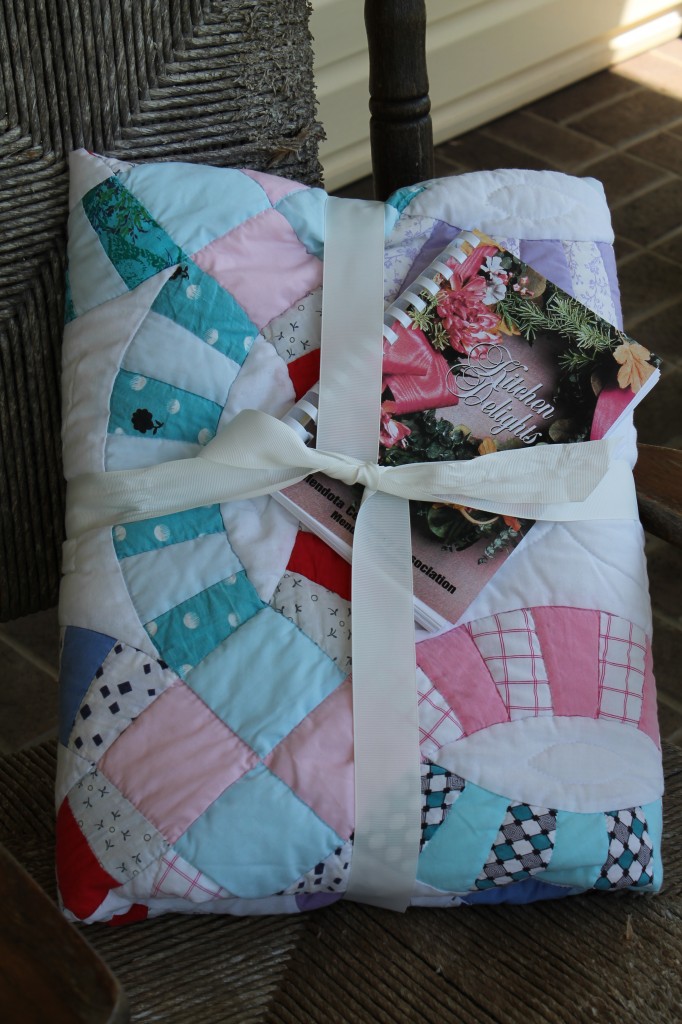 * * * * * * *
This quilt was purchased in Flag Pond, Tennessee about 20 years ago.  It was before Interstate 26 was established so while traveling the winding two-lane road between Asheville and Johnson City,  I saw it hanging on a fence with a for sale sign.  It was $75.    I love red and white, and while it's not an especially well made quilt, it's pretty and looks good in my den.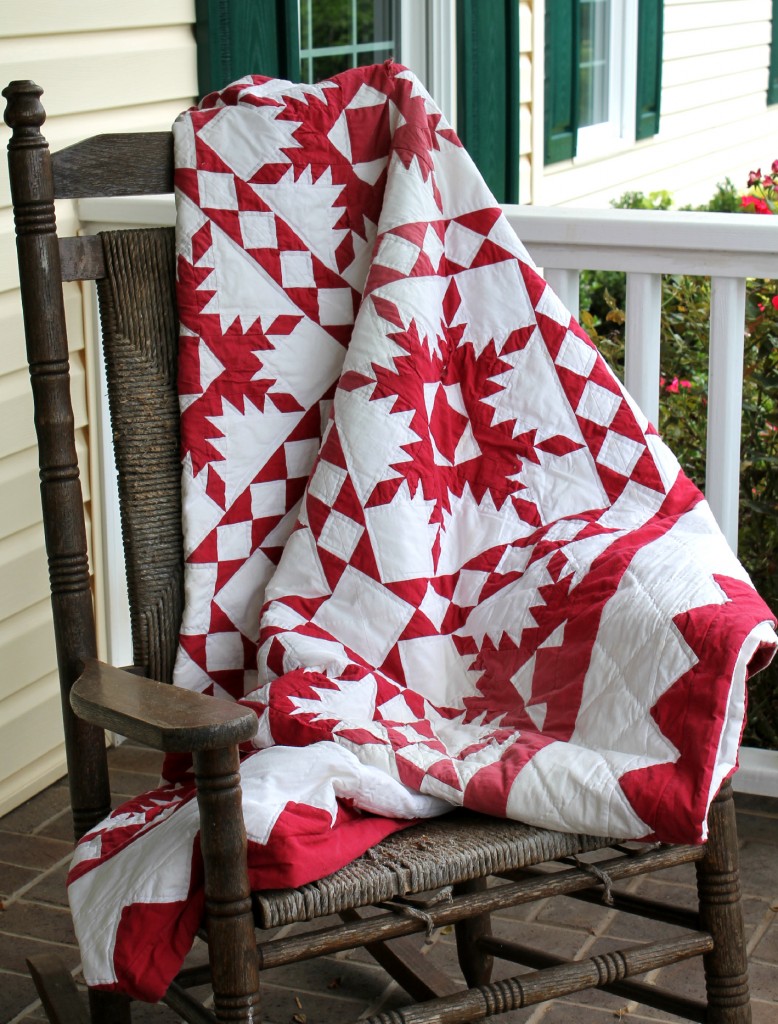 * * * * * * * *
This flower garden quilt was made for me by Mrs. Ruby Smith about three or four years ago.  It's pictured on the bed in my guest bedroom.   Machine pieced and hand quilted.  The quilt stitches are perfect.  Ruby will be 96 this year.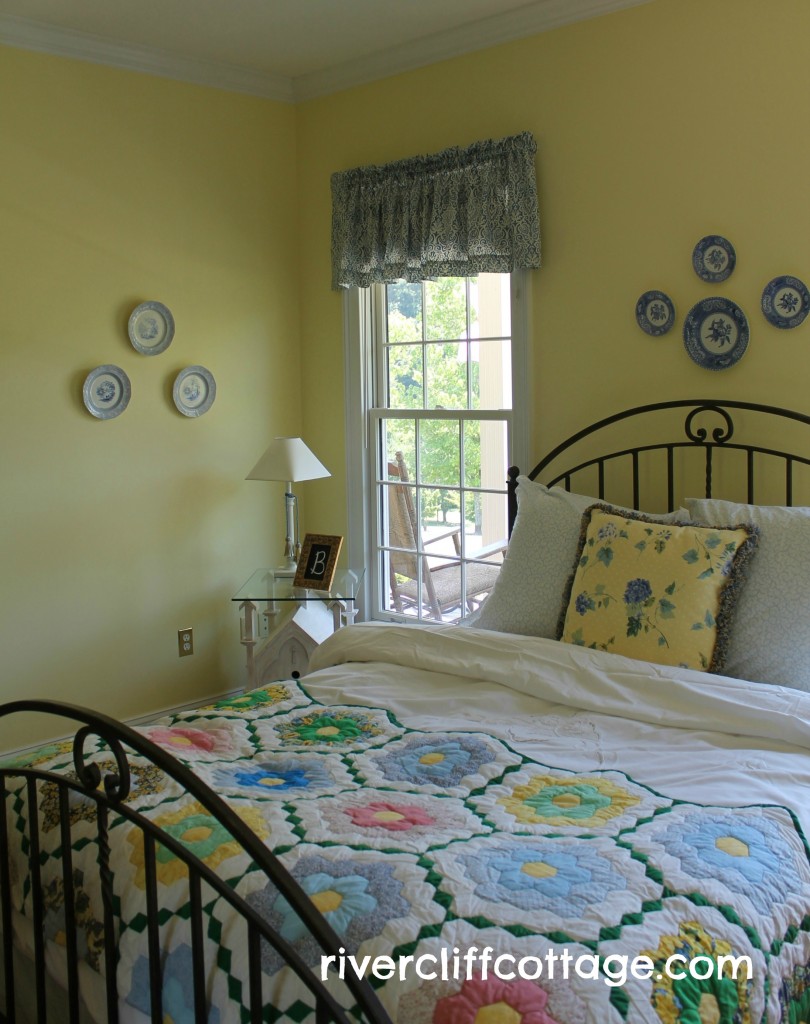 * * * * * * *
The quilt below is  the 2013 Goodson Kinderhook Volunteer Fire & Rescue raffle quilt.    I thought for sure someone I sold a ticket to would win, but that was not the case.   It was a beautiful quilt.  Tiny, perfect stitches by Ruby Smith.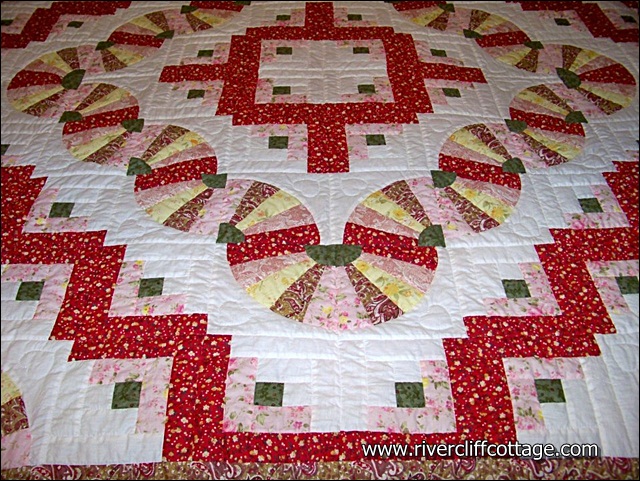 * * * * * * *
And this lovely quilt was a gift from my friend Joyce (Joann) in Hiltons.   I'm not sure how I deserved this beautiful quilt.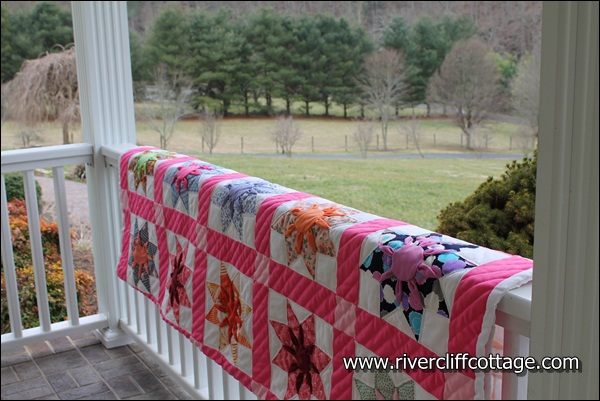 This part of the blog is a work in progress.  If you have a quilt to share, please let me know.
(3755)