Welcome to my home.  My husband worked many years to purchase this land and build this house.  It was his gift to me, and I am forever grateful.  I spent the first 20 years of my life telling anyone who would listen…"I can't wait to see Mendota, Virginia in my rearview mirror."  After a period of time, I grew up and realized the value of living in a rural environment such as Mendota.   Once you've tasted the water of Poor Valley, water anywhere else will never taste quite as good.   I was in my early 40's when I finally made it back for good.
Here's the real RiverCliff Cottage on a misty morning.  Since we live on a river, the sun has to burn the mist off in the morning.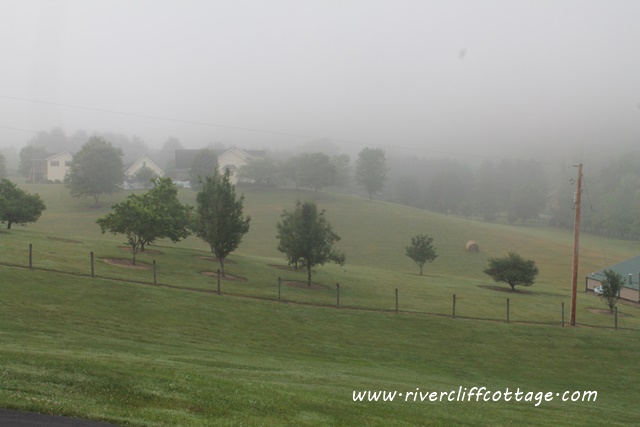 Ahh…here it is after the mist has lifted.   I love this pretty place.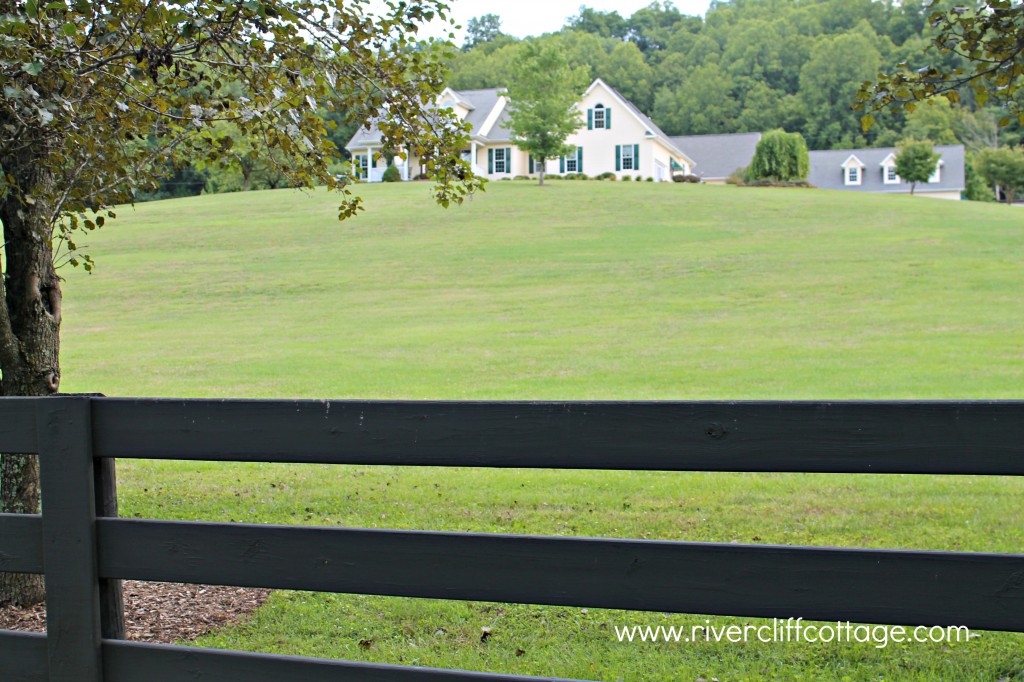 We are perched up on a hill.   When I walk in the mornings, it is a killer walking back up this hill.  I usually turn around and walk backwards!  I like to sit on the porch and look out over the river and up at Clinch Mountain.  My mountain. It's like living in a postcard.   I am a mountain person, and I never fail to appreciate living in a mountain valley. If you look at the picture below, just across the road, the road runs parallel to the North Fork of the Holston. My river.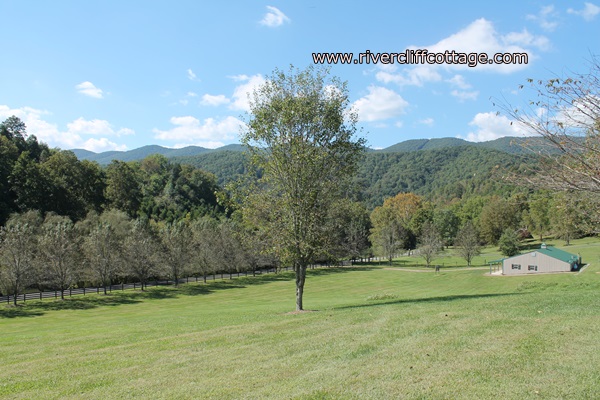 One more picture before we go inside the house.   I learned to swim in the North Fork, skinny dipped there as a teenager, parked by the river as a teenager,  fished there as a young woman and now I am privileged to live by it.    When kids swim and play in that river, their voices and laughter echo up toward the house  — it's music to my ears.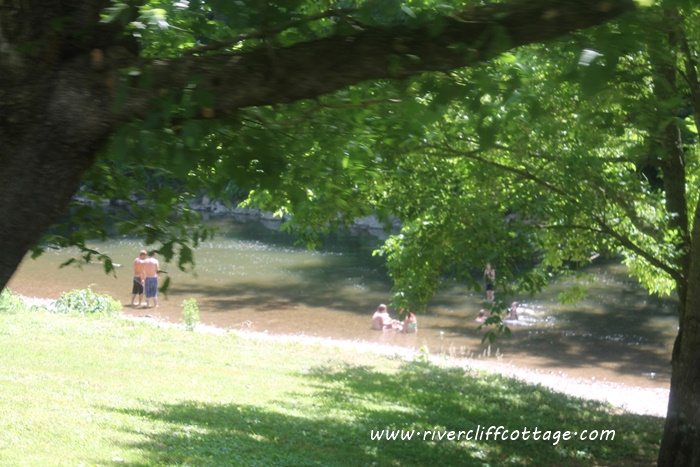 Let's go inside.   I have a close friend who describes my decorating style as "cheerful."   I agree with her.    Just like Duck Dynasty — Happy!  Happy!  Happy!
Both the kitchen and the foyer open to the living room.   Very little has been purchased for this room during the past 12 years.  Quite a few of the items are 15 years old and many are over 20 years old.    I just accessorize and move things around.    When I took the picture below, my curtains were outside drying on the clothesline.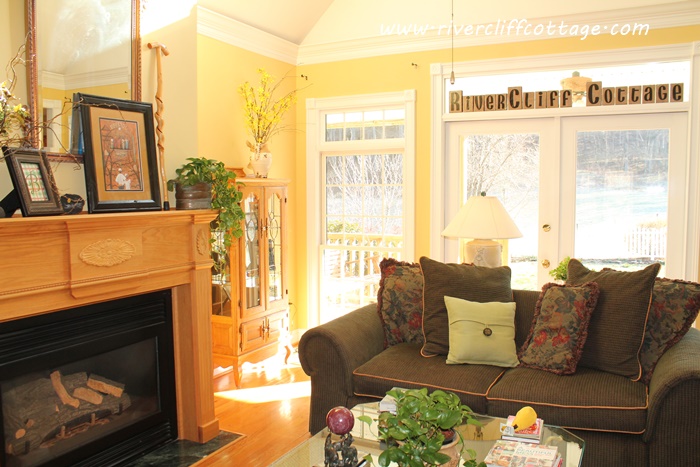 The little curio pictured above and below was a gift from my husband.  It was unfinished because he could not afford a finished one.  I've had it for over 25 years.  It still works fine for me.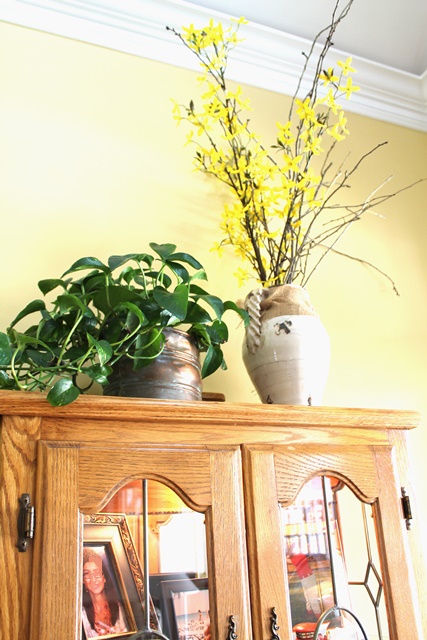 I have thought many times about putting a television above this living room mantle, but that would mean that I couldn't swap things around.  I'm leaving it as it is.   The picture is a P. Buckley Moss giclee and is the first in a series commemorating Rhythm & Roots.   We live in Mendota, Virginia, but one of the closest towns is Bristol, Virginia which is also the birthplace of country music.  I live about 8 miles from the famous Carter Fold in Hiltons, Virginia.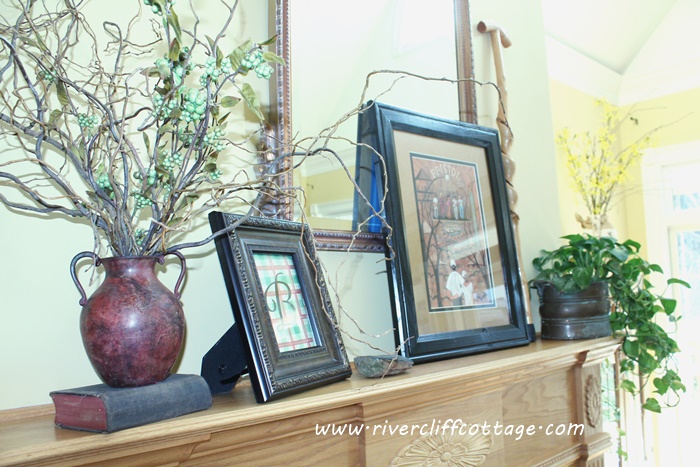 My mantle would not be complete without the willow branches which are shown "close up" below. My sweet cousin, Terri McCroskey, has this wonderful tree, and she gave me these branches with an invitation to get more whenever I wish. I love her and I love these willow branches!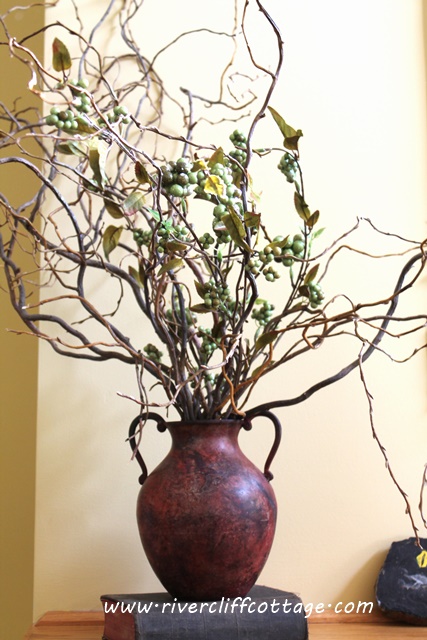 This room has a cathedral ceiling and there are four doorways into the room. It means that the couch and chair have to "float" so I had outlets put in the floor.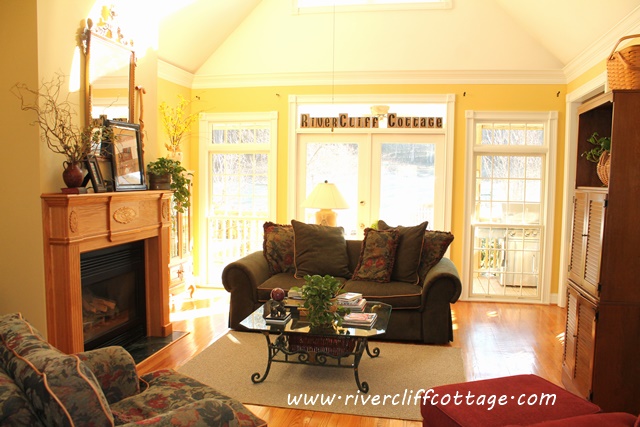 My coffee table is not for looks. Like me and everything in this house, it has to work for its keep. It's home to a Jigsaw puzzle ready to be started, Bananagram, magazines, books, and my ipad.   Also like me and everything else in this room, this table has seen some miles and years. It traveled from Cary to Leesburg to New Jersey to Boca Raton and then here.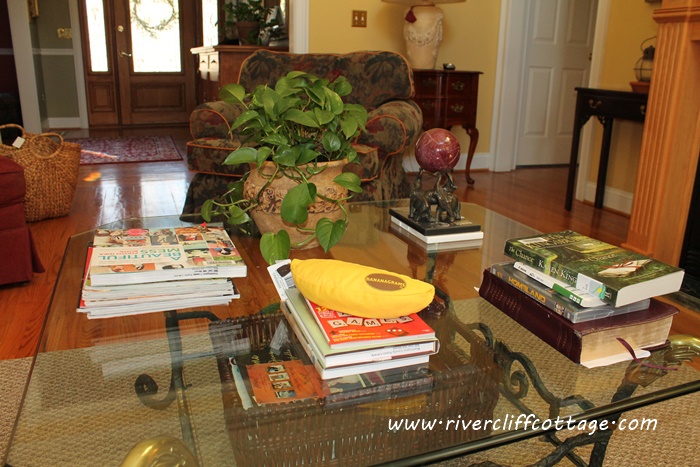 After I took the pictures above, I slipcovered the red and chair and ottoman.  I like them so much better with their natural denim fabric.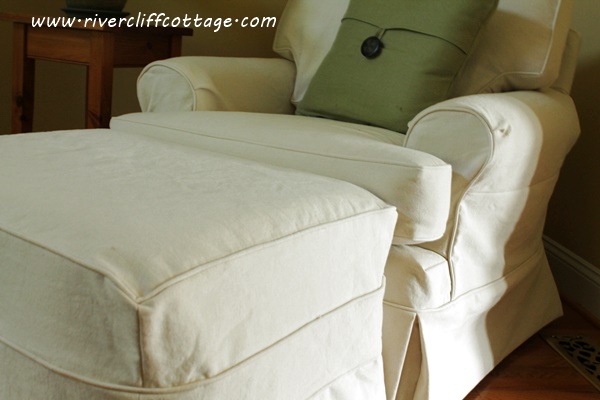 Going into the master bedroom.   This room is "dog friendly" with a very elderly doggie.  You can see a corner of the rug that is in the room.  It's not there because it looks good or has special value…it's there to accommodate Luckie's needs.   I'll change it out in the future, but a house must accommodate those who live in it, and Luckie needs this rug right now.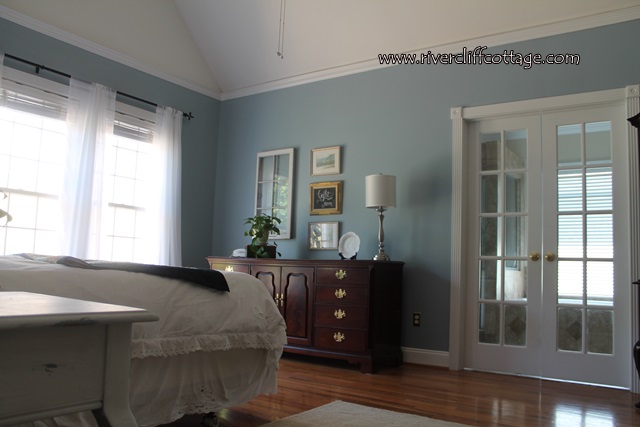 The blue is a SherwinWilliams paint called Aqua Sphere.    More pictures…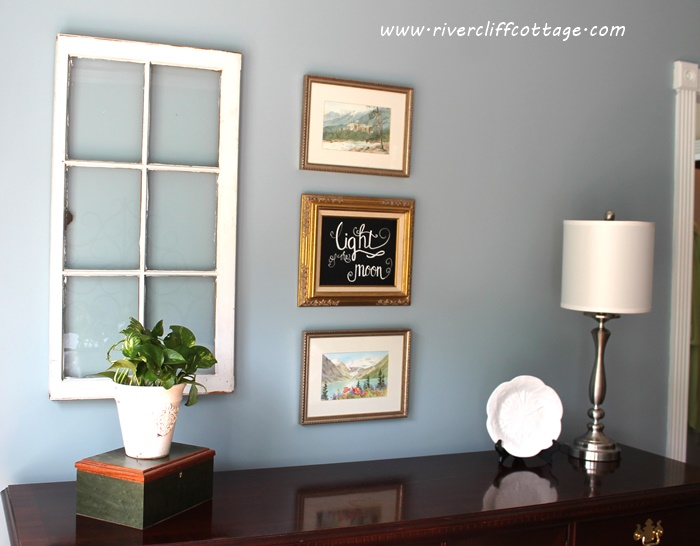 This bed makes me want to crawl right in…I wanted this room to be a restful retreat, and to me, it is that.  That beautiful quilt on the bed is the 2013 Mendota Cemetery Quilt.   I did not win it in the quilt raffle, but my friends Billy and Patsy Carrier did, and they gave it to me as a gift.  I cannot repay them.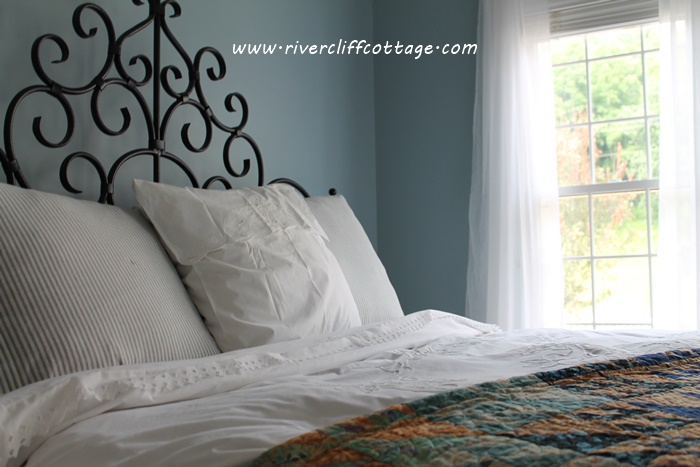 A little chalk-style paint project beside the bed…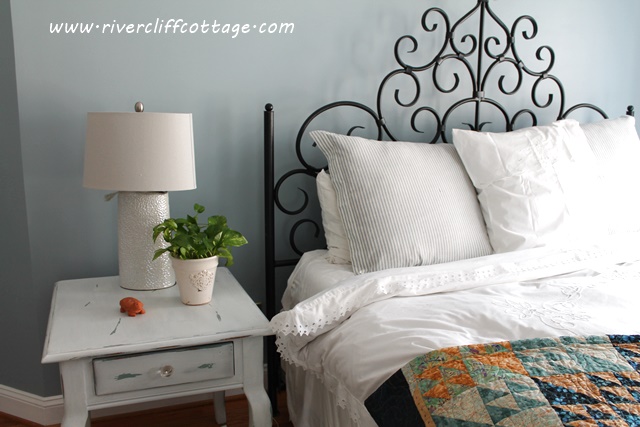 Going into the den….Mike made the "wormy" chestnut picture frame, mantle and the coffee table.   If you look close at the table, you'll see barn siding on the table's apron.  It's from a Burley tobacco barn.  I am the daughter of a Burley tobacco farmer, and I appreciate the tobacco economy that kept my family fed and clothed as we grew up in Mendota.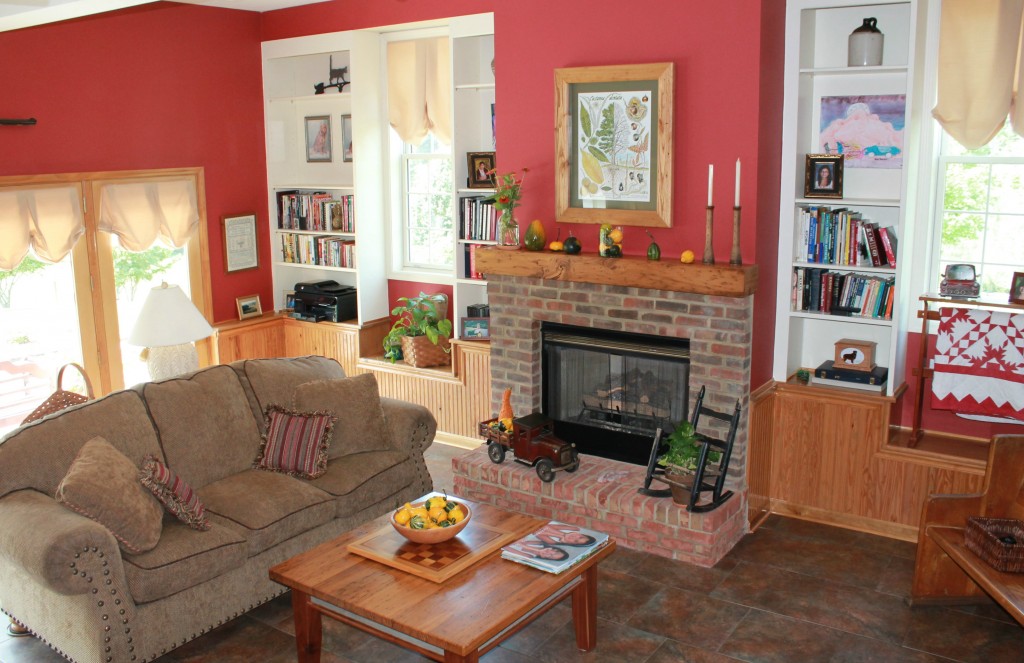 This room is my Southwest Virginia room as many of its furnishings reflect this area of the country or things made by my husband.  Here's another close up of that table (below).    Even in this tiny glimpse of this room , I see a pillow I made, a chessboard Mike made in high school shop…and a chestnut mantle made of wormy chestnut wood.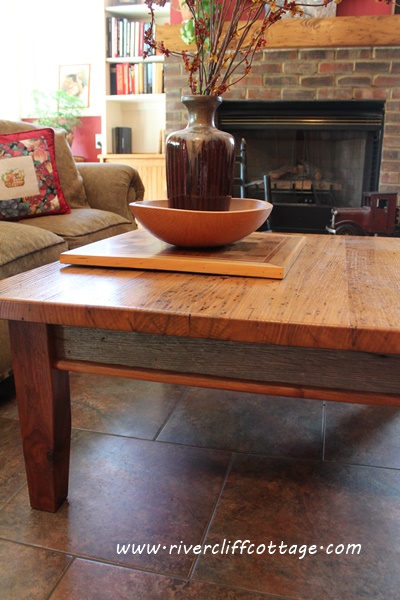 One of the most fun things I've done in this house is brightening up the laundry room. It was so ugly. With a budget of under $50, I made this a little spot that I enjoy looking in on. Cardboard boxes from Sam's Club painted black, a bit of inexpensive fabric, plates I had on hand and a new use for canning jar rings resulted in this sweet little room. I blogged about this here.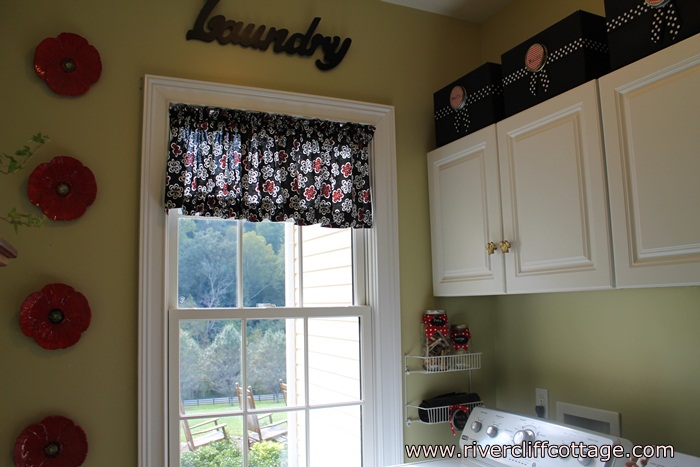 Another view..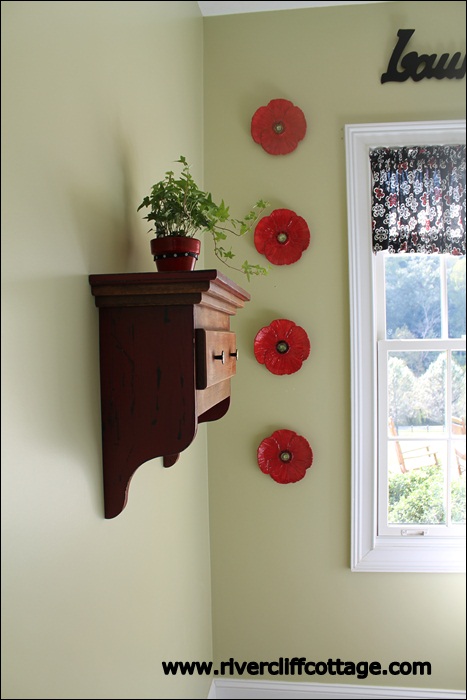 Here's those cardboard boxes..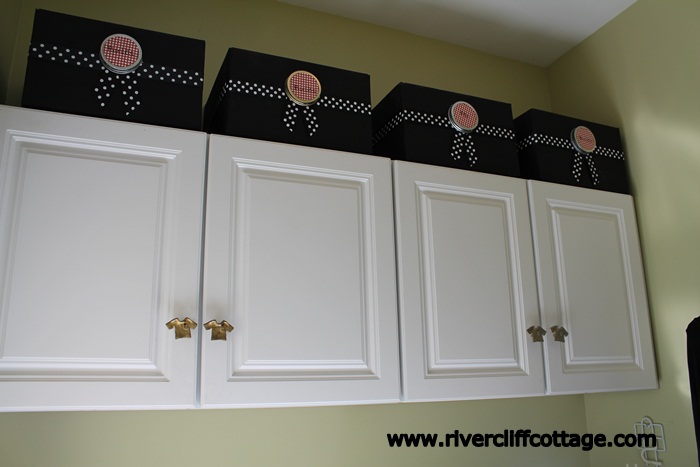 I just realized I've talked more about the laundry room than any other room!   I recently added this way cool light I got at Lowe's for $39.  I love red.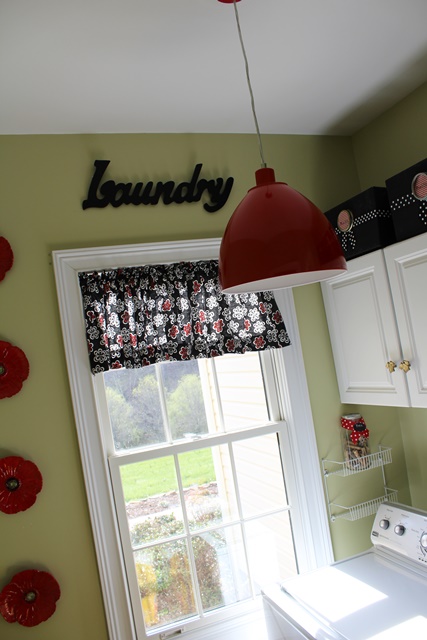 I am happy with the guest bedroom, so at this time, it's the next picture I'll share from my house.   Ruby Smith, one of my mother's dearest friend who is 95-years old, made the beautiful flower garden quilt for me.    More details about this room may be found here.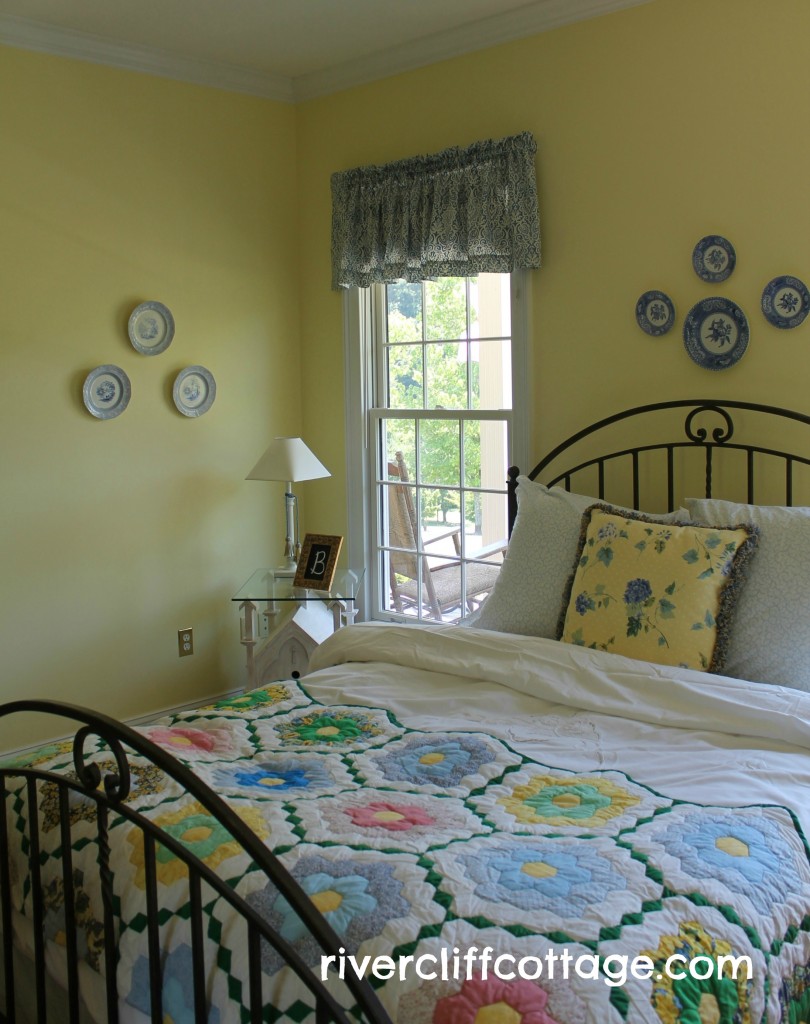 Please come back — I'll be adding additional rooms as I paint and freshen up the house!
(5105)