Happy Thanksgiving!    I hope your Thanksgiving was everything you wished for.  Mine was good.
My sister, Nancy, and her family joined us for Thanksgiving, and at the close of the meal when we were talking about what we are thankful for in our lives, Nancy read something she'd put together from collected memories of our grandparents, Will and Eva Sproles.    She's trying to put together a book about our family.  In a day of emails and texts, many of us no longer have the cherished letters that we keep for future generations.    So, this is her attempt at putting pen to paper to ensure that our family's history is intact.
The Story of William Lee Sproles and Eva Winnora Fleenor
As Remembered by Their Granddaughter, Nancy Barker Booher
Will was born in 1884 in Washington County, Virginia in a community along the North Fork of the Holston River. An old country church and a swinging bridge is all that is left to mark that pretty place called Riverview. It was a fair place to spend one's childhood, with the river running swift along the farmland and the view of Clinch Mountain on the other side of the river. Will was born into a large family with lots of brothers. They were farmers. They were hunters. They fished the river, and most of them were coal miners. Even to this day, many of Will's relatives lie sleeping in their graves in the Riverview Cemetery, but Will rests in the Mendota Cemetery beside his beloved wife, Eva.
When Will was almost 10 years old, just a few bends down that same river, a beautiful baby girl was born to Frank Fleenor and Nellie Horne Fleenor. They gave their baby girl a beautiful name, Eva Winnora. A few years later, they gave Eva a sister, Stella. Eva and Stella were very close and both learned to swim "like ducks" and loved living right by the river. It was to be that soon Eva and Stella would have to lean on each other. Frank died young—at about 26, and Nellie left soon thereafter. After Frank's death and Nellie's leaving, Eva's paternal grandfather, John Benjamin, took care of his granddaughters. I believe he was a widower at this time, as Eva, only a child herself, would tell of standing on a stool to cook for the family and work hands. A few years later, Eva and Stella's grandfather was dragged to death by a team of horses, while the girls stood watching and screaming in the doorway. Eva and Stella had to rely on each other. For some reason, their mother did not take the young girls. Why she did not the take the girls remains a mystery.
We believe that Will and Eva probably met and married while she worked as a cook for lumberjacks—remember, Eva had to find ways to take care of her younger sister, Stella. William Sproles was 25, and Eva was 15 when they marred. He would always claim that he married her because he felt sorry for her as she had no one to care for her. However, when you look at her pictures or if you have ever eaten at her table, you would know why she stole his heart.
When they began their married life, Will went to work in the mines in Dante, Virginia. He would leave on the train to dig coal all week and then return on the weekend. Now, I'm sure you have heard that the Scotch-Irish coal miners like to drink, spend money and party. In Will's case, that was true. The story goes that Will left home with a beautiful head of black, curly hair and came home on the weekend with a shaved head. Samsom and Delilah? It seems he got on a "toot" as Eva told it, and someone shaved his head. She said it never grew back right. "It served him right," she said. Eva had a very classic clock on her mantle, and it came from another one of Will's "toots." Somehow he arrived home with no pay but a very nice clock as a peace offering. In spite of all this turmoil, Will and Eva had four children—Louella, Lorraine, Ralph and Leah Vivian.
Eva said that when her last child was born, she could hear Will and some others in the kitchen laughing and having a fine old time. She said she made up her mind right then, "if airy another baby is born in this house, Will Sproles will have it." That last baby with my mother, Vivian.
Eva was not perfect. She made some funny mistakes herself. Every year she made blackberry wine. One year, there was a lot of wine left over in her canning jars, and she decided to pour out the wine and use the jars. "Well," she thought, "I'll just pour all this wine in the bucket to feed the pigs," not thinking how it would affect them. After she fed the pigs, she walked by the pen and to her horror, they were stumbling around. She thought, "Oh my goodness! If they break a leg, we'll have to shoot them!" They were not even her pigs. They belonged to Uncle Dow. Fortunately, after stumbling around for a while, they slept it off. It was years before she ever told how the pigs became drunk.
When I knew Will, his coal mining and "tooting" days were over, and he was a hard working farmer, and Eva was the farmer's wife. He raised tobacco, plowed the garden, chopped wood, raised pigs, took care of horses, and all the other things that farmers do. When his oldest daughter married, he would ride his horse over Clinch Mountain down into Russell County to visit her and then ride back the next day. Eva cooked, raised a garden, sewed clothes from feed sacks, made beautiful quilts, canned all their meat, made grape juice, pear and apple butter, and strawberry jelly and jams. She won blue ribbons for her cakes. Applesauce cake at Christmas was her specialty. She even made all their soap. The only thing they bought at the store was sugar, coffee and flour. Corn was ground on the village mill. Every Sunday, Eva would cook a huge Sunday dinner for anyone who happened by. Many of these years were spent in their house in Mendota which was purchased with Eva's $300 that she received when her grandfather died.
Will was very social, and since he never learned to drive and did not own a car, he was always willing to accompany others to town. After preparing a big meal and realizing Will was off on one of these trips, Eva would say Will was in "loafer's paradise."
Will and Eva Sproles raised four children and had ten grandchildren—Billy Jessee; Barbara, Betsy, and LaVerne Sawyer; Shirley and Phyllis Sproles; and Mike, Nancy, Pat and Eva Barker. They lived a long and satisfying life. They taught us many things from their mountain cultures and their satisfying and colorful lives.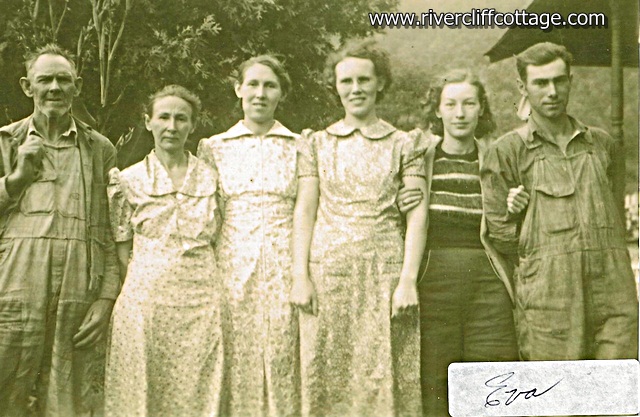 This was the story of Will and Eva. William Lee Sproles–my grandfather (left) and Eva Winnora Sproles–my grandmother (second from left).   Aunt Lou (Louella) is third from the left; Aunt Lorraine (forth from the left); my Mother, Vivian, and my Uncle Ralph.  The picture has my name on it in my mother's handwriting.   
(551)