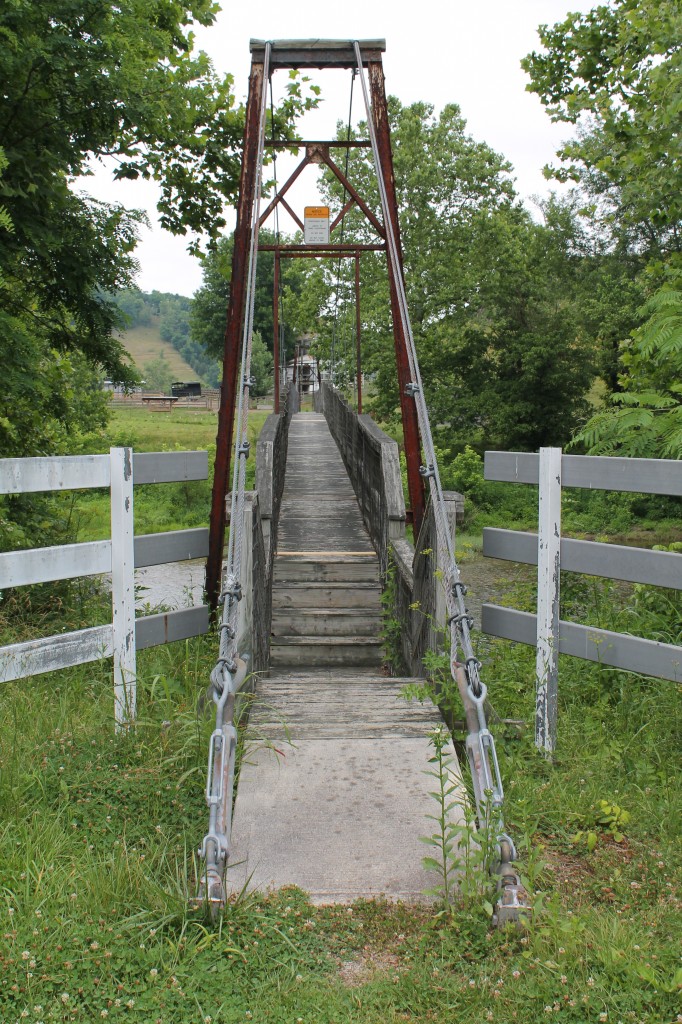 At some point, I'll be sharing the contents of this blog with others instead of writing to myself and my immediate family and a good friend. I didn't have a picture for this post so I thought a peek at one of the Swinging Bridges might be interesting when the time comes that someone reads it who doesn't really know me.  And…yes, Virginia, I have ridden a bicycle across that bridge!  I was not always as cautious about everything!
Today is going to be a busy day. I have the usual housework, etc., but it's also the day that we're putting the foyer back together. I thought this was a two-day job, but we started Wednesday a week ago and we're finished today. Mike, aka, Retired Man, did the painting. I started and did so poorly that he took over.  What a strategy! 
I also am going to do a post later this evening detailing my morning walk on Swinging Bridge Road. I wrote to my cousin, Betsy (also known as Betty Lou) in Cincinnati, and she loved getting the newsy snail mail letter about all our happenings (yes, you heard that right) in Mendota. So, I decided to take her for a "virtual" walk on Swinging Bridge. She is learning to use a computer and I hope she enjoys it. This is a "SHOUT OUT" to Betty Lou when she reads this !!
My weight loss is going fairly well. I've been calling this my 90 days of summer/30 pounds of weight loss experience. I do not think I'll lose 30 pounds in 90 days, but I do think I'll lose 30 pounds.  I'm losing about 2 pounds per week.   I stopped working on Thursday, May 31, but I really did not start trying to establish healthy eating and exercise habits until June 1. I did not start Weight Watchers until Monday, June 11. I realize I could possibly have done this while working, but I knew for true success, I had to focus. The risk of continuing on with a so/so attitude on weight loss while focusing on other things would move tired feet, swollen ankles, back aches — all symptoms of being too heavy — into chronic ailments. I don't want that. I want to live a long time and enjoy the good life I have.
I'm using this blog as a part of my accountability — a sort of "if I say it…I will do it."    This is true in terms of project work and activities around my house and health-related matters.
(243)