This post is unusual for people who read RiverCliff Cottage regularly. However, because I have a Google presence when someone searches on a word, I'm including it on my blog since anyone searching for an antique ice cream table may come across it. When I've searched recently, I found that two have been sold at higher-end auction houses in the past couple of years.
Mike and I maintained two homes for a number of years, so we have excess items, and now that we're using the shop for Adventure Mendota, we need to get rid of some things. We are selling this antique ice cream table manufactured by Sani Products of Chicago at the early turn of the century. I believe around 1916.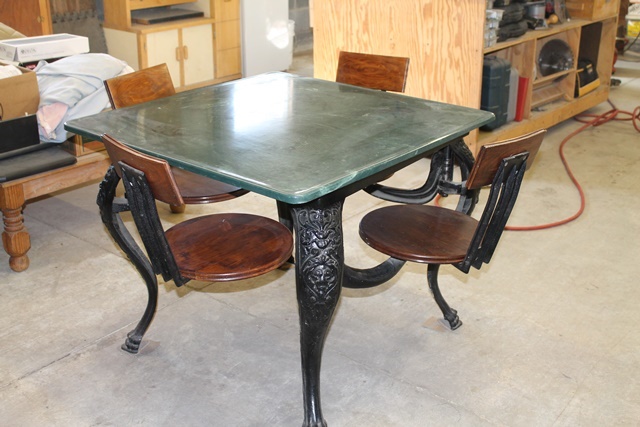 We used this for a number of years — in Northern Virginia and New Jersey. I loved it because of the uniqueness and because the floors were never scratched by chairs sliding around! We used it in a tiny kitchen at one time and then as a game table in a den at another time.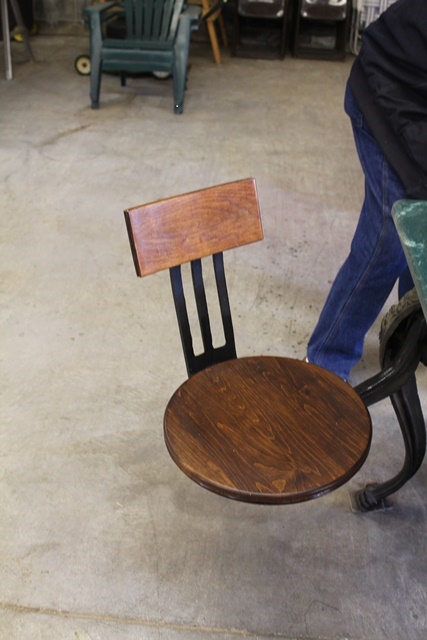 The table was distributed by Belknap Hardware Company in Louisville, Kentucky. This specific table came from the employee lunch room at Belknap. It is very rare. The base of the table is fine-grained cast iron heavily coated with porcelain enamel.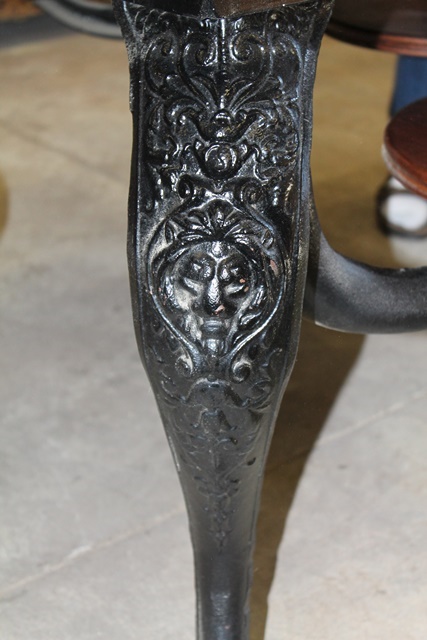 I purchased it in the late 1990's at the Virginia Highlands Festival by an older man representing an antique store called "Grandma's Attic" or "Granny's Attic" in the East Tennessee area.
I have a copy of the note that was with the table when I purchased it. If you find it difficult to read, it tells that it was $78.00 new, compared to the standard ice cream table which was $16.75.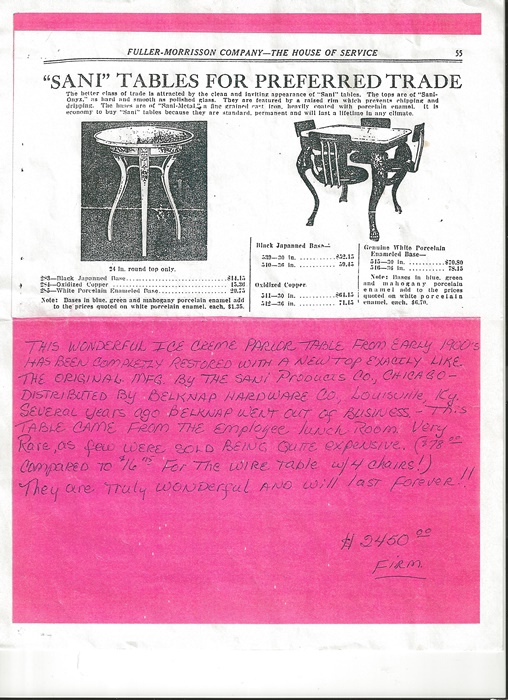 The cultured marble top is not original to this table, but can be easily replaced.
This table was purchased for $2450, and that is the current asking price, and the buyer will be responsible for shipping/delivery. If you are interested in this table, please contact via email.
(786)