In Mendota we had our very first 5K race yesterday. No, I did not run, but I did take pictures! Also, I called the race organizer, Pastor Wayne, and  got the results which are here: 5K Race Results.      If your device cannot open this PDF and you ran in the race, message me and I'll give you your results.
The Overall Winner of the race was Tom McCormack finishing the 5K with a time of 17:36. We were fortunate to have Mr. McCormack race with us as he is the best road racer in the United States and possibly the world for his age group. Here's the link to an article in Runner's World. Yep…Mendota is running with the Big (and fast) Boys!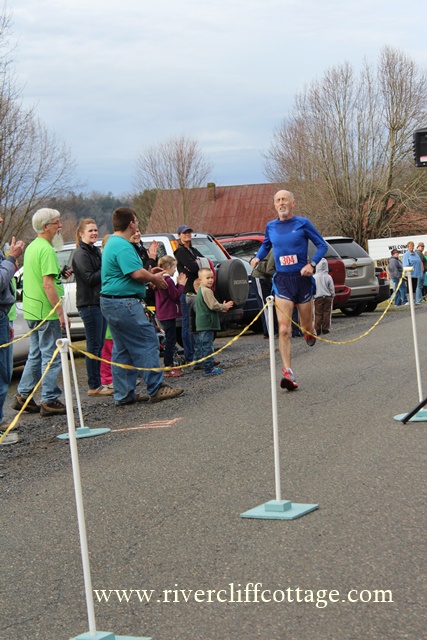 So Mr. McCormack was Best Overall/Best Male. The Best Female Overall was Sarah Bradley with a finish time of 22:25. Yay Sarah!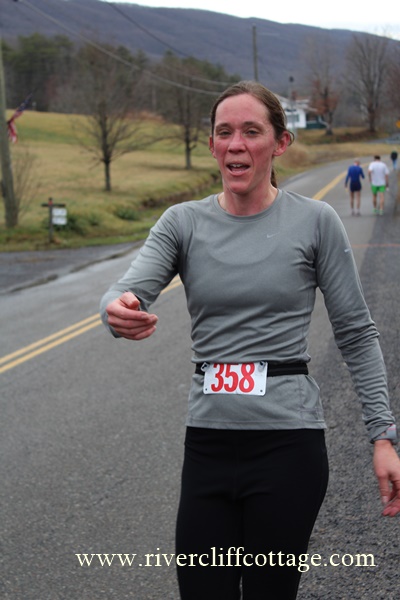 Mendota's Dr. Andy Brockmyre came in a close second to Mr. McCormack. I believe Andy said he was one second faster than his personal best. He finished at 18:03.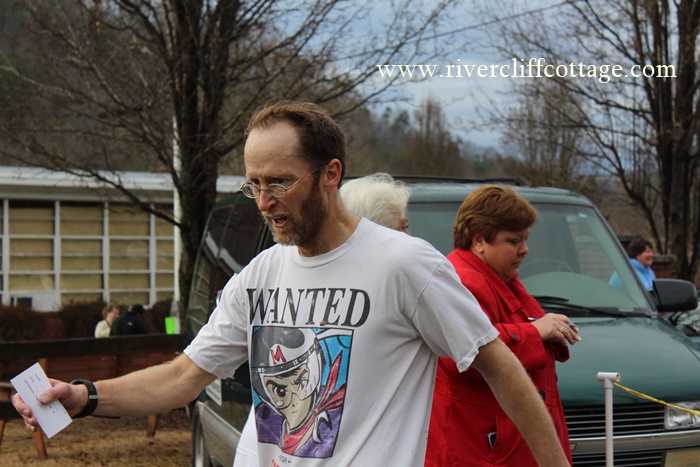 However, he still could not catch Mr. McCormack…although he was close!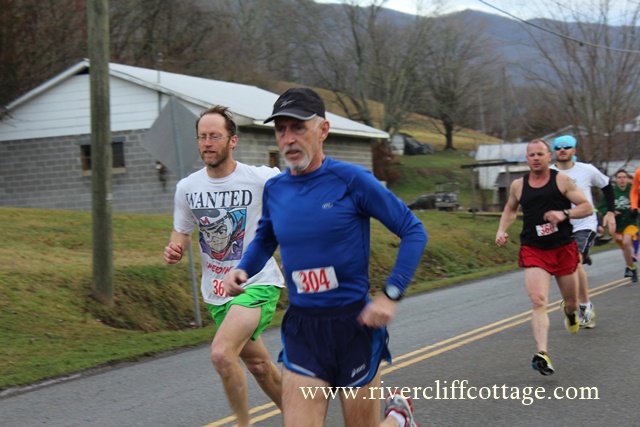 I've got tons of pictures. I decided to put up some "before race" pictures followed by some "after race pictures" and then I'll put the rest or maybe all of them on  Mendota Community Center Events Facebook page. I'll try and have them all resized and up on the Facebook page by Sunday night. However, there's still plenty here..
Here's Margie volunteering to collect the results. We had almost 100 participants which I understand is very good for a first race! Go Mendota! Mendota Rising!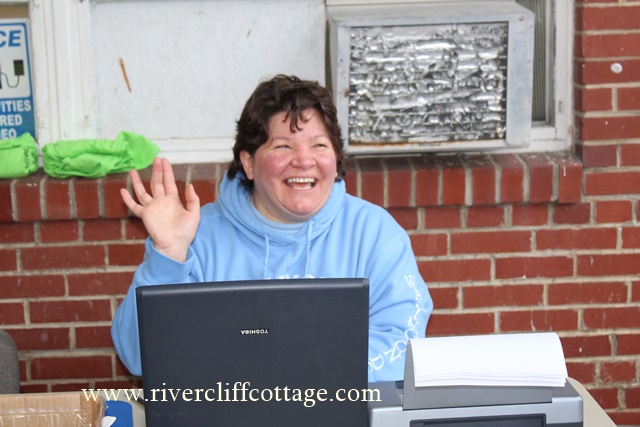 The Brockmyre/Kiser crew at one of the tables (it's a great way to participate and not get all sweaty).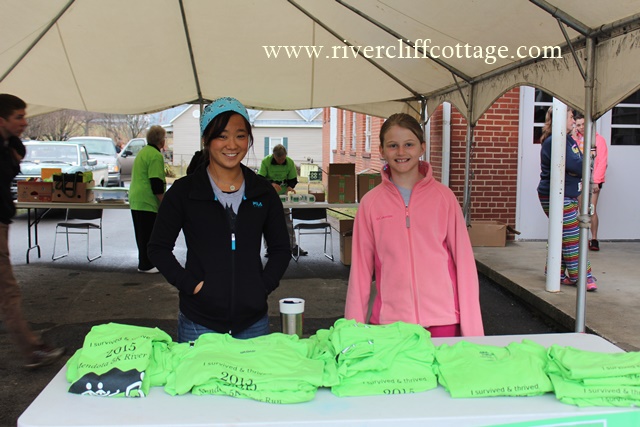 Pastor Wayne Hays organized this event, and here's quite a few of his family.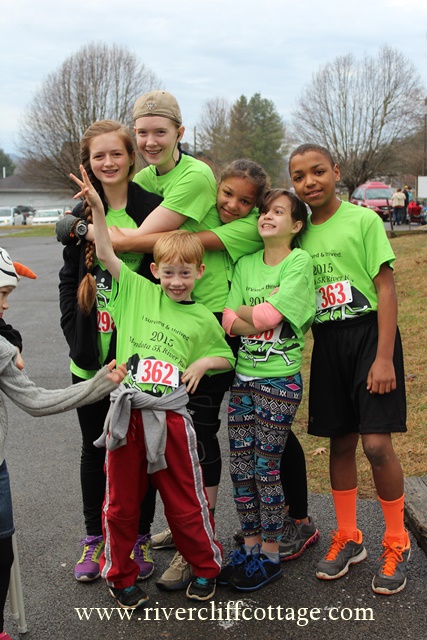 And here he is. He is a runner himself, but he was too busy to run on this race. Congratulations and thank you to Wayne for pulling off a very good event. It raised much-needed money for the Mendota Community Center's funds.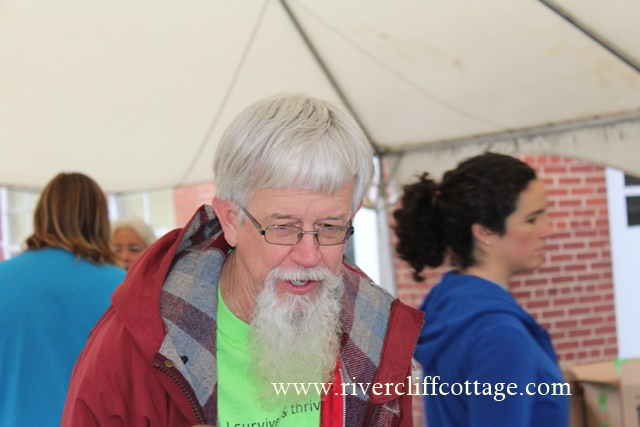 When we started talking about the race, there were naysayers who didn't think anyone would come out nor would we get the required sponsorship (our sponsors asked to remain anomymous). However, the race was well attended and funded. Prayer played a large role in this. We cannot put God a in box. He does not fit regardless of how big the box.
More pictures…here's Lane and his mom.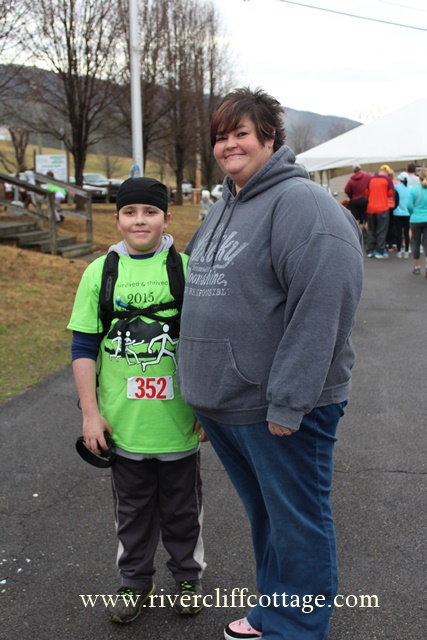 DeeDee and Eric Taylor…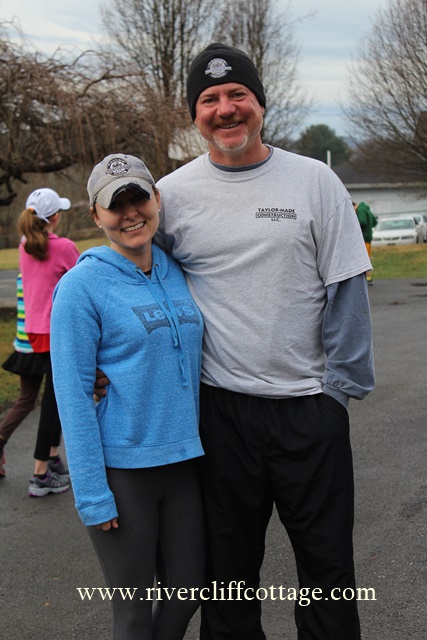 Here are members of my family. It was a first outing for the little rescued dog, Daisy. She was overwhelmed and didn't win any prizes for being good.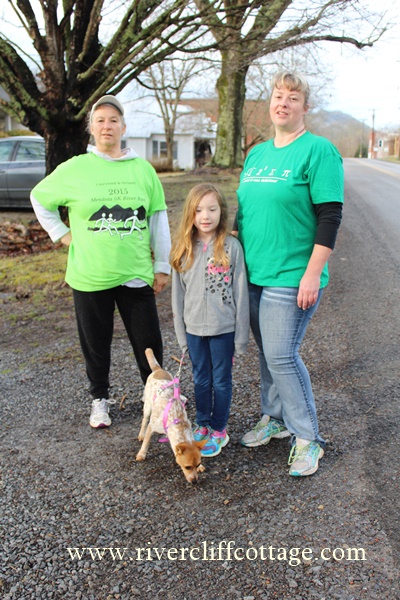 Does anyone know what Sherri's t-shirt really says? It has a message.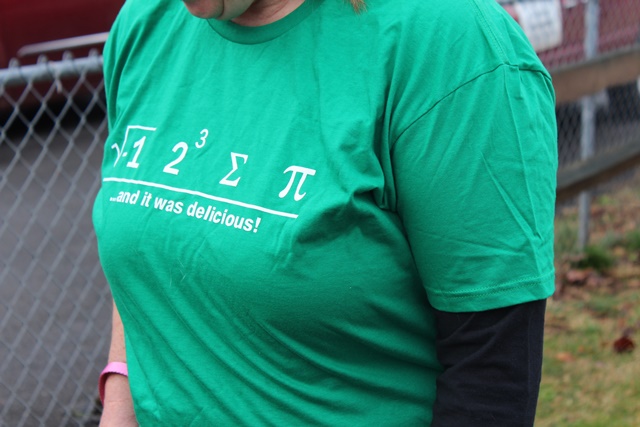 This is the way I want to race….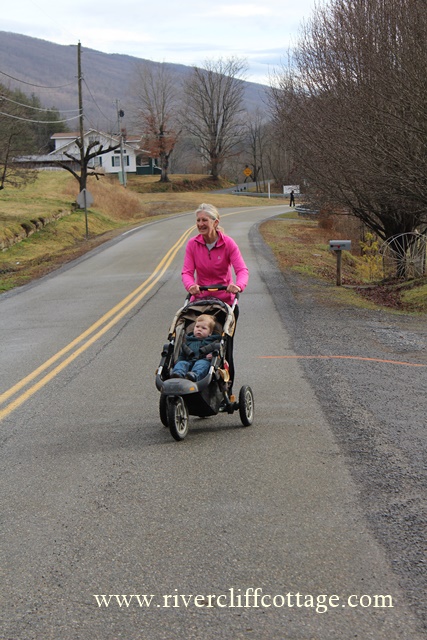 Pretty soon it was time to line up.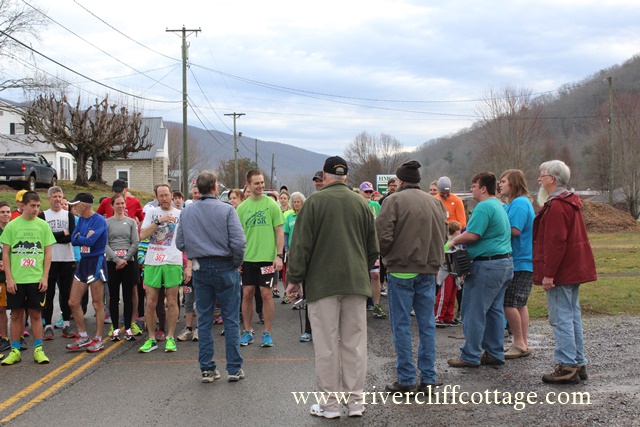 The race leader was on his bike..ready to roll and lead our group for the first Mendota 5K River Run!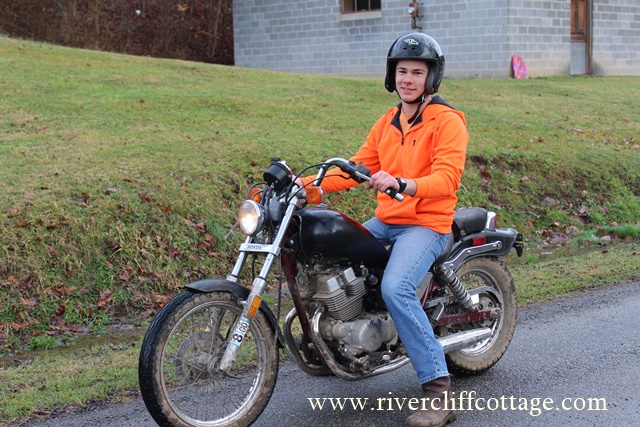 Getting close to taking off!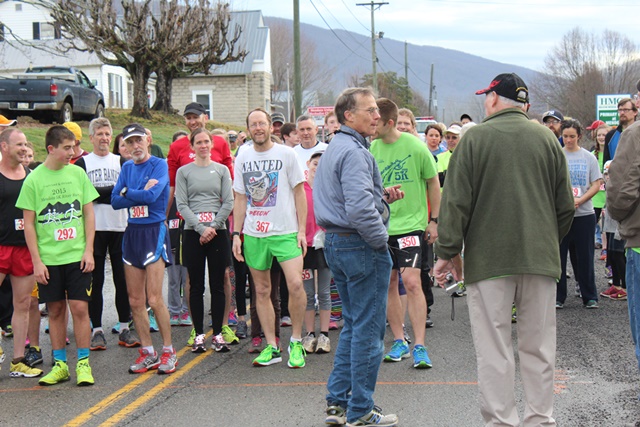 Racin'…the way it oughta be…Mendota style!    Ok..that was corny.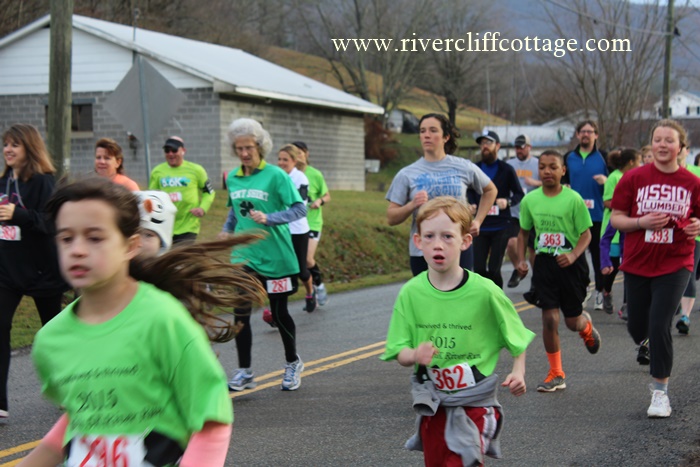 More…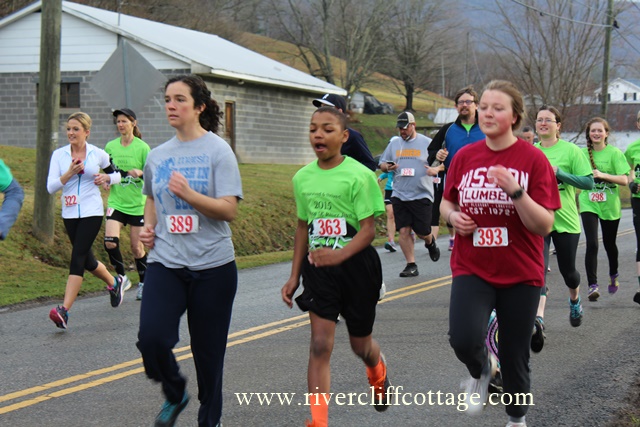 More…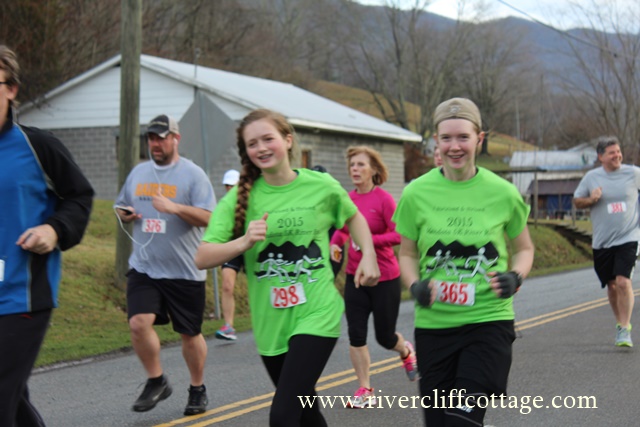 More….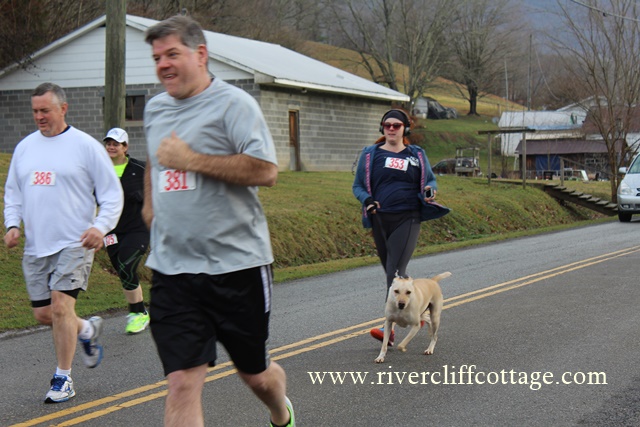 More…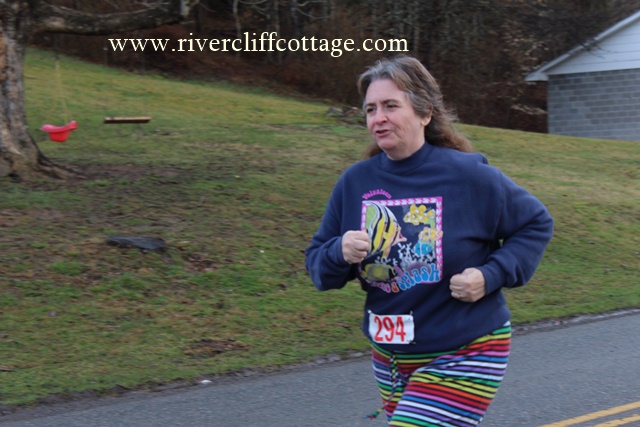 More…I love his t-shirt (I don't know him.)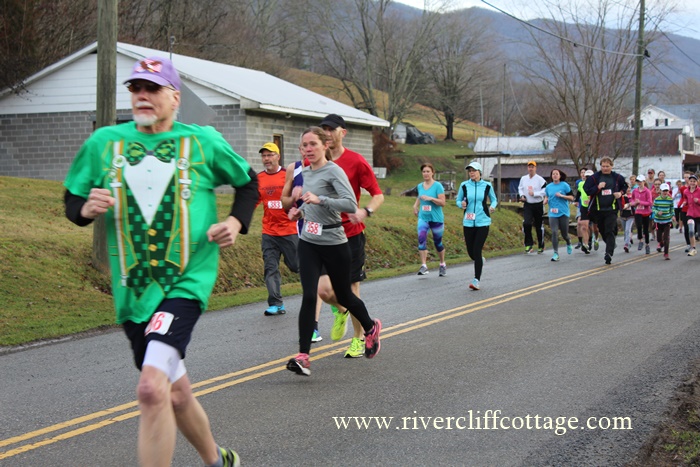 This was funny.  We had door prizes.  I hope we have more door prizes at next year's race. We're just getting the hang of this.   And…only in Mendota is it perfectly appropriate to have shotgun shells as your doorprize…won by Pastor Bill Porter.   He looks "shell shocked!"  He's all ready for a shotgun wedding!   (That is…after an appropriate amount of counseling!)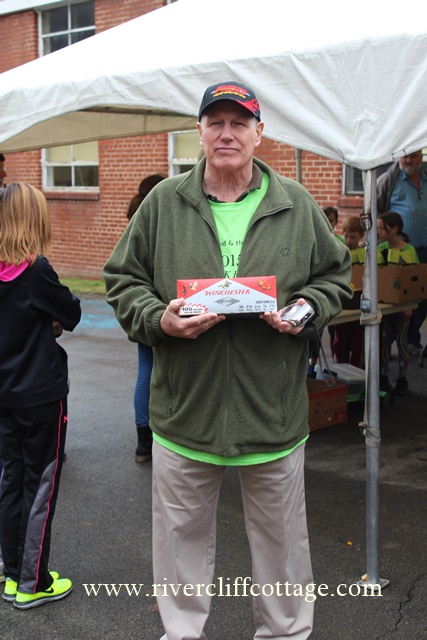 Adventure Mendota donated a kayak trip for two.   I cannot remember who won it, but I can't wait to meet them this summer.  Float the Fork in 2015!!
This was the first 5K race in Mendota, but it won't be the last.  If you came out for the race, we thank you so much.   Please come back.
(412)