Today Oscar Harris and I met with Jessica Fischer of the Kingsport Times News since she is doing an article on our Dale Jett & Hello Stranger event that will be held on Friday, April 25.  If you are reading this, please try and come.    It's at the Mendota Community Center, and it's such a wonderful event.  Dale, Oscar and Teresa seldom get to play for the local audience so this event is as special to them as it is to everyone who attends. Oscar's daughter, Heather Pace, and the Poor Valley Girls open the event at 7:00 pm. Dale, Oscar and Teresa will come on at 8:00 pm.
We met at Mt. Vernon Church in what we still call "Maces Springs" but now is officially Hiltons, Virginia.   I arrived first and walked through the cemetery to remind myself why we have this benefit. It's our fundraiser for the Mt. Vernon and Mendota Cemeteries. I've blogged about the Mendota Cemetery several times, but not Mt. Vernon. Can you believe it was snowing while I was walking around?  It's April 15, and it's snowing!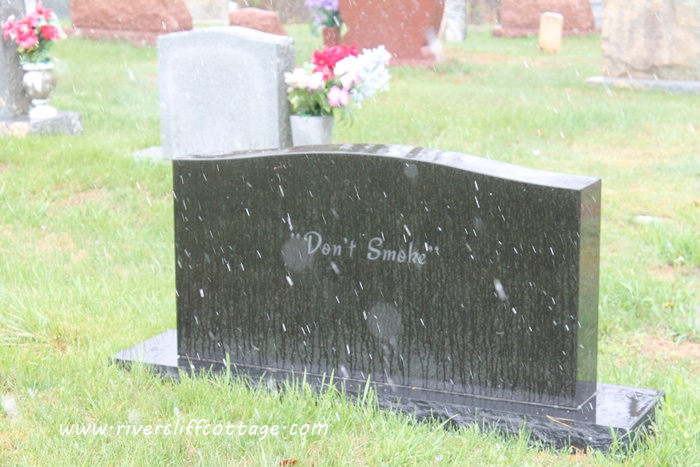 Mt. Vernon Cemetery — I see names I am familiar with…Bays, Faust, Hensley and Harper to name a few.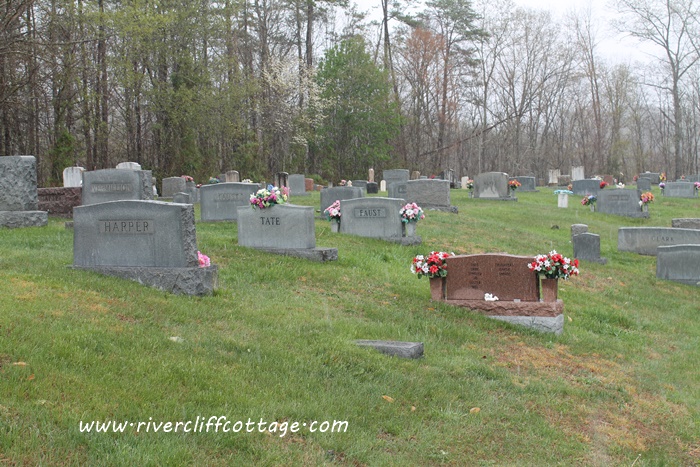 There are also some famous people…beloved to many.   When A. P. Carter passed, my father was a pallbearer.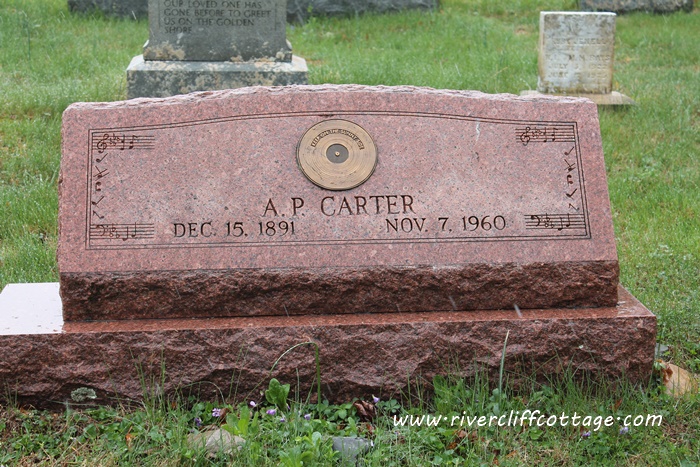 Sara Carter Bayes…"Anchored in Love."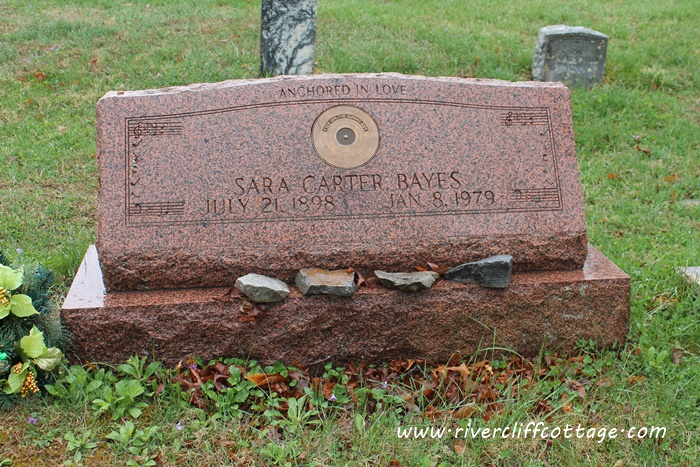 I called Joe Carter "Uncle Joe." He sang about a girl from Mendota who drove a Toyota. He called me  "WT's girl". WT was my father's nickname. I think he actually knew me as "Todi" but was afraid I"d be offended. I would not have been. Todi was my father's nickname for me.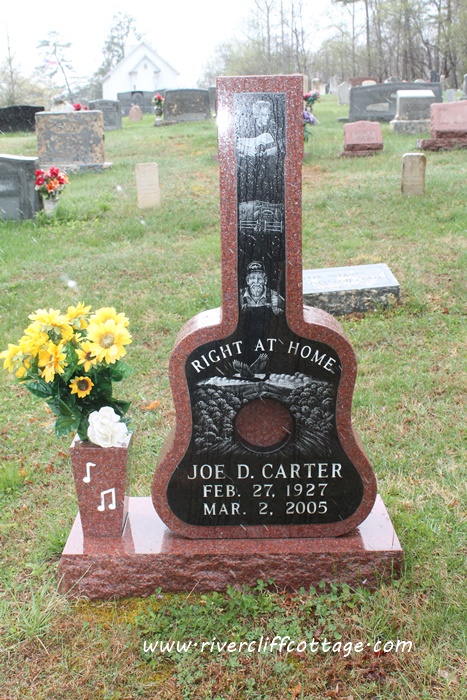 Jeanette Carter….probably one of the most beloved women in Virginia and possibly Nashville. Jeanette was a lunch lady at Hiltons, but she was not afraid to dream and her vision created a legacy for Carter Family music at the Carter Fold. When I think about a hiking and biking trail between Benhams and Mendota, I consider Jeanette my inspiration. She was one of a kind. I've been looking at the shape of her tombstone and wondering if it's shaped like an autoharp — that was her instrument.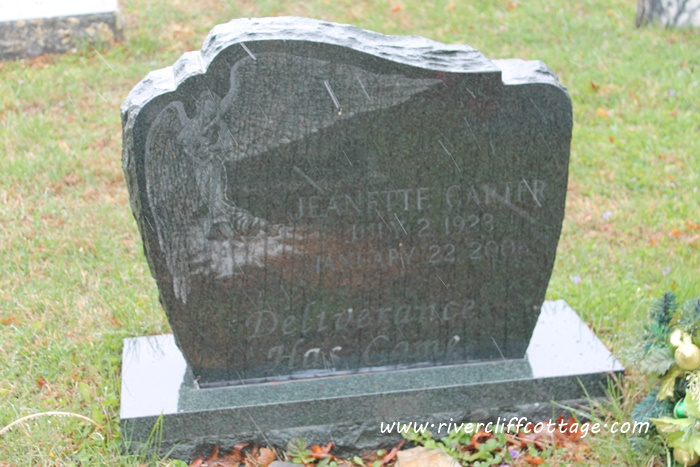 I noticed quite a few Barkers buried here. My family cemetery is in Mendota, but I'm sure there are relatives here, too, since I am a Barker.  A restful place.    This is a cemetery filled with believers.    Look at Jeanette's stone above…"deliverance has come."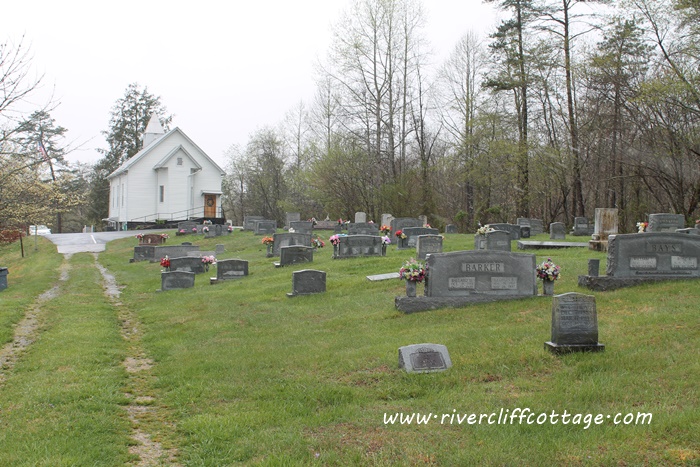 It was freezing cold, so I went inside the church and Jessica arrived soon. She is wonderful and reports for the Kingsport Times-News. Everyone in this area looks for Jessica's name in the newspaper…what she has written, etc. We are so proud! Her father is the recently retired pastor of Darthula Baptist in Hiltons, Layton Bentley.
Jessica and I talked a bit and Oscar joined us. We discussed all the reasons we have this benefit, what Dale Jett & Hello Stranger are doing musically, and how much we need for people to come to Mendota on Friday, April 25.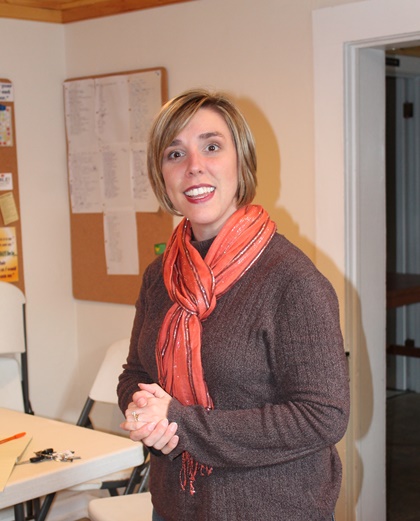 Oscar arrived just a few minutes after Jessica, and we asked him to pose with the autoharp. I know I'll hear this autoharp come in with a sweetness that will capture everyone's attention when they play "Farmer's Prayer" on Friday, April 25. If that was the only song played that evening, it would still be worth the trip.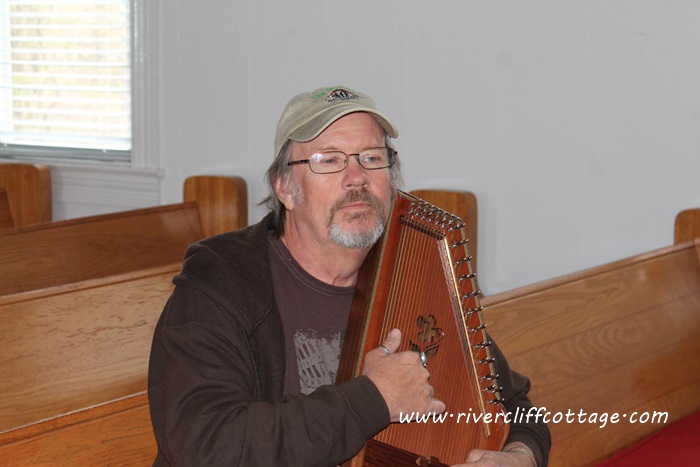 Our article will be out in a few days. Watch for it in the Kingsport-Times News!
(720)