I talk about the "guest house" from time to time on this blog. When we did not live in Mendota year round, someone else lived here and took care of  RiverCliff Cottage.  They did a very good job, and I miss them. They lived in an apartment over the garage. When they left, we put our extra things in, I made window treatments, etc. It became…and still is… a sort of "doll house" for me.   Following that, my girlfriend came for a few weeks and stayed several years.  I miss her, too.   Most recently, I've "stuck my foot in the water" in  renting it in a modified bed/breakfast fashion.   I've had a measure of success but I'll have to figure out if I want to do this as a "real" business.   There's lots to consider–the downside is I get to be the maid as well as the owner.   
We're currently working on the guesthouse, so I took several pictures before we got started.   Here's the kitchen…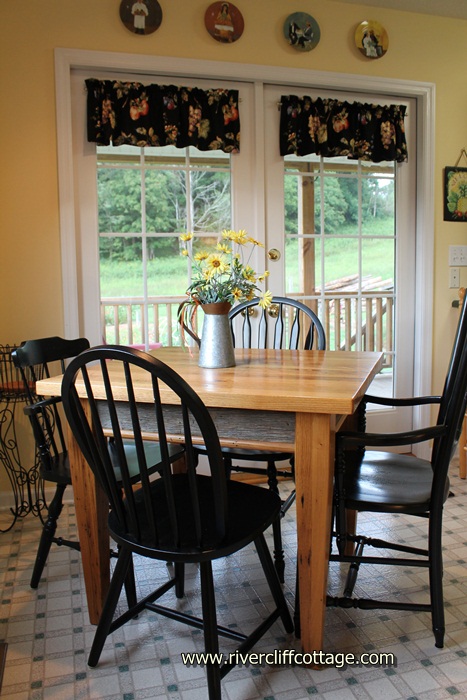 Mike made the kitchen table. It's wormy chestnut with an "apron" from a tobacco barn that had fallen on hard times. It has a second chance as my table.  My neighbor gave me the chairs which we spray painted black.     I made the window treatments…I even lined them!
Another view…

Here's the cooking area of the kitchen, and I think you'll agree that this will look much better with hardwood. We are currently removing the vinyl which is a tough job.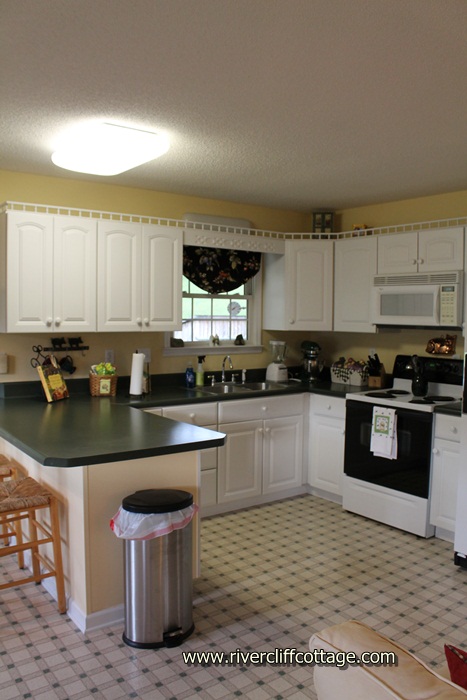 The living room is open to the ktichen…here it is…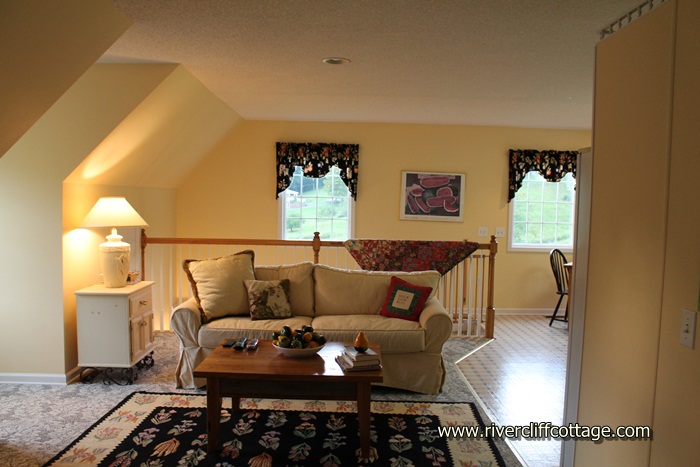 I'm leaving the carpet in the living room. It's good carpet and I think the hardwood that will replace the vinyl will tone it down a little bit. I may replace the carpet in a few years, but I like having carpet in this area because the sofa bed could scratch hardwood when we move it about.  Mike made the little coffee table.
On the bannister as you come up the steps, I leave my sister's quilt to enjoy or snuggle in..I won it during a Mendota Cemetery raffle.  I bought a gazillion  tickets…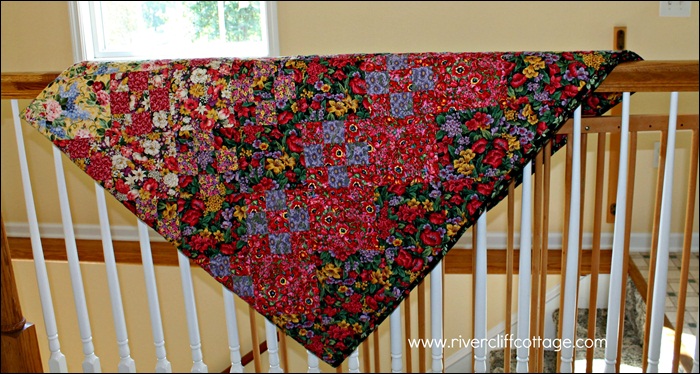 I've shown you the bedroom before. I love having the new hardwood in this room because I can  swap around quilts and bedding with little thought to what colors they are. I love linens!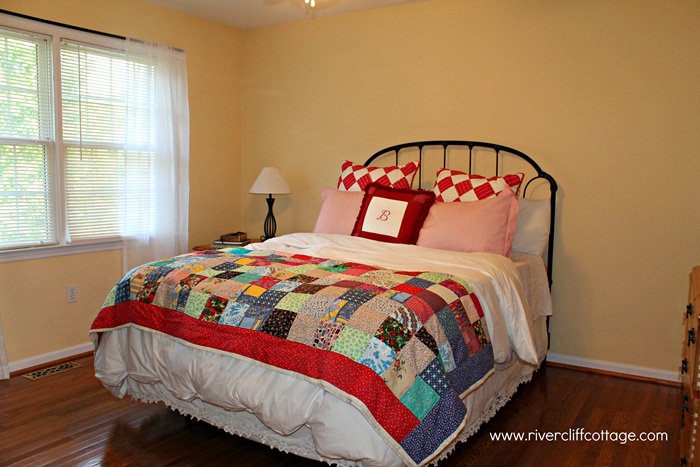 The bathroom is really cute…lots of angles…this chair was a trash to treasure find. It was destined for the landfill but visited Mike's shop and he put it back together, ran over it, and put it back together again. We recovered it in  cheap inexpensive fabric from Walmart.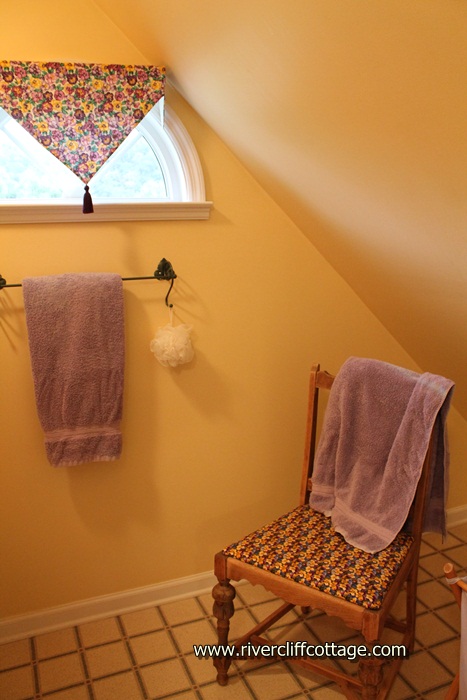 Thank you for visiting the guest house apartment and for reading RiverCliff Cottage.   But there's more…
It's been a busy day.   We are in the process of getting the last of the 2012 honey flow from our bees.  I want to share a few bee pictures…this is my brother in law, Gerald Booher, armed with a smoker…he's serious in his defense.   When you "smoke" the bees, they all dive deep into the hive to start eating their honey thinking it might burn.  Anyway, I assume that is what they think.   Gerald has  had quite a few stings in 2012.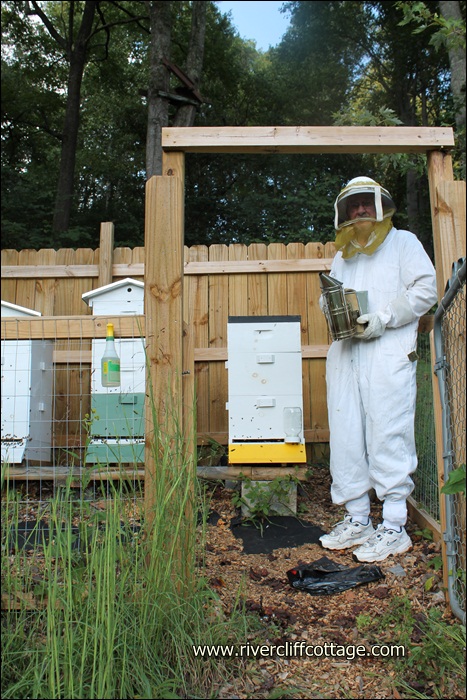 Here's me…I'm sweating like a PIG in this picture.  I am armed with sugar water which calms the bees.  They are like crack addicts for sugar water.    My bee suit it too big so the helmet falls around all the time.  I wear leggings, shorts and long sleeves under the suit because the suit does not stop an ambitious bee from stinging.   It's a bit warm.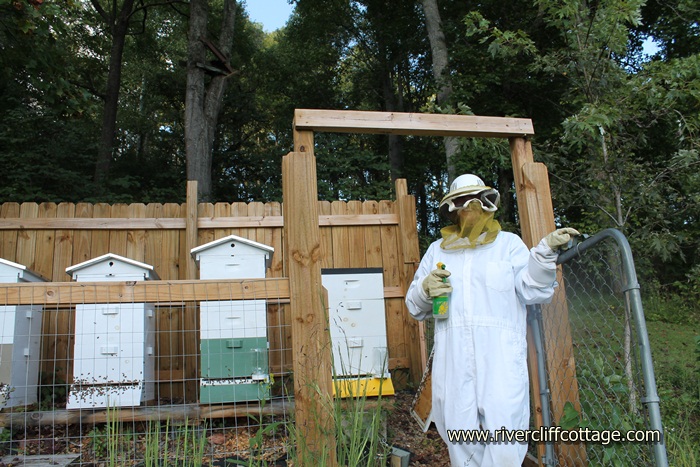 And here is why we suit up so carefully.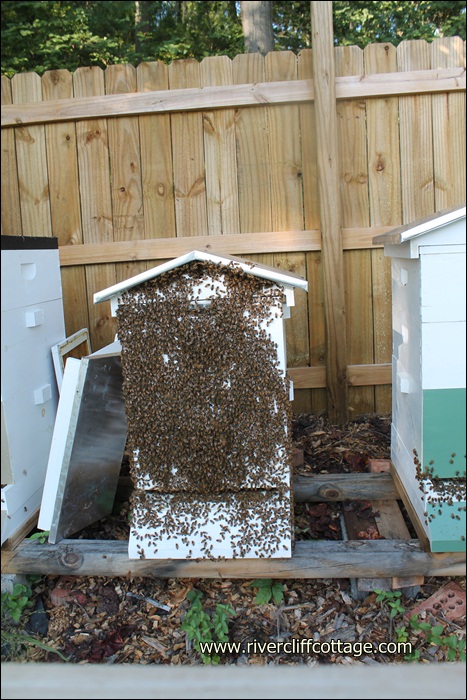 Good night.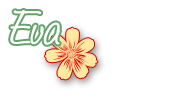 (2109)