It's March 1, and it's time to start working on the Dale Jett & Hello Stranger Benefit which will be held the last Friday in April–April 25th. Each day, I'll do a bit of work to nudge the publicity along. It's our third year, and we're always hopeful and nervous that we'll fill the old Hamilton School Building auditorium up.
Tonight, I met with Oscar. Oscar is part of the group and is pretty famous for his autoharp talent. He lives and breathes music. We talked a bit about my blog and I explained why I had not been posting. He suggested that I post our "story" of how we put together the Dale Jett & Hello Stranger Cemetery Benefit.  The picture below is the trio which makes up Dale Jett & Hello Stranger.   Oscar is third from the right.  Teresa is seated and Dale is standing beside Oscar.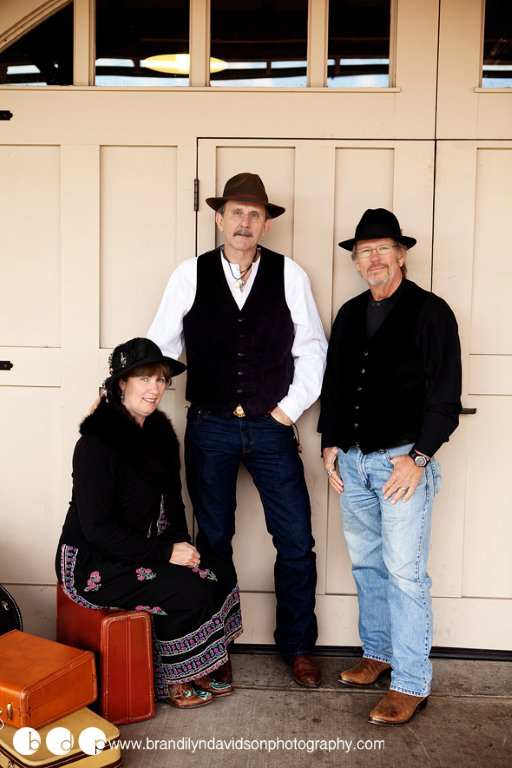 The challenge for us is not the level of talent. We have that.  Dale, Teresa and Oscar have been invited to play at the Grand Ol' Opry.  They've played at the Smithsonian.  Our challenge is getting the word out and making sure everyone knows it's worth the drive on a Friday evening to come to Mendota.  We notify and appear on local tv stations, ask for media attention from the newspapers, and post on all electronic bulletin boards. I put together posters and have them printed that we place throughout the area. We hang banners.
I am so thankful that Domtar Paper provides money to assist with  The Cemetery Benefit. We try and use every penny very efficiently.   Another publicity item we use that has a minor cost is postcards. We have postcards to make sure that everyone in the surrounding community knows about the benefit. We distribute by mail and other means. Here's this year's postcard.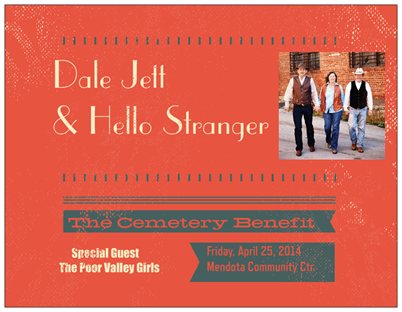 Here's the reverse…I tried to give the card an aged, western appearance.   Dale Jett & Hello Stranger is a group steeped in Carter Family tradition and a love of  things people from our area hold dear…our land, animals,  Clinch Mountain, our music and faith– and our tender hearts.   As I work with templates and design the cards, posters, etc., I try and capture that tradition.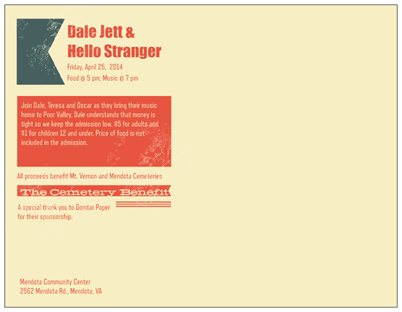 Do you like them?   I hope so.  And now something funny to end this post and hopefully get you laughing as I ask for your help in getting the word out that something special will happen in Mendota, Virginia on Friday, April 25. CLICK ON THE LINK BELOW!!!
 https://www.youtube.com/watch?v=G2Rhh_4GZmU
(532)