We're five days from the Third Annual Dale Jett & Hello Stranger Cemetery Benefit.  At breakfast this morning at Mt. Vernon UMC's Sonrise Service, Dale Jett casually asked "do you think many people will come?"    Ohmigosh why did he ask  me?  Now I'm worried I'll let him down.
Banners went up last night.  Mike and I put this one up on Rick Begley's property in Gate City, so anyone coming into Gate City from Highway 58 should see it.   We've also put them up in Hiltons and in Mendota.   Next year, I'd like to put one up in Benhams and two more in Gate City.    We are so thankful for Pepsi for helping us with the banners.  I did not know who to contact this year since Pepsi Bottling of Lee Highway closed, but the store manager of Food City's Euclid Avenue store, Raymond, stepped in and helped me out.  Naturally, I find that Raymond lives in Hiltons–no wonder he is a gentleman.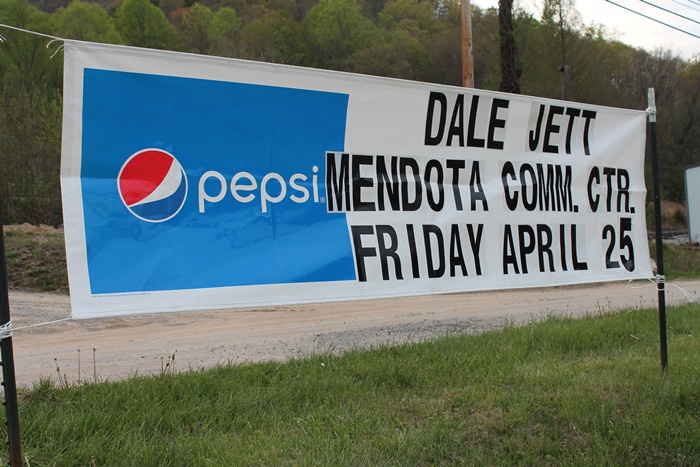 We've mailed postcards to everyone in the 24270 zip code as well as handed them out.    I've got a little western theme going on this with postcard.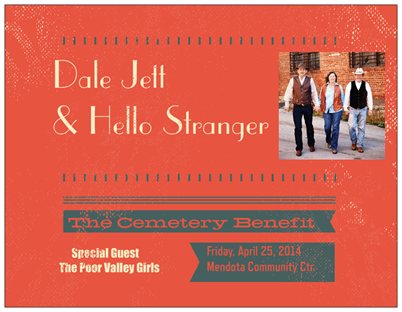 We've placed 75 posters around the Bristol/Abingdon/Gate City/ETSU areas.   Next year, I'm asking the Scott County Vocational School's Graphics Department to design the poster.  I can't wait to see what those young creative minds can do, and I'm hoping if Domtar helps us again, they could judge it. Just early ideas. By the way, we cannot say enough about Domtar Paper and Jeff Chamberlin for helping us with seed money for this event. We love them, and we stretch every dollar.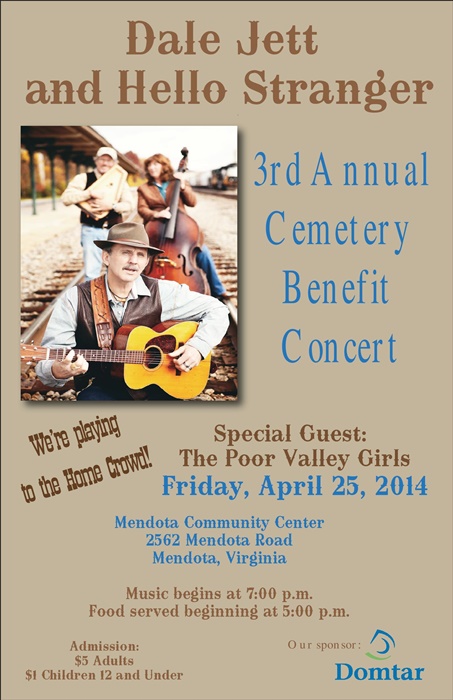 We've requested media help with our benefit.  Oscar interviewed with Joe Tennis who gave us a nice write up in the Bristol Herald Courier. Many thanks to Joe! Here's the link.   We've also got an upcoming feature article in both the Kingsport Times-News and the Scott County Virginia Star. I'll link those into this post when they publish this week.   Please look for them.
The Mendota quilt is almost ready, and the raffle tickets are here–done so professionally for me by the students at Scott County's Vocational School.  Buying 1500 tickets in the past, with shipping, ran us right at $50.   This was much more affordable with our tiny budget.  I sold my first 70 to Laura Cash and Tracy Leonard.  Thanks ladies!    Oscar Harris, the Poor Valley Girls and I will be on WCYB at noon on Tuesday, April 22, and I'll have this quilt with me as I"m going to ask the viewers to help me sell tickets in all 50 states.     I wonder if they'll ask me to sing, too?  Ha ha !  Mt. Vernon also has a beautiful quilt made by Linda Nunley, but I do not have a picture of it.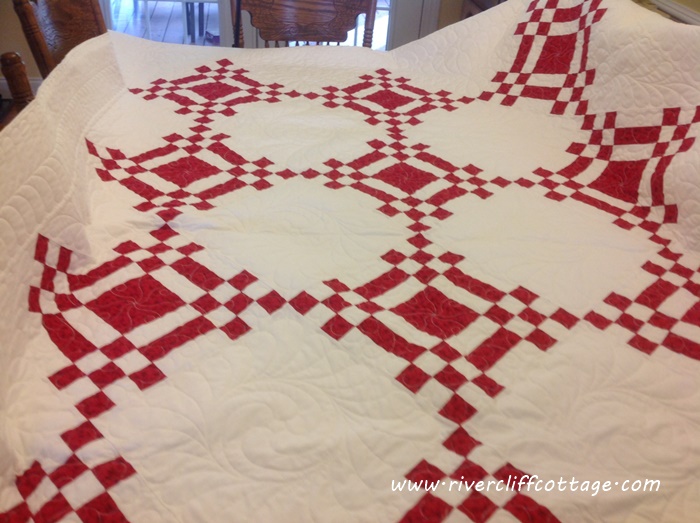 Gerald Booher is President of the Mendota Cemetery Association and he's been getting the food together.   There are a lot of details in putting together even a small benefit such as ours.   While we're planning on grilling hotdogs, we'll be serving food in the Mendota Community Center's cafeteria.   I will need to make sure everyone knows to go into the cafeteria to see both Mendota and Mt. Vernon Cemetery Quilts and to purchase food.  I hope the smell of the hotdogs on the grill brings them down.  Today I made a…well...interesting…chalkboard to help direct them to the cafeteria.  Here's some bits and pieces of it.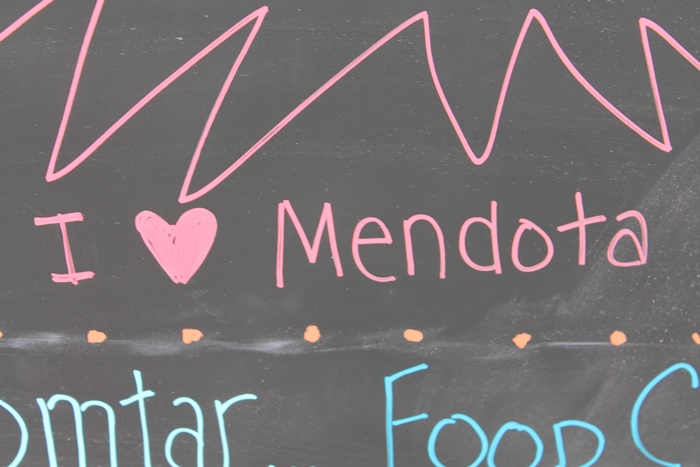 And…this is a true one. If you have a "boney" butt, bring yourself a cushion!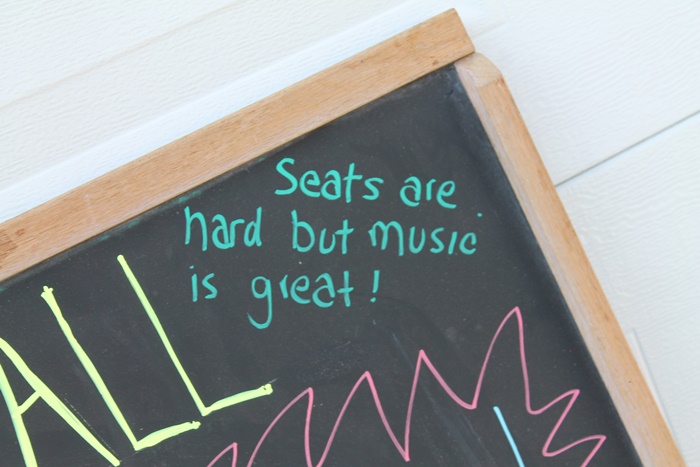 And finally…the disclaimer that we like to share with first timers to Poor Valley…

Thanks so much for reading RiverCliff Cottage, and I hope if you are reading this and live nearby, you'll make the trip out to Mendota on Friday night.  Don't dress up.  Come as you are.   The music is truly world class.
(362)