Mike and I made a quick trip to Petersburg, West Virginia today.  We make this trip every year to get a part or two for the woodboiler.  We have a heat pump, but as the deeper cold of winter approaches, we transition to the woodboiler.   We bought one a few years ago that was supposed to be very energy efficient and exceed EPA standards. What the reality has been is this thing is  a pain in the butt to get ready to go.   Each year there is an upgrade or something that needs to be replaced…sometimes under warranty…sometimes not.    Because of this, and all of the wood that we buy to keep it going, I doubt that it saves us a penny.   Change that to "I know it doesn't save us a penny."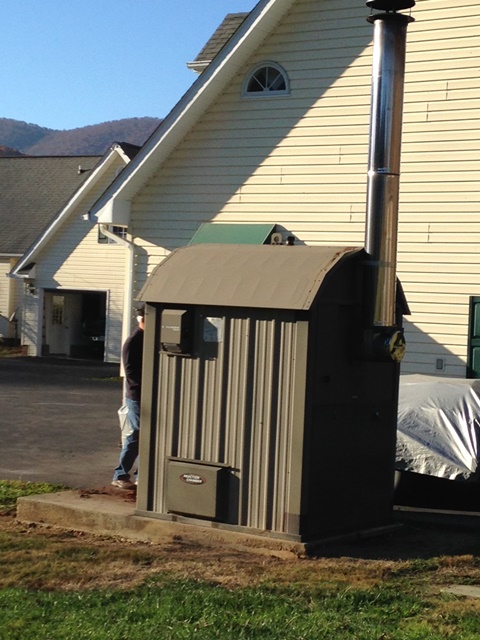 However, we are very nice and toasty in the winter.  We keep the house on about 72 or 73, and the heat is a much warmer heat than that of the heat pump.  I have no idea why.     So even though it's a lot of trouble and uses a lot of wood (we call it The Pig), all is forgiven when it's 10 degrees…or – 7 degrees as it was last winter, and we know that our electric bill is not even phased by the cold.   This year's upgrade says that it will burn twice as efficiently — using 1/2 the wood.    Right.    It will probably breeze right through this barn full of wood.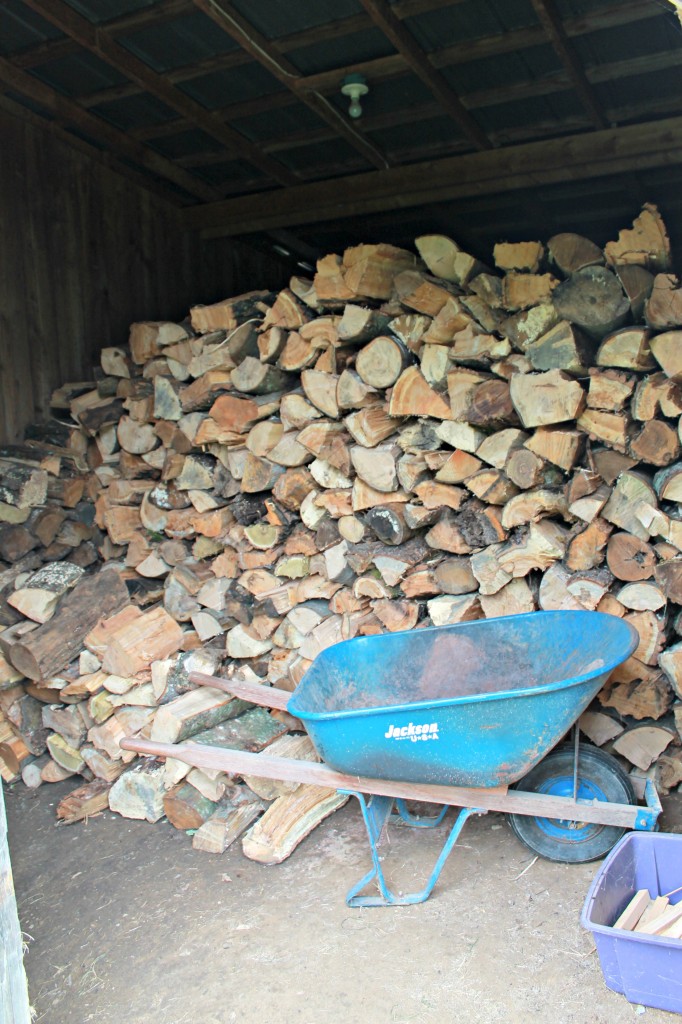 And there's wood behind the barn that we don't have room for.  We'll move that and stack it for next year.    For the past few years, our wood needs have kept EJ and Neth, our sweet nephews of a sort, in spending money.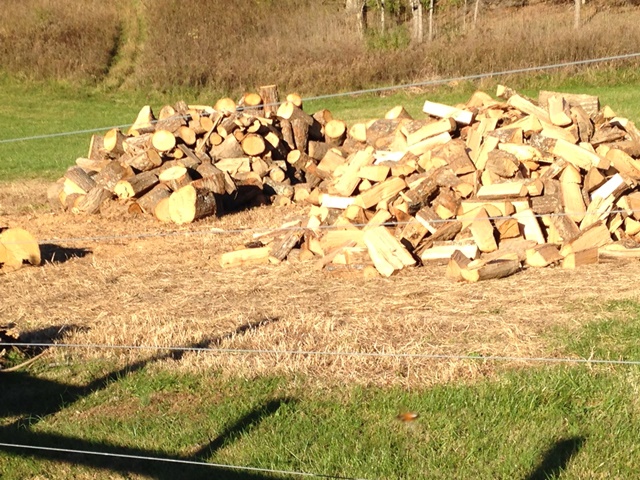 When people find that we have a woodboiler, they'll say "that's good when the power goes out."  Actually, no, it's not.  It's one reason we have a generator. (Her name is Ginny and she is my best buddy. Here's an old post.) The way the woodboiler works is actually like this.   It has a pump that circulates water through or near the firebox.  The  water becomes really hot in the pipes which then enter our crawl space and somewhere along this journey, there is a fan in our ventilation system and the warm air comes through the same vents that the heat pump uses.  It has to have electricity to move the air around.    At any rate, that is how I understand it.   That's why it's so important that we have a generator.
We get our power from AEP, and there have been some years that we've had many outages due to all of the trees the power lines run through.  They've done a better job in recent years in tree trimming, and we've kept power when others have lost it during snow and wind.   The worst outage we have experienced in 15 years was during the first year our house was under construction.  The power was off for 11 days.    We usually have at least one outage per month but if the outage is just four or five hours, we don't even blink.    I know AEP's number by memory.
The power was off at an acquaintance's  house living in a more urban area.   In just a few hours as the house got colder and colder, they went and sat in the car with the engine running.    I cannot imagine. I'd just keep driving and never return.
I took a picture of this AEP plant this morning as we crossed the New River going into Peterstown to get the parts for the woodboiler.   I like old industrial buildings.   (Don't you love looking at images of abandoned buildings and amusement parks in Google?)    I always wonder who works in these buildings, what stories the walls hold, etc.     I learned that this is the "Glen Lyn" plant, and it was scheduled for closure in 2014.   It looks empty so the closure may have already taken place.   I read that 44 jobs were lost in this closure, and I'm betting they were good-paying jobs.   This was an old coal-fired plant…about 90 years old… located on the New River,  and there were environmental concerns.  Still, I feel such sadness.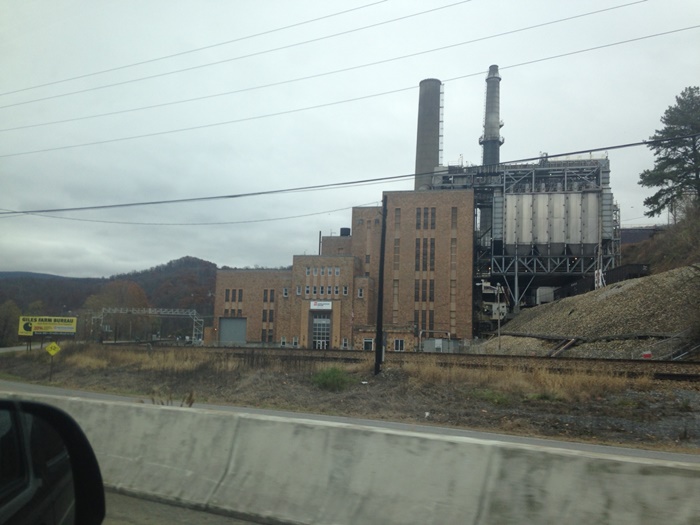 It was an ugly, winter's day on this trip so I did not take a lot of pictures but this is really a pretty area.   Peterstown has a quaint mountain town charm.   When we visited last fall…a little earlier in the year…I loved it.  I'm sure we'll be making a return trip back.  Maybe it'll be a prettier day.
The cat just came in, so it's time for bed.
(338)