This is my project today.   I'm organizing and cleaning the pantry.  I don't want to run out and buy a bunch of organization stuff.  Actually, I do want to but I'm not going to because it's not practical for me as I'm not working.  Plus…I have a lot of baskets and junk already.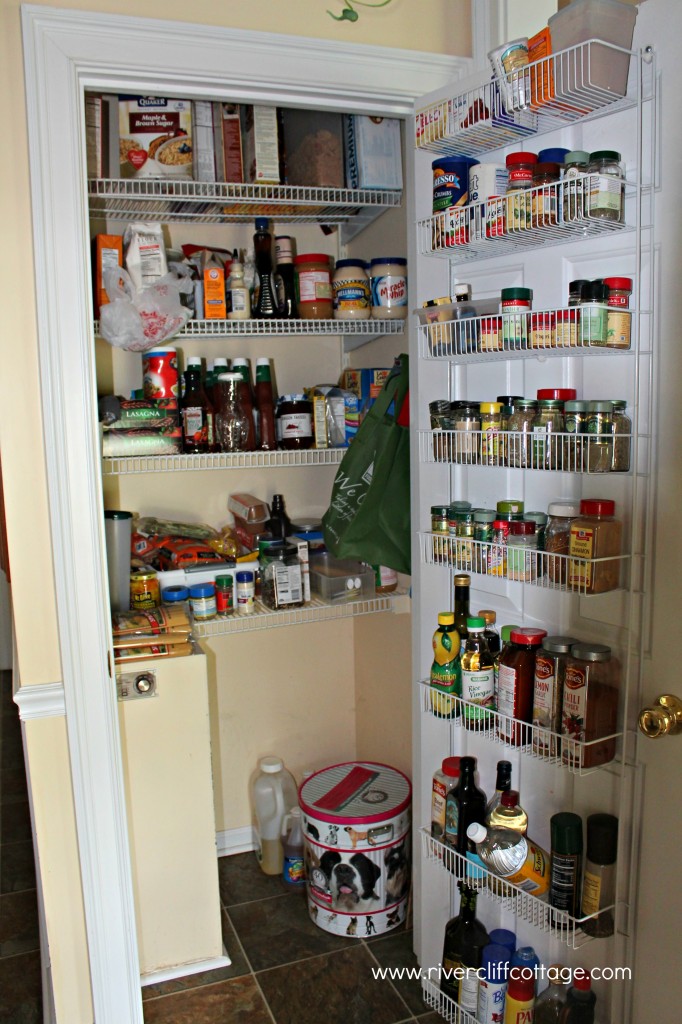 I had to empty the pantry to get started on this project.  Where do you think I put everything?
Remember that nice clean dining room table?  It was the perfect spot to unload everything from the pantry.    We got a bunch of those "half boxes" that Sam's Club gives you at check out.  I was mortified when Mike got about 10 of the boxes on our last Sam's Club visit.  We didn't buy anything.  We just went in and he asked for the boxes.  I wanted to craw underneath the register and hide with embarassment, but the lady was really nice and gave them to him.  He carried the boxes out, and I followed about ten steps behind as if it was a coincidence that we arrived together and left together. 
I also used the dining room wine cabinet as a repository for all the spice stuff…with the California's Finest Nectarines box we got from Sam's Club.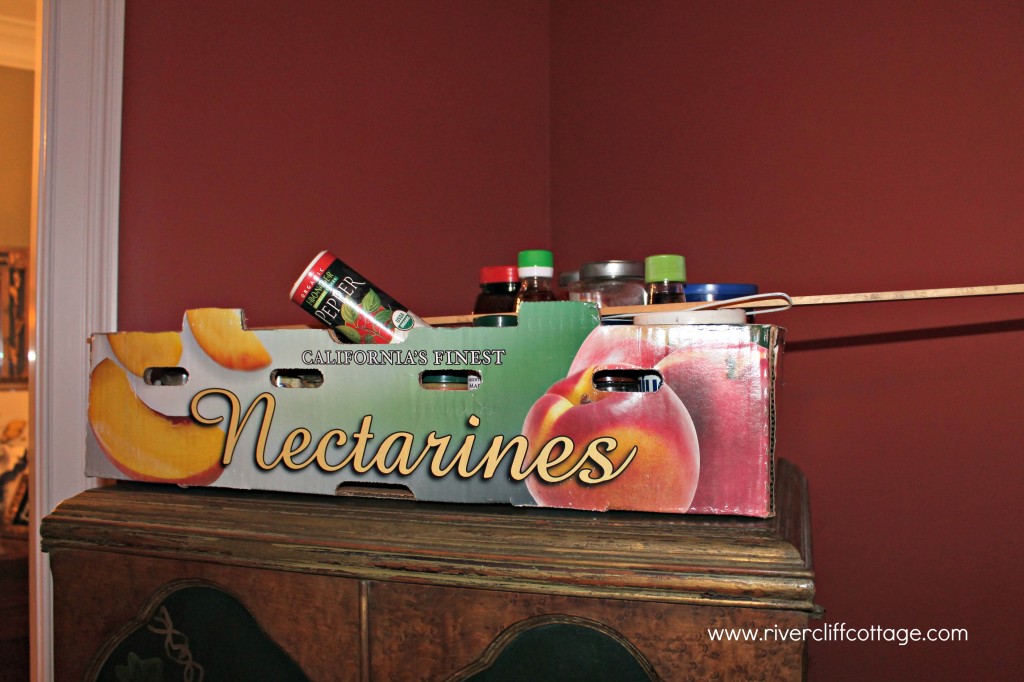 My parents were raised in the Great Depression and their discussions about how bad it was affected me.  I must have several of everything.  An example is the 8 ketchups and 4 Miracle Whip Salad Dressings (I use it for potato salad).   I actually do like to keep about a 90-day supply of food on hand.   It makes me feel good.  I can also justify it by saying that we live 17 miles from a grocery store.   Right!
Look close…there are four ketchups at the front of the picture and to the left of the picture, you'll see four more.   Ahhh…if the river floods and we can't get out…we'll drink ketchup.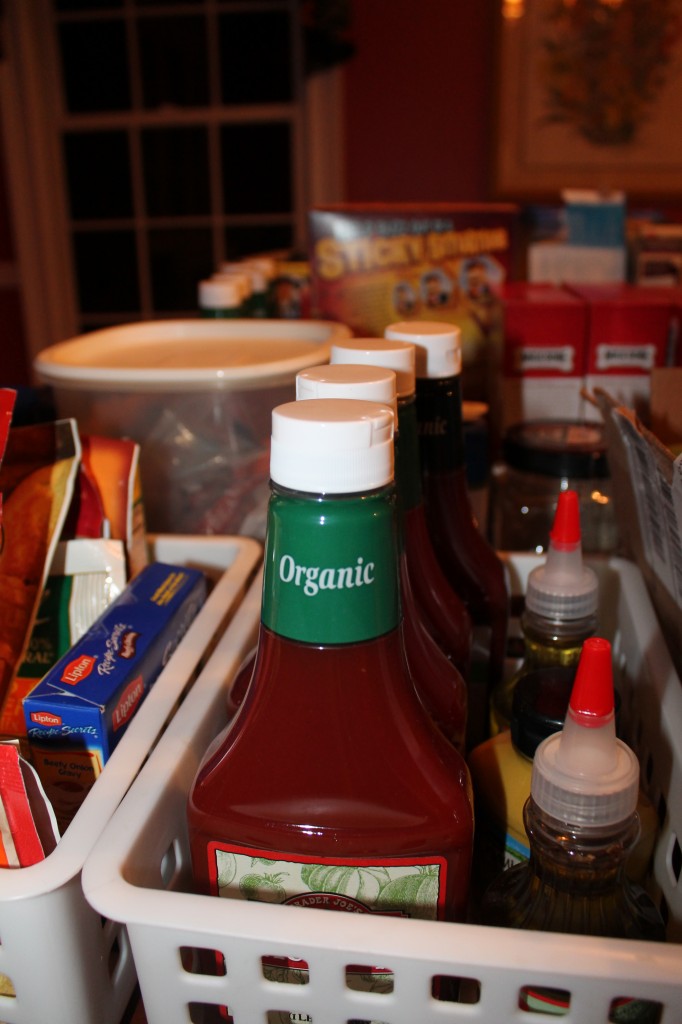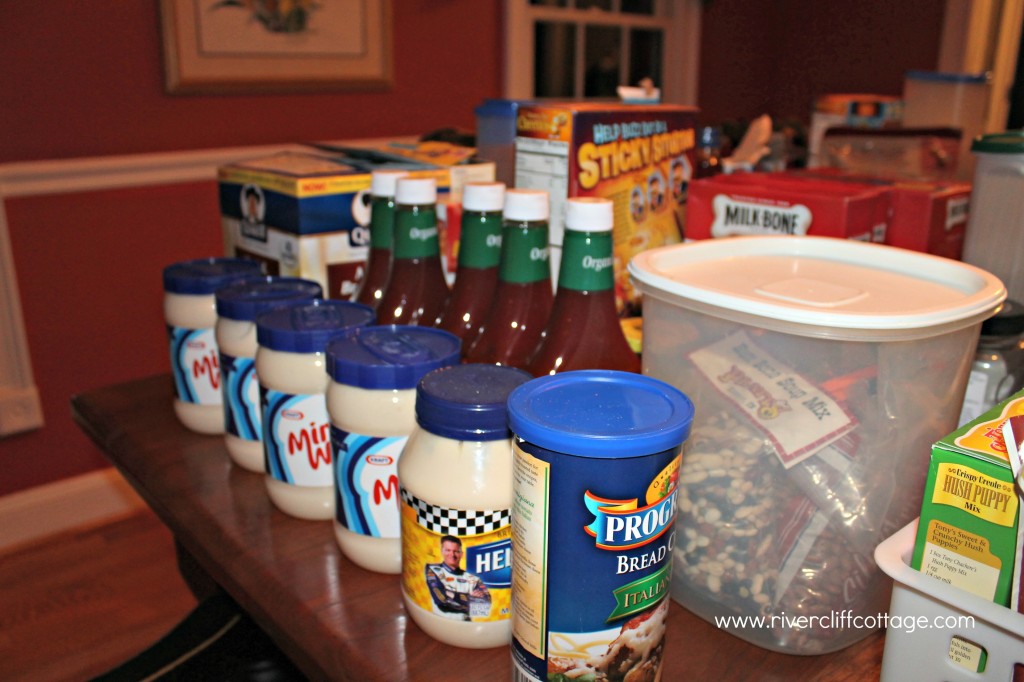 There are very few canned or baking goods in this pantry.  I've got a "baking center" in one of the lazy susan cabinets in the kitchen, and I use the pull-out cabinets underneath the counter for canned goods that we purchase.  My home canned items are either on top of the cabinets or in another pantry area in our den.   The idea to put home canned items on top of the kitchen cabinets was not my idea.  I visited another Mendota friend, Amy Lou Statzer, and saw green beans on top of all of her cabinets.  I immediately copied her!   A shout out to Amy if she is reading this!
We're painting the interior of this little pantry and reinforcing the shelving which sags.  I want to label the baskets and shelves in such a way that anyone unloading groceries will know where to put things.  
If you are reading this and you've organized a pantry, would you mind sending a photograph?   We'll put the pantries of Mendota and southwest Virginia on the map!    I'll post it along with my pantry…once it's presentable. 
Thank you for reading this blog and thank you for sending comments.  The way the comment thing works is that I'm notified when a comment is waiting for moderation.    I'm notified on my aol acccount,  and when that little "ding" occurs, I stop whatever I'm doing and run over to see what you have said.  It's so addictive. 
(1740)