I asked folks on Facebook how many trees they put up.  I was wondering if they were like me…I used to want a tree in almost every room.    It appears that the younger your family is, the more trees you want.  This year, I was considering NOT putting up anything other than a small tree in the corner of my dining room.    I know…Grinch like!  Mike intervened and we have a normal size tree in our den, and I do admit that we're both enjoying it.  I hate it when he's right.
When I grew up there was neither money or any conceived idea of having anything other than a small cedar tree cut on the "nob"  behind the house  and a very limited amount of decorations.    I still love the smell of a cedar Christmas tree, but they dry very fast and can be a fire hazard.    However, this set the stage of my love of using fresh greenery vs. artificial.
The living room does not have the tree, but I "shopped" neighbors for boxwood and magnolias.   It's amazing how a little sprig of either one of those can put things in the Christmas spirit.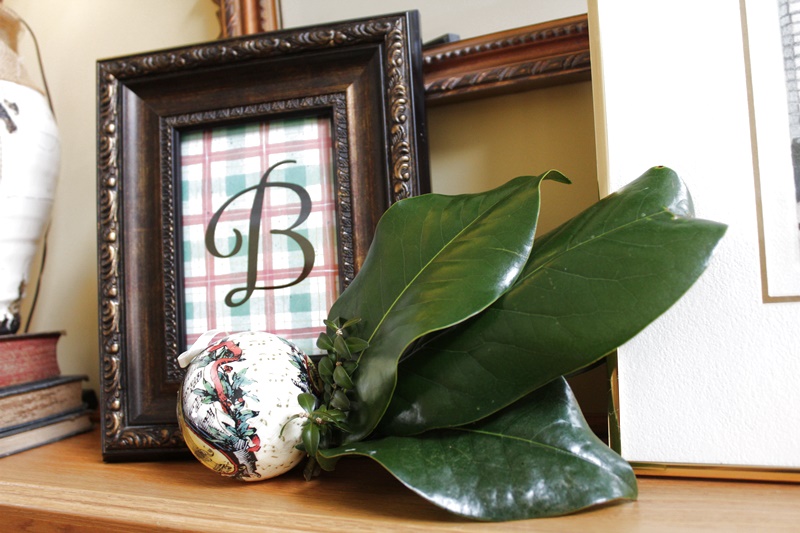 These magnolias above came from my niece, Sherri Gardner.   The green leaves and the red bows are just so pretty.    The tree that stands in her yard has been there for generations.
One thing I like about Christmas is visiting "things" that I've had in years past.  Last year, I asked Pennie Jarrett to make me this sign (below).  Penny is a soldier's wife and has two little girls.  Last year, before she hurt her back, she worked into the wee hours of the night on projects like this.     Her husband was on a deployment so she said she couldn't sleep, and this was a way to cope.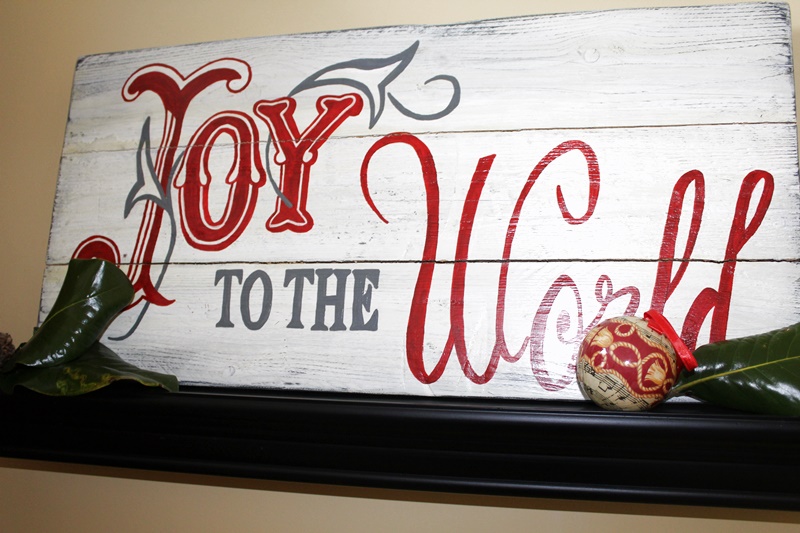 I stuck some magnolia leaves and a red ribbon on this vase that is always on our mantle.  It's got little white LED lights on it that I flip on at night.   Mike says he can always tell when I've been in the living room because he hears badly sung Christmas carols.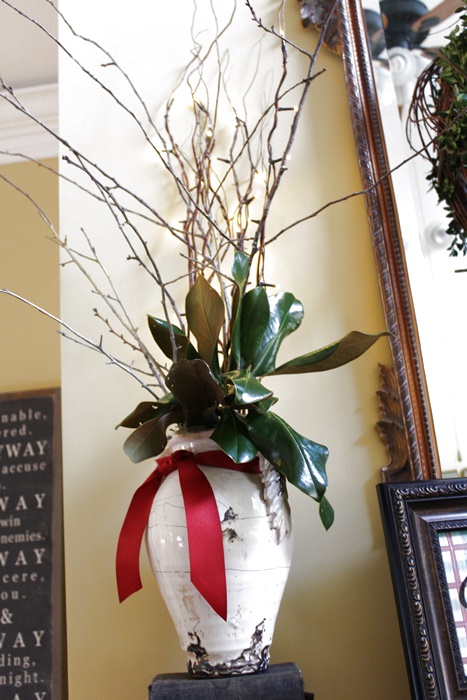 This little thing is on the other side of the mantle.   I stuck a red bow on it to make it festive.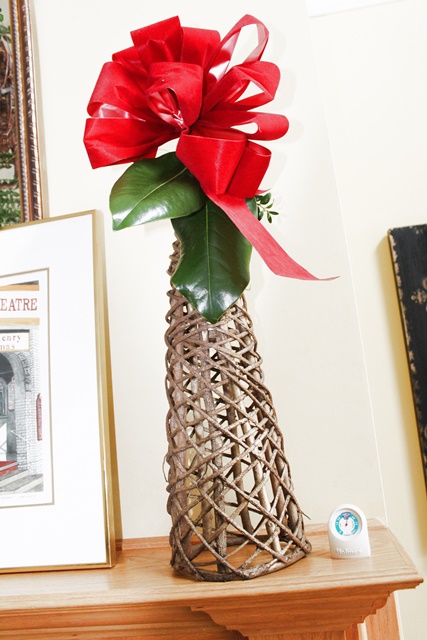 Here's the whole mantle.   I love the messy wreaths that you get when you tuck fresh boxwood into a grapevine wreath.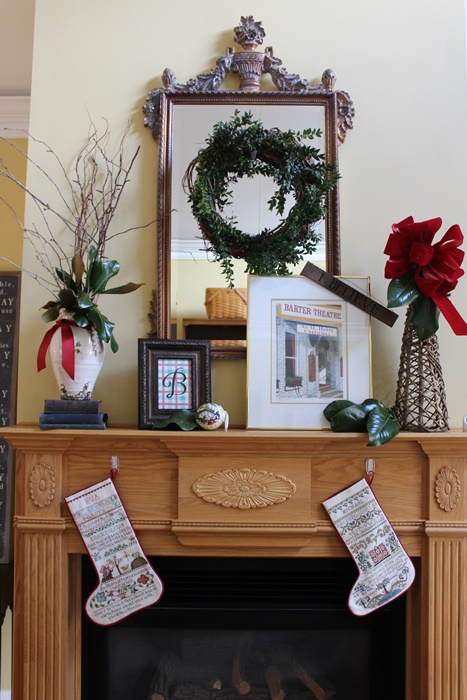 A few years ago I preserved the boxwood (here's the post)  and used it for a couple of seasons.   Here's an old picture of the preserved boxwood from that time.    I love  burlap on the table at Christmas.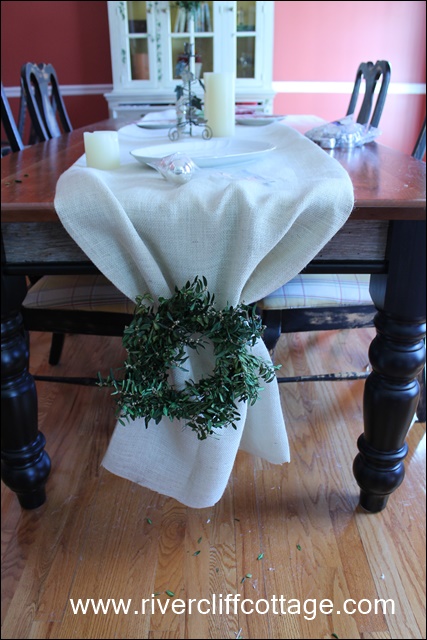 I don't preserve the boxwood now because the fresh boxwood will look good right up until spring if you want to leave it up that long.  I still hear from people asking questions about how to preserve boxwood.
The other thing I like to do for Christmas is put out a lot of throws with Christmas or winter themed throw pillows on them.   This one is also in the living room by the mantle.     I will leave both the pillow and the throw out until March because they are more winter than Christmas.   I need bright things in the dreary days of January and February.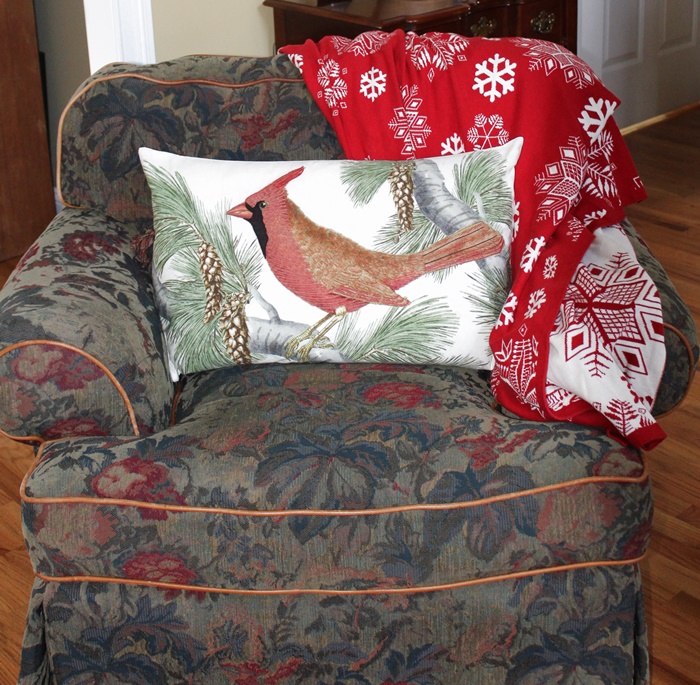 Here's another chair in the living room that's says Merry Christmas!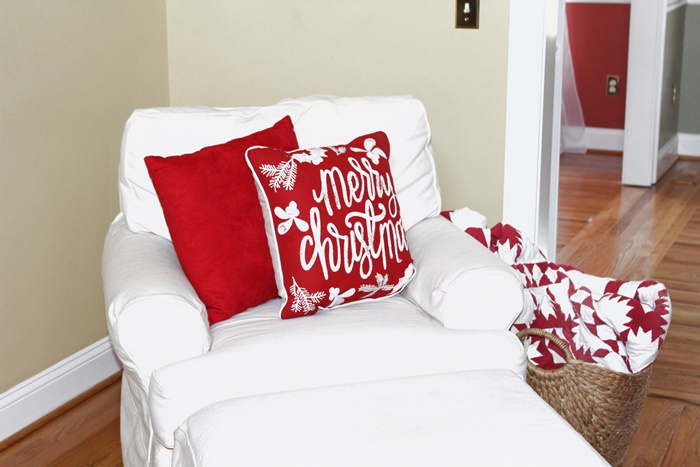 On the coffee table, I swapped out fall leaves that were there a few weeks ago (below)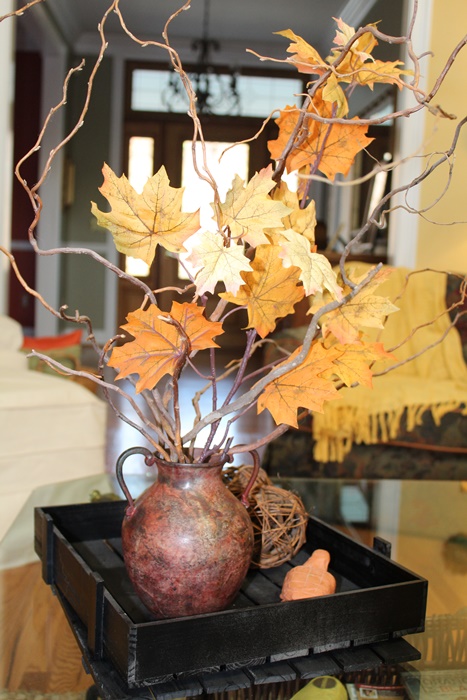 …To red berries for Christmas and winter in the picture below.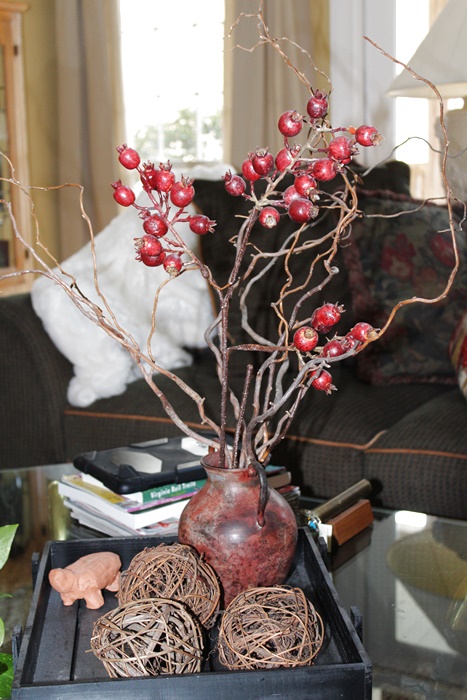 Look behind the couch.  I ran out of boxwood branches.   This couch is one of my favorite things.  It's wearing so much that even Mike suggested we get it recovered.   I don't want a new one, so recovering is the only option.   (This is truly a sign of old age.)  It's the most comfortable couch I've ever had.  If I can't sleep, I go to that couch and fall asleep.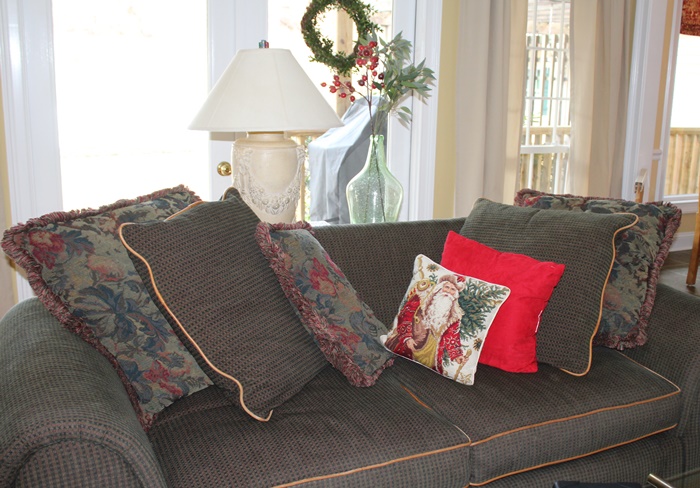 Do you think this is enough to make Mike happy and not suspect he's married to the Grinch?   Merry Christmas from me and my living room!
(93)