This past weekend was my last weekend with my beloved Golden Retriever Gracie.    I'm aching missing her.  We decided not to go to church on Sunday because I did not want to be away from her even for an hour.   However, I missed the special music provided by Audrey Auld and Oscar Harris.
If you can take five minutes and listen to the two songs that Oscar and Audrey recently performed – the first is not at Mt. Vernon but for a  television show – you won't be sorry.  The first song is called "Dear Mother "  written by Audrey.  The second song is "Clinch Mountain Prayer" also written by Audrey and being performed at  Mt. Vernon on Sunday.    Please listen to her clear voice, peppered with words describing the places and people we love  followed by our own very talented Oscar coming in with the autoharp.  Are there many things more beautiful than the sounds he makes with the autoharp?
Audrey's  from Australia, lives in Nashville, but obviously she needs to be here with us!    She gets it!
Each day I work a small amount on the publicity for the Dale Jett & Hello Stranger Cemetery Benefit on Friday, April 25.  (Save the Date!)    If you are local and receive WCYB on your television set, mark your calendar for the News 5 at Noon show on Tuesday, April 22.  We'll be there talking about The Third Annual Cemetery Benefit, Oscar and the Poor Valley Girls will be providing some great music, and I'll have the Mendota Cemetery Quilt with me asking the viewers to help sell a ticket in all 50 states.   We missed it by 10 states last year, although we did sell tickets in about 7 foreign countries!    This year's quilt is a beauty….it's being worked on by Chris, Nancy and Margie.  We  are so grateful for their hard work and talent.   Here's a little peek…it's red and white.  I love Chris' sewing machine.  Chris knows something it took me years go figure out — newer is not always better.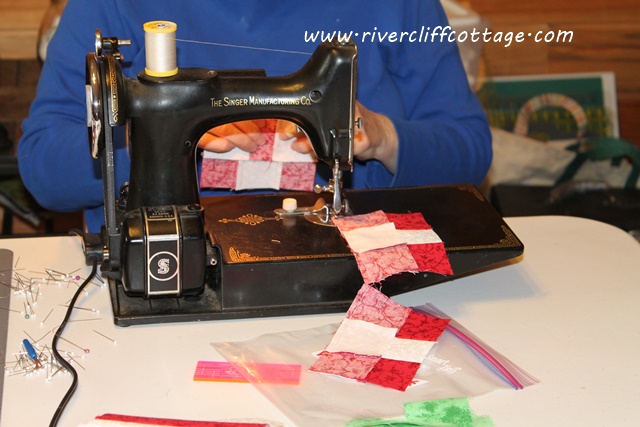 Margie's ironing…I didn't get  a picture of Nancy.  I'll get that in a week or two.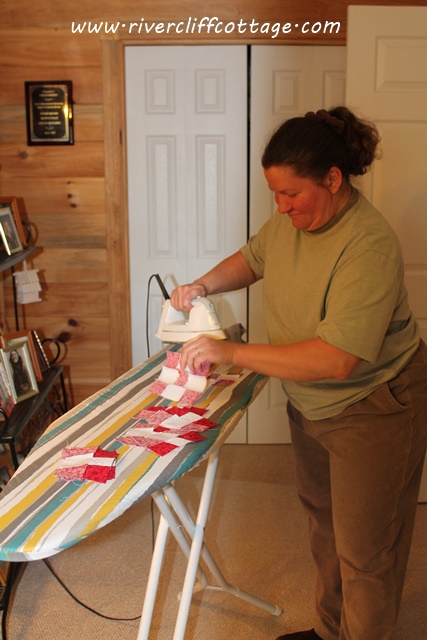 Lots going on.  Quilts, music, weddings, babies…why does everyone think we live such sleepy lives in Mendota?
I'm going back and listening to those songs again.
(537)