So….we came home from the vet today without Gracie…my 15-year old Golden Retriever.  She could no longer walk more than a few feet without falling.   I have been talking about Gracie on this blog and how I felt her time with me was limited, so this was something I was prepared for.    Not. You are never prepared for loss.  As this goes, it was as good as it could be.  Dr. Dotson sedated her so that she wouldn't have anxiety.  I held her, breathed in her stinkiness one last time, and following a series of injections, she peacefully left me.   I loved that dog.  I am having her cremated, and like her sister, Annie, she will be buried with Mike or me…whoever goes first. Do dogs go to Heaven?
Mike and I came home bereft.  Empty.  What to do…what to do..what to do?   When Mike asked the question…how did I wanted to spend the remainder of the day…I told him I'd like to go across Clinch Mountain. I am a mountain person, and I cling to what I love during times of loss. So…we got in the truck and took off. I took my camera. The pictures are not that great because the mountain is still sleeping in winter.  It'll burst in green in just a few weeks.  There will be dogwood blooms…mountain laurel…a symphony of beauty.   However, if you have ties to Clinch Mountain, you'll still enjoy going along with me on this day of gray.
Up up up we go on the dirt road.  I have an affinity to this road–it's called Pinnacle Road, but I still refer to it as "The Mountain Road". The Barker family once (many years ago) operated part of the road as a toll road.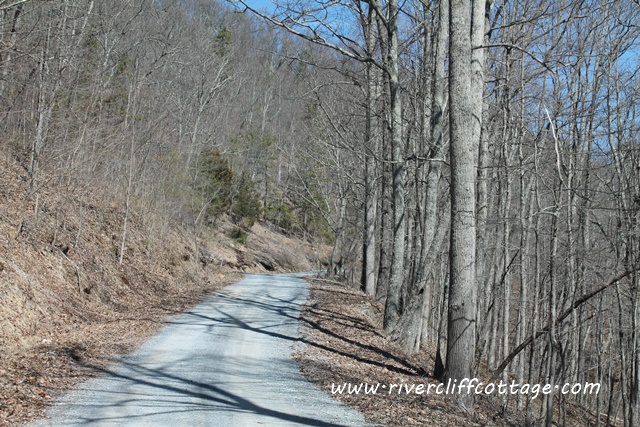 Can you see the incline increasing? We are driving into the sky.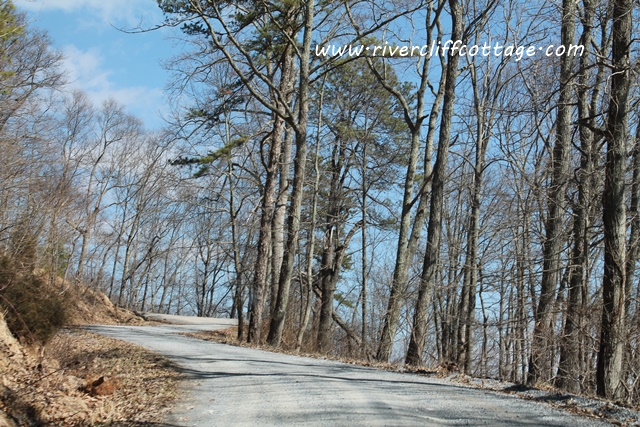 No guardrails. If you meet someone, you have to determine who is going to back up to a wider spot. Yikes. It's a little dicey.  You must rely on sky to catch you if you go off the road to the left in the picture below.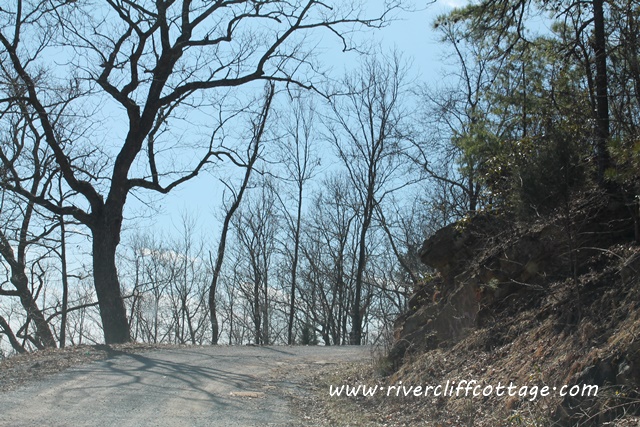 We're at the top in this picture and this pathway is where you'd hike up to the tower.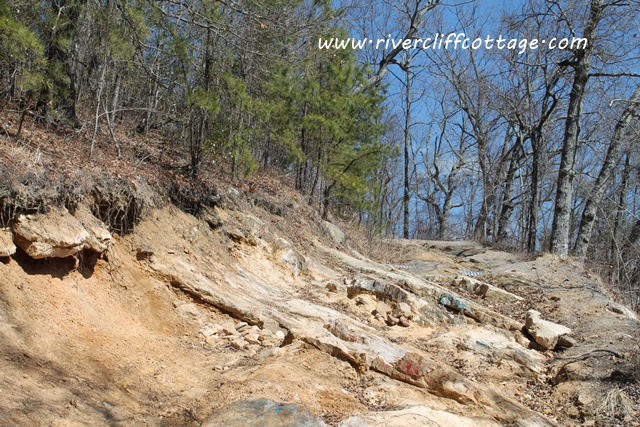 Because Mike was driving with his not-so-great-knee and a sprained ankle, we omitted part of the trip…the part where we hike to the firetower.   Honestly, however, if I'd said I wanted to hike up there, he would have crawled. He wanted so badly for me to not be sad.   So sweet.  I'll go another time. When the Hawk Count occurs in September, there's lots of folks up here. Lots of hawks, some Golden Eagles and some Bald Eagles are seen here. Once at the top, you cross from Washington County into Russell County and start going down. It's more trecherous going down than driving up. Here we go!
Gotta be careful…see where the road has caved in ahead on the right!!   I wish we had stopped so I could take a picture of where that goes…straight down!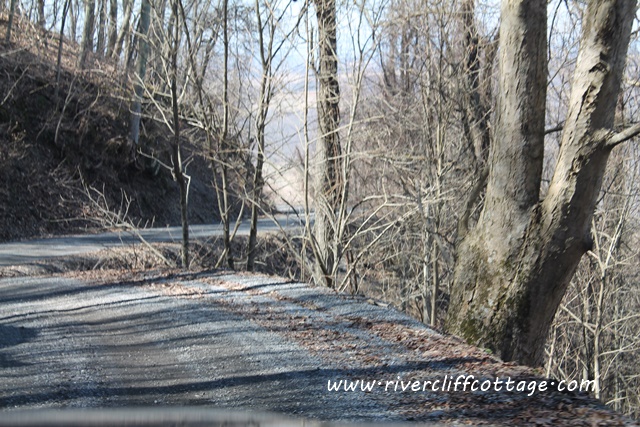 Looking through these trees, I see the fire tower.  Can you find it?  This is like looking at one of those pictures in the HighLights Magazines in the dentist office!  It's there…you just have to look.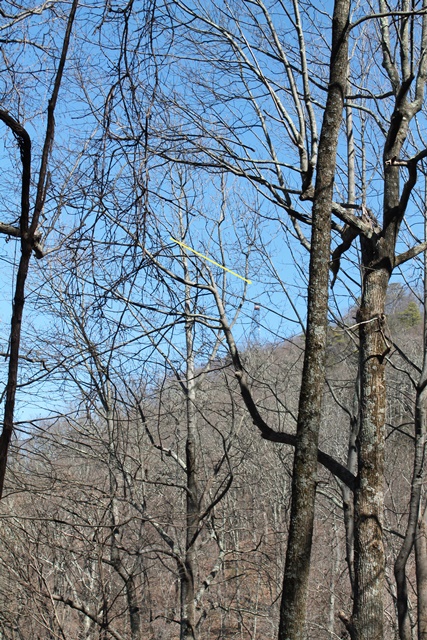 I held the camera out the window as we passed so this is a picture of the road just behind us.  It's not particularly steep at this point, but still…I wonder why there is no guardrail anywhere on this road?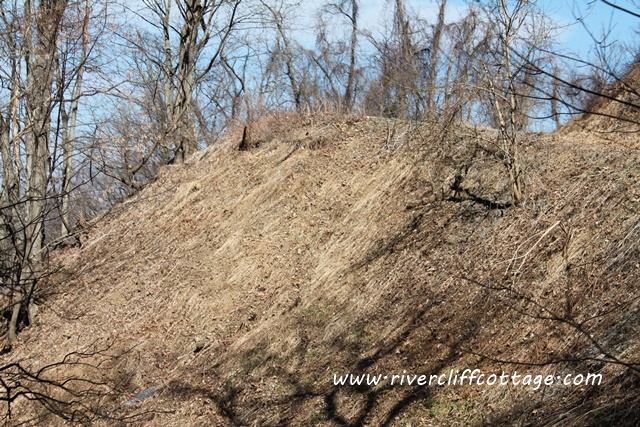 God's Country. This will be so much prettier in a few weeks, but I love it every day…any time. Like Ava Marie in Big Stone Gap…I'm a flat-bottomed mountain girl! When is that movie coming out anyway?    If you don't know what I'm talking about…it's the movie based on the book by Adriana Trigiani entitled Big Stone Gap starring Patrick Wilson and Ashley Judd. It was filmed in Big Stone Gap, Virginia.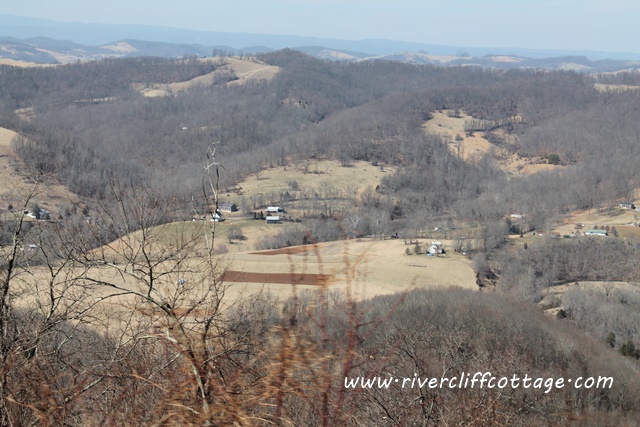 Once we near the bottom there's a pretty barn and quilt square. Russell County is forming a Russell County Barn Quilt Trail.  I am so jealous.  Maybe they'll annex Mendota, so we can get in on the action. We're dragging our feet in Washington County.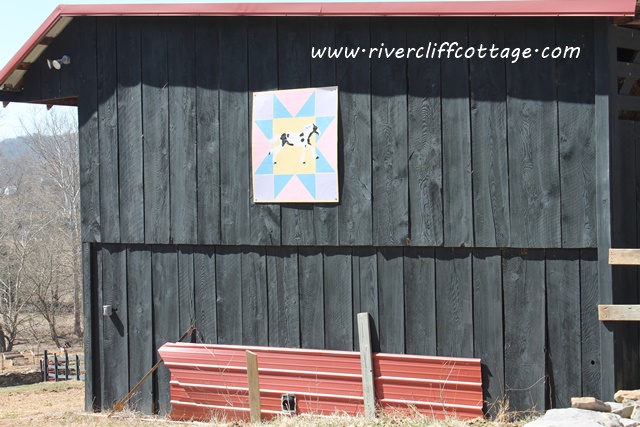 Mocassin Creek flowing below…you can see the remains of a dam…was there a mill here at one time? Also, are there mocassins in the creek or is it named that because it snakes along like a mocassin?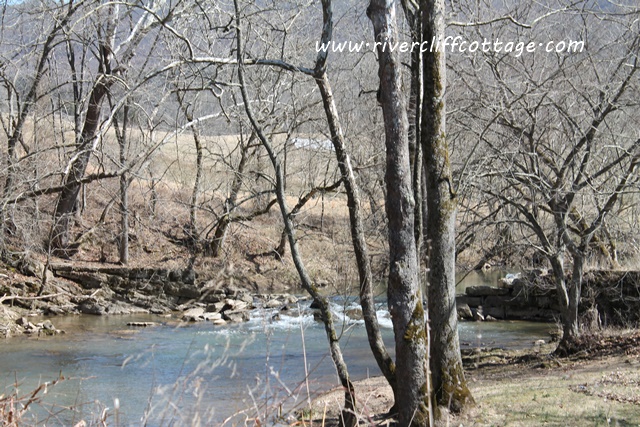 And…I wonder who Bill Jackson Hartsock is/was?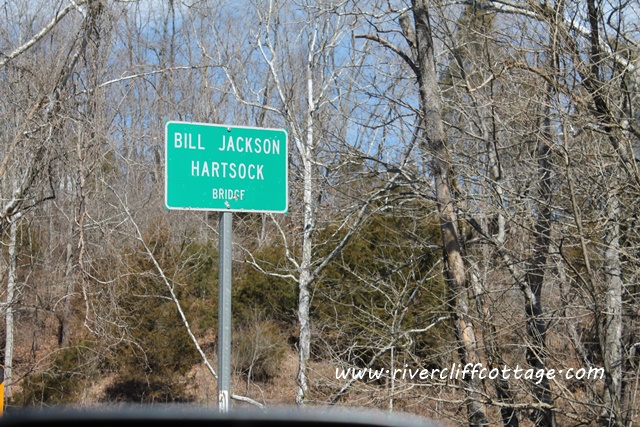 If you got this far in this post, I suspect you're from Mendota or you have ties to Southwest Virginia. Thank you so much for reading RiverCliff Cottage. I love sharing this beautiful place and our rural life in Mendota with you.
(753)