It is the day after the Mt. Vernon/Mendota Cemetery Benefit held right here in Mendota.    I could go on and on about the level talent of Dale Jett, Teresa Jett and Oscar Harris of "Dale Jett & Hello Stranger"  as well as Heather, Mary and the other women making up the "Poor Valley Girls" bring to this benefit.    World-class talent right here in Mendota, Virginia–I'm not exaggerating.  Ask anyone who attended.    Things went well last night.   Many hands  worked toward a successful benefit to raise money for the Mt. Vernon and Mendota Cemeteries.    Those not from this area might wonder why we bother as cemeteries are not places for the living…right?  It's different here.
My friend Joann Vicars unearthed a treasure on Thursday.    Edith Millard Benfield is one of the reasons we work on this benefit.     I miss her as I miss my own mother.  I remember how she smelled when she hugged me and whispered "Let me mother you when you need it since your mother is gone."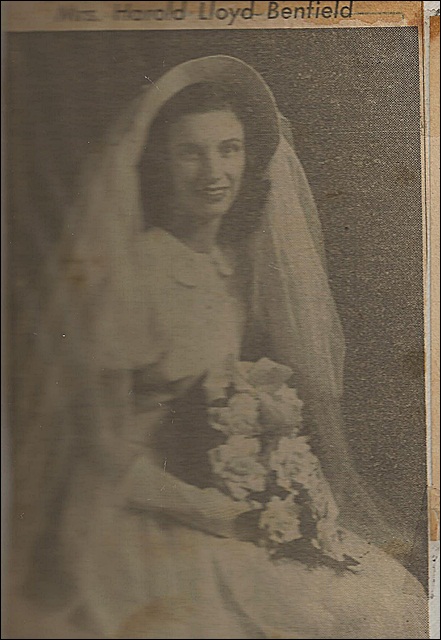 Edith Millard Benfield…mother of Katie, Lisa (my lifetime close friend), Nancy and Benny.   She was Harold's wife.   I cropped the above picture (not with scissors…with software) out of the newspaper clipping Joann found. There's no date on the clipping but this is what it says…
Miss Millard Is Bride of Mr. Benfield
Miss Edith Jewell Millard, daughter of Mr. and Mrs. Worley J. Millard, of Mendota, Virginia became the bride of Mr. Harold Lloyd Benfield, son of the late Mr. and Mrs. Floyd P. Benfield of Elizabethton, Tennessee on Friday, July 4, at the Mendota Methodist-Baptist Church, Mendota, Virginia.
The Rev. A. F. Barker, former pastor of the bride, performed the ceremony using the double ring service.
The altar decorations were white baskets holding large bouquets of whit and pink gladioli and snapdragons, against a background of native green.  Branching candelabra held white cathedral tapers and white tapers burned in each of the windows.
Nuptial music was given by Mrs. June Thompson, pianist, Miss Hattie Bridgeman, of Bristol, and Mr. Frederick Smith, of Mendota.  Miss Bridgeman sang, "Because" (d'Hardelot) and Mr. Smith gave "I Love You Truly".  During the ceremony, Mrs. Thompson played "Always".  The traditional wedding marches were used.
Miss Eva Millard, was her sister's maid of honor.  She word a pink marquisette gown fashioned with a close fitting bodice and full skirt, pink mitts, and carried a nosegay of pink and white rose buds.
Little Miss Dottie Millard, sister of the bride, wore a dainty floor length frock of pale blue organdy and carried a basket of white rose petals.
The brunette bride, who was given in marriage by her brother, John E. Millard, wore a wedding gown of white marquisette over taffeta, designed with a tightly fitting bodice, peter pan collar and short puffed sleeves.  She wore long white net mitts and her finger tip veil was of illusion with a matching cornonet.   Her flowers were a colonial nosegay with a white orchid.
Mr. Berlin Benfield, served the flowers, as best man, and the ushers were Mr. Herman Leonard, and Lach Hicock of Bristol.
Mrs. Millard  mother of the bride, wore blue crepe with white accessories and corsage of white gardenias.
Following the wedding trip through Virginia and Washington, Mr. and Mrs. Benfield will be at home at 624 Cherry Street, Bristol, Tennessee.  For traveling the bride wore a white linen suit, with matching accessories.  Her corsage was a white orchid taken from her bridal bouquet.
Mrs. Benfield, is a graduate of Hamilton High School and Bristol Commercial College.  For the last three years, she has been employed as bookkeeper for  Hooks-English Infirmary, Bristol, Tenn
Mr. Benfield is a graduate of Elizabethton High School and attended King College.  He is an employee of Red and Slumpler Confectionery, Bristol, Va.
Sigh…
I enjoy living in the age we live in, but the past is important, too.  We are enriched by the past.   If you attended last night's benefit, thank you for supporting our two historic cemeteries.   These country cemeteries matter. 
And thank you for reading RiverCliff Cottage.
(724)