Hi there!
I logged onto RiverCliff Cottage's admin site and realized I had messages from readers from quite a while back.  Sorry!  I haven't been on here lately.  I am going to redo this blog with a new theme, but I want to do it completely by myself and I need to take a couple of classes.   It's part of the plan for 2017 but it won't be until fall.
So what have we been doing down here in rural Appalachia?   Life is more busy, if not exciting, than one would imagine.
A friend and I are  planning a Farm Girl/Shabby Chic baby shower in April, and it's going to be so fun.   I have the theme all in my head.   I know my friend will make sure the food is top notch (I'm not a cook).   I'm hoping that my responsibilities will be decor, invitations and hosting plus paying a portion on the food.   I was thinking about pastel colors and natural elements that reflect Mendota and  decided to try painting a Mason jar in a pastel this morning.  It turned out pretty good.  I wouldn't use red flowers but they are pretty today.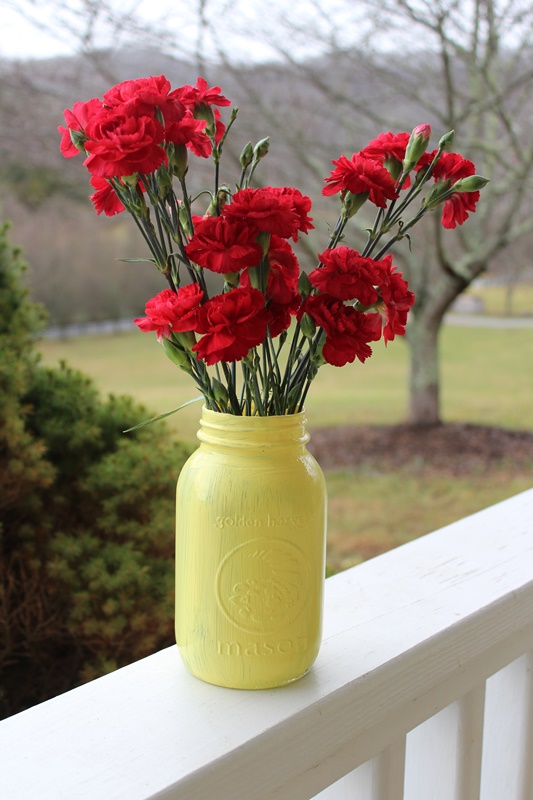 I'm thinking that several of these in pastel colors with ribbon and baby's breath and greenery will look pretty at the shower.
We are also planning the Mendota Cemetery Quilt.   I am going to chronicle it.  So excited.  I actually may get to work on this one a tiny bit.  I'll definitely be selling tickets.   Patsy Carrier and I sell most of the tickets.  Here's the fabric, which I I donated the fabric because I loved it so.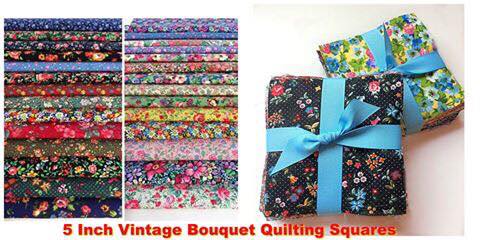 We're working on a bingo to accompany the town hall meeting.  We need the funds to heat the Mendota Community Center.  The current focus is getting prizes for the bingo.   On the hunt for restaurant gift cards next week.  Please come and get involved if you are local.   I made this flyer in an app called Canva.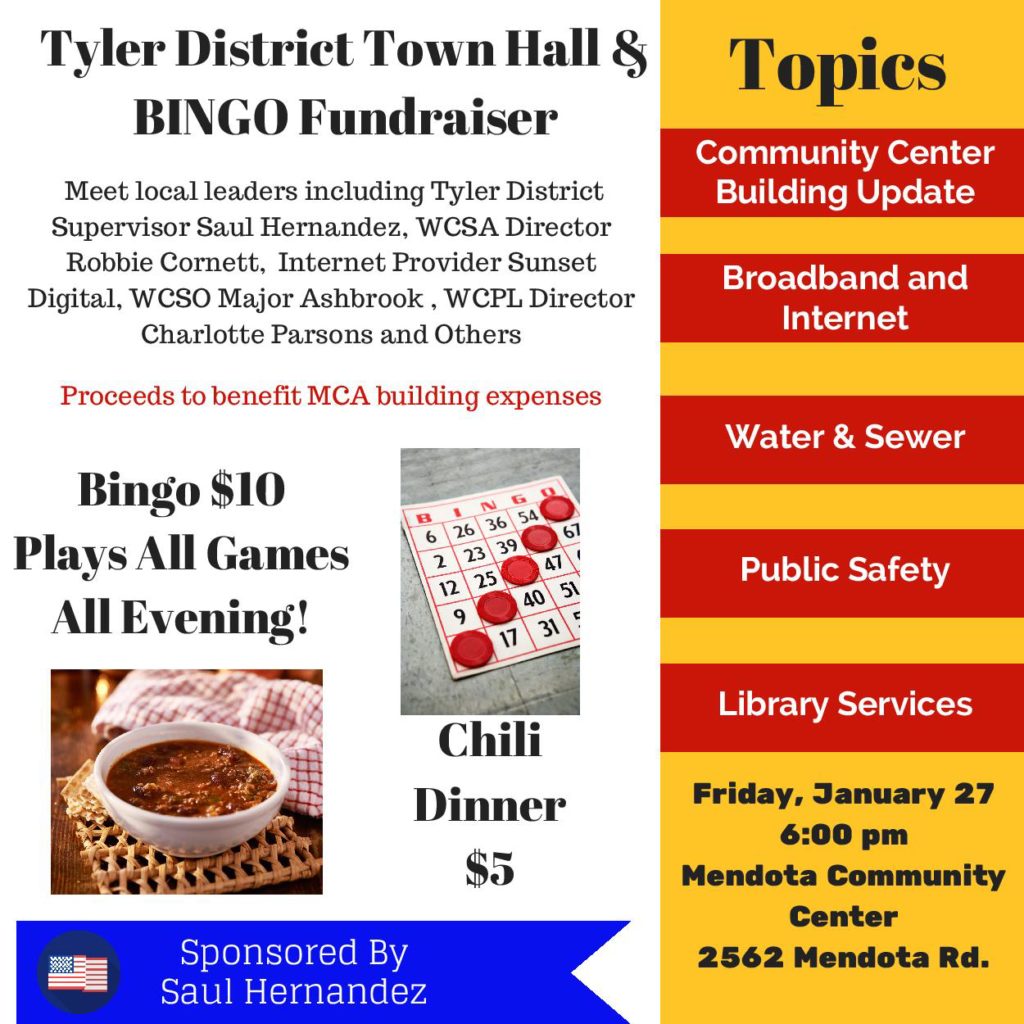 And concurrent with that, still looking at tees for Adventure Mendota.   We are working to get the price down and more colors.
Still working with my friend, Sue Cressel, at About Face and honored that we are still friends after all these years.   I'm actually doing the About Face prescriptive weight loss plan.  Day 3.    Our website is up but I continue to work on it all the time.   It's www.tryaboutface.com .  Check us out and if you find a boo boo, message me!!  Here's one of our Juvederm Volbella pictures.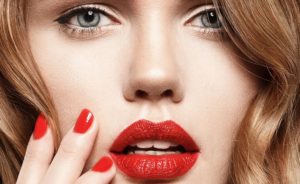 Very excited to be speaking to a group of outdoor recreation students next month and helping them with their interview skills.  Adventure Mendota has opened so many doors for Mike and me to do things like this, and we really enjoy it.   If it were not for Mike, I'd do everything the night before.   As it is, I've already sent my information over and it's not until February!!!
A loss in my life  has been the decision not to keep our honeybees.  Gerald says we may be able to keep one hive just for pollination, not for honey.  If we sell them all, I will miss seeing these bees terribly.   I have the fewest stings of any of us.  I think they know I love them.   If one is inside or in a perilous place, I will work to catch it and remove it.     You have to be physically strong to work with hives full of honey.  I'm not that strong,  Gerald pulled his shoulder and I absolutely cannot lift them.    My friend Helene is taking a turn at having her apiary so we may see her bees down this way.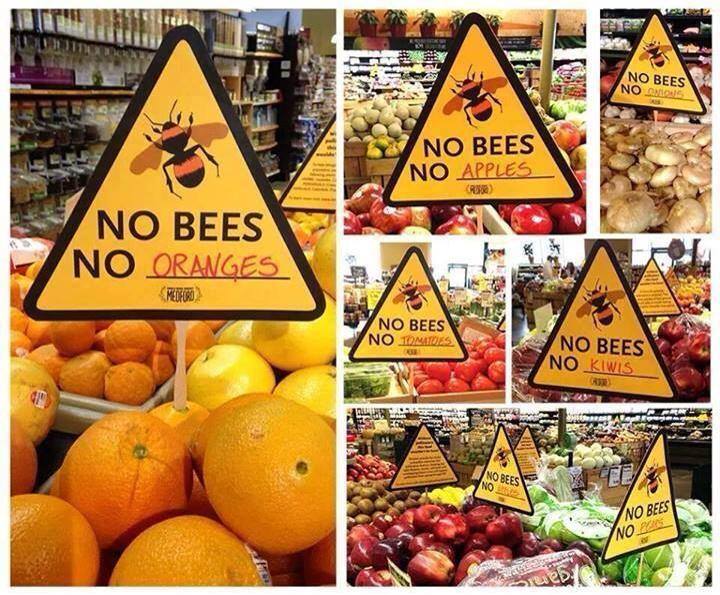 I want to love my sisters better.   I am so lucky to have Nancy and Pat in my life. I just realized I do not have a picture of the three of us.   Ouch!!
I'm approaching  mid-January with a grateful heart.   It's not a perfect life but it's a good one.    I'm a little concerned about obtaining health insurance now that the Affordable Care Act is being repealed.  I don't mind paying for it, but I want to make sure I can get it.   I probably should work at least part time so I'd have more money; however,  Mike and I are happy sharing this winter down time that we have, so I haven't done anything about it.  Our family is not perfect.  We let each other down but we lift each other up.    We have way too many conflicts over our small business (Adventure Mendota), but I've gotten tougher than I'd ever dreamed but I know the good we do.    I used to say "haters are like maters and I eat them."  That is not the case.   I just try and not think about what  I have no control over.   Why not put energies into people and things that are meaningful and give back?   Smile and the world smiles with you. Cry and you'll cry all alone.  (Mother).  Is your glass half full or half  empty?
That is my road.  What is yours?
Thank you for those who still log onto RiverCliff Cottage after all these years.  I'm off.  There is a house to be cleaned!!
(64)