Since I live 17 miles from a grocery store in Mendota, Virginia, it's important to have items on hand that can be counted on.    By making these meals in a jar recipes and having just a  few other items on hand,  I can count on having soup for dinner when I'm tired, short on money or just wanting a bowl of soup.
We  have definitely entered fall in Mendota, and it's the time of year I fix soup almost every Saturday. Week before last it was minestrone, last week was vegetable beef, and this week it's chicken noodle. It's easy and it keeps Mike and me eating relatively nutritiously.  Concurrent with this, I rekindled an old interest from a few years back… "Soup in a Jar" recipes.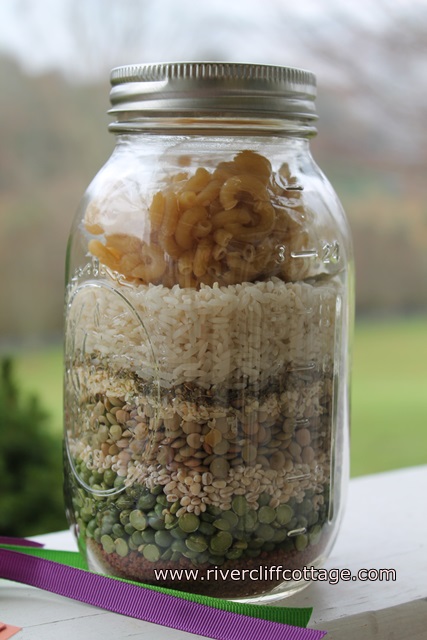 I thought it would be convenient to make a few up for myself and for gifts. I found one I haven't made, but based on the ingredients, I'm sure I will like it. It's also eye candy in a jar. Very pretty for a fall kitchen.    (Keep reading…the recipe is below).  Also, and way off base, do you feel more secure when you have a few of these types of things around?  I do…if the power is out, etc., I can always make this soup on my gas range.   It might not include the meat but I think it would still be tasty.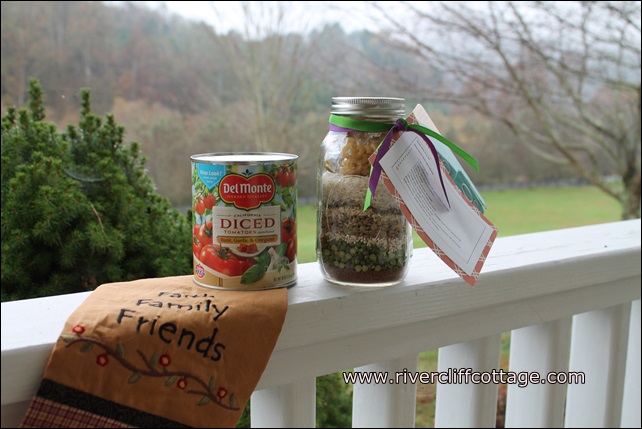 This one is going to be a gift so I've added a Food City gift card with my jar pictured above because the ingredient list calls for a 48 oz. can of tomatoes and ground beef or mild Italian sausage. For a small family struggling, this soup mix and $10 gift certificate to purchase meat, tomatoes and possibly a gallon of milk will be useful. For rural people like me who like home-canned tomatoes, I'll give a jar of my tomatoes, the soup mix and a $5 gift card which will make it more affordable for me to give plus home-canned tomatoes are more tasty.
I had some of the ingredients on hand but I had to buy a few. I really don't cook on my porch but it's such nice lighting that I haul everything out there and take pictures.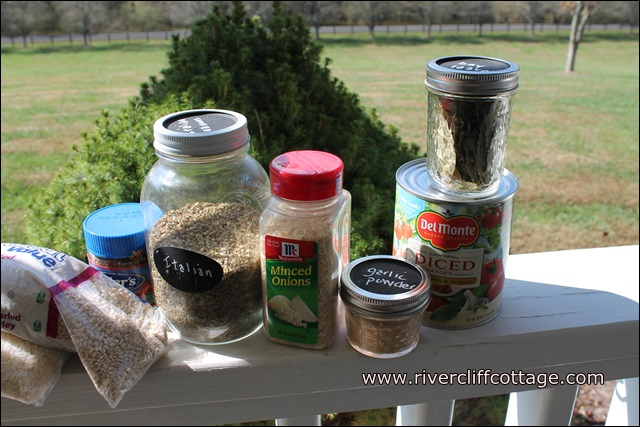 The directions below provide instructions for both how to make the Bean Soup in a Jar (as in putting the jar of stuff together) as well as how to prepare the soup. If you give this as a gift, you'll need to include directions on how to prepare, and that's also included.
Bean Soup In a Jar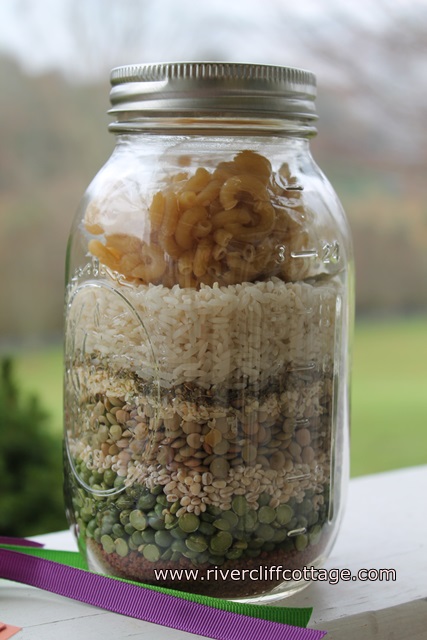 Ingredients that go inside the jar:
1/3 c. beef bouillon granules, 1/2 cup dried split peas, 1/4 cup pearl barley, 1/2 cup dry lentils, 1/4 cup dried onion flakes, 2 teaspoons dried Italian seasoning, 1/4 teaspoon powdered garlic, 1/2 cup uncooked long-grain white rice, 2 bat leaves, 1/2 cup uncooked macaroni.
Preparation ingredients:
1 lb ground beef or Italian sausage
1 28 oz. can of diced tomatoes
3 quarts water
Fresh ground black pepper
Directions to accompany your jar:.
Ingredients:     One jar soup mix, one pound of ground beef or Italian sausage, one 28. oz canned tomatoes and 3 quarts water and fresh ground pepper to taste.
1. Remove macaroni and set aside
2. In a large pot, brown ground beef or Italian sausage and drain excess fat
3. Add tomatoes, water and soup mix
4. Bring to a boil, reduce heat to low, and simmer 45 minutes.
5. Add macaroni, cover and simmer and additional 15-20 minutes.
The jar I pictured in this post actually ended up going into a Silent Auction which will be held November 11 here in Mendota.     I used a Thirty-One bag I bought over a year ago and filled it full of useful things.   The Soup in a Jar fit right in one of the side pockets.      Fun to give, fun to make and fun to receive!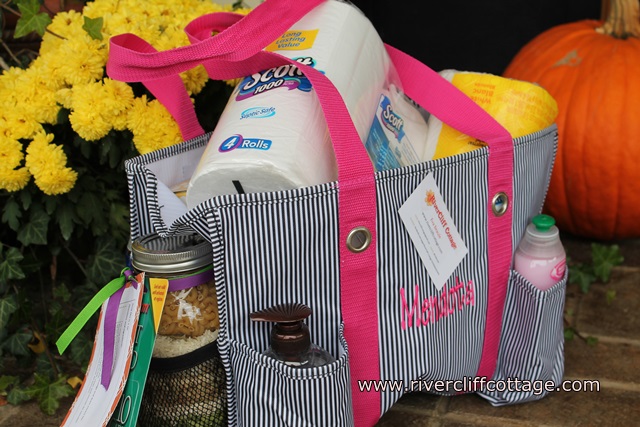 (827)