It's been raining for two full days in Mendota, Virginia, but we caught a break a few minutes ago,  so I went out to do my daily "bug walk." Tomorrow will be week four of the war on Japanese beetles. I've killed about 40-60 beetles each day. My green beans are holding their own. Look how full the vines are in the raised beds. They are Mountaineer Half Runners, and I have nicknamed them the "Fighting Mountaineers" because they continue to produce even with damaged vines.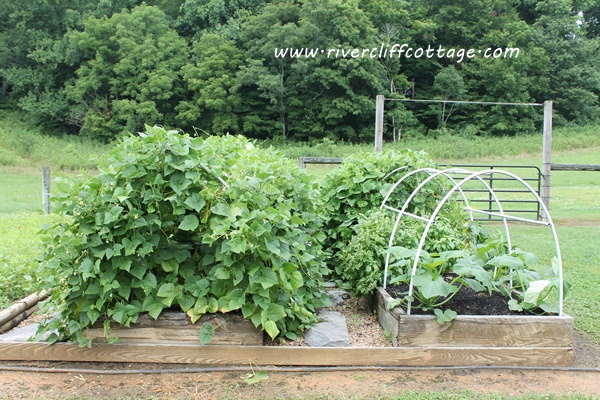 Here's the damaged skeletal leaves. The damage is  primarily where the sun hits the vine, as Japanese beetles like to be exposed to the sun where other Japanese beetles can find them and they can party and eat on the vine. And have sex. I don't want to be crude but I can actually see them humping. They are so distracted they pay little attention to my hand as it swoops down, grabs them and drops them in the bucket for a swim.  I wear gloves, because they bite.  Did I say I hate them?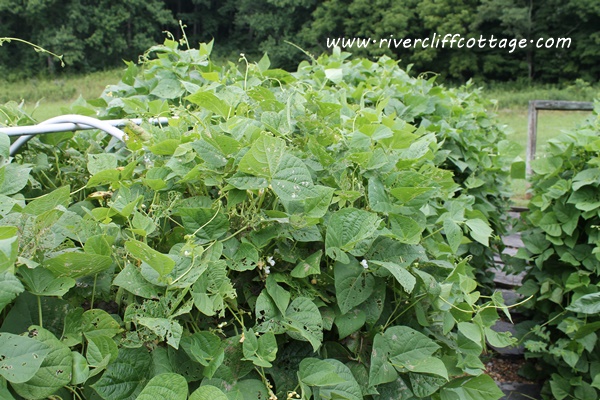 Beside the beans, I have a Crazy Garden. Each year, we have some part of our garden that is wild and crazy. It's a place for bees and butterflies. I put the Crazy Garden out late this year, so it's just getting ready to go into bloom.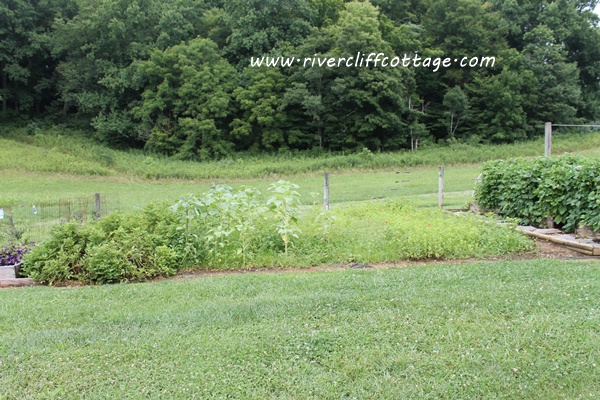 Black closer to the house, since the soil was soft and damp today, it was a great time to sow some zinnias. I just toss them…don't even bother to cover the seeds. Enough will get pushed in the ground by the rain to germinate.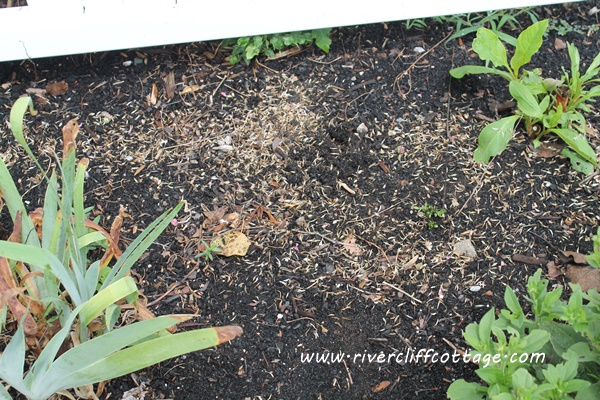 Those zinnias will look like this in just a few weeks. I planted these in mid-June.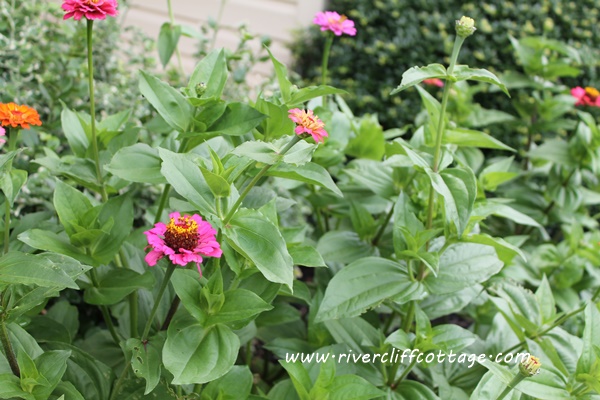 In the spring, I'm greeted with Lupine — one of my faves. However, Lupine is difficult to transplant if you buy a seeding from the garden center. It's easy to grow from seed if you are patient and don't mind waiting until the next growing season for the reward. Today's little seedlings I planted from seed two weeks ago look like this…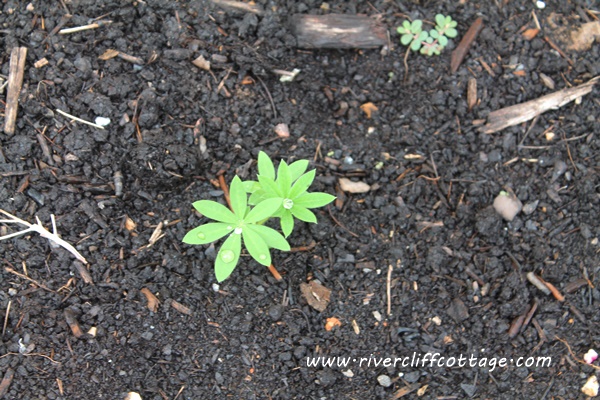 Will look like this next spring…I know…run out and buy seeds now!! A pack of seeds is about $1.00 Can you believe one little seed????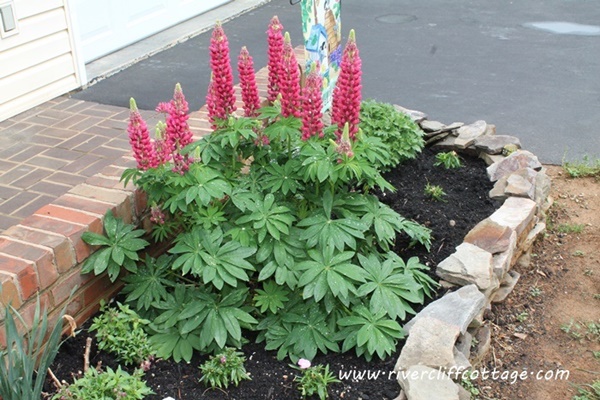 And the Black Eyed Susie vines planted from leftover seed from last year look like this today…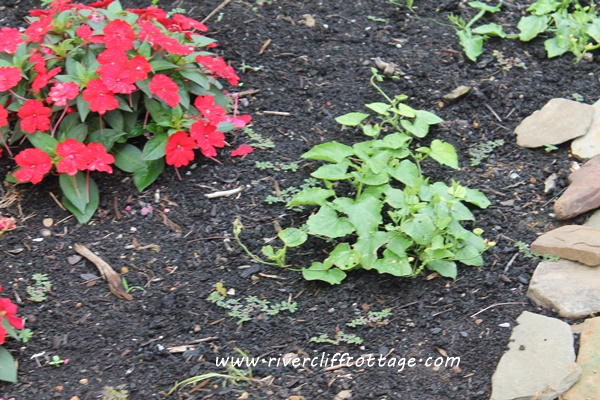 But the Susie vines will look so pretty in the fall when I replace the red New Guinea Impatiens with mums. They'll spread around like they have in the past. Here's vines from last year.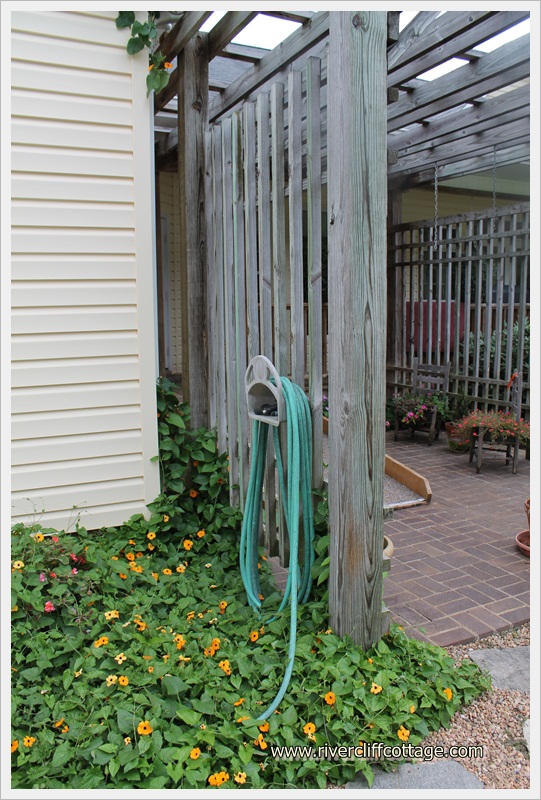 I stuck alyssum seeds in around this little tree that I bought two or three Christmases ago for the hearth. I could not find alyssum this year, and I thought I'd just stick these seeds in and see what happened. It should be full of trailing alyssum in a week or two. I'll show you when it happens.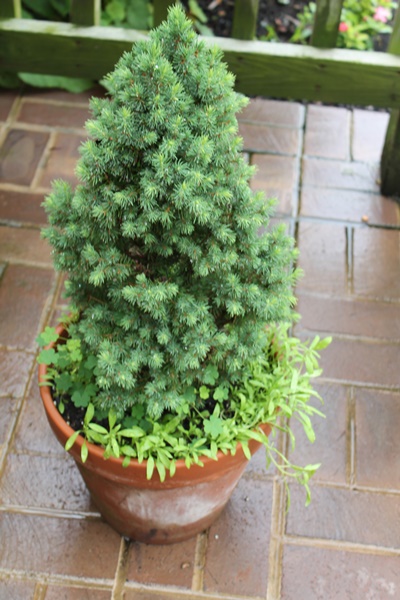 It's also fun to get "starts" from friends…a trip to a friend's house rewarded me with about 20 of these five weeks ago. Nice! I don't know what these flowers are called, but they remind me of an old friend, Patricia Quick. I hope she's reading this and smiling. .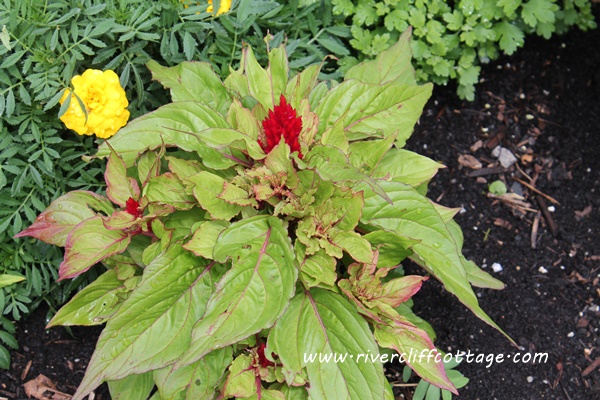 And then…for the bedding plants I DID buy from my True Love's Half Dead Plant Rack…I've perfected the low maintenance flower bed of cramming everything in so tight that no weeds can surface. For this to work, you'd almost have to have a "country" or "cottage" garden.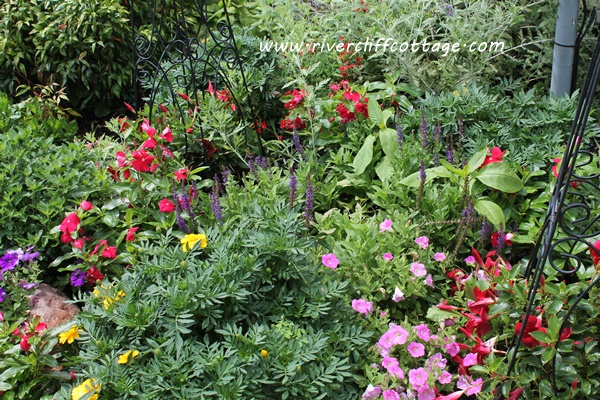 Except for one weed. The Dish weed.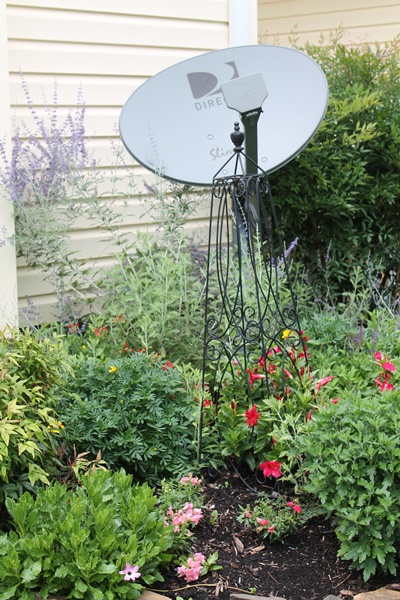 (601)