Next Wednesday I am off and I'm taking my camera with me to see (and maybe help a little) the progress of the Mendota Cemetery Quilt.  I've heard it called "stunning." 
Quilting fills so many roles in a rural life.   It's a necessity, an art, a magnificant gift, a frusteration, and a great way to raise money.  Everyone could use a good quilt, and most everyone can spare a dollar for a chance on a quilt.
In just a few weeks, this sweet quilt will find its way home with someone.  It was quilted by Ruby Smith.  Ruby is 96. She was my mother's dearest friend.    I "sharpened" this image.  Look closely.  Tiny, perfect stitches by a hand that has known 96 years on this earth.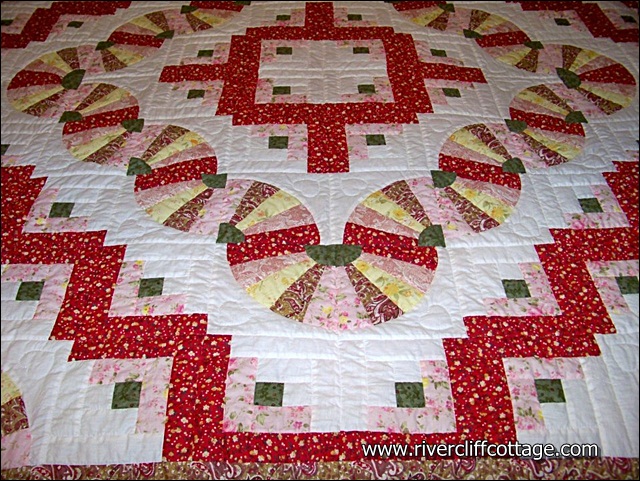 All of the proceeds will benefit the Goodson Kinderhook Volunteer Fire Department.  No matter how you vote, who your family is,  whether you talk Yankee or Southern, or whether you go to this church or that church, if you smell smoke, you're going to call 911.   Following that call, as soon as humanly possible, a big red truck with the sole purpose of putting a fire out– or  saving your life or even sometimes your pet's life, is going to pull in your driveway.    
Please help us raise money for the the Goodson Kinderhook Volunteer Fire Department.  Tickets for this quilt are $1.00 each.  Please consider buying….just $5.  If you live a long ways off, please still consider buying the tickets.  If you send me your address, I'll send you the tickets with a self addressed stamped envelope for you to return your check and the stubs for drawing back to me. 
If you live nearby, yet it's still not convenient for you to hook up with me, just send me your address.   We'll do the same as if you live outside the area. 
I would love to sell 100 chances on this quilt.  Please help me. 
Thank you.
(515)