Looking at any seed catalogs or starting to drive a little slower past garden centers?   Are you thinking of planting a garden?  Of course you are.   Don't wait until you're walking around your yard thinking about where you'll plant things to start planning your garden.  Start in the kitchen with the foods that you eat.  Here's the perfect setting for planning your garden.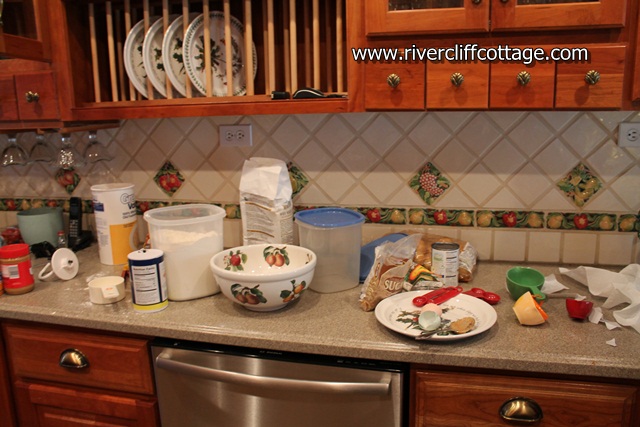 I started thinking seriously about the garden Sunday while I prepared 11 freezer meals.   If you work full-time, you know how wonderful it is to come home and not have to cook.   Mike and I split the cooking.   I cook three nights.  He cooks three nights.  We go out one night.  I didn't go back to work to eat up all of my hard-earned money!! He's good at grilling and making salads.  I'm a soup, stew and casserole kind of gal.   Soups, stews and casseroles all do well in the freezer.   They make great freezer meals; and on Sunday afternoon I was an onion-chopping, tater-chopping, soup-slopping fool resulting in 11 meals that stacked so sweetly into the freezer.   I made vegetable beef soup in the crockpot, ziti casserole and lasagna rollups.
Freezer meals make you feel good.  You're ahead of the curve.  On your game.   You're Martha!  Takin' butt and kickin' names.   Or something like that.    Organize your ingredients and get to work chopping and stirring!     You can see from what I've got laid out on the counter, I lean toward tomato-based soups and pasta frozen dinners.  I love lining my ingredients up before I start.  It makes me feel organized.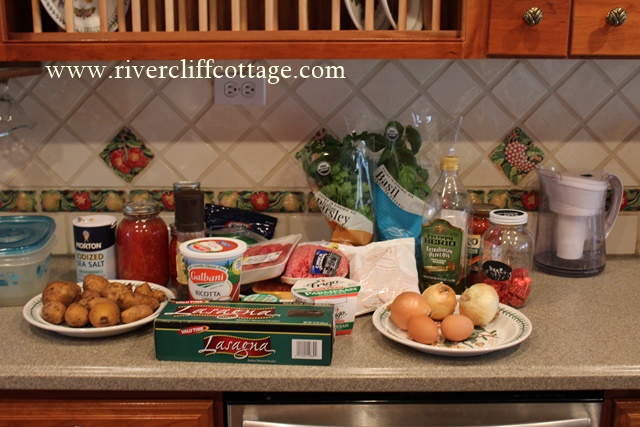 If you've ever grown any food, you know why I am so proud of that picture.   I grew those potatoes and grew and canned those tomatoes.  Too mah toes!!  I like saying that.   If you're thinking…even thinking a little about a garden…even though it's January– now is the time to plan what goes in that garden.     Even a little garden is so rewarding, and preserving the food that comes from that garden is just as rewarding.   Please make a garden!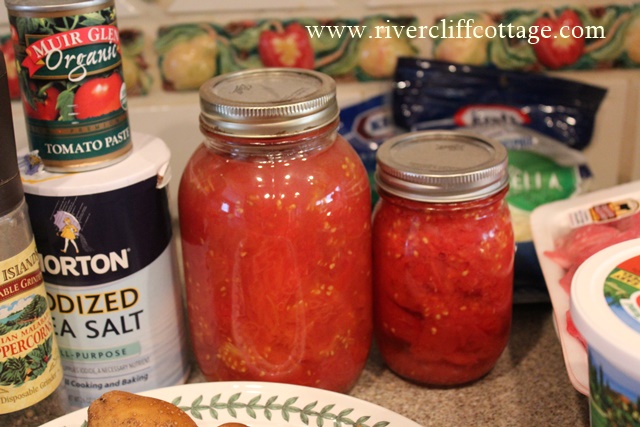 So pretty!!   I eat those tomatoes right out of the jar.   And look what we have below…how gorgeous is that?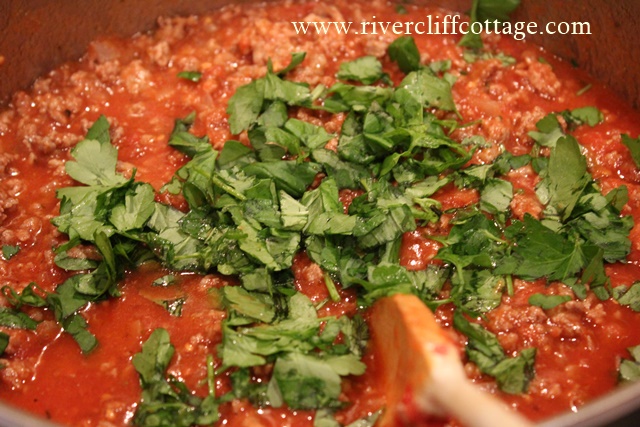 $1 per seed pack results in fresh basil all summer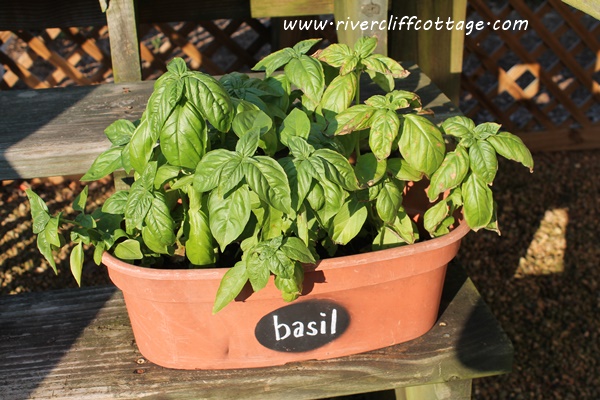 And dried basil in the winter (which I'm running out of so I bought fresh basil for Sunday's freezathon.)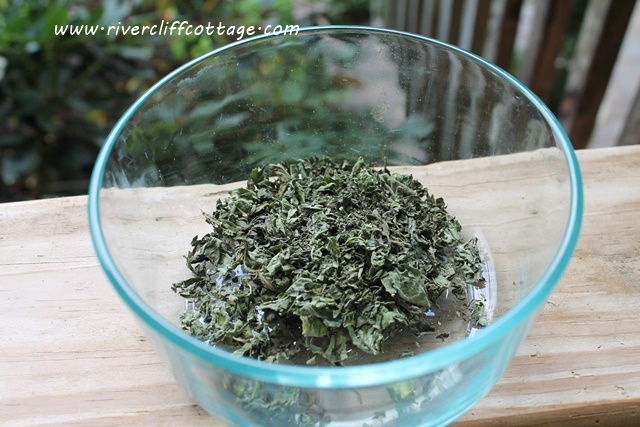 So…if you're even thinking about a garden whether it's raised beds, a few pots here and there, or a traditional garden, add #1 "buy basil seeds" to your list.   No….make that "buy basil and parsley seeds".  I threw parsley in, too.  Anyone can grow those two things–even if they're on a pot in a windowsill.
I put onions in everything Mike and I eat.  We never raise enough, but we always try.     This year, in addition to hanging them up to cure and using them that way, I dried onions.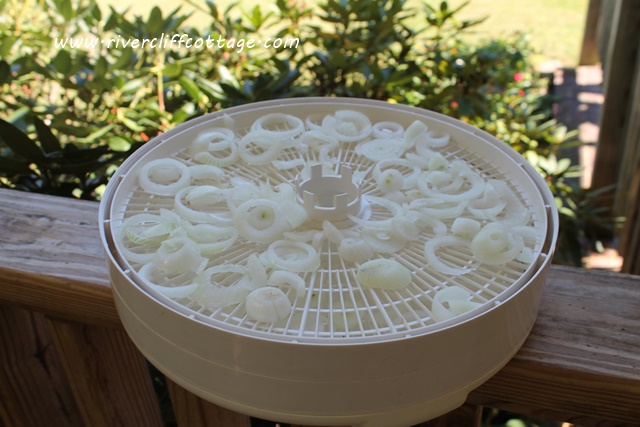 #2   Put out onions…you'll cry if you don't!  Hang them up and use them later, and if they look like they are starting to rot, they are just telling you that it's time to dry yourself some onions.    Root crops such as onions and potatoes can be high in pesticides when commercially grown.  Grow your own and you'll know that there's nothing but water, compost, sunshine and your amazing green thumb in those onions.
Onions look so pretty and curly when they're dried!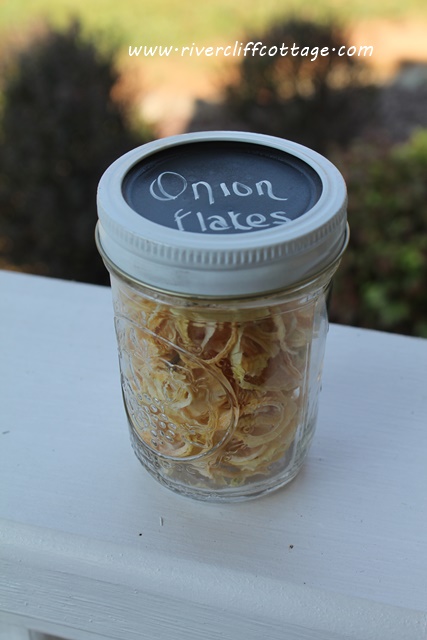 #3 Don't be a a tater hater!   Potatoes are super easy to grow.  Plant them on Good Friday and watch them grow!!    These are a little dirty.   I swear I scrubbed these before I put them in the soup.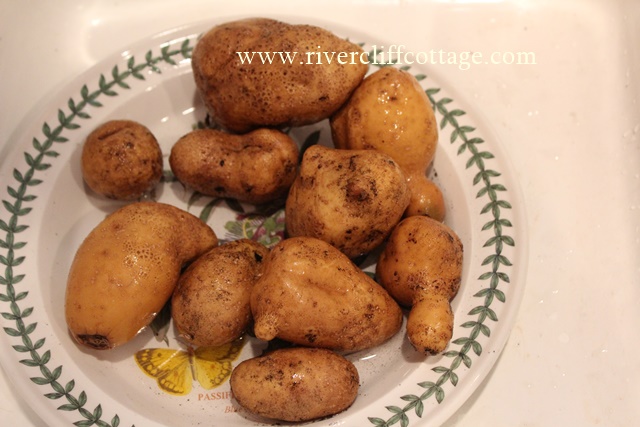 I want to show you the lasagna rollups.    I'm sure they are low calorie.   Right.  Here's how they look when they're nested in their pan lying on a bed of sauce.  I found the recipe from the Pioneer Woman's site, so I know this is good.    Okay…I licked the spoon a little, too; that's another reason I know they're good.     Here's the link.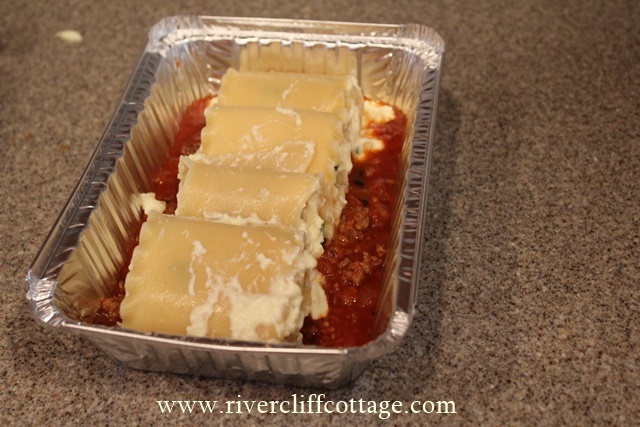 The picture above was when I was using a wider aluminum pan.  I quickly discovered that these little loaf pans work better.   I loaded on the Parmesean and mozzarella cheese.  This is a perfect meal size for two.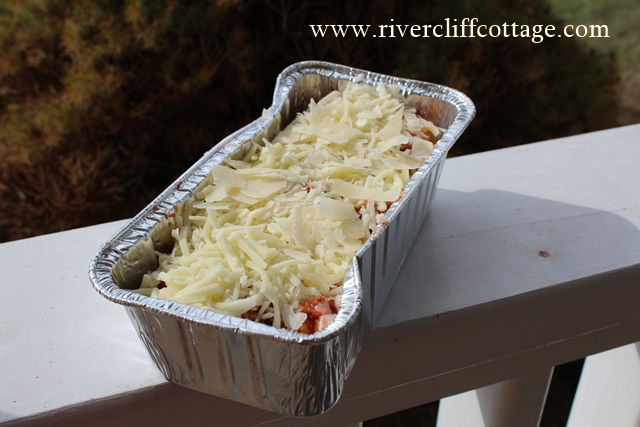 And the true secret to freezer meal success?   Wrap your creations like crazy so that your creation doesn't get freezer burn.   Swaddle them!  I wrapped these in foil and also shrink wrapped them in the vacuum sealer.   It pulled so hard that it pulled the center of the pan in.    I got better at this by the 6th one.  This was the first.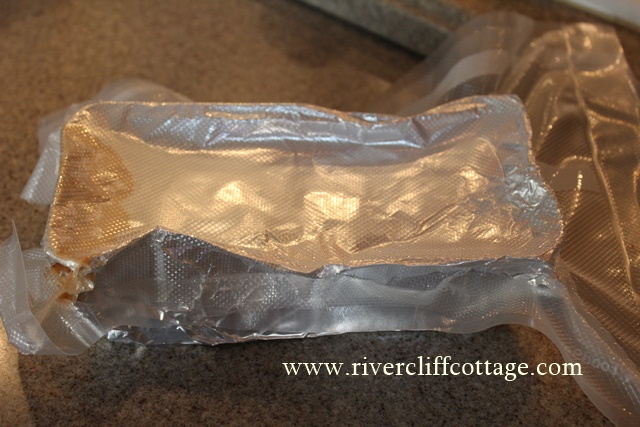 I realized from looking at my recipes and thinking about my garden that I will need to grow some garlic this fall.   I'm excited!
I have about $40 in my 11 meals.   The stew meat, Italian sausage, and ground round were about $18.    I also bought the pasta, the cheeses,  tomato paste, frozen vegetables, etc.  I could reduce that by making vegetarian lasagna, and I think Mike and I would be fine with that, too.
$40 seemed like a lot until I realized that it's less than $4 for the entree in 11 meals for two people.   Plus, I made four lunch-size portions of the above that I didn't mention.     I'm actually starting to feel like a genius.   
Do you have any great freezer recipes?   Please send one to me!!
Pssst….if you have a second…hop over to Adventure Mendota and say hi.  Our marketing expert, Ms. Kitty Barker, said a blog really helps search engine optimization with websites, so…heck I can do that.       Here's the  River Blog. 
(467)