This post is about two things.   One is the new addition to our family.  His name is SPOT.   And it's not a dog.   Here's SPOT!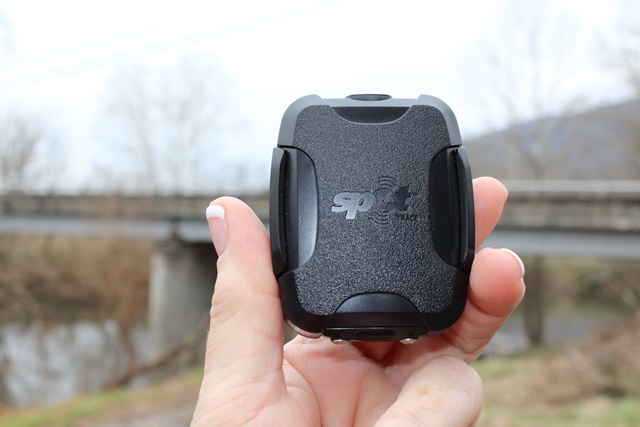 Hello SPOT–actually there's a couple of SPOTS that have arrived.   SPOT is a water-proof device that will attach to a number of Adventure Mendota's kayaks.   (Here's the website for Adventure Mendota.  It's coming along nicely.)   SPOT uses a satellite that will message us on where our "asset" is.     While we're currently working with the settings, SPOT should tell us where a kayak is so we'll know when to go pick it up!     As the kayak approaches the Mendota Bridge, it'll be time for the Fork Taxi to make a run down the road.      We'll rock down the road in our MEOC (Mountain Empire Older Citizens) bus.    I cannot wait to drive this!!   It's a little plain in the picture below.    It'll be outfitted with new decals.   I wanted to spray paint peace symbols and flowers on it, but Mike is just too conservative.    It'll say stuff like "Float the Fork," our website address and phone number.  Boring.  Don't you think I ought to get at least one panel for pursuing my artistic abilities?  "Flower Power!"
.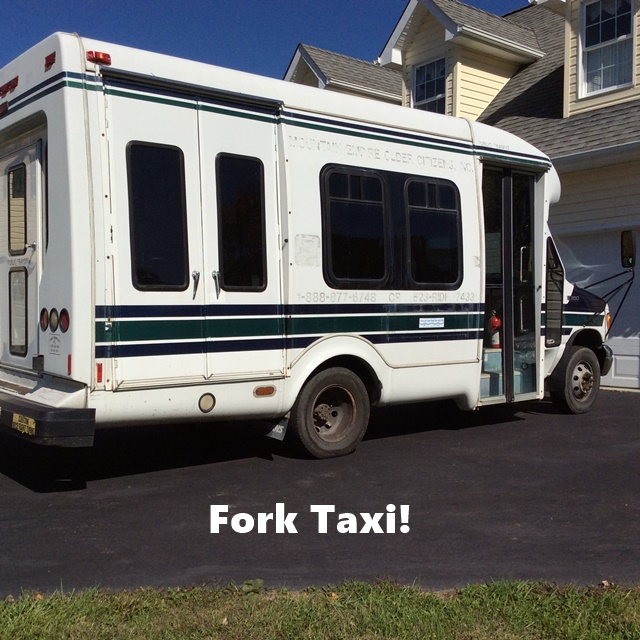 There's more that has been going on.   I went back to full-time employment.    I was concerned with how fast we were pulling money from our savings.  Mike is more easy about those things,but I wasn't comfortable with it, and  concurrent with that–we knew Adventure Mendota would have start-up expenses.    My original thought was to pursue going back in the spring, but things worked out a bit faster.   Tomorrow is my 5th week at working full time again.   I feel so fortunate to have found a good job with really, really nice people in Bristol.     God is good.
I'm also still working a bit with About Face.    I enjoy the social media work and  as long as Sue needs me, I'll do it.   I'm also working closely with Mike preparing for Adventure Mendota.    Whew!   This, combined with the loss of my camera, has been the reason that I've not blogged as often as in the past.    It has been busy!     Thankfully, I now have a new camera, but I'm still going to blog only on Sunday and Wednesday evenings for the next six or eight weeks.   I'm learning better time management.
So.. I'm back working, and I'm being very careful with my earnings.  I want to save money as well as conserve money.    Mike and I have divided up the way we're paying for the small amount of assets we're purchasing for Adventure Mendota.    The kayaks have been ordered, and I'm responsible for them.  He actually will pay for them,  but my responsibility is to replace the money, so I will  "pay back" every two weeks enough money to purchase one Old Town Twister kayak, one set of paddles and one lifejacket.  It works!
Patsy Carrier, one of my lifelong friends, said once "I didn't realize how thrifty you are, Eva".    I wasn't always, but I have been for the past few years.   It's rewarding.
So here is one way I save money.    I seldom dry clean a sweater.    I use Dryel.  Mike's son, Aaron, has always been careful with his money, and he is the one who taught me about Dryel.    (He's probably still holding one of our checks where we paid him for mowing the grass when he was 14. )   Have you ever used Dryel?  Most of my sweaters aren't really dirty…they are more furry or just need freshening.    Sam shares in some of this responsibility.  He's lying here thinking of what fun it is to shed.   He's not a grumpy cat; he's a mean cat.   He will hiss at me if I move him around on the bed.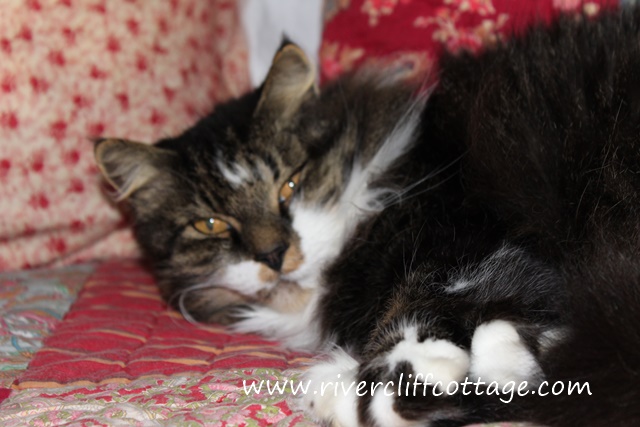 Here's what the Dryel looks like.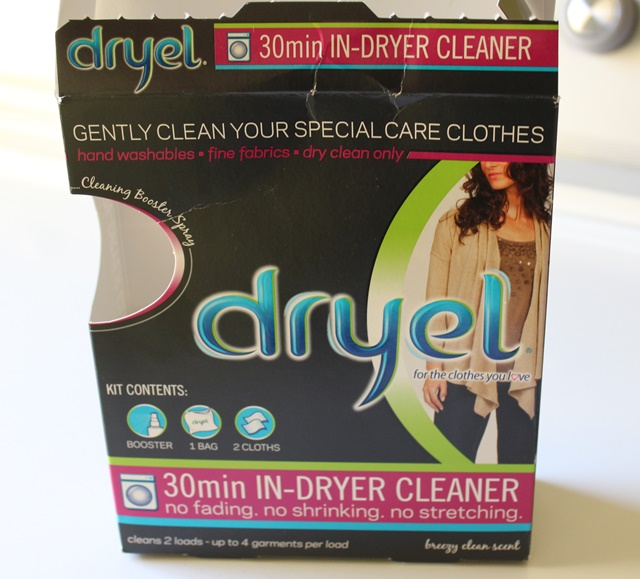 It's easy and so much more convenient than going to the cleaners every week.     Just spray the areas that might need extra attention.  Like the underarms or neck areas.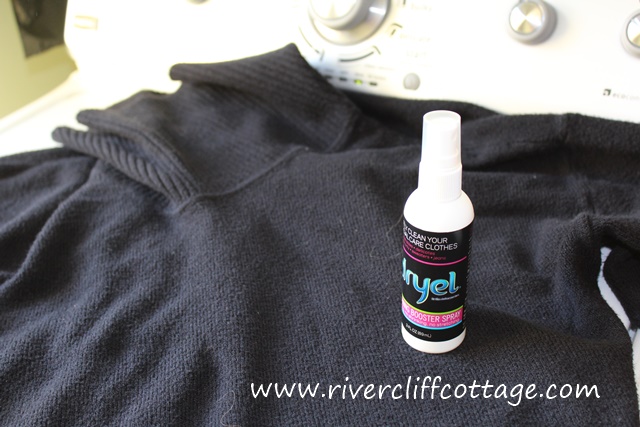 I do this with up to four items.   From there, I take one of the "wet" packets that are included.  Here's what they look like below: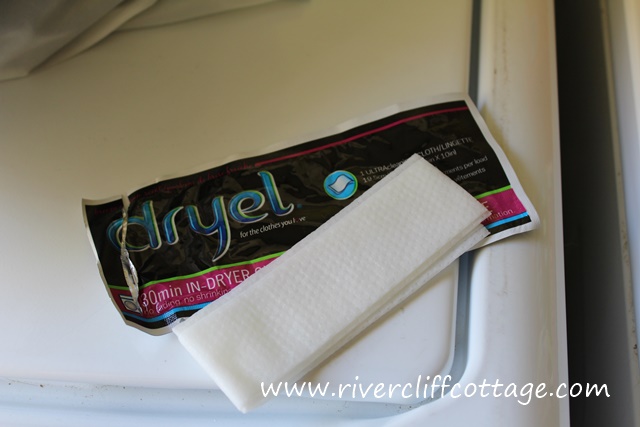 I put that little wet cloth and up to four items in the bag that's provided and let it dry on "Normal" for 30 minutes.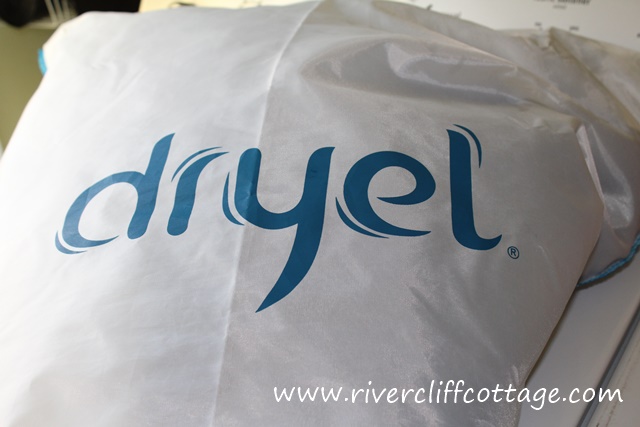 Afterwards, I usually hang whatever is in the bag up for about 30 minutes to continue airing out.    Later, the items are folded  and put  away.   Since it costs about $5 to dryclean a sweater, I am way ahead.  I cleaned eight today.  The Dryel was about $10, so I saved about $30.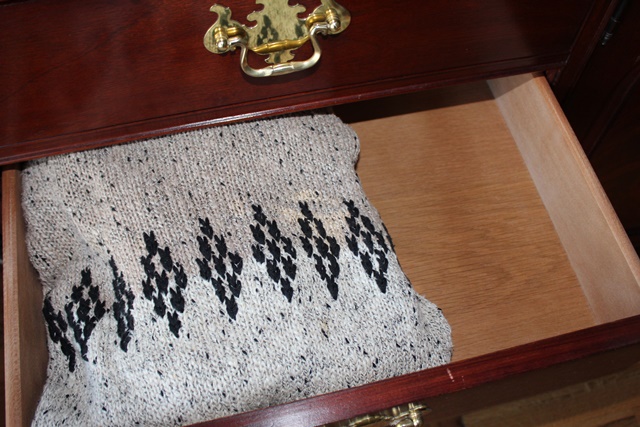 $30!  That's a paddle!!
Thank you for reading RiverCliff Cottage.      Hope you have a wonderful Christmas holiday.    We are having a quiet Christmas this year due primarily to Luckie's worsening condition, but today in church I heard something that resonated with me.    Christmas is not my birthday party.  It's Jesus' birthday party….so while Christmas will be quiet, we are still going to celebrate.  Hope you do, too!
(377)