There won't be a lot of DIY specific projects or recipes on this blog for a bit.  We are still in catch up mode!   We're eating microwave popcorn instead of cooking and focused on the essentials–cleaning, organizing and freshening our house–room by room.   During the last two weeks,  we've worked in the foyer and in the yellow guest bedroom.   Today we started on the dining room which has remained the same since 1999/2000 when we first moved into our house.  "We" is my husband, Mike and me.  Retired Man.  🙂
My dining room is a good example of a room that is exhausted tired.  Good grief!  It has been bleeding dragon's blood for over 12 years!!   I'm so not liking the red.   I recall how hard it was to get that exact look (Ralph Lauren Barn Red).   Here it is in all of its glory along with meaningless accessories: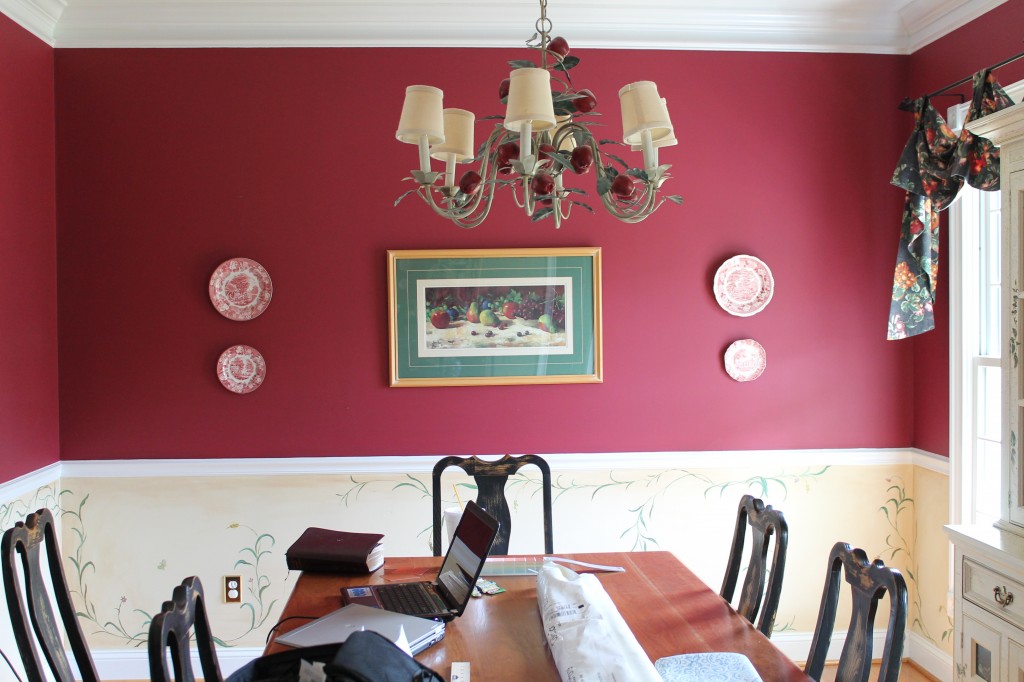 To my comment on meaningless accessories, this room speaks so much to something that was just purchased and stuck on the wall.   My thoughts on what makes a well-decorated home have changed.  Ten years ago, I felt I had to fill up empty wall space.  Today, I wait until I find something that speaks to me.  The plates I like but not just stuck up there with the picture.  They are going to get a much needed rest.  Inside the hutch.
Here's a good spot to explain the messy dining room table.  We're doing projects all over the house!!  Just in this view, there is a bolt of fabric (guest house window valance), a Bible (getting ready for VBS at the end of July), an open laptop (blog), a closed laptop (work) and just the least bit of camera bag.    Feel like sitting down and eating a good meal?
Back to the room.   Below the chair rail, there is a trailing vine.  Here's a picture (ignore my computer's power cord).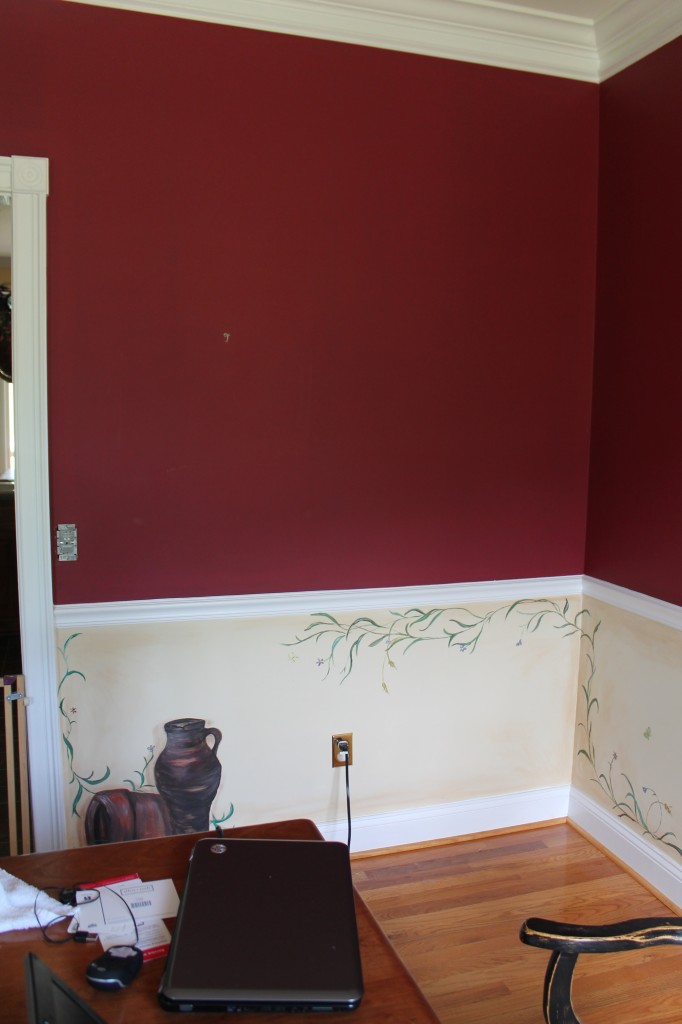 It's the Virginia creeper vine painted by the very talented Bristol artist, Lisa Snead.  I want to keep this area the same.  I live in Virginia and love most, if not all, things Virginian, so I'm wanting to keep the Virginia creeper vine.
The red paint will change out to one of Benjamin Moore's Affinity colors called Moroccan Spice which is actually a  terracotta color.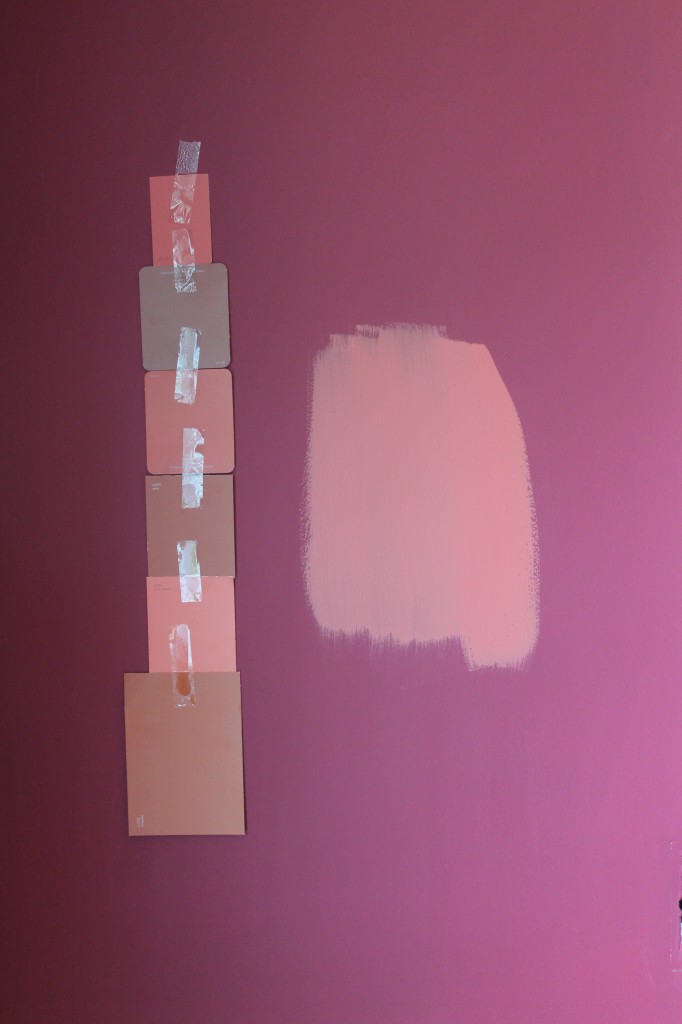 See all of the paint chips?  I told Mike that I thought Moroccan Spice was the best choice and sent him out for what I thought would be the $3 sample paint pot.  He returned with a ~$50 can of paint.   I was shocked!  Even if it didn't work, I'd have to use it.  However, it does work.  Sigh.Of.Relief.   Also, with the brushed spot, I noticed how good it covered the red so all's well.
Back to the room again…I realize I may have a problem with wanting too many painted pieces of furniture in a room that I've also got artistic painting on the walls.   I'm living with that.
Here's a piece I really enjoy: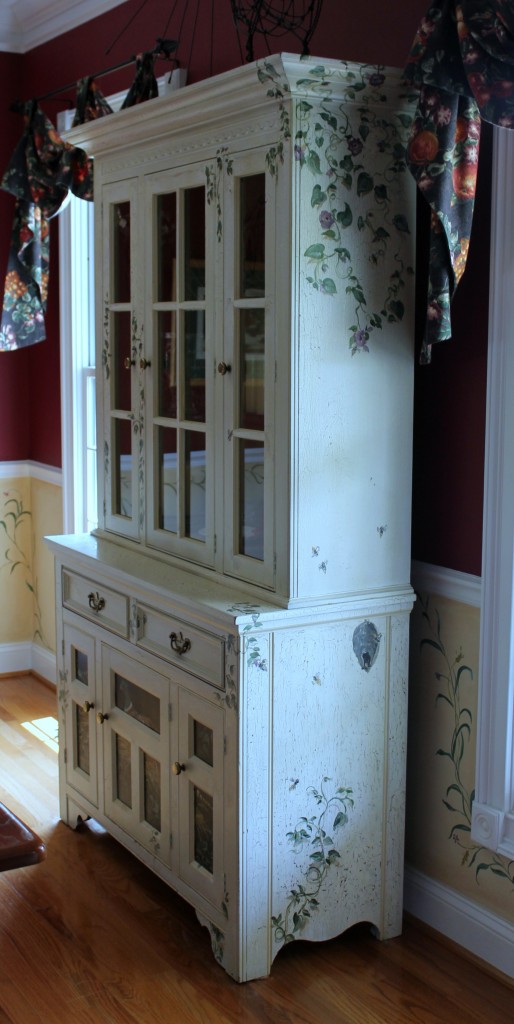 This is the first piece of furniture Mike and I purchased.  We bought it in Nashville, Tennessee, and it was part of a breakfast set made by Pennsylvania House.  We thought we were high up.  Later, as our family moved, evolved and changed, we gave the table and chairs to our son and daughter-in-law, and they later gave it to their son.  I'm not sure where it is now, but it may well be something that went to Goodwill and was then snapped up by some DIY blogger with a quart of Annie Sloan Chalk Paint and is living the good life again!
More about the hutch.  Did you think I was going to tell you I did the artistic painting?  I wish, but NOT!!   Holly and Jim Thomas of Meadowview, Virgnia did this for me about 12 years ago.  They included some of the things I enjoy as part of my rural life including my wonderful kitty Miss Molly.   Loved her so much.  She lived to be 21.  Here she is reaching up to a bird's nest: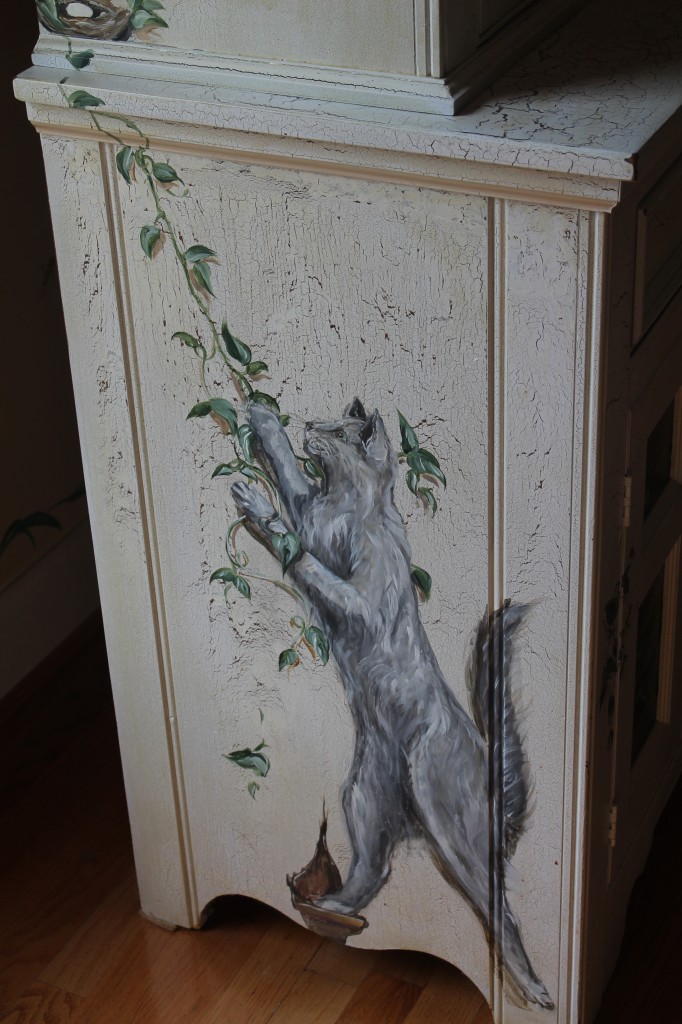 Might as well show you the top of the hutch above Miss Molly.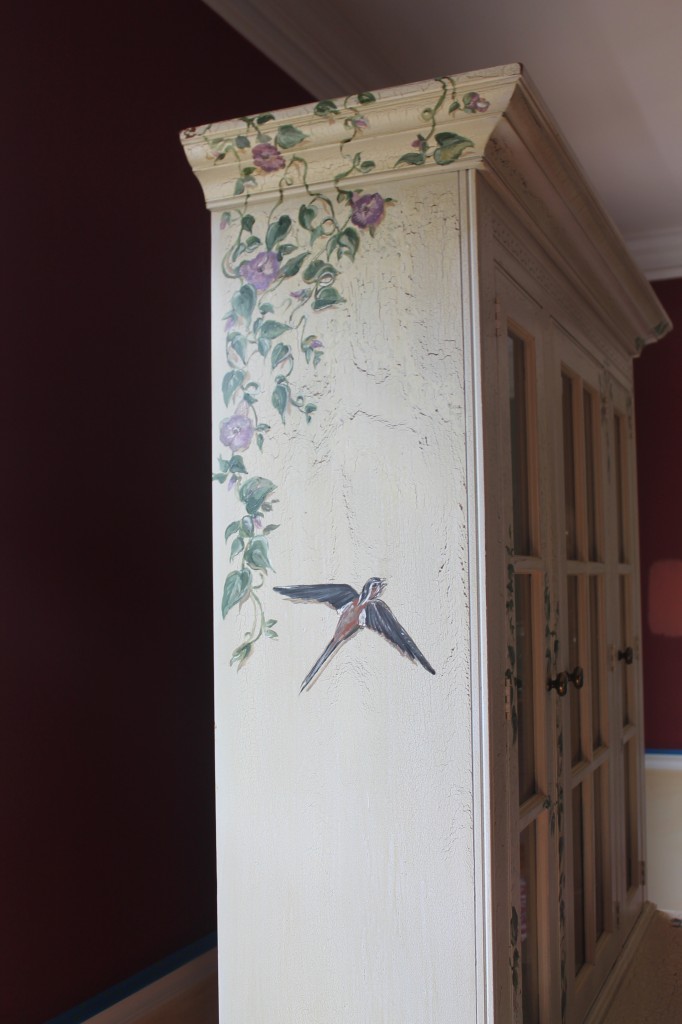 I'll probably have this hutch until I die.
Here's something else I have in my dining room.  It's a repurposed cabinet that housed a radio at one time.  Now it is….ta da….a wine cabinet!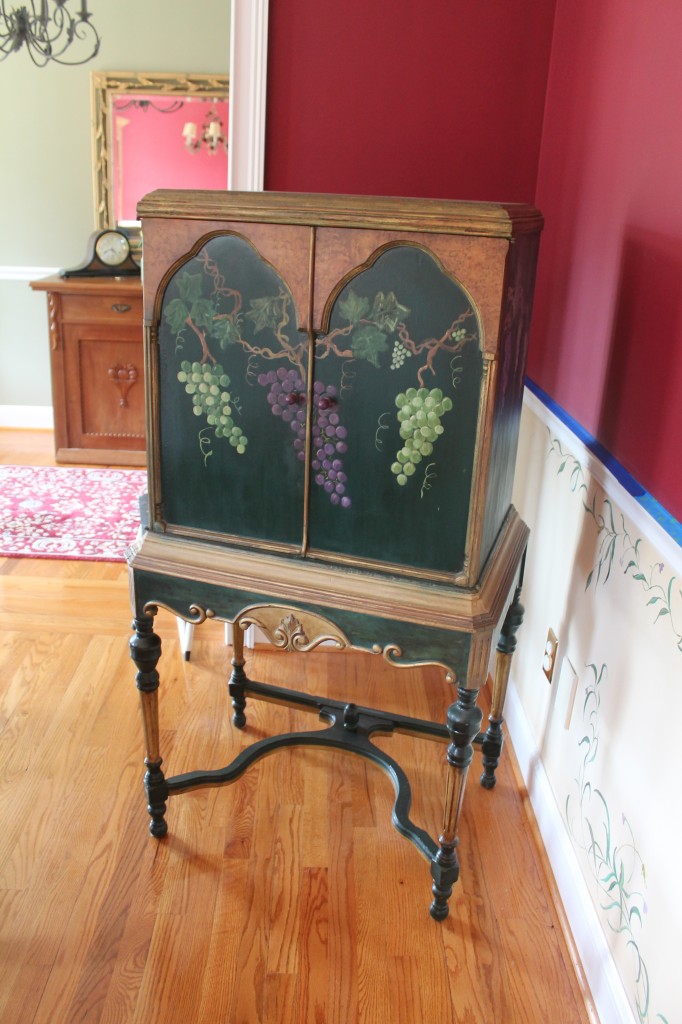 I coveted it in an antique store in Middleburg, Virginia.    It was $750.  It might as well have been a gazillion dollars, because we could not afford it at that time.   When I finally got my husband to agree to consider buying it as a Christmas gift,  he went to the shop, and it was gone!  However, he learned that it had been there on consignment and after not selling, the cabinet had been taken to the artist's house in Manassas, Virginia to be readied for auction.  A trip to Manassas and $300 later, it was mine.  I loved it in my townhome in Leesburg, Virginia (where we lived at the time), but I've never found the right place for it in this house.   I've stuck it in the corner of the dining room where it will probably stay for a while longer.
The dining room table which is piled with junk in this picture I'll talk about separately on another post.  By the way, I do clean the house, and it is not usually this junky, but as I mentioned above, while we're working on painting and sewing, I've not been very neat.  Sorry.    The only things I'll say regarding the table at this time is that my husband made it for me and it is very special.   Definitely worthy of a separate post.
Window treatments are now down.   The room is taped and ready to go.   Surely it won't take us a week to finish this paint job.
I'll keep you posted:
(1658)