For weeks the talk around here has been "the wedding". No one had to ask "what wedding?" We all have known exactly what "the wedding" meant. It was Helene's daughter's wedding…held in Mendota…at Helene's farm. It was "Delaney's Day" and so many of us shared in it. More accurately, it was Delaney and Chris' Day. We can't forget the groom!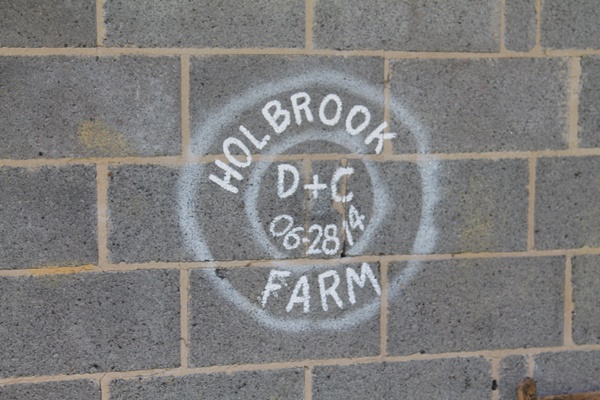 Friends and neighbors in the valley covered the wedding in prayer. We have had a rainy week in Mendota, and while we've needed the rain, and we're grateful for the rain, we did not want it to rain yesterday or today.   The prayers were heard, and the day was blessed.  The first raindrop fell….about 15 minutes after the ceremony and it cooled things off — it made us comfortable. See the mist above the tent…that's Clinch Mountain tucking in for the night.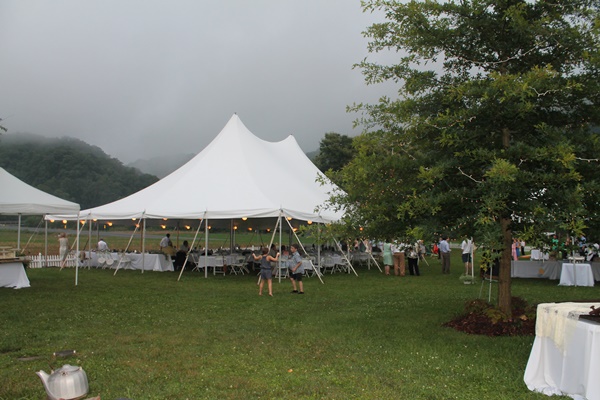 As I write this, Delaney and Chris are married, and they will have wonderful memories of today, but so will we…when you are made to feel a part of something, it becomes something you take with you.
Janette Dean provided catering (along with RiverMyst Farm…also local…also great), coordination and wedding direction as well as landscaping and truly best friend for Helene.   Janette can hold her own with any wedding or event planner or catering group anywhere.  She is a professional and came out of retirement to put her fabulous skills and talent to work for this event.   I took the picture below when she and her best pal/husband, Randall,  were enjoying their food in a styrafoam box…so funny for a girl who has considered every detail of this event. And I do mean every detail.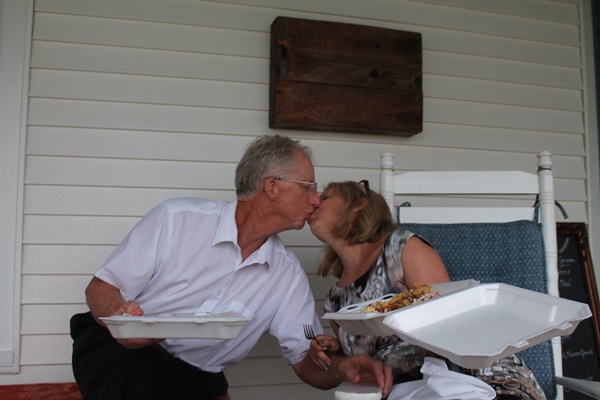 A local girl, our Heidi Smythe, was the floral designer.  She used some purchased flowers, but wherever possible, she clipped and snipped from Mendota. Here's the barn where Delaney and Chris exchanged their vows.  The two large ferns on each side of the opening belong to another local person, Mary McCroskey.  Mary has plants everywhere in this wedding.   We bought our ferns at the same time.  Mine look…well…different than Mary's.  She has babied these ferns.   By the way, that garland on the barn is not artificial.  No way.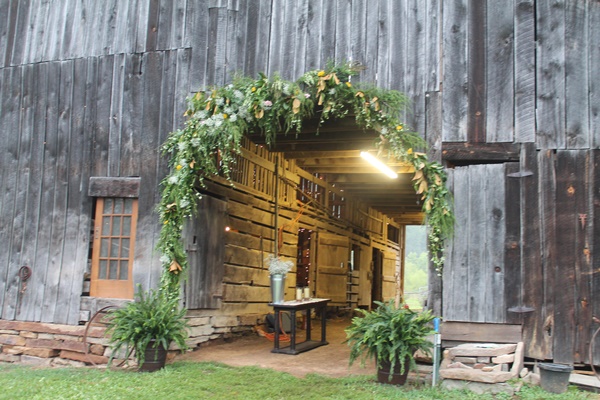 This plain little block building below displays an antique quilt that is meaningful to Helene. It is tied to her father, and while he has passed, the quilt is a reminder of him and gave him a "presence" at his granddaughter's wedding.    I love the chairs and the ferns above the door.   Amy Statzer, Susan Pippin, and Janette all worked on this….not sure who's idea was what…they probably don't know either as they all talk at the same time.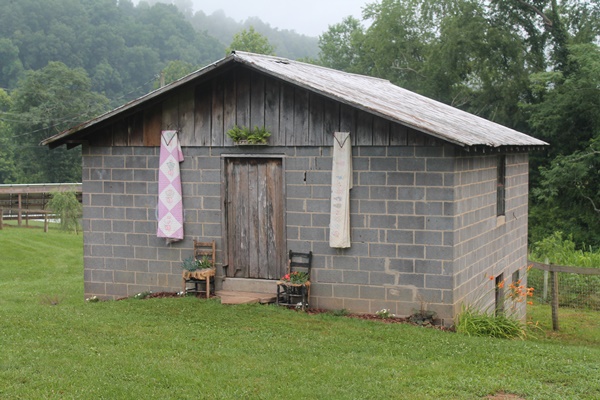 For weeks, Amy and Susan worked on chalkboards. Here's a few…on this board, I recognize Amy's handwriting!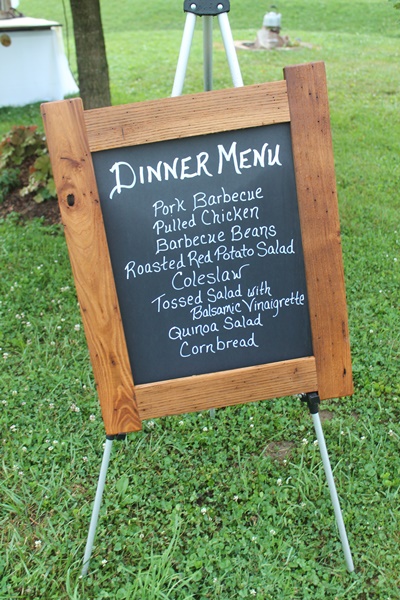 And another…local girl Barb Leonard really helped with the jam favors.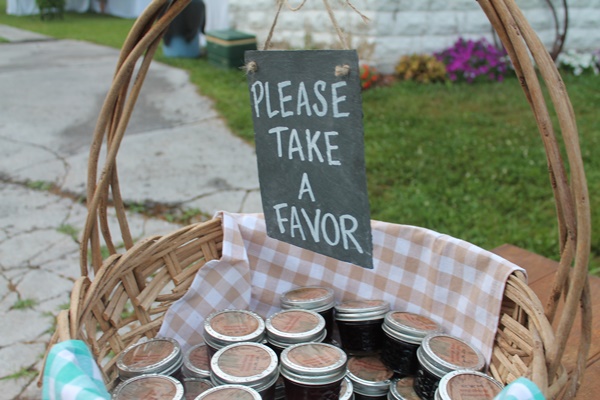 Windows are a way to look out on the world…or to find your seat to eat!!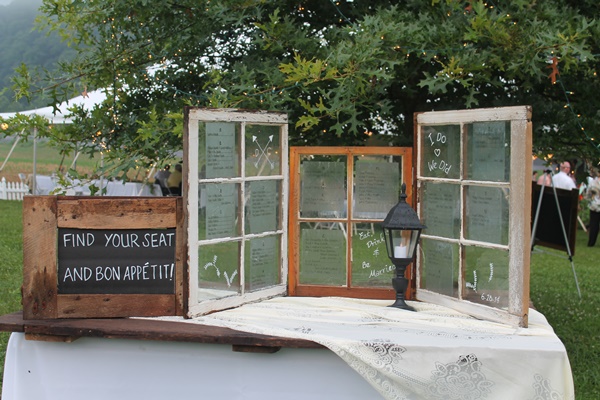 Want some coffee? That's my plant hanging beside the sign!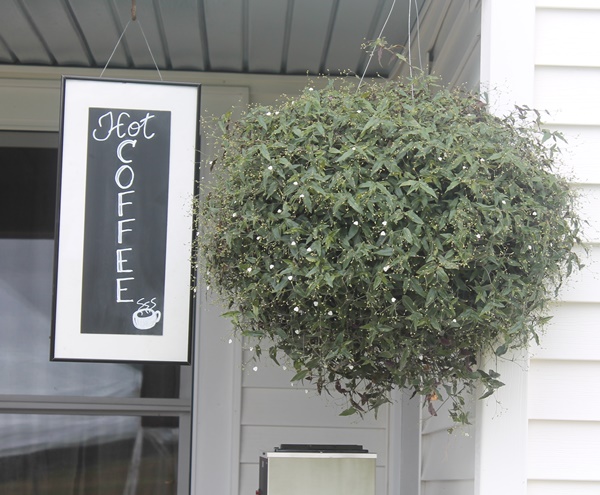 Introducing the wedding party…I really like the "big smooch!"    Amy and Susan (maybe Janette and Barb) went to flea markets and found old pictures for the chalkboard work.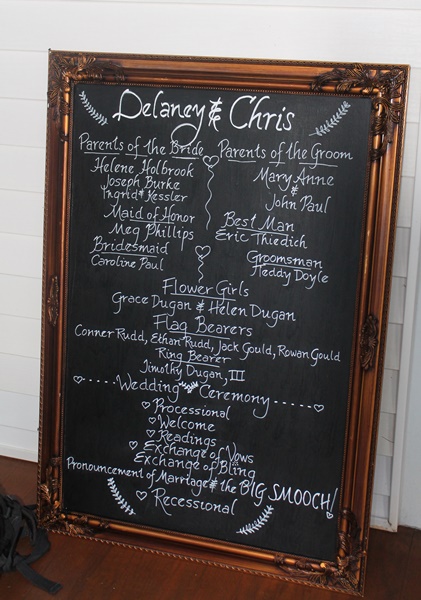 The old springhouse was the bar area. The picture below was taken a few weeks ago before it was decorated in grapevine, fairy lights, etc. Inside the springhouse, before refrigeration was common, items such as milk and butter were stored. Tonight, that area housed ice.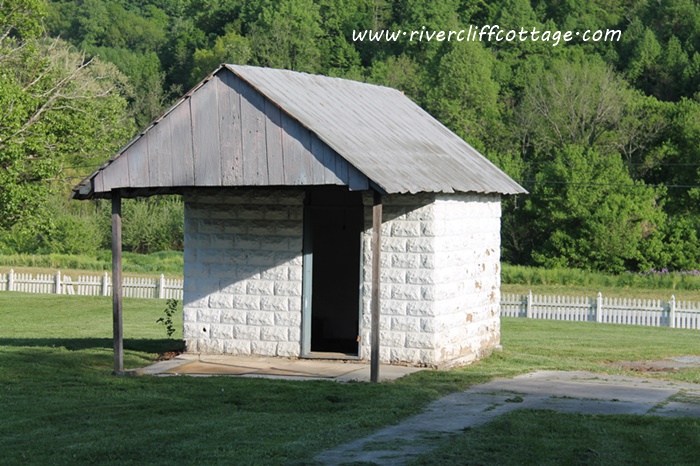 And here's the offerings…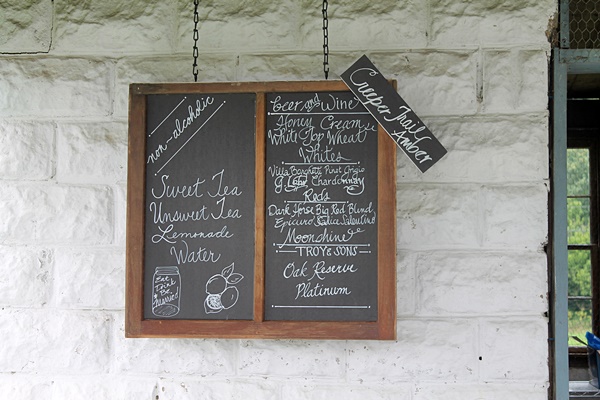 Directional signs…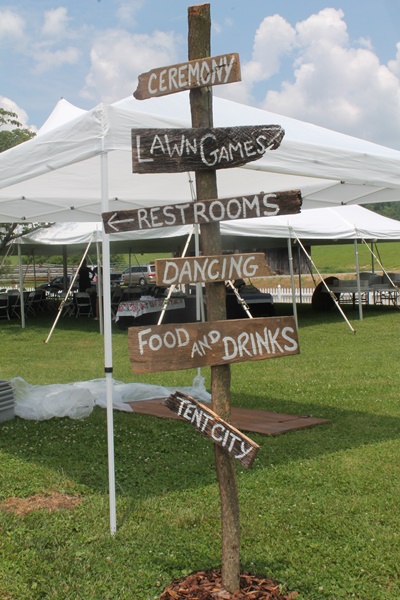 Right in front of a cornfield.  How authentic "country wedding" can you get?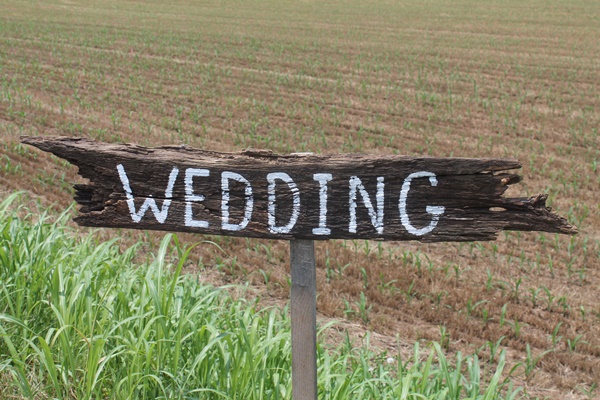 The cupcakes were delicious, and in this picture, they are all gone.   My favorite was the carrot cake cupcake. The stands were built in Mike's shop by Daryl Jayne for his daughter's wedding. Jenny, Daryl's wife, shared the stands and many other accessories for Delaney's wedding.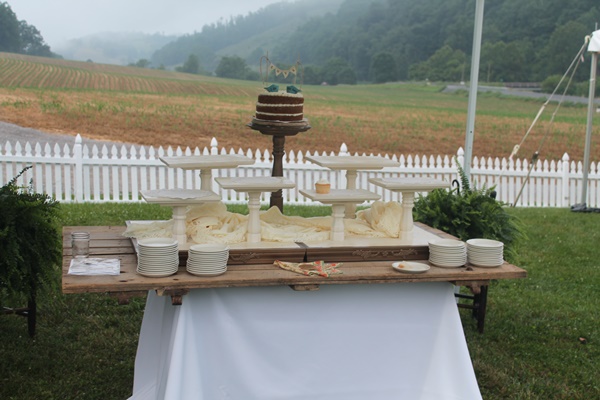 Here's a nice touch. Helene has a tiny flower arrangement in her hair…there's one of Mary McCroskey's succulents!  Helene practiced medicine in San Francisco, so it's appropriate that she wear flowers in her hair.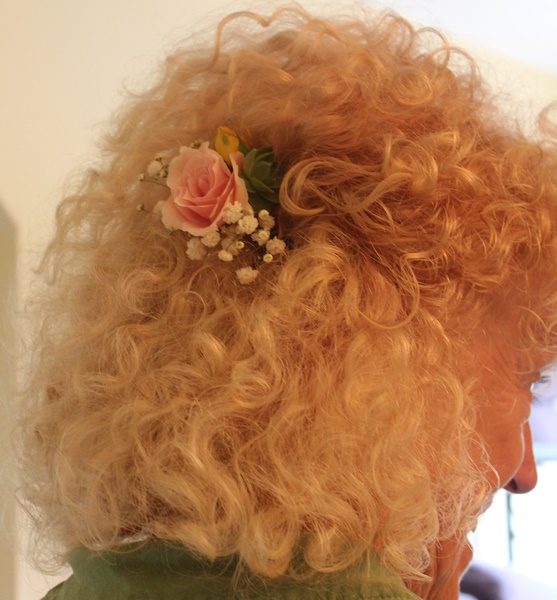 I had one of the best parts in the wedding. I got to "keep" the bride and her bridesmaids the night before the wedding. I was honored. There were lots of photographs taken during the "git her ready" phase. Can you guess what the photographer is sitting on in this picture?
You had to know! He had to sit somewhere!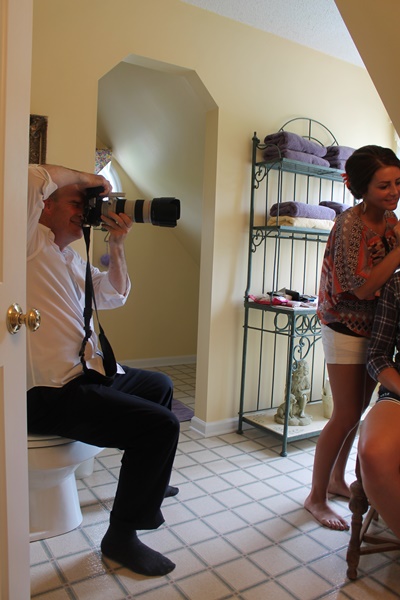 The first plan was to use a horse drawn buckboard to bring the bride in, but the owner became ill (ouch…kidney stone).  This required a last minute change, and Sherman Pippin polished up his Ford. It worked really well for the occasion. He took such care in transporting Delaney.
I've left a bunch of people out because..I know what you're wondering. Where is she? She's right here.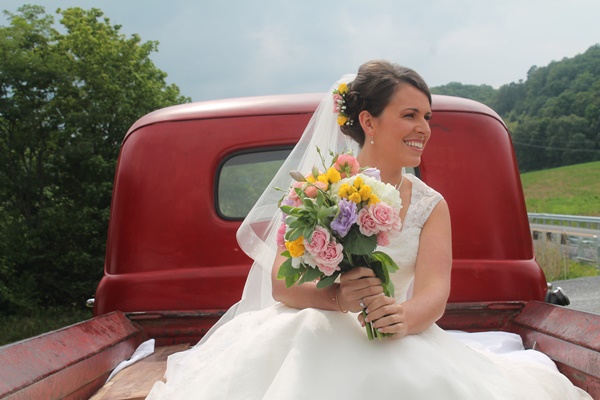 This was an amazing day.
(503)