Hi there…I've been blog surfing prior to "posting" my own blogpost. Sometimes I wonder why I'm not more successful, and then I realized…everyone is talking about Christmas and, well, I'm posting about meat loaf! Oh well…I'll think on that later. In the interim…it's meat loaf!!
While I'm semi-retired, I work three days per week. Loving it!…But it still means I must manage my time. And money.
I'm always looking for ways to ensure it is as easy to eat at home as it is to eat out. When I used to make meat loaf, I made two small loaves and froze one. However, because portion control gets really important as you get older (I'm speaking for Michael..not me. Ha!), this cupcake size meat loaf recipe works even better. Aren't they cute?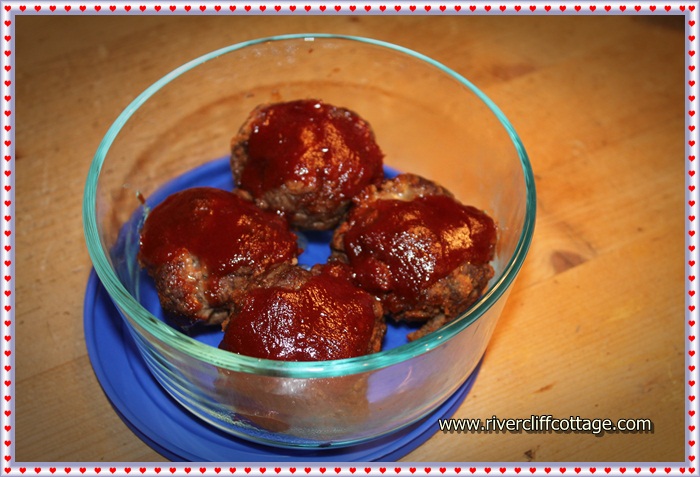 I know…red meat is bad — but grass fed red meat is not so bad 🙂
Here's the ingredients…
1 cup ketchup
4 tablespoons packed brown sugar
1 teaspoon ground mustard
2 eggs, lightly beaten
4 teaspoons Worchestershire sauce
3 cups Italian breadcrumbs
3 teaspoons onion powder
1/2 teaspoon garlic powder
1/2 teaspoon pepper
3 pounds lean ground beef (90% lean)
Combine the ketchup, brown sugar and mustard. Set 1/2 of this aside to "ice" your cupcakes.
With the remaining ketchup, brown sugar and mustard mixture, add eggs, Worcestershire sauce, breadcrumbs, onion and garlic powders, and pepper. Stir this up very well and add the ground beef. Mix and mix and mix.
Preheat oven 375 degrees and fill muffin pans about 1/2 full. Bake 18-20 minutes and then drizzle the reserved ketchup mixture and cook another 10 minutes. Cool and freeze.
I am transitioning to using glass freezer/oven safe bowls vs. plasticware. Here's the entree portion for a dinner for two ready to pop in the freezer. I have about four of these in the freezer right now.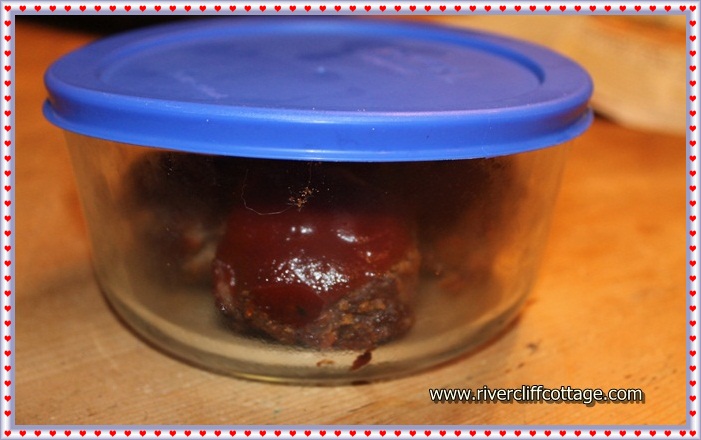 To thaw and use:
Traditional: Completely thaw in the refrigerator. Place loaves in a lightly greased baking dish and bake at 350 degrees or until heated through.
Microwave: Completely thaw in the regrigerator and cover and microwave for one minute.
Ho Ho Ho! This is a Christmas post after all!!
(543)