We finally have our pantry put back together.  Naturally, it took longer than we thought. 
Here's what it looked like before…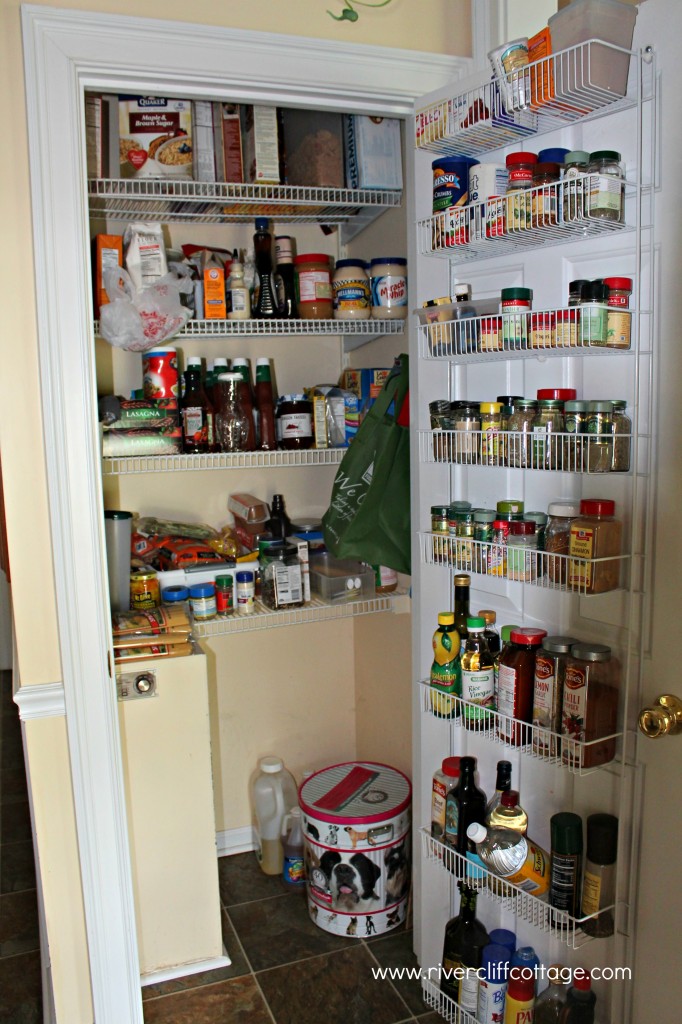 It was a bit of a mess.  We emptied the contents onto the dining room table and I wondered how we got all of the stuff into the pantry.  Most of the items are on the dining room table but not all!!
We then cleaned and painted the inside of the small pantry area, and Mike reworked the support system to keep the shelves from sagging.   And quickly days and days later, we put it back together.     I continued trying to use what I have CAUSE I'M NOT WORKING!!  I did want a few labels.  I've been wanting to buy a label  maker and I almost gave in to the urge.  I resisted.  Instead, I pulled out my trusty chalkpaint can (if you've been reading this blog you know how much I love this stuff), and I sprayed something I already had — jar lids.   I am a home canner, so naturally, I have lots of lids.   
This opened up a whole new idea.  In addition to my pantry, I decided to create a spice drawer.  I had little jelly jar glasses because we did not pick berries this year and make raspberry jam.  (Thank you to Mr. & Mrs. Turkey and their turkettes who ate all my berries.)   I decided to repurpose these empty jars lying about as spice jars.  They were just the right height to fit in the drawer.
Check this out… I wish I had written the names on the jars neater but I was so excited I basically scribbled.   In fact, see that wet spot on the nutmeg…that would be drool!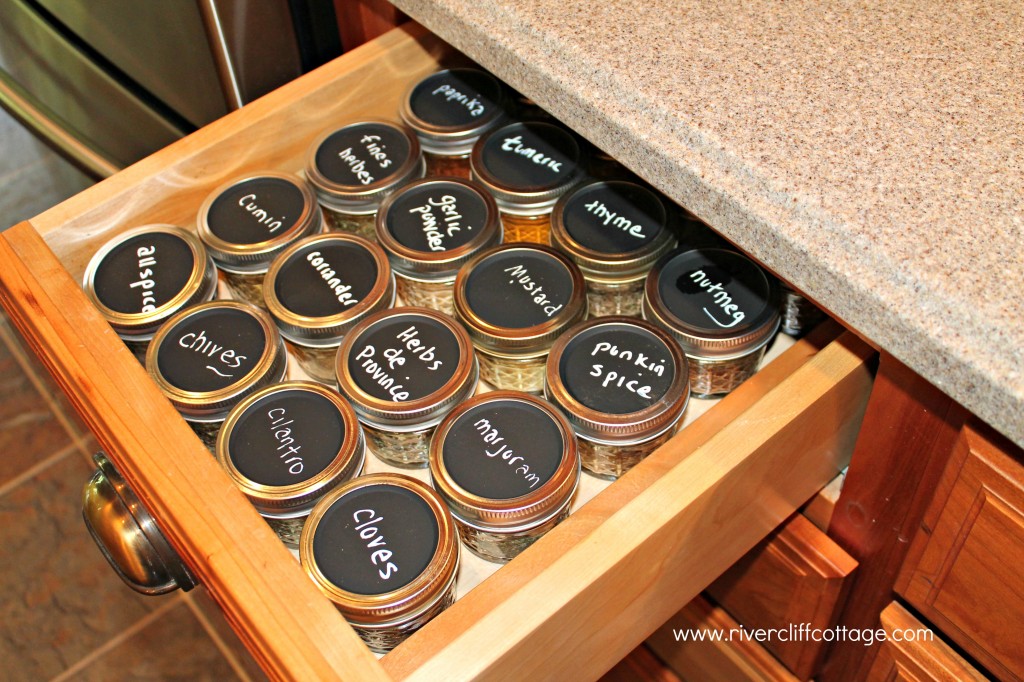 I have wanted a spice drawer for years.  Mike has offered to buy one, make one, etc, but for some reason, we just never got around to it.  Now, I've got one, and I didn't pay anything for it.  
Here's another close up of the little beauties….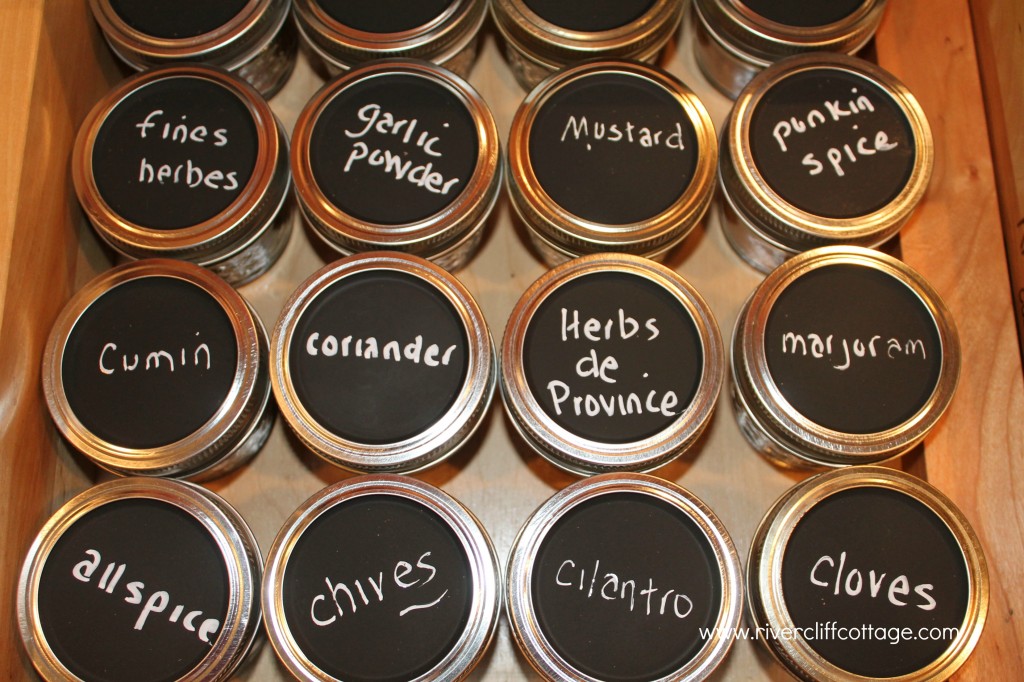 I am envisioning all types of possibilities.   Interrupting thought…did I misspell any names above?    I could go down and organize Mike's shop…or the garage…using chalkpaint and my new organization skills.  Or I could not do that.
So…back to the pantry. 
Here's a picture of another way I used jar lids to identify what goes where in my old/new although still tiny pantry…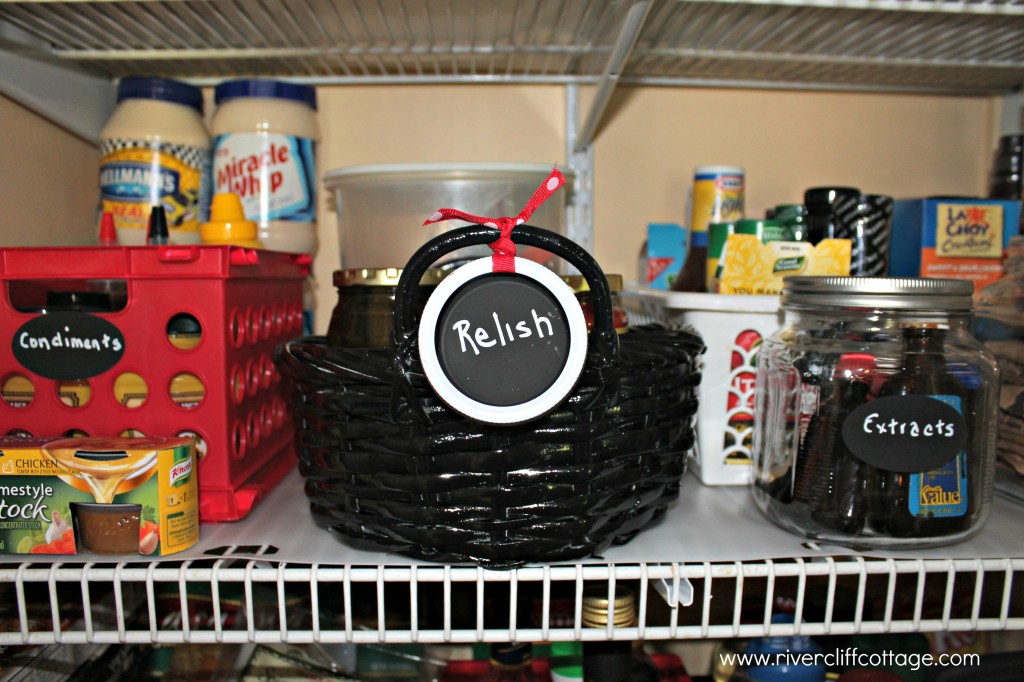 That shiny black basket was an old faded blue basket from 20 years ago in Franklin, Tennessee.  I bought it in my blue and mauve days when I decorated with baskets and geese and ruffled curtains.  I can't believe I still have it! 
Here's some larger jelly jars that I used for spices that were in bigger bottles.  Why didn't I alphabetize them before taking this picture?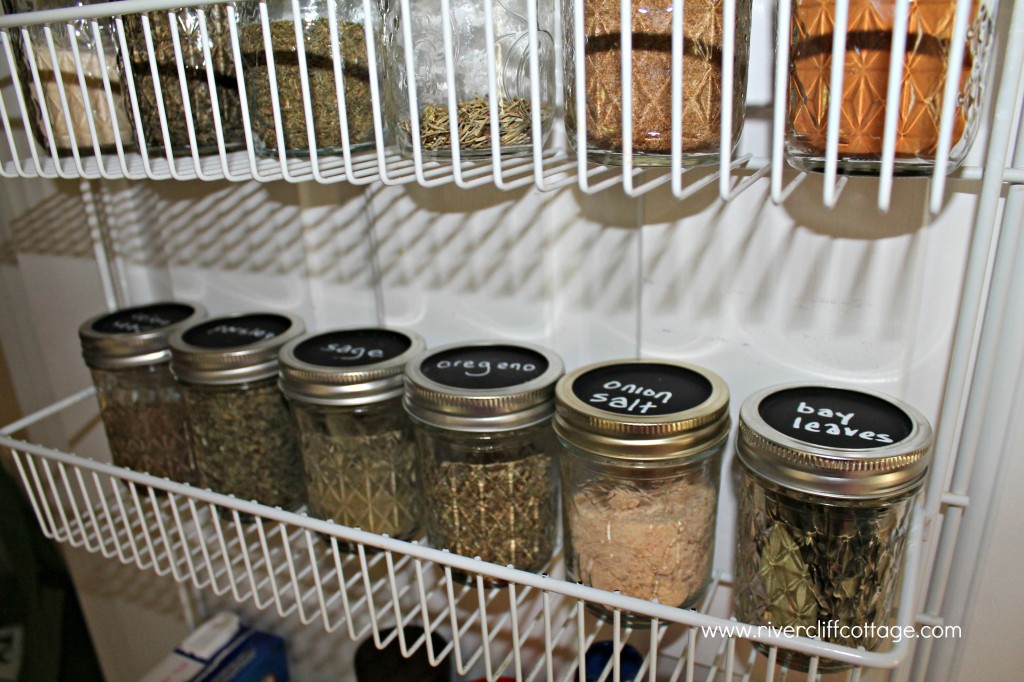 I'd also read about chalkboard labels which can be purchased at Staples or Michael's.  I decided to make my own using labels I already had. I just took them outside and gave them a quick spray of chalkpaint.  After drying about two minutes, I started writing on them. 
Here's a shot of the labels….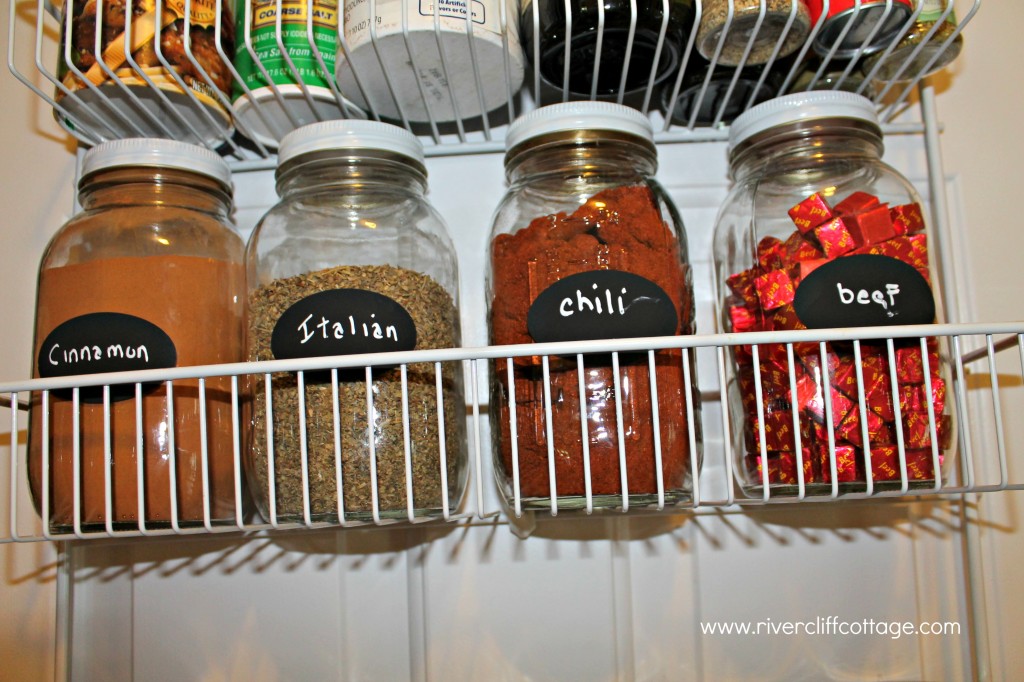 I use about six vinegars…they are all here in this little red box.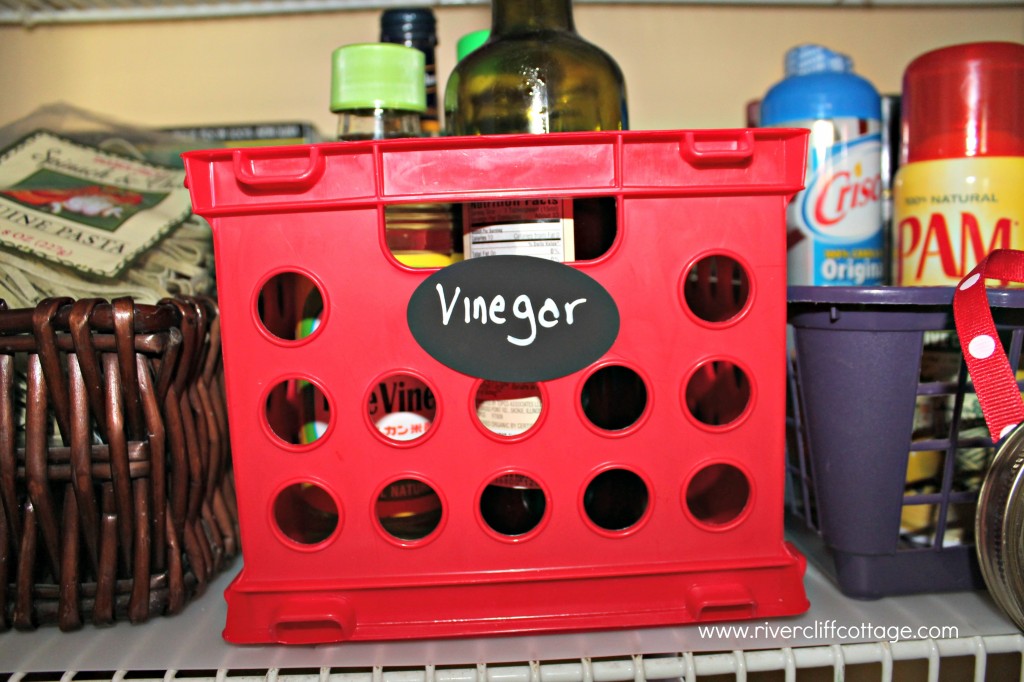 Ok…it's time for the pantry to be finished…
Here's a comparison of the before and after. In just looking, there's not that much difference.  The before is on the left and the after is on the right.  However, I can now find things!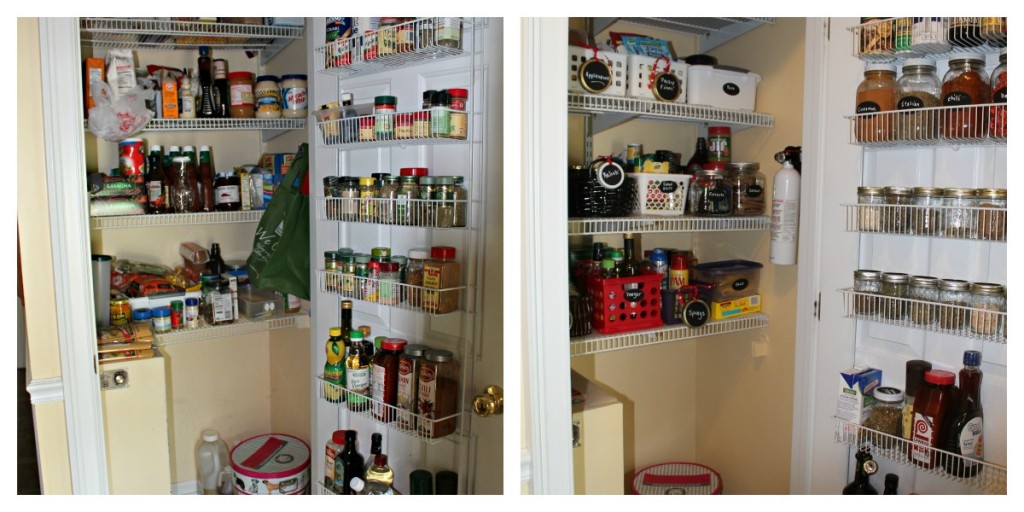 I know exactly what is in it and now Mike will know where to put groceries away that go in this pantry.  I have nine ketchups!  I can see them!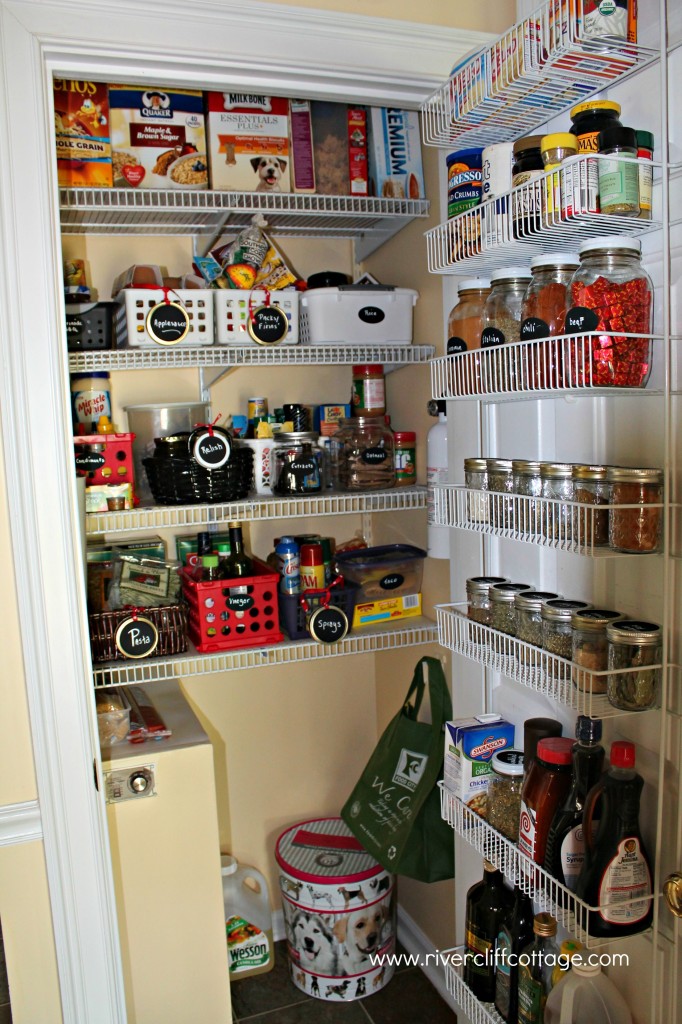 Also, the pantry has some additional utilitarian uses.  We have a spot for batteries, bags to be recycled and a fire extinguisher.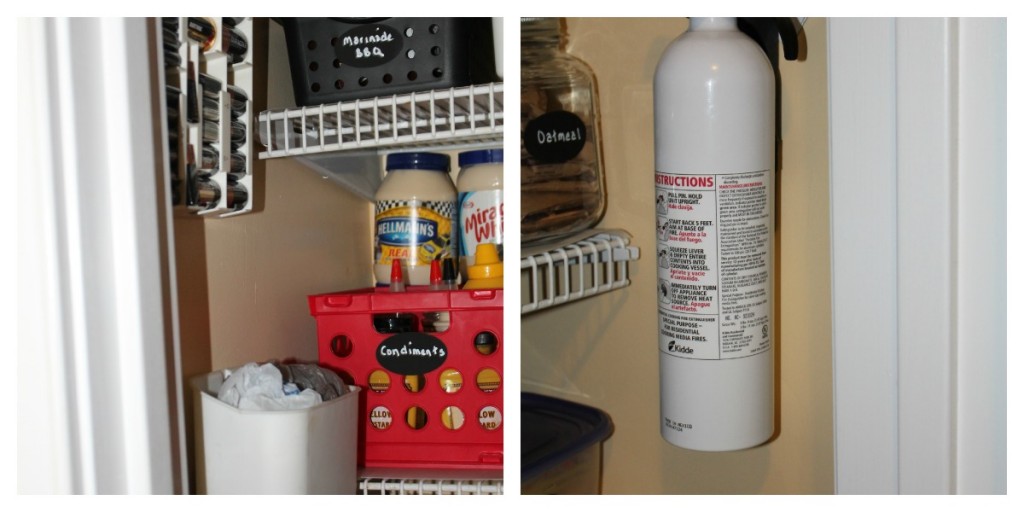 I feel a sense of accomplishment on getting this task done.  Tomorrow it's sewing day. 
Thanks for reading RiverCliff Cottage.     Please comment!    It's not the prettiest pantry redo, but it's an efficient pantry redo. 
(3079)