I have hated the color of our bedroom since the day I came home and saw it was painted. Our bedroom had been a seafoam/teal green, and I was wanting something softer but had not made a decision.   Mike got tired of seeing paint chips all over the walls and one thing led to another, and I ended up with a bedroom that looks like cold coffee. You've not seen many pictures of this bedroom on this blog.   I hate it.
I'm going blue.  I'm going to paint the bedroom the top blue blob in the picture below.  It's Sherwin Williams Aqua Sphere.  This picture makes it look a little lighter than it is.  It has more gray in it.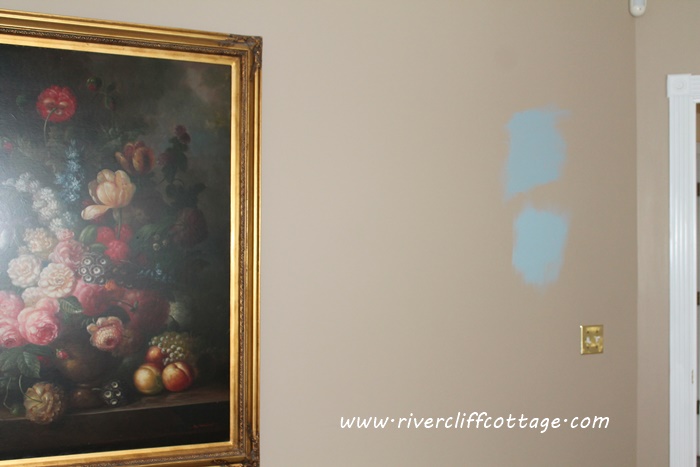 Here's the paint chip.

We've budgeted for this some time ago. I'm not going to do too much. It's going to be painted, I'm purchasing a new lamp and a new rug. I have lots of bedding that works with this. I've slipcovered a chair white which will also go in here. The only thing that's not done is the hardwood floor redo, but we're waiting a year for that because of our dog. Lucky will most likely be at the Rainbow Bridge next year, and it makes more sense to do it then.
Speaking of blue, I went out to work with our blueberries a bit this morning. We have six blueberry plants in three raised beds. Three are newly purchased in 2014, and three were replanted after they lanquished in bad soil conditions for three years. The raised beds have rich compost with a healthy mix of peat moss for the acidity the plants need. The tricky part is that they also must be watered often at this stage.
These are two of the new plants. The one on the left is blending in with the grass.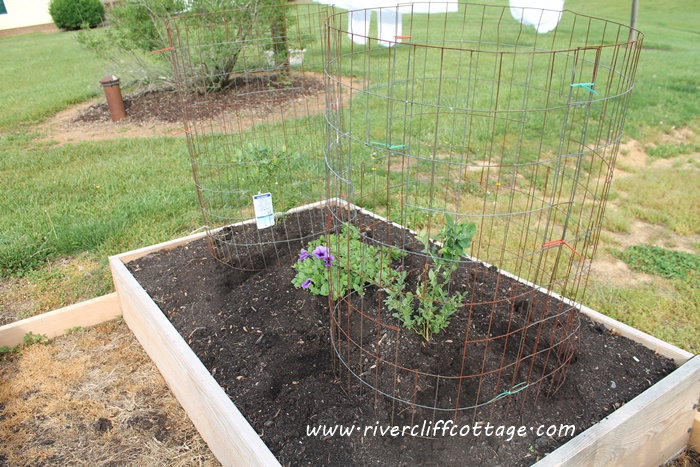 I'm the water girl…water…water…water. Every day I'm feeding sugar water to the bees then watering the blueberries and other plants. Here's the old blueberries, and I'm really pleased to see new leaf growth. There's a few berries trying to show up, too.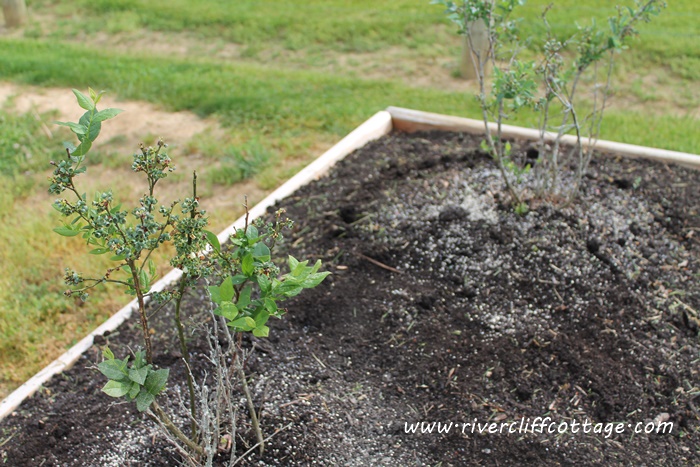 Following taking these pictures, I mixed in the acidifier and some granulite matter that holds water. This mixture is in the drip line around the plant and down in the soil about two inches.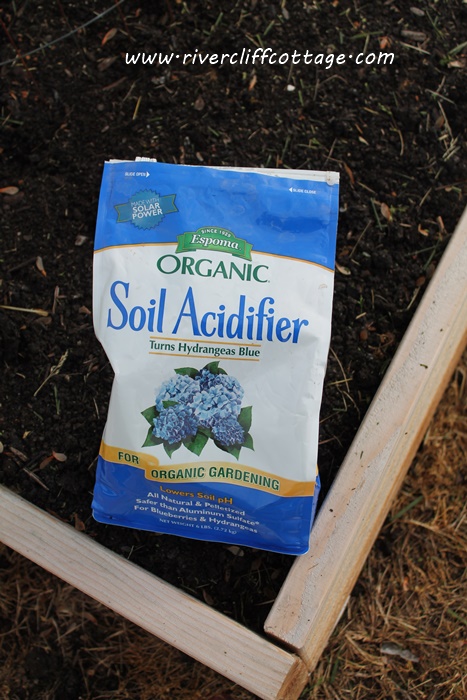 Finally, look at what is in my garden. A clematis isn't that special, but my clematis always get the wilt. I still don't think this one will be here next week. Bet she'll start to wither.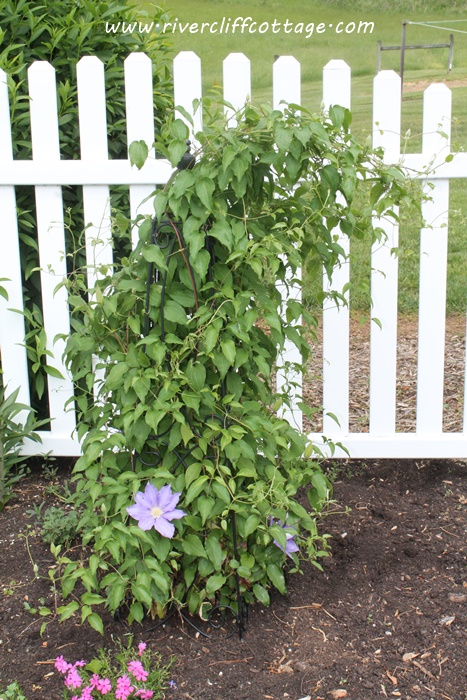 This plant has been here for years, but I gave up on it and each year, I've tried to dig it up. It's very determined, and I'll be really excited if it continues to flower and not wilt. The soil is completely different than it was when this plant first went in the ground. Since them, there has been several inches of compost added annually.
Thank you for reading RiverCliff Cottage.  So much mystery in these posts!!  Will that clematis wilt?  Will the blueberries live?  Will she really get the paint on those walls?
Hope you have a great weekend.
(562)