It has been beautiful in our river valley for the past few days. Low humidity…sunshine. Everything is growing.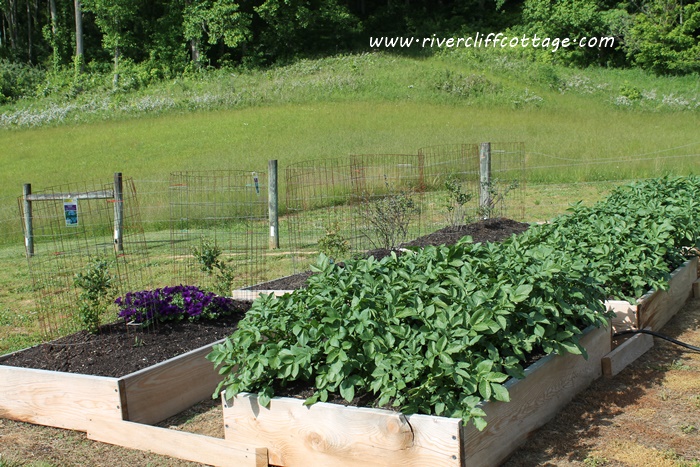 If you've followed my blog, you've heard me mention… "Once you've got that Poor Valley mud on your boots, you can't  wipe it off." You'll always want to come back.     Please travel around our area with me and enjoy a few of the pictures I've taken in the past 24 hours.  As I look at them, I think that it's true — you can't wipe the Poor Valley mud off.     Or maybe you just won't want to! The hayfield below….I can show you a picture, but I wish I could share the smell.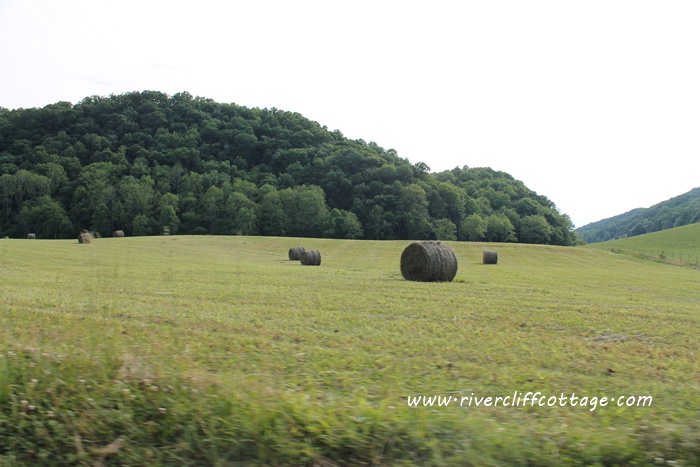 Quilts…this quilt was won this morning by Darius Hall at today's Mt. Vernon UMC Homecoming.   It was donated by Linda Nunley.   Her stitches, love and fabric selections helped raise over $1600 for the Mt. Vernon Cemetery.   Thank you Linda.  Congratulations Darius.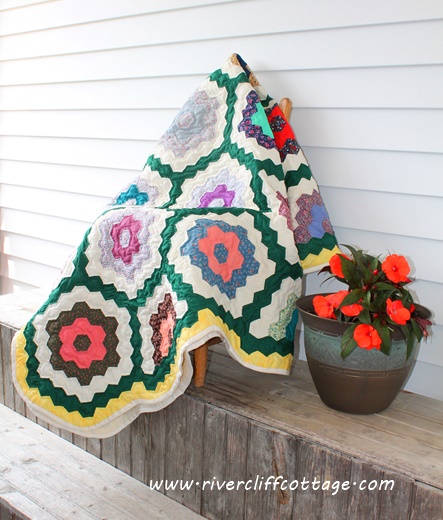 We were all happy that someone we knew won the quilt.  However, Fern Salyer and I were also hoping that Dixie Hall of Franklin, Tennessee (and sometimes Maces Springs) would win as this Memorial Day weekend is Dixie and Tom T.'s  birthday weekend.  Dixie and Tom always support Mt. Vernon and our quilt sales efforts, and we love them!    Maybe next year!   I took a picture of Fern as she has something to say to Dixie and Tom….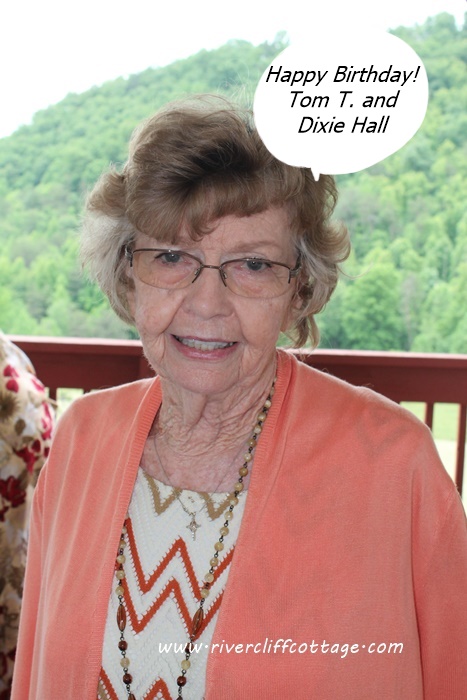 In southern, rural America…places like where I live…there's a blur between families and church families.    There's an intimacy in worshiping together as well as living near one another and sharing  lives.     You should hear our "prayer and praise" list.   We gathered yesterday at Mt. Vernon's picnic shelter  to celebrate Emmie's first birthday …here she is.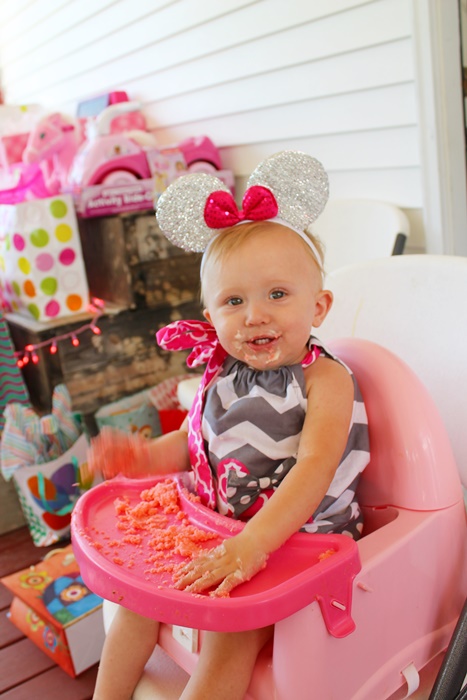 While we were having birthday fun,  a film crew arrived to work on a documentary.   Since our church has ties to the Carter Family, this wasn't as unusual as you might think.   We figured out how we could work, party and film together.    We invited them to the birthday party and then to Homecoming on Sunday morning.     They accepted, and we so enjoyed them.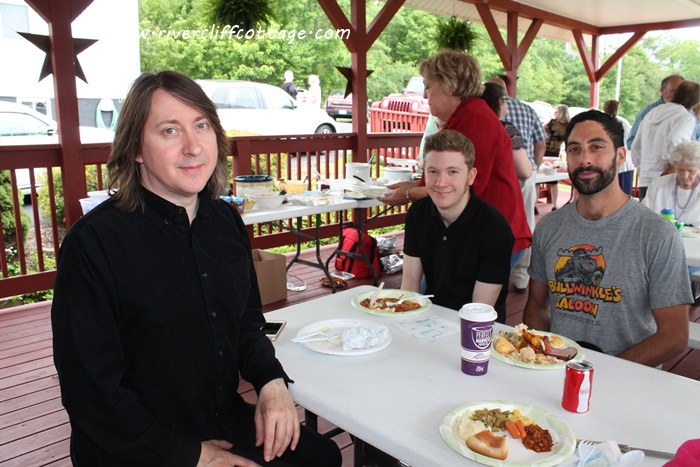 Some of the film crew were Scotch Irish, and guess what?  So are we!!    We compared our light eyes…light skin…discussed sunburns.   We discovered that the largest difference was in timing…we arrived across the pond a little sooner (a few generations ago) and our accents are no longer quite the same.   I asked this pretty young lady to pose with Dale Jett.    They compared accents…here's how Dale summed it up: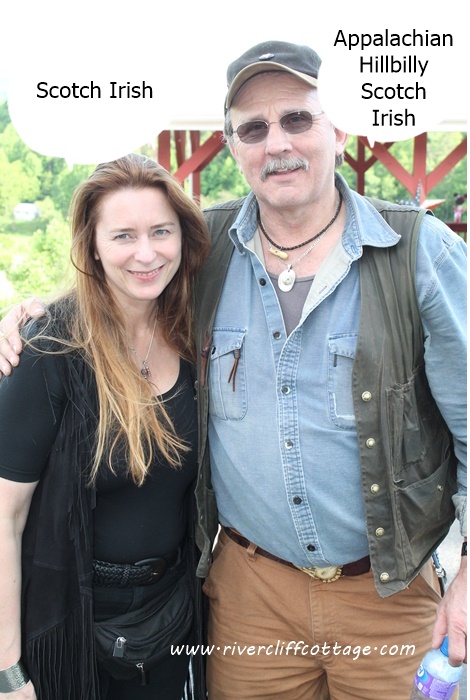 I think the film crew might have gotten some Poor Valley mud on their feet.     Dale, Teresa and Oscar sang for them (and us) this morning.   I couldn't get Teresa in the picture from where I was sitting.    I was listening…."I'm going where there's no depression."     Lyrics and sounds that travel across generations.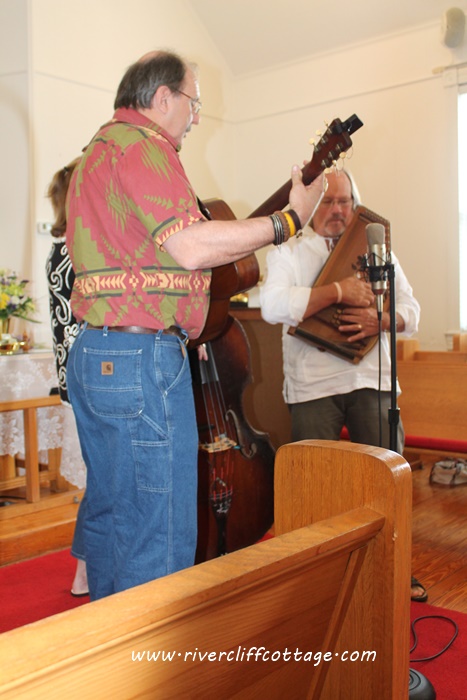 After church…we went for a drive….you know what we were doing…have you ever got behind someone just barely moving down the road?  That was us.  We usually say "it's those Tennessee drivers" but today, it was Mike and me and I was taking pictures.  Sorry!  It was another opportunity to pick up some more Poor Valley mud.   It's rampant. What do you see below?  Do you see lovely small white flowers?   If you do, you're not  from around here, and we need to have a lesson!   If you live in the Southern Appalachians…in what we call Mendota…Hiltons…or Poor Valley… you don't really see the flowers on this vine.   You see future blackberries!  Blackberry cobbler!   Blackberries in the freezer!  Blackberry jam!   It's going to be a great year for blackberries…they are everywhere!   Another rich blessing…another reason to pick up another piece of that Poor Valley mud.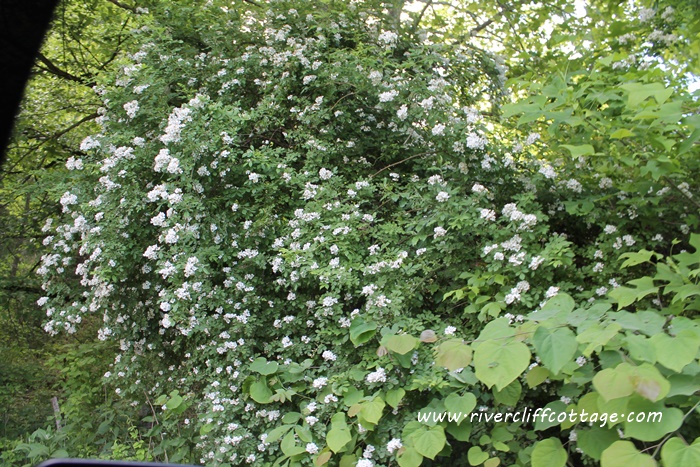 We drove a little further, and Mike said "you're going to love this" as he spotted the quilt square in the picture below before I did.   I do not know these people but I ran right up in their yard and took a picture.   A new quilt square!   I knew that if the homeowners came out, we'd end up being pals!  I love quilt squares, and I am  an enthusiastic, crazy for, in love with the idea, a supporter of the Mendota Trail.  In fact, I'm certain we'd be best friends!
Thank you for visiting RiverCliff Cottage.  Did you get any mud on your boots?
(272)