We are back in the honeybee business. My brother-in-law, Gerald, was discouraged coming into the early spring, because he was down to one hive. I had two hives but one was very weak. I so wanted to keep going…I'm always optimistic…but I knew without his help, I could not do it. Mike has many good qualities but he is afraid of bees. He likes them because I love them.
So you can imagine how happy Gerald and I are as we come into May, we now have six hives. We're talkin' honey..talking next year…watching our bees settle in. Our two hives remain strong, and our weak hive has been requeened. We have three new hives from catching swarms. God seems to be smiling down on our efforts and encouraging us.
Welcome Hive Number 6! It's two deep-hive bodies, and that's sugar water with Honey Bee Healthy for a little extra help for their housewarming. Our babies are buzzing!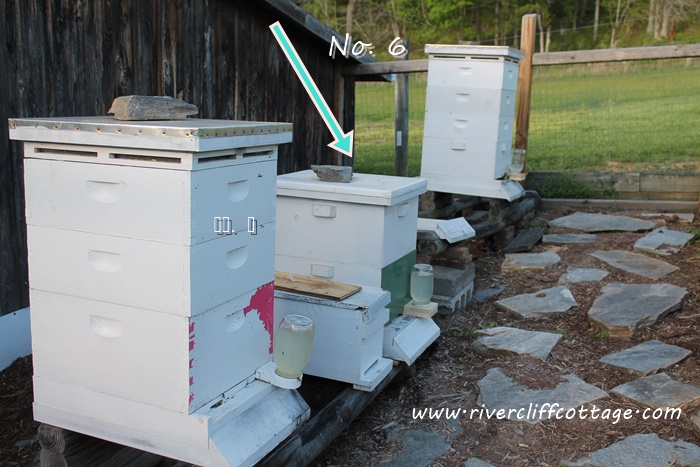 And now for the second part of my post. Why Do I Live Here? This question was asked recently.
I shared something with some visiting friends about a recent event that bothered me. I was at Cheddars on Exit 7 in Bristol and someone at the table near us requested a different waitress before being served because the waitress working that area was Black. The swap was made. It turned my stomach. I didn't realize people felt that way in 2014. The waitress was matter of fact about it and said it happened occasionally. Does Cheddars need the business so bad that they accept this from customers? I probably won't go back. They will have to have their racists customers keep them in business; not me. My friends were appalled and asked "why do you live here?" It caught me offguard. I didn't answer them as I should have.
First, I think most people are like me–not like those who were seated at the table near us. There is some bad everywhere. When I was in Alpharetta working, I stepped out from the hotel one evening to go to Bahama Breeze to have dinner. I was alone and within spitting distance of the restaurant. It was dusky, but not dark. The hotel employees insisted I call them to come pick me up when I was through, and they stood outside and watched me walk across the parking lot to get there. Really. Maybe they were making a big deal about nothing to make me feel welcome and secure at their hotel. I'm not sure.
Perhaps it's that way here, too, and I'm just naive. I do know that if I drive into Mendota, which is 18 miles from a grocery store, and my car breaks down, I'm more likely to have help from someone or a fair idea of whose door I'm knocking on. We're not perfect, but I prefer to live here. I'm still trying to think of the right answer to my friends' question so that I don't sound like I'm condemming another lifestyle above my own, but I don't want anyone to think I do not prefer to live where I live.  I like to visit an IKEA but it's not important to live near IKEA!   Ha ha!    The reason I started this blog was to answer that question. I'm not sure that I'm doing a very good job of it. I want to share the sweetness of my rural lifestyle.
So much for seriousness. Here's some simpler reasons….my friendship garden. Plants that folks around here have just given me "starts" from. Friendships are more likely to be forever here–not until the moving truck takes us to our next assignment. These are Katie Harris' irises that probably started in her father's garden. Each spring they remind me of that family. Katie, her sister, Lisa, and I were sisters growing up. We all live here now. By choice.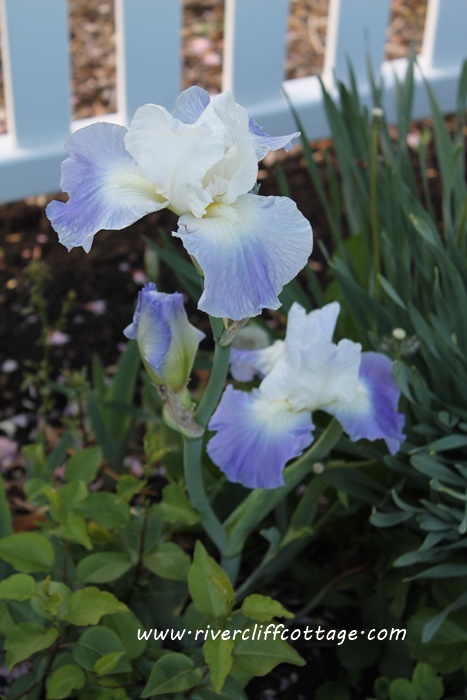 And there's another special garden friend from someone I love. It's from my True Love (Lowe's). Got most of these off the half dead plant rack a few weeks ago. Look at them now! They are surely not half dead plant flowers anymore!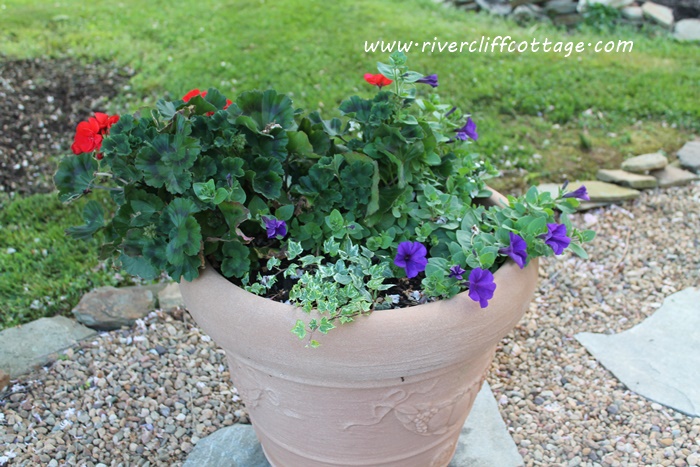 (409)