"What kind of Mickey Mouse operation is this anyway?"   That was Mother's words I heard in my head as I looked over our make-shift arrangement to protect my two hives of bees from the extreme wind chill.  Mama…what are you doing out here in the cold?   You live in my heart where it's warm–and besides, you're being a little sassy."
Ok..for the sake of pleasing Mother, I'll admit it does look a little like a shanty town for bees…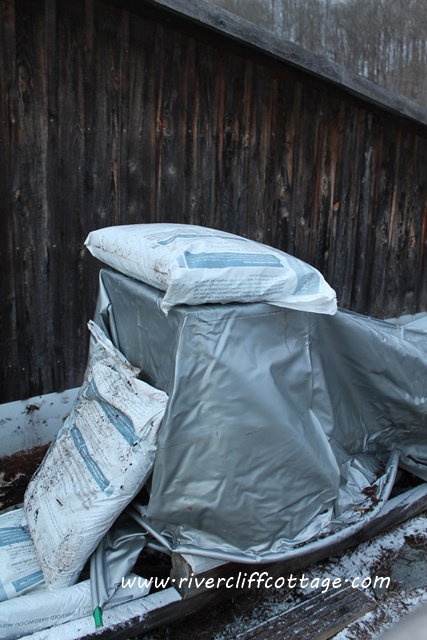 During the last "Arctic Blast" of air through Poor Valley, I wrapped the hives in bubble wrap and worried constantly for three days.  You can read about that here.   I removed the bubble wrap because I was concerned about trapping moisture in the hive.
And then we get the forecast for this evening…5 degrees with a windchill factor of about -5 this evening.    Great.   I'm short on bubble wrap.   Mike came to the rescue with a tarp.  Brilliant!  The barn is the first defense for the chilling wind, but the tarp will give an added barrier, and tomorrow I can just pull it back.   At any rate, I'll sleep better knowing they've got a bit of extra protection.  They have to work hard to keep their queen warm.   Here they are on a nice warm day when we were working with them.    I love them, but–excuse my French–these little pals are meaner than s*!t!  If you come see me in the summer, you'd better bring your Benedryl!!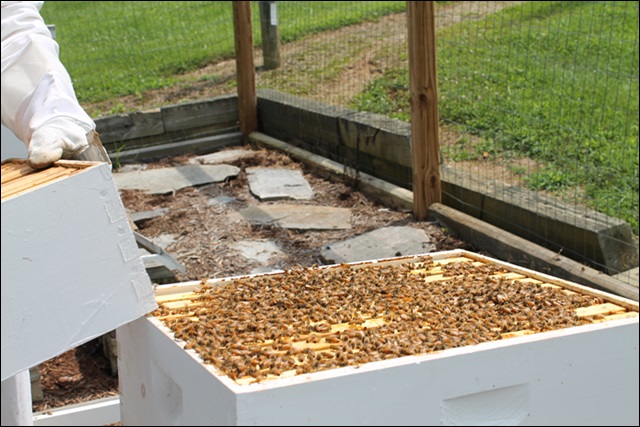 The tarp had to be loose around the front of the hives because there are two openings that provide ventilation.  One is right at the top of the hive…just under the roof.  Warm, moist air inside the hive moves upward and it has to have a place to go.  If the ventilation hole is closed off or blocked, the moisture may result in icey cold drops of water falling on my bees.  No way are we going to allow that to happen!
In this last picture, you'll see the tarp going down in the center.  I was worried about air getting underneath the tarp and pulling it up and possibly pulling my hives over.   Am I overthinking this wind?  Anyway, we used bungie cords to prevent the wind from getting under the tarp.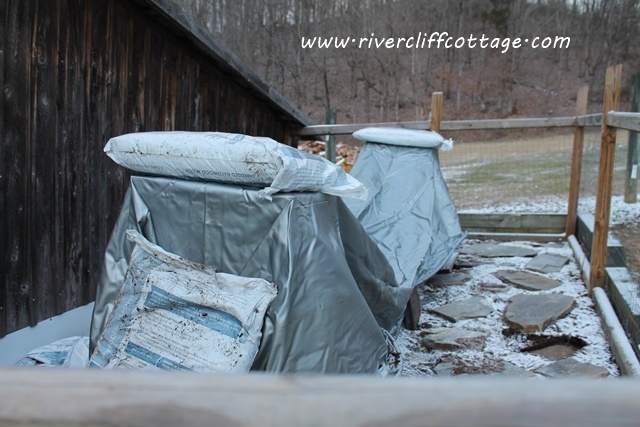 If this is all fallen over in the morning, I will be so upset. Stop by tomorrow and I'll let you know how this worked.
Thank you for reading RiverCliff Cottage. If you've never commented, hunt around the bottom of this post and please leave me a comment. When you visit the blog, I can see where you come from but not who you are. For instance, someone in Washington State visits several times per month. I'd love to hear from them…you…anyone! Thank you!!
(470)