Mendota did not get snow. Mendota got rain. Sniff.
All kidding aside, I do not mind. Our friends and family in the northeast have had a very scary two days. They are safe. I am grateful.
However, I had intended to wow you with snow pictures. Would a rainy gray background of my weedy rosemary do instead?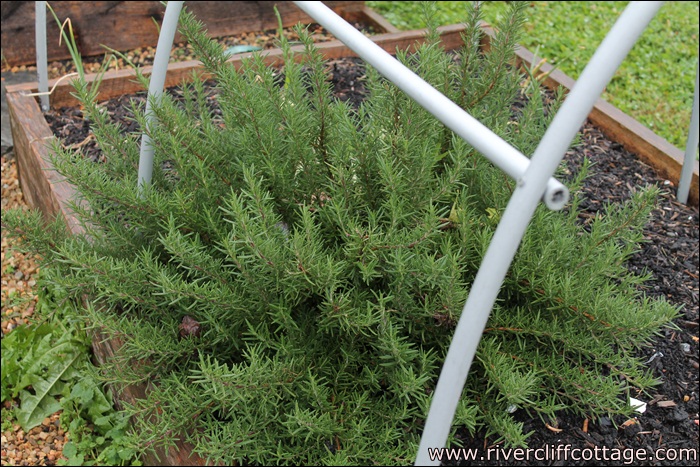 This demonstrates how forgotten my garden became at summer's end. The walk to the rosemary inspired me to make rosemary potatoes for dinner, so I picked quite a bit before returning to the house.
I also passed by one of the mums  I transferred from the pot to the ground just a few days ago. I know…a bit weedy. I'll get around to taking care of that!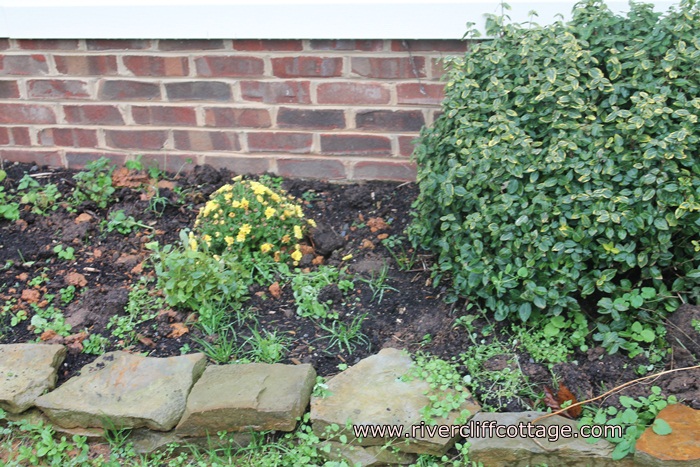 If these mums "take hold", I'll have them to enjoy for years. Here's a few that are several years old. They are looking a little sad at season's end but they have been putting on quite a show for at least 8 weeks.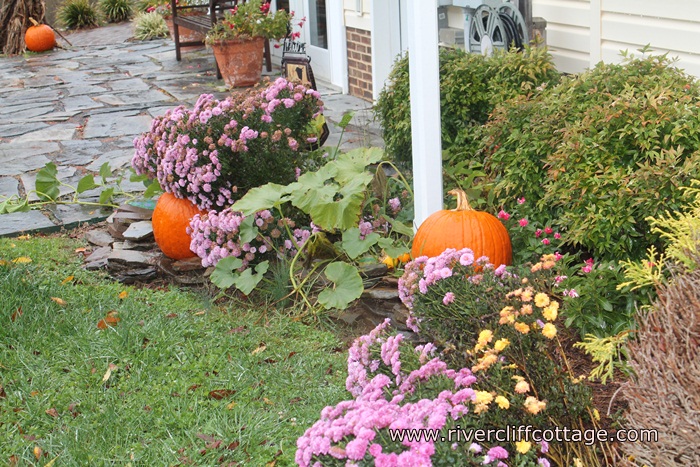 And lazy gardeners listen up! I left last year's pumpkin out so long that it rotted. As a result, I have been treated to a Cindarella pumpkin which I'll be displaying on my Thanksgiving table. Wow! Have you priced these pumpkins? Thank you rotten pumpkin seeds! This picture makes it looks small, but it's a good size and perfect–even though it is growing laying on its side.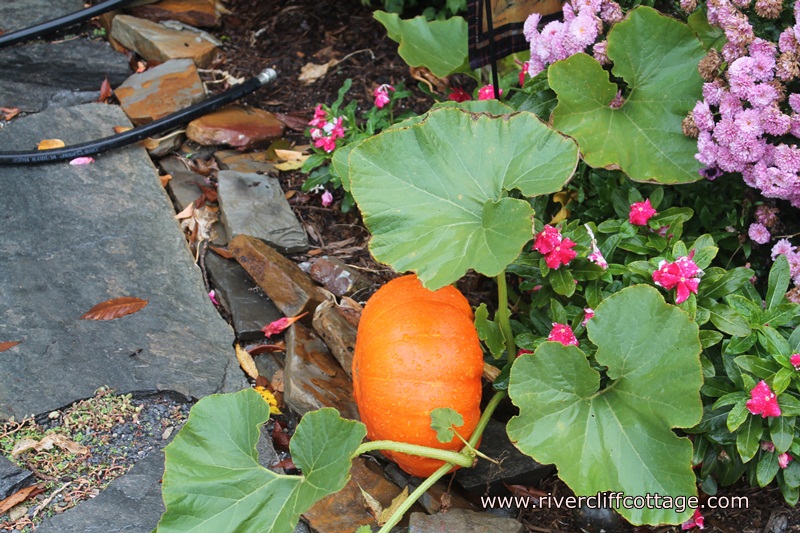 It's time to get the rosemary inside. I picked quite a bit of rosemary, so I'll hang some up to dry…
It will dry in this basket…the kitchen is smelling so good! I'll pick more in a day or two.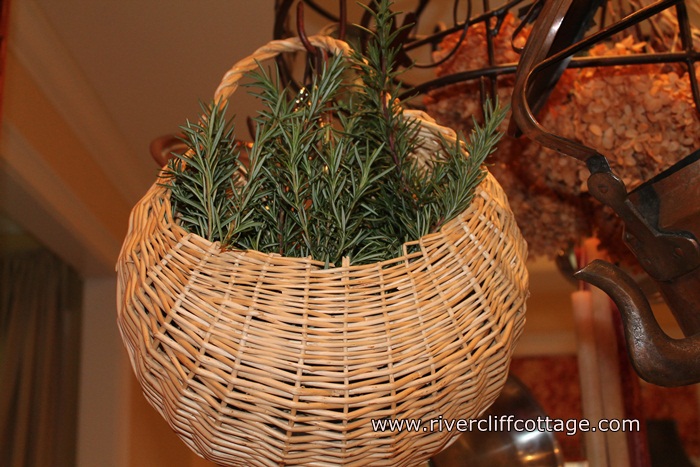 When it dries, it'll go into the little rosemary spice jar I made last summer. I'm still in love with spray on chalk paint.   I painted this lid and talked and talked and talked about it in this post.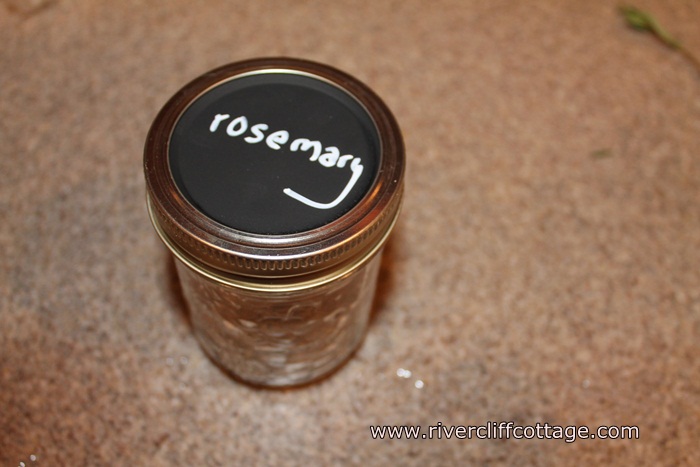 Back to the potatoes. My potato picture has a shadow…it's me…loitering about with the camera wishing these were my homegrown potatoes, but I only grew three potatoes this year. A total potato disaster here at RiverCliff Cottage. Here's a sprig for the potatoes I bought…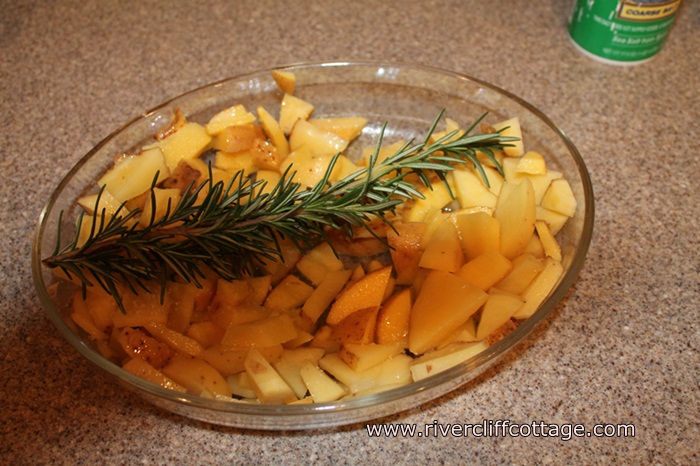 A couple of tablespoons of olive oil and a dash of seasalt. Oven preheated to 425 degrees. This will be ready to eat in about 35 minutes. I am so hungry…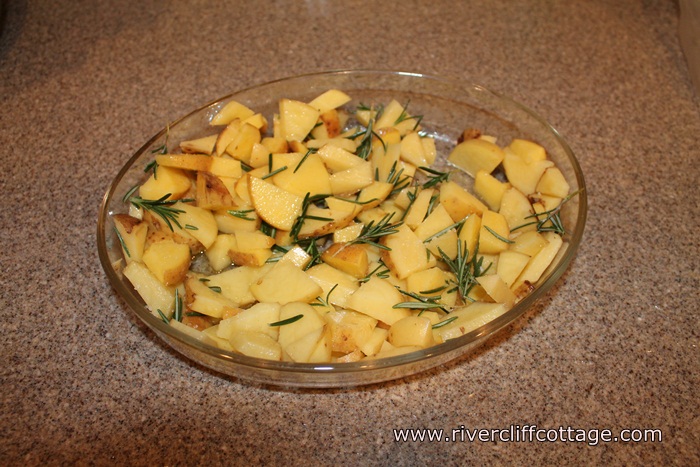 Thank you for reading RiverCliff Cottage.  So much!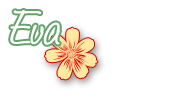 (813)