WOW!  Has it ever been hot and dry in Mendota, Virginia!    It was 90 degrees yesterday when I took this picture from the Mendota bridge.  I was waiting on kayakers to come in.   I'll go back to this same spot next week and the following week so that I can record how the leaves will change as we approach real fall weather.
For some reason, this lady and her little one cooling off in the river was a sweet view for me.   When I grew up there was no air conditioning, and the river was a place we went to cool off.    That is when my relationship with the North Fork of the Holston began.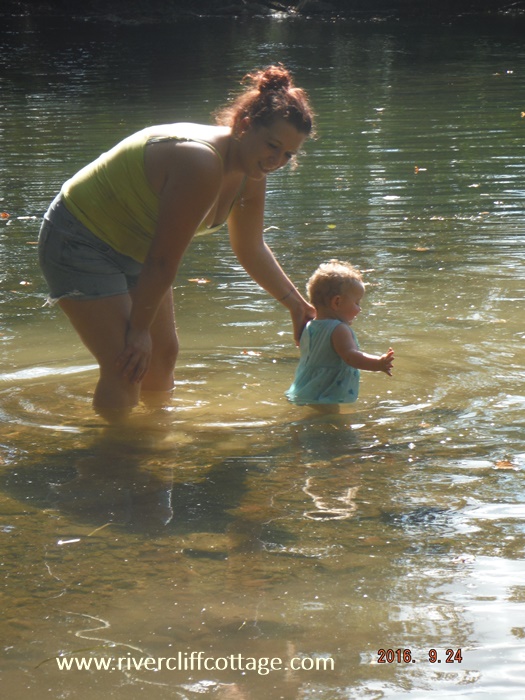 Adventure Mendota is suspending kayaking until it rains and we have more water in the river.  Hopefully, the rain will come concurrent with the leaves changing.   During this time, between taking afternoon naps and going to the movies and eating out–like all the time–Mike and I are getting ready to have all of the trim and a few rooms in our house painted as well as have all of the hardwood sanded and refinished.   We have movers coming October 6 to move the heavy stuff so the next ten days will include our moving the small things next door.  We'll be staying in the guest house while all this is happening and using the garages for storing larger things such as mattresses, etc.  Sounds fun, doesn't it?
A few years ago, our son and daughter in law put their house on the market and were told that the trending paint colors were lighter…blues, grays, beige and "greige."   "Not me,"  I thought.   Our son jumped right on it, and I thought it was a mistake.   Well, I guess this old girl might be a few years behind, but I'm having our master bath, guest bedroom and laundry room–all painted in shades of blue.
Mike and I are NOT painting ourselves which is the best news of all.  Our painter will use whatever paint we choose, but he likes Behr paints from Home Depot and can provide a 20% discount on the paint.  It'll be a Behr paint.   It'll be a color like these which I borrowed from Pinterest.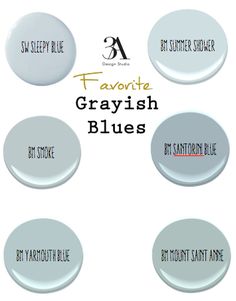 Can you imagine how dirty my house will be after the hardwood is redone?
(43)