I love "real" houseplants. I have philodendron plants in every room plus a few others that I don't even know the name of.
This is a good opportunity to show off my recent quilt. I use any opportunity. Mike made a little quilt rack for me a few years ago, so I opted to display my "Quilt of Many Colors" and I love the philodendron that accompanies it!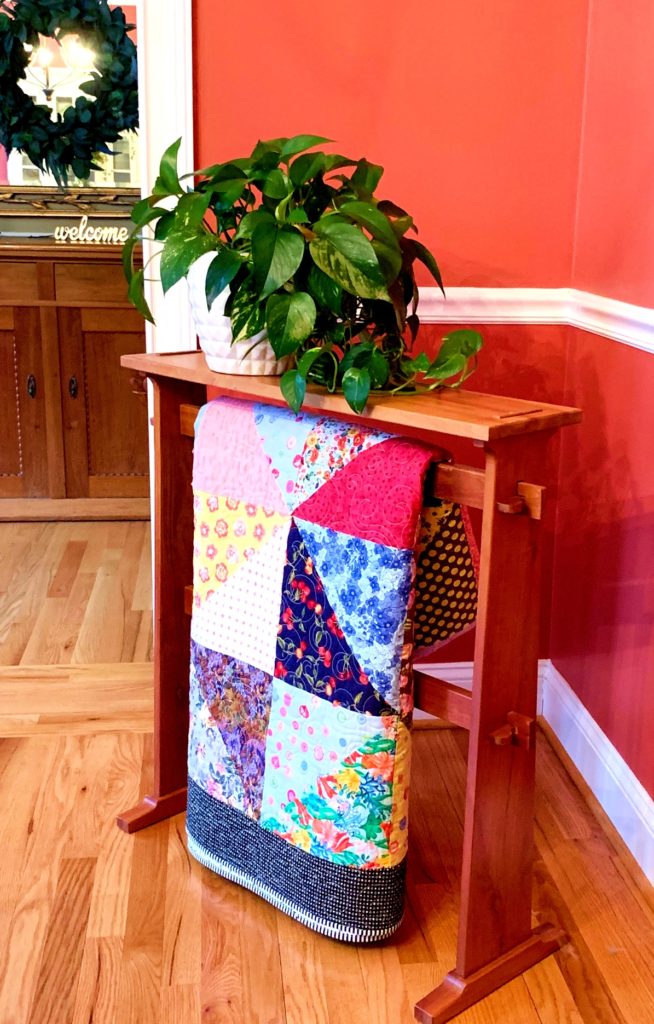 Okay…back to my original train of thought…one plant I adore is the Fiddle Leaf Fig Tree. Here's the one that I have.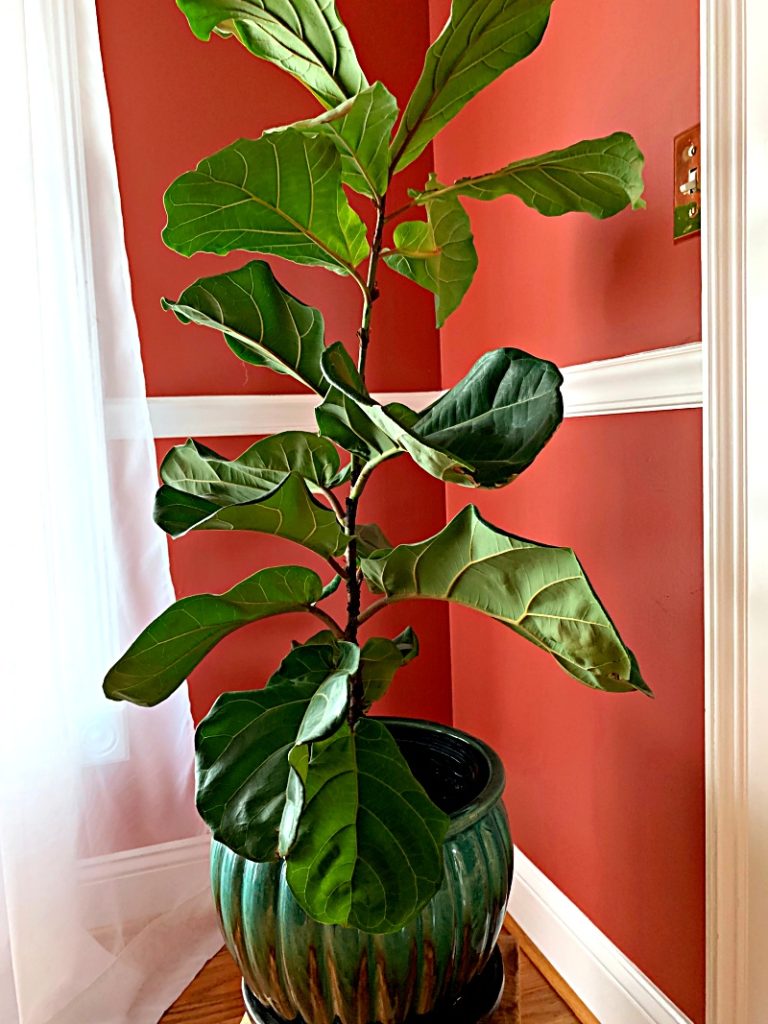 The Fiddle Leaf Fig is a workhorse. It likes moderate light and doesn't mind getting dry. I water mine about every ten days. Two years ago, I posted on Facebook "Does anyone know who sells Fiddle Leaf Fig Plants in the Tri-Cities?" I learned that Evergreen in Kingsport occasionally gets them in. I visited Evergreen, but there was not a Fiddle Leaf Fig to be found, so I requested they call me when they got some in. I reminded them in a message on Facebook. Finally, one day they called. I hurried over to Kingsport to get my plant; and when I got there, there was some mistake. There was no Fiddle Leaf Fig. It either was sold or never was there to begin with and someone made a mistake. I left with a few marigolds or something and a frown.
On the way home, I started thinking about how Amazon sells everything else, so why wouldn't they sell live plants? I will say that my desire to do all things local cringed a little, but my want of that plant crushed any shame. I went home–and sure enough, for $29 plus tax but still with free Prime shipping–I could own a mail order Fiddle Leaf Fig. That was July of 2017 and my plant arrived in a box. I transplanted it and you now can see it in the above picture. It has been a huge success.
It got so tall it didn't look good in the little nook I had it in, so I moved it to its current location, but I then realized I needed another Fiddle Leaf Fig to take its place.
I'm sharing this because I wonder if there are other places in rural America that for whatever reason, places do not stock Fiddle Leaf Figs. In other cities, they are at Home Depot, but not here. So…I want to show you how easy it was to purchase and receive these plants via Amazon. I returned to my Amazon account and found my old invoice and just clicked reorder. The price remained $29. I was happy about that.
There is one step I failed to mention above. I waited until I knew we'd have five days of warmer spring weather since this is a live plant. Warm weather started this week, so I placed my order. It arrived today in a box. I received a text saying it would be here, and the UPS man was so careful as he handed it to me since he knew it was a plant. I appreciate that! One of the great things about living in a small community is that we know one another, and he was careful because he's a good employee and he knows us — if not by name then by address and face. Yay UPS!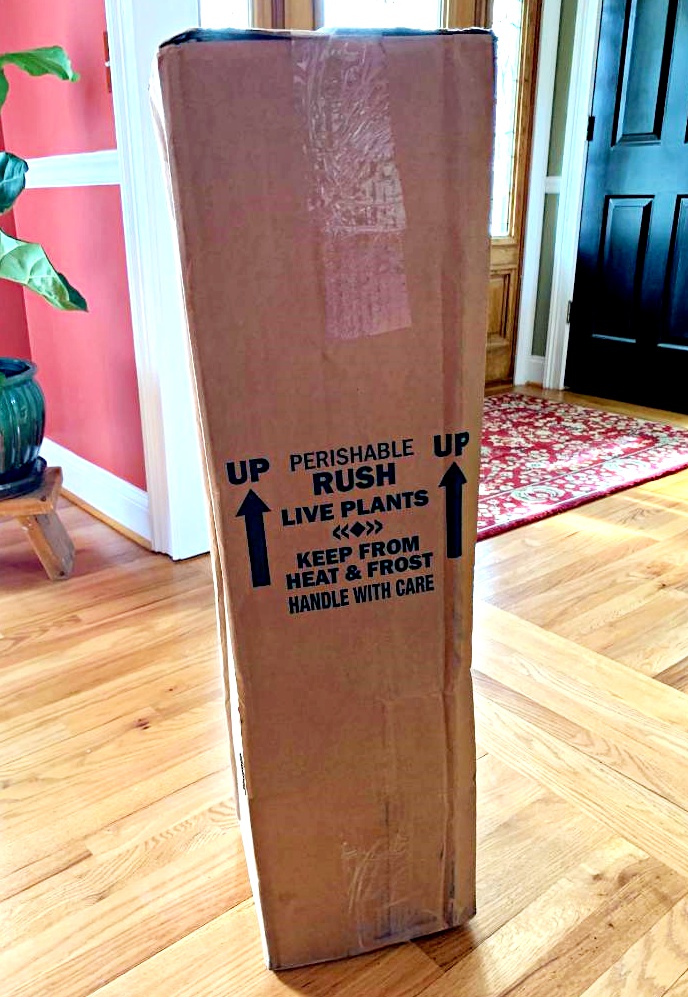 I opened the top of the box and peeked in…she was all in there in a little nest.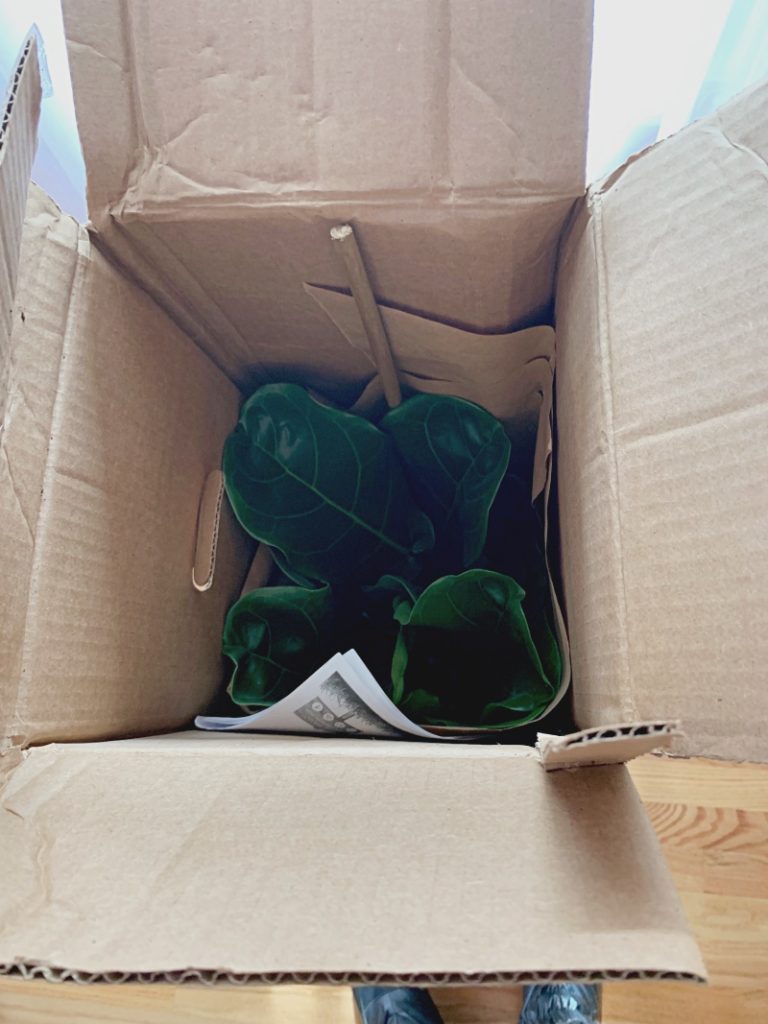 Pulled this little lady out and here she is standing in her brown wrapper. I think of this as her bathrobe.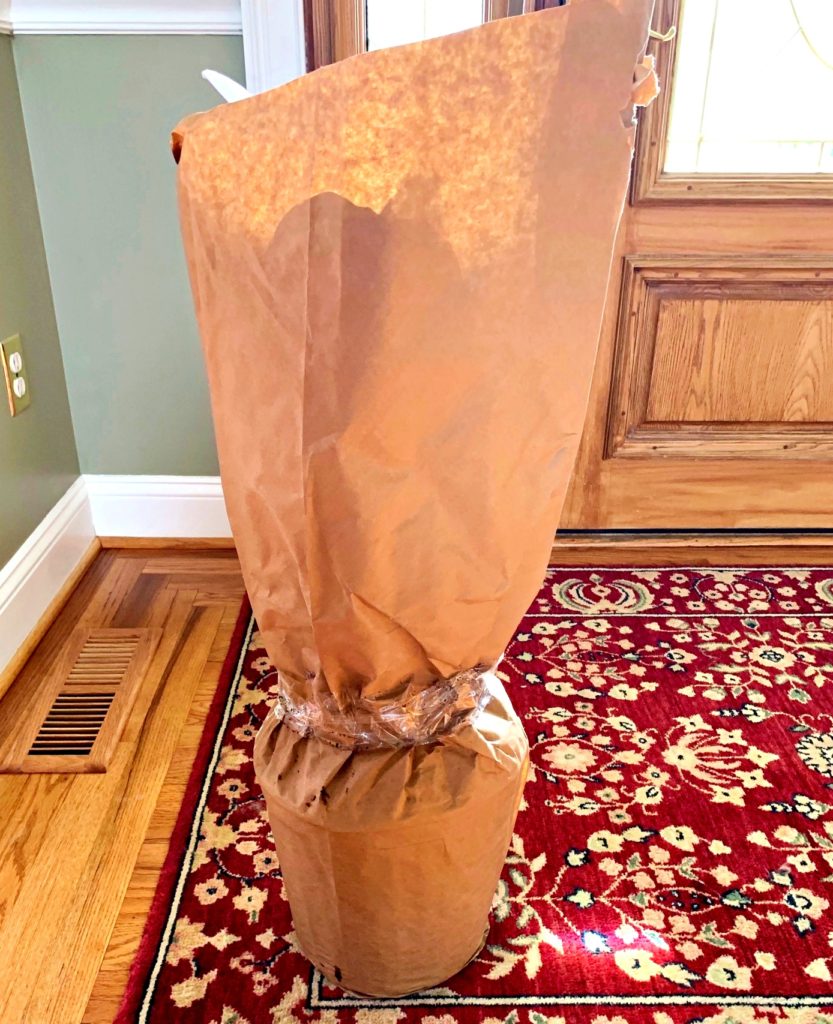 Mike helped me unwrap her. We moved her outside since she was dropping a little dirt. She is a beauty….absolutely gorgeous. I'm so happy. I have to find her a pretty pot to live in, but I don't think I even need to repot her at this time. She's not root bound.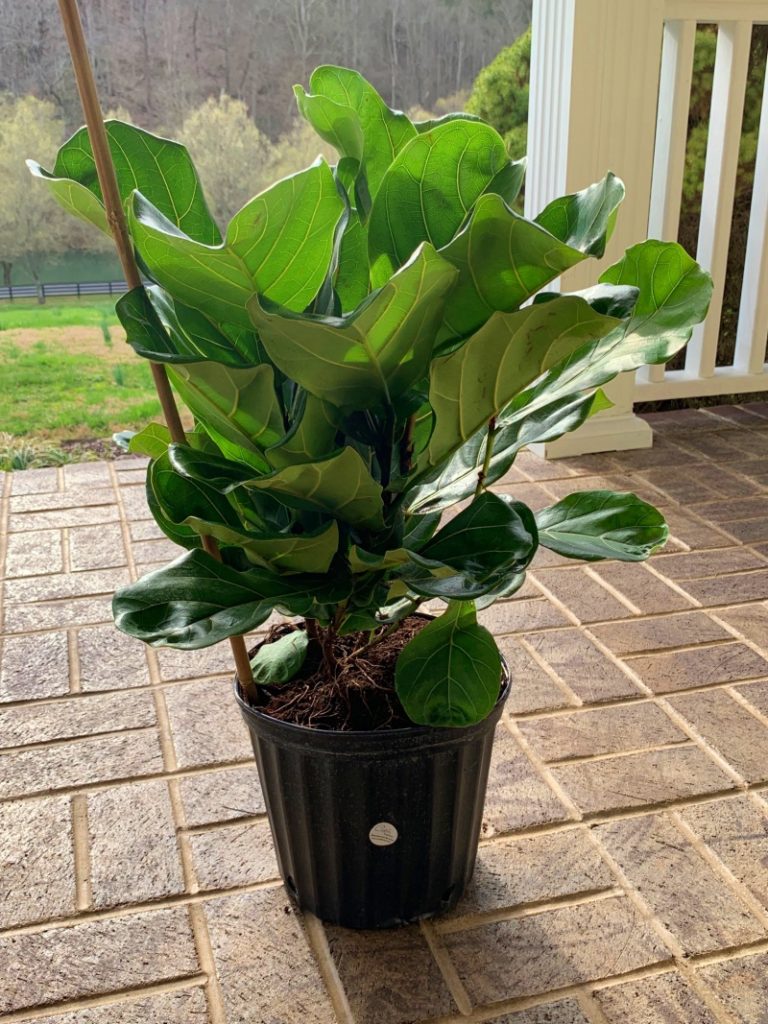 This wraps up my second–and very positive–Amazon Fiddle Leaf Fig Tree buying experience. I'm going to go to Amazon and write a good review. It's well deserved. While it's always best to buy local, sometimes you can't. When you can't, Amazon and Amazon Prime are a great resource.
I'm going to go hug my plant!
(36)