I'm having a bad night. I suspect I'm about to lose a dog that I've learned to love in a short time. We'll know more tomorrow. Ugh. I'm trying not to think about it.
I used to be a cat person. I had one cat I dearly loved. Her name was Molly. She lived to be 21. She had an interesting life in that I found her on the farm that Saturn Corporation purchased. I lived in Franklin, Tennessee, and the farm was in Spring Hill, Tennessee. It was truly another life ago. Molly was one of the Haynes Haven farm cats, and when General Motors bought the property, we had to find homes for the cats and kittens. Molly had kittens and she was in pretty bad shape. Members of the UAW helped with the kittens, and eventually Molly did not have mama responsibilities and I took her. I learned shortly thereafter she was diabetic. Molly was an insulin dependent cat for all of her 21 years. Yes, she lived to be 21. In fact, she lived longer than Saturn Corporation survived. Pretty amazing. She looked just like Chrissy. I knew her so well, I could look at her and determine if her blood sugar level was in trouble.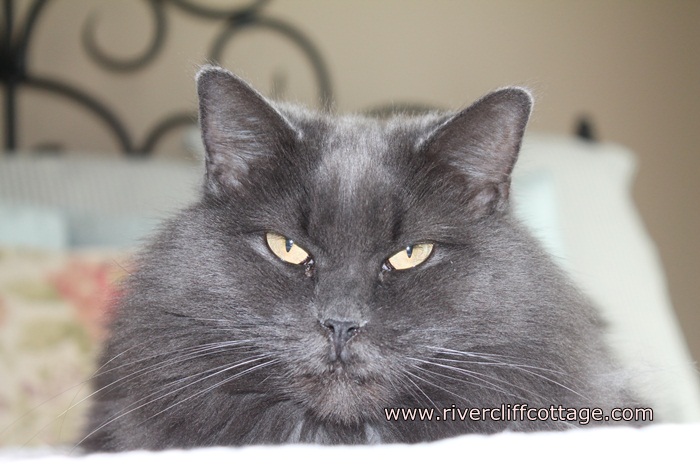 Molly also went in for a flea bath one day to Cary Veterinary Hospital in Cary, North Carolina, when we lived there. Somehow, there was a mistake made and they attempted to spay her only to learn she was already spayed. I have never been so angry. I actually yelled at the vet. If you know me, I'm pretty laid back so you can only imagine how angry I was. Someone had harmed my pet.
Another time, still in Cary, North Carolina, Molly and I were headed to the vet and a car pulled out and hit us. The man was very nice, but again, I was scared for my cat, and I was not as nice. It turned out he was the CEO of Burroughs-Welcome which later became Glaxo Welcome and now Glaxo Smithkline. He normally had a driver but he was driving himself on this day. I told him he should have stuck with NOT driving.
And yet another time, we moved and she was let out by Mike's son and was missing for 13 days. I found her under a vacant house. Two friends, Herbie and Patricia Quick, and I got her. I took my shirt off and walked home in a sports bra carrying Molly wrapped up in my shirt. She lived and thrived.
Molly lived in Franklin, Tennessee; Cary, North Carolina; Leesburg, Virginia; Basking Ridge, New Jersey; Acton, Massachusetts, and Boca Raton, Florida. She rode in her cat carrier in the front seat, and when I pulled up at Wendy's for her grilled chicken, she would stick her paw out the cage anticipating the chicken as soon as I placed the order. She knew! Finally she lived in Virginia where she is now buried in our back yard.
Obviously, this cat was a survivor with many lives.
If you have cats, you undoubtedly have gotten up in the middle of the night and stepped in cat puke. This happened to me last week. I woke up when I heard the cat–Chrissy– throwing up. I got up to clean it up…stepped in it, said a bad word that rhymes with smit,  cleaned it up and went back to sleep. The next morning, I saw that she'd thrown up on the chair as well as the floor. She'd thrown up on my WHITE slipcovered chair.   Yikes.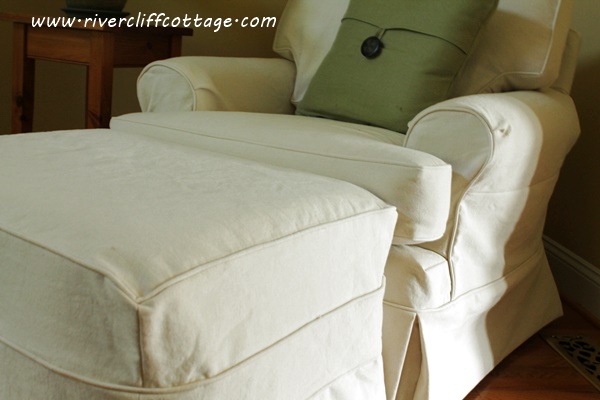 Here's one shot of the damage. It smelled like fish. She managed to get it on the ottoman cover, the chair cushion cover and the chair cover. Very thorough but she could not help it.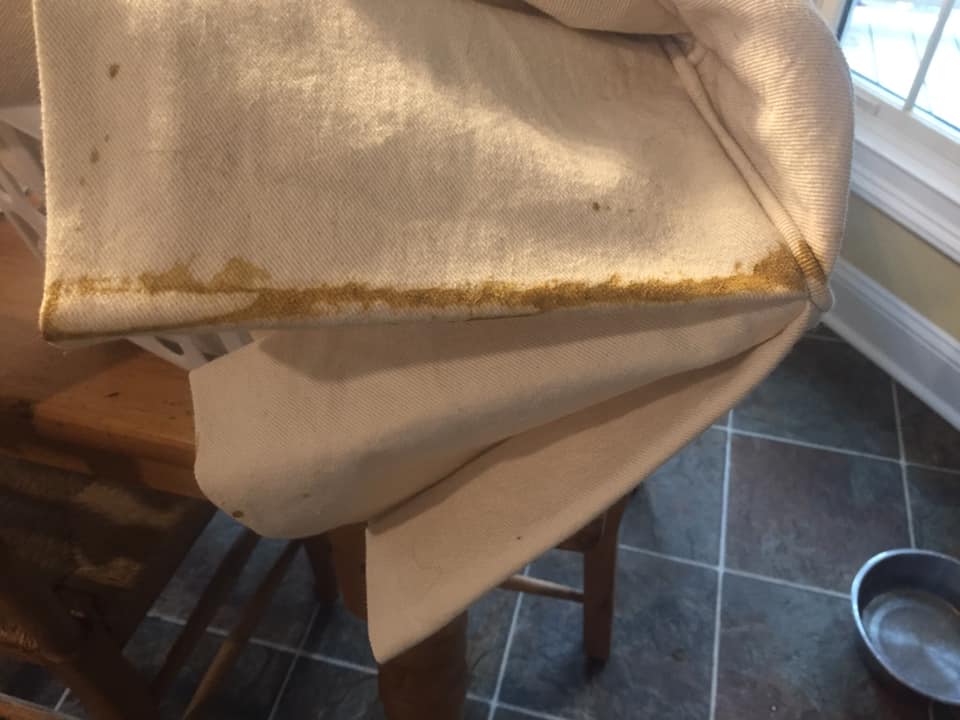 I got slipcovers so that I could wash them if this type of thing happened, but I always wondered "would they really wash up well?" It was time to test them.
I took the slipcovers to the laundry mat, and I put the $5 in coins in, turned the machine on hot with a Tide Pod, and I crossed my fingers. When I brought them home, I hung them across the clothes line. I could not tell top from bottom. BUT, this story ends well. They cat puke and fish smell were gone.  I wrestled those slipcovers on and I'm happy with the result!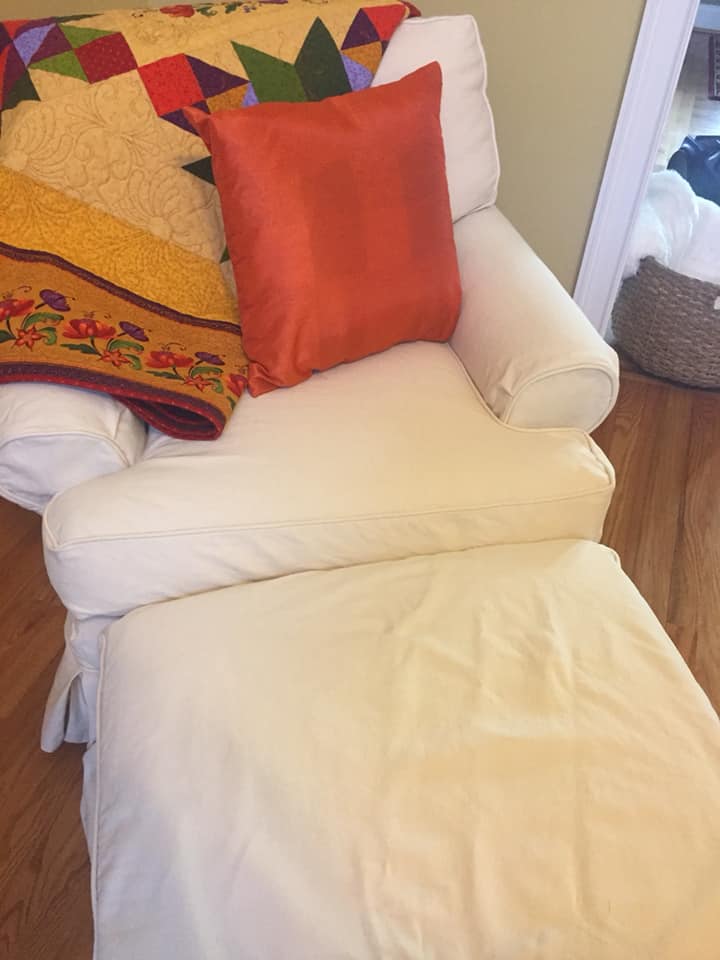 I've got that chair dressed up for fall. The living room is so pretty this time of year.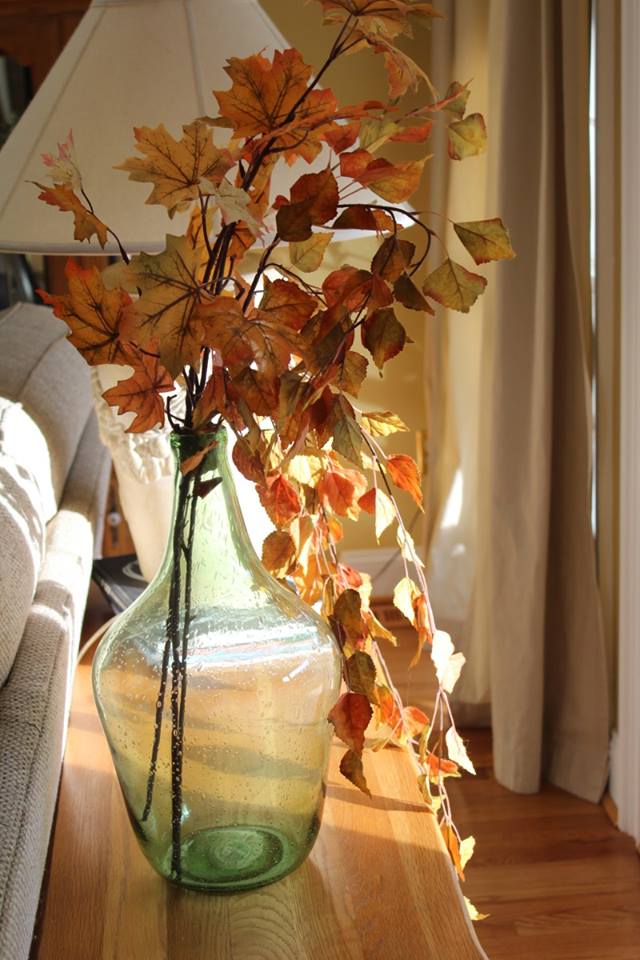 At any rate, yes, slipcovers (at least slipcovers that are well made…thank you Danette Mayfield) do wash well. I did use a steamer on them to help relax wrinkles, but it was not difficult, and as you can see by the picture, a few wrinkles do not bother me.   Cat puke bothers me. Wrinkles do not.
(29)