Hello!  It's me again.   As small business owners operating only about 100 days per year, we give it a lot while we are open.  Once closed, it's easy to just sit back and do nothing or surf on the internet and waste time on social media.  Guilty.   However, we closed on Labor Day and it's been over a week and I'm ready to make sure that the fall and winter are productive — not just in doing projects around the house, but productive in that we enjoy ourselves.
But, today was productive around the house.   I cannot recall when we last really cleaned our garage, but this blog can.  It was June 2013.   That's not to say that we didn't sweep etc. but to pull things out and clean behind them, well, we've not done as well as we should.   It looked so good back then…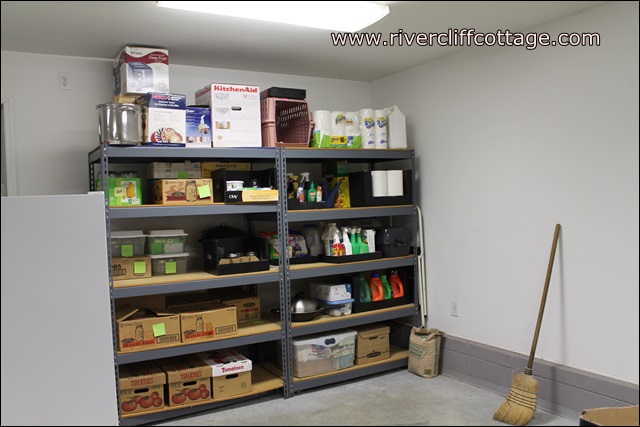 I did a pretty good job labeling and putting things in place.  Did I keep them that way?  For a while, I did.  However, this morning while Mike was at the dentist, I walked out and took a hard look at the garage.  It looked bad.  I took these with my ipad.  That corner…it surfaced as a junk spot.   I hate that.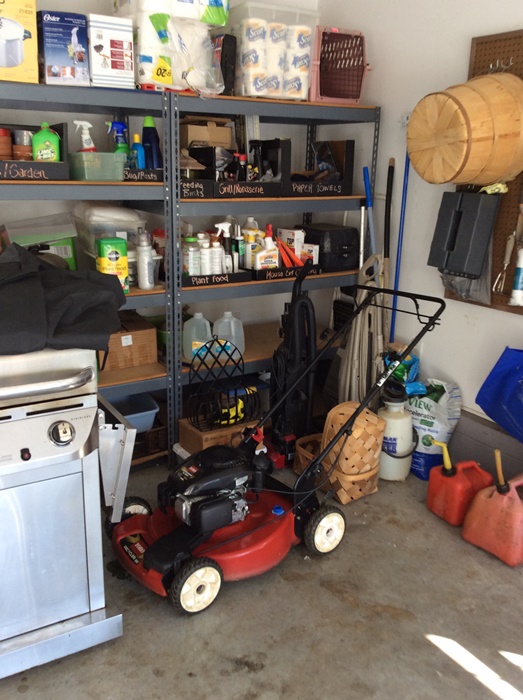 In serious need of decraptification.   I went through and sorted everything.  I did this by myself while Mike was at the dentist.  He came home anticipating a nap.  Instead, he found everything but the freezer and the two shelves out in the driveway.   Everything.    In addition, the sky was dark as if it was getting ready to rain.  Ouch!  Thankfully, he jumped in and helped, and thankfully, it did not rain.   One truckload went to the waste disposal station.   The rest was wiping items and determining what to do with them.    At 3:43 pm today, we came back in the house with a much cleaner garage.
One of the primary uses of this garage is storing my canning jars.  I did not can this summer, but I'm not giving it up.   Home canned items are tastier, and there is a special feeling in opening them up and thinking "I made this."  Also, in a world where disasters are more common and sometimes the food supply chain is interrupted, it makes me feel safe.   So tease me and tell me I'm a prepper wannabe.  You are probably right!   At any rate, I have have lids, rings and jars on hand for next year.
Here's how things ended up looking after all of our work.   Have you ever seen so much toilet paper?  I didn't realize I'd got a little cray cray over toilet paper.   I like to have toilet paper and paper towels on hand at all times and I shop the sales, but I'm at over 50 rolls now.
Some things in the garage organization project of 2013 that really work well –using Sam's Club boxes to "house" like things.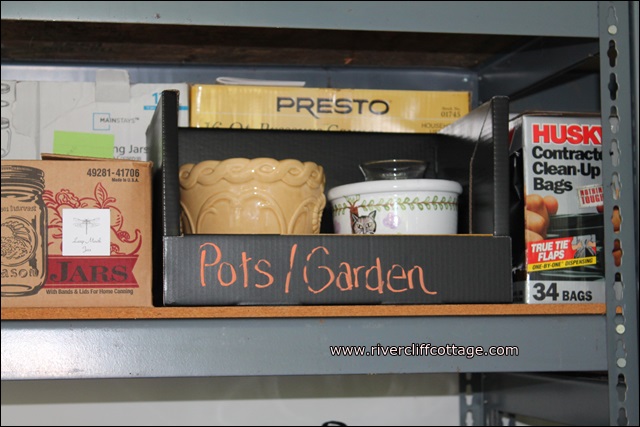 Another thing is the chalkboard.  We could never recall when the Waste Disposal Station was closed or open.  This works out so well.  Plywood, chalkboard paint, and four yardsticks!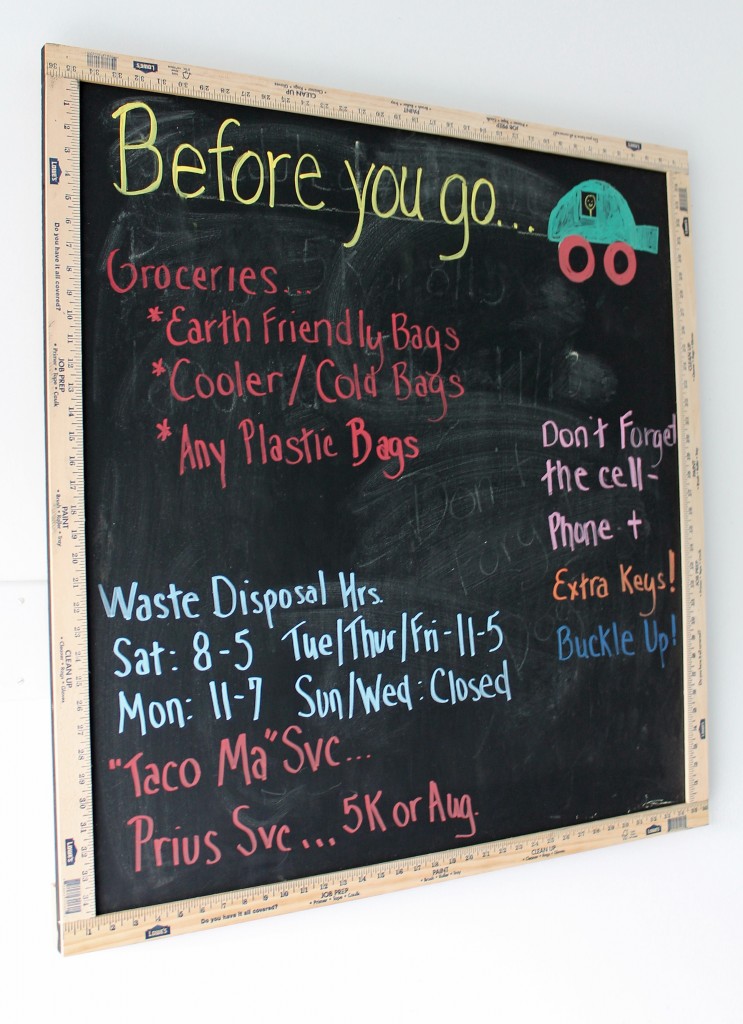 Another thing that I love is having peg board to hold my grocery store bags and laundry basket and clothespins.  (I still dry clothes on the line in warm months.)    I assume most people like to use their own bags, but it's very difficult to get out of the house without forgetting them.  Since I have them hanging right by the car door, it's simple to grab and go.   The left side of the garage catches recycling, keeps cat litter easy to store and has my grocery story bags.   That has worked very well.    Mike wishes the floor looked better. I'm like…"it's a garage."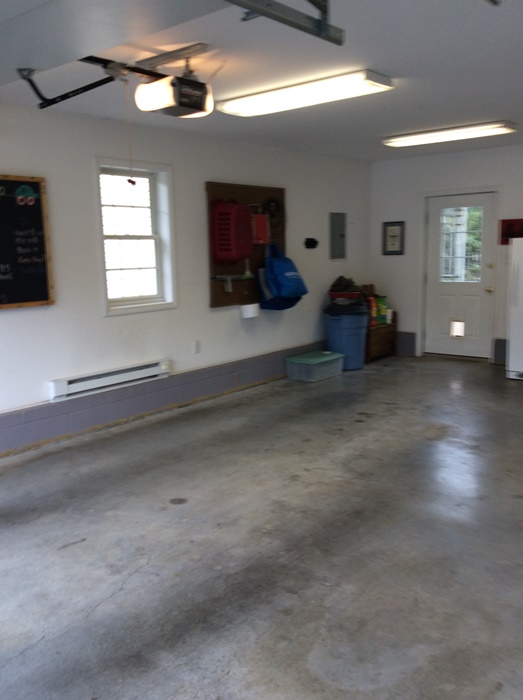 So as I slide back into being busy after a week of being lazy, I'm going to bed with a clean garage.  Feels good my friend.   I felt so out of sorts this past week, but finishing something as reinvigorated me.   Did I tell you I no longer have honeybees?  Yes that is a bit of a loss.  I came across some honeybee stuff in the garage and felt a little sink.
Not having my little flying friends is a loss, but I think the thing that matters most to me is that life is full and has meaning.  I'm 61.   I don't have to impress everyone or be liked by everyone, but I need to like myself.   And I do.  
My fall and winter is going to be focused on doing some work for About Face, going on several mini vacations with Mike, continuing to organize and clean my house, getting the guesthouse ready to operate as an Air B&B next summer, updating this website and my Adventure Mendota website, finishing up a quilt I recently started and learning some new things.   Since I get more done when I blog, I'm going to blog even if no one reads it!
And in the late spring, well, it's be all about this again…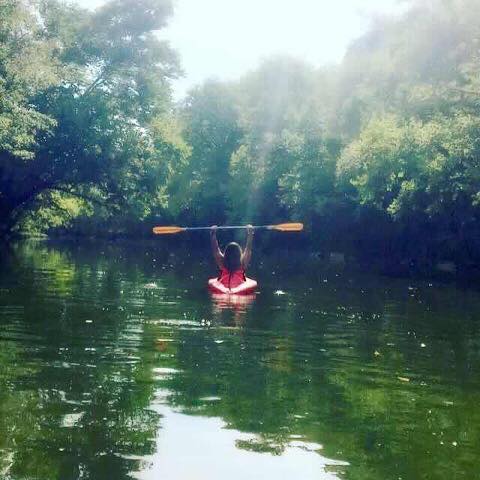 (15)