We opened and everyone in the country has asked "how did ya do?" Everyone was curious. We were, too! In Mendota, we have never had anything like Adventure Mendota and we're all wondering "will they come?" It's not unlike the movie "Field of Dreams!!
This was compounded by our uncertainty on whether we'd be open on May 2. We knew the weather would be nice, but we weren't sure if river conditions would be suitable.
Our friends showed up and we had fun, but we didn't have "real" customers. However, if we couldn't have real customers, we had the next best thing. They called. They emailed. We don't know whether to answer our phone with "hello" or "Adventure Mendota" because the calls come in at odd times. We don't care! We love it! Thank you to those who called.
The day opened with a surprise front-page article by Marci Gore of the Kingsport Times News. I am so grateful for Marci! Adventure Mendota in the Kingsport Times News. One thing I'm learning about the media is that they want us to succeed as much as we wish to succeed. Certainly, they are looking for things that readers are interested in, but they also are back at their computers cheering for us. You'll see more media attention in the coming weeks, but Marci's article was the first, and it is working well. Following Marci's article, people want to know how to get here, what days we're open, and to talk about guide fishing. We've had reservations! Woohoo!
We had some fun! Who doesn't love DeeDee and Eric Taylor? Rephrase that…who doesn't know DeeDee and Eric Taylor? If we were in high school, they'd be getting Cutest Couple and Best All Around and Most Popular. I'd probably be jealous.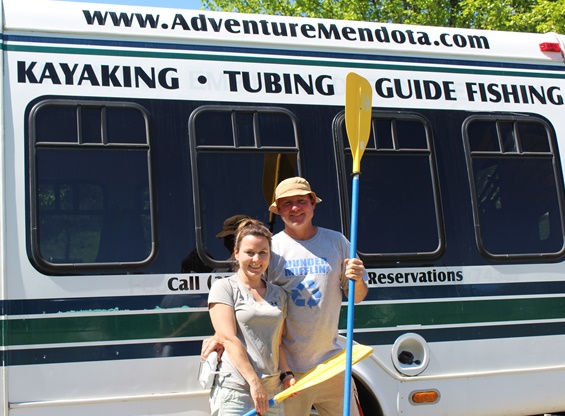 And Joann came up and ate a hotdog with us and wanted to pretend drive the Fork Taxi…don't be scared! We didn't let her go anywhere!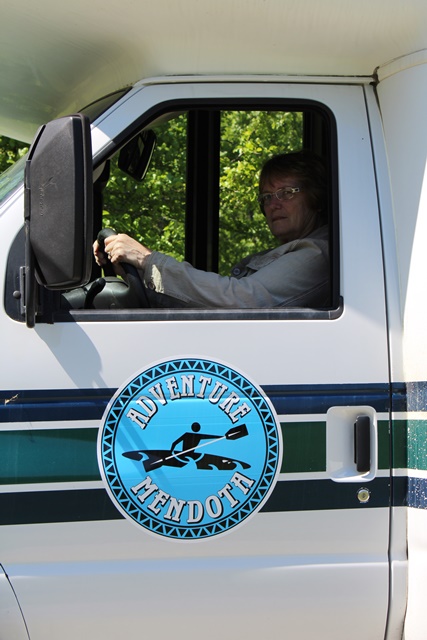 Betty Wood is a good friend. She's pictured here with Joann. She and Joann are talking about getting a group to picnic on the banks and possibly a Red Hat Float on the Fork. That would be so fun to see!!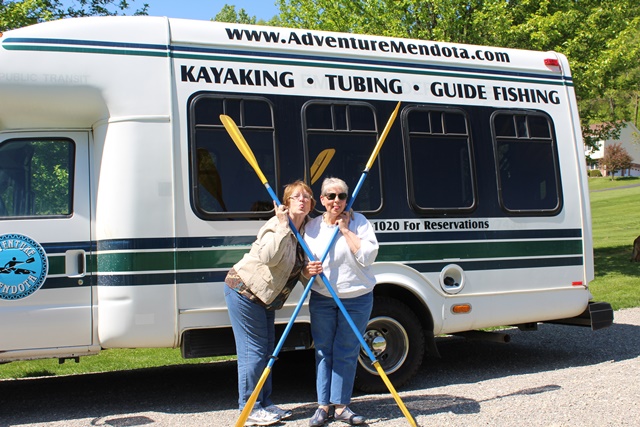 Mike…snugging with You Know Who on the job accompanied by Darby Taylor. You Know Who is our new rescue dog, River. River did very well yesterday. He's starting to settle in. Tomorrow, Monday, he meets his vet and has a physical followed by his "surgery" on Tuesday. Since River is now sharing Public Relations with Darby (also pictured), he doesn't want to be bothered with doggy testosterone.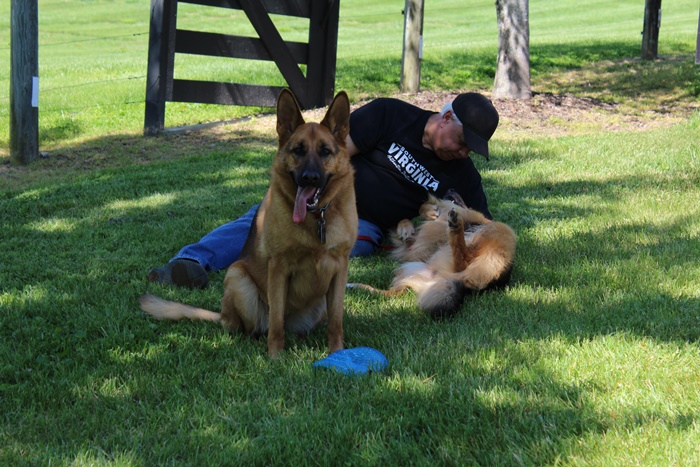 River is anxious to be on camera. He's a natural. Look at that little tongue sticking out! Smarty pants!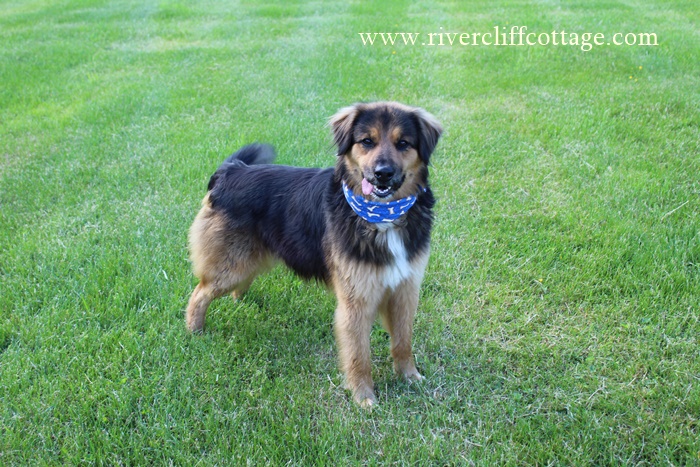 Gerald and Eric went out fishing and caught 18.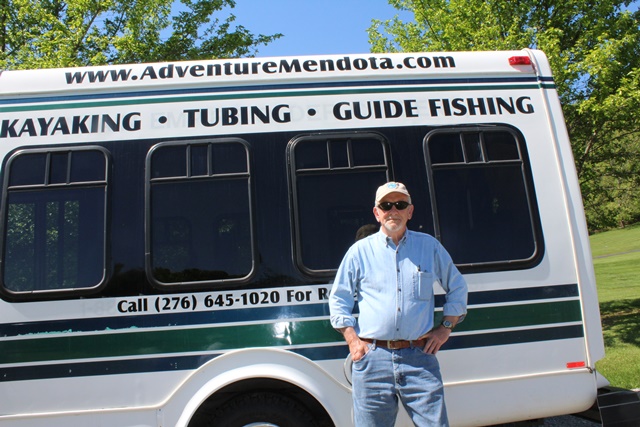 Eric brought his drone. If you have not been around a drone, they are so cool!! This one has a camera attached. I can't wait to see the footage.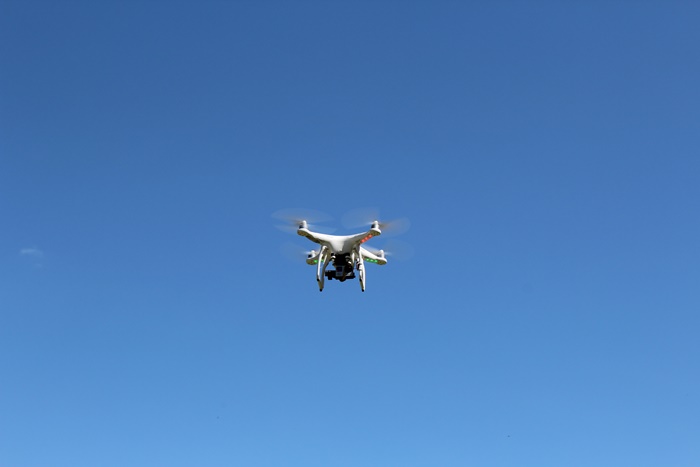 The battery got low, and the drone returned to where it was launched…DeeDee was on hand to catch it.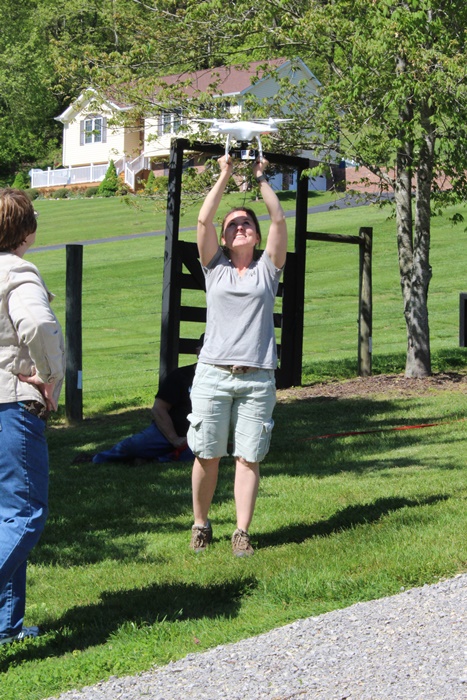 This is really making us want a drone. Here! She's caught it!!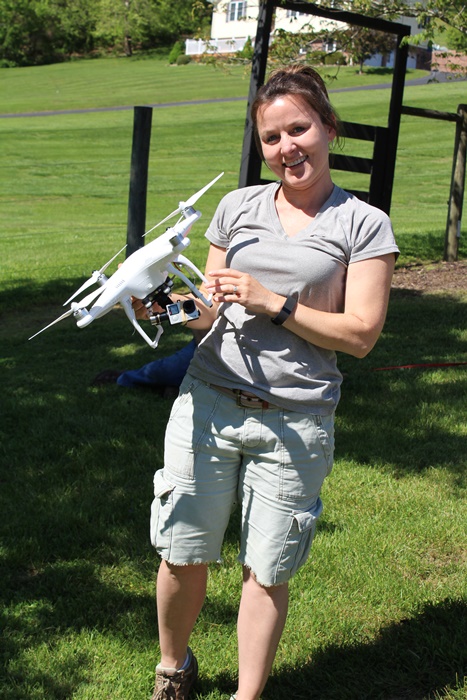 This won't always be filled with "land" pictures. I am confident. It will take us a few weeks, but we'll gain more notice each week, and when the weather is hotter, the river will feel so good. Those reservations will be visits, and we'll all be Floating that Fork!! I went out yesterday with DeeDee. It actually was a perfect day to be in the kayak. The water is still too cold for tubing but in just a few weeks…..we'll be saying…Live it! Love it! Tube it!
(2250)