Sunday was very nice.   We met our new friend Steve Dotson, and we visited Riverside Campground on the upper part of the North Fork near Abingdon.    When Steve found out were were going to Riverside, he said "are they open?"  Apparently he and his family vacationed at Riverside Campground each summer until it closed a few years ago, and he was not aware it had reopened.  It has, and it's better than before!  More about that in just a minute.
The other thing is that my bees are holding their own.   I'm very relieved.    One hive may be in jeopardy, but two are doing very well.  I'm feeding them until the honey flow, and then they'll have to forage for their food.
Here is Hive Number 1.  It came into 2014 very weak, and I requeened it and it's been doing well ever since.   Please.do.not.swarm is on my mind as I look at Hive Number 1.  See them crawling around on the outside…they are thinking…"Sugar water!  Gimme…gimme…gimmee!!"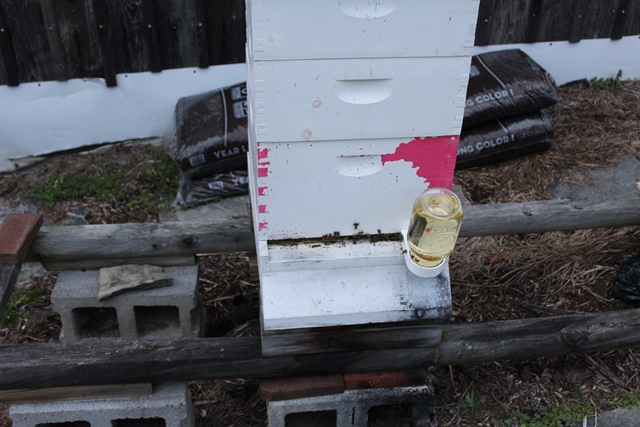 Hive Number 2 is below.   I'm worried.   I've looked inside the hive and there are bees, but I do not see what Gerald  and I think should be an appropriate level of activity, and they have shown little to no interest in the sugar water.  This breaks my heart.  I caught this hive during the summer of 2014.   I want them to do well.  I am going to talk with John Rhoton at Poor
Valley Bee Farm and possibly requeen this hive.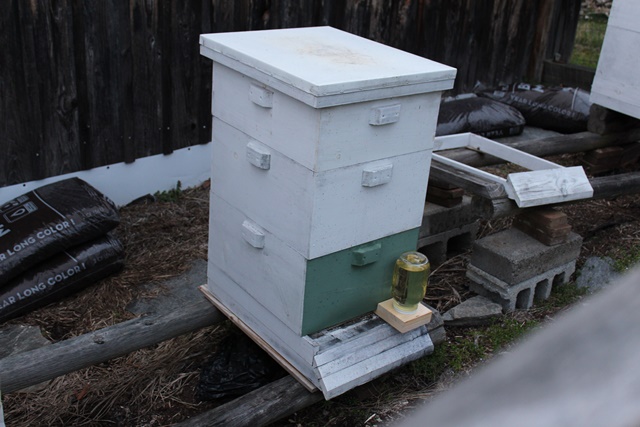 And here's Hive Number 3.  This hive is entering its third year.   It produced swarms last year, and it's coming into 2015 very robust.  I hope they decide to just stay around this year and make honey.  Swarms are natural but, seriously, I want some honey!!     What I like about this hive is that by this time, all of the bees including the queen are bees that have been born and raised in Virginia, and perhaps that is the reason that they are surviving these cold winters.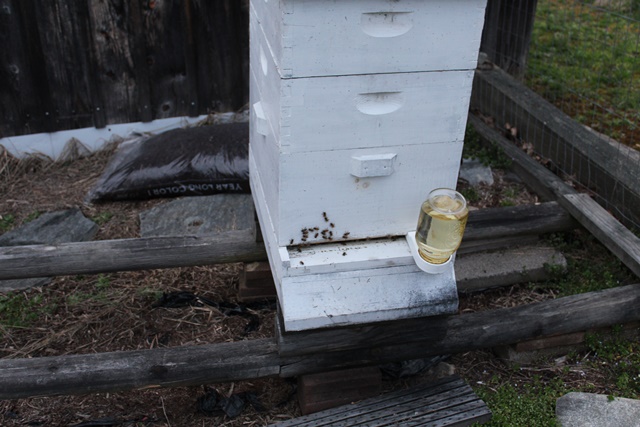 I feel sorry for all the bees right now.  There isn't anything for them to eat.   I see a few small flowers (weeds), but the bees keep looking.  I'm so glad I can help them out with sugar water.
Whew!  Now back to the campground.   I was so excited a few weeks ago when Shelly O'Quinn messaged me on the Adventure Mendota Facebook page and told me that she'd like some brochures.   She and Marty own Riverside Campground, and she said she thought she could send us some business this summer.     She is my new best friend!  We drove up yesterday.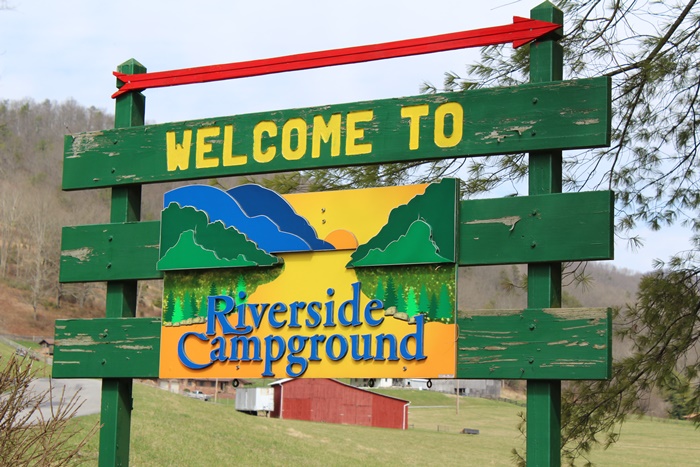 Shelly and Marty bought Riverside out of foreclosure and opened as the new owners last summer.   It is a labor of love, but they also appear to have a solid business.    Here they are…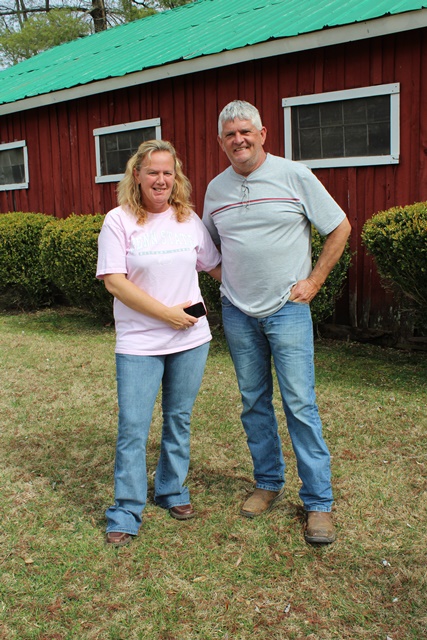 They have a waiting list for some of the camp sites.   They have worked very, very hard to restore Riverside Campground from a period of neglect.   When we visited on Saturday, there was work going on everywhere.  Painting…pruning..etc.  Here's the Game Room…notice that the shrubbery is pruned?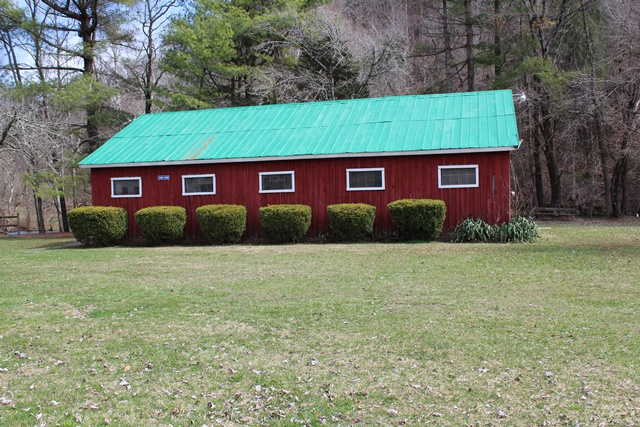 Riverside has a pool that was redone last year, and Marty said that he'd done a great deal of work on the Bath/Shower house this past year.   There is a store and a laundry, as well as the restroom and shower facilities.   There's a great deal of permanent spots for campers and then there's places for short-term campers.   They have the best tent camping set up I've ever seen.   I took a picture.  It looks like there is both a spigot and electricity on that little post.  That means you can use a blow up mattress in your tent!!!   My sister, Nancy, and I think we should go tent camping!!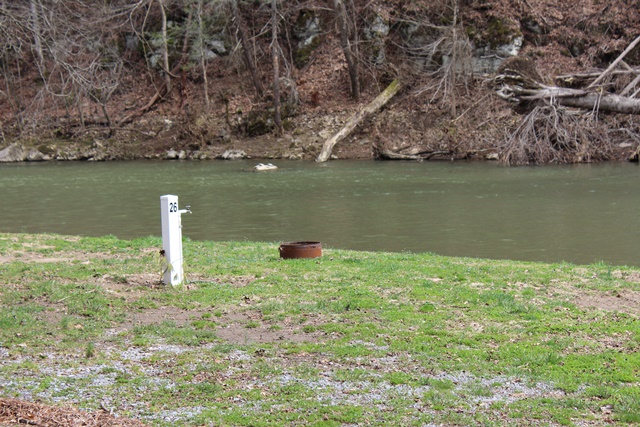 I live on the river–the very same river–but I would love to go up and camp and let Marty and Shelly do all the work keeping things going.  I'd just enjoy everything.  However, Adventure Mendota and Riverside Campground have seasons that are running concurrent so I won't be doing any camping or vacationing with them this year.   They won't be kayaking either…they'll be up there working just like us.  However, we both agreed that wherever possible, we'd send each other business.    I like the way people work together.
So for all of you people who thought Riverside Campground was gone, it's not.   Call them!!   The number is 276-698-5285.  The owners are working to make sure that it is sound and clean for years to come.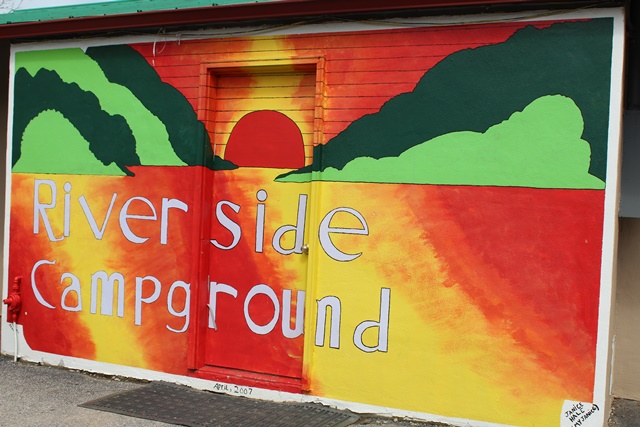 (883)