I've been blogging for a little under three years.    I started out working on projects around the house.   I moved away from that and started driving around taking pictures and talking about those honey bees.   I had a thought one time that I'd write what everyone liked and try to monetize my blog.   Then…I realized I loved blogging in the same manner as speaking with a trusted friend and accepting money would mean I'd have to write about things that were relevant to sponsors.     I'd have to check closer for typos.     I couldn't say things like "titches wit" or "kiss my trass" or "what a thitty day."    Oh what'da ya mean, Eva, all the days are good! There are no thitty days.
I am going to start working around the house again and blogging about projects but it will be in the fall of 2015.    You should see my list.    Mike says he wants me to wait until he dies to get started.  Can you believe the lack of enthusiasm?    This summer, I am going to drive everyone crazy talking about Adventure Mendota.    I might take you along to some of my secret life…like showing you how I get Botox…the befores and after.     I might take you to my work life and, when I finally go into a coal mine–something that I'll get to do in the next six months–maybe you can come along.   I'll have to ask!  Truly, you are some of my best friends.
Here's some posts from when I was channeling my high school Home Economics teachers.  Martha Stewart was just a wannabe in that day.   Yes, I took Home Ec.  I'm that old!!
Best post on creating something with almost no budget.    I  redid my laundry room  with very little money.   I wanted baskets on top of the cabinets but ended up spray painting Sam's Club Little Debbie boxes.  Ribbons that were already here at the house, canning lids for ID tags…it was very  rewarding thinking outside of the box while spray painting the box!!  Necessity is the mother of invention.   This sweet little room has been Pinned over 300 times on Pinterest, viewed over 18,000 times on Hometalk and peeked at about 1800 times on this blog.   That was one busy day for me because if you look outside, you'll see rockers on my front sidewalk.  That means that I was also scrubbing the porch that day.    I must have been drinking too much Pal's tea.   Whew!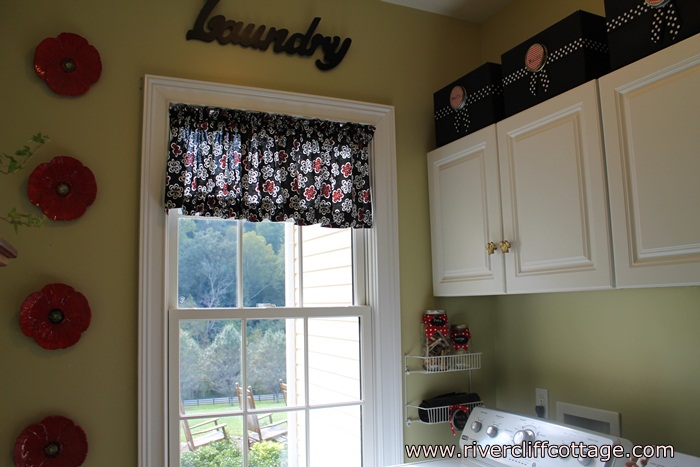 Best Christmas-related post.   I preserved boxwoods for the Christmas holiday in 2013.   I've gotten so many emails on this post…most trying to find the Absorbit Dye.   It was a challenge for me, too.  I actually bought it for someone and mailed it to them and they paid me back.    It's that hard to find, and I pretty much turned green from that stuff.     Still, I'll be doing more boxwod preservation.  Here's a picture of one of the boxwood wreaths and a link to that post.     Simple elegance.   So what if it had dropped a few leaves on the floor?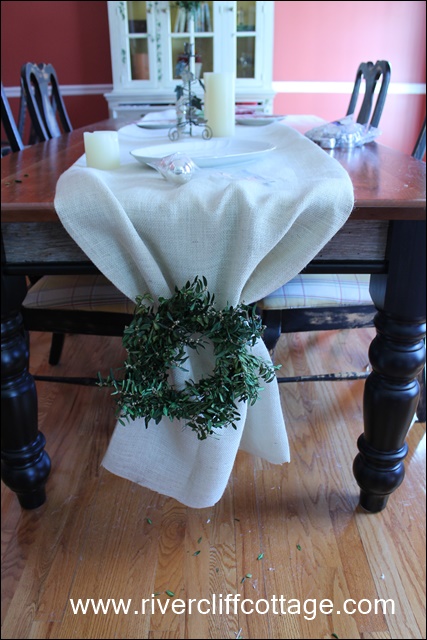 Most useful organization post for me personally began with organizing my garage.     I dreaded this job, but I got out of the car one day and could not take it.    I sorted, painted, cleaned and labeled.   I added a bulletin board trimmed with yardsticks.    Hometalk saw the post where I (actually Mike under my very astute direction)  made the  chalkboard for our garage trimmed out in yardsticks amd asked me to curate a post on using yardsticks.   I had to ask them what "curate" meant; they never asked me back.    My garage does not look as neat today but the organization has held up well.  I'll tweak it this summer (between those kayak runs).   Right now, that board today says Cracker, my white Prius, needs a major tuneup at 25,000;  this was an old picture.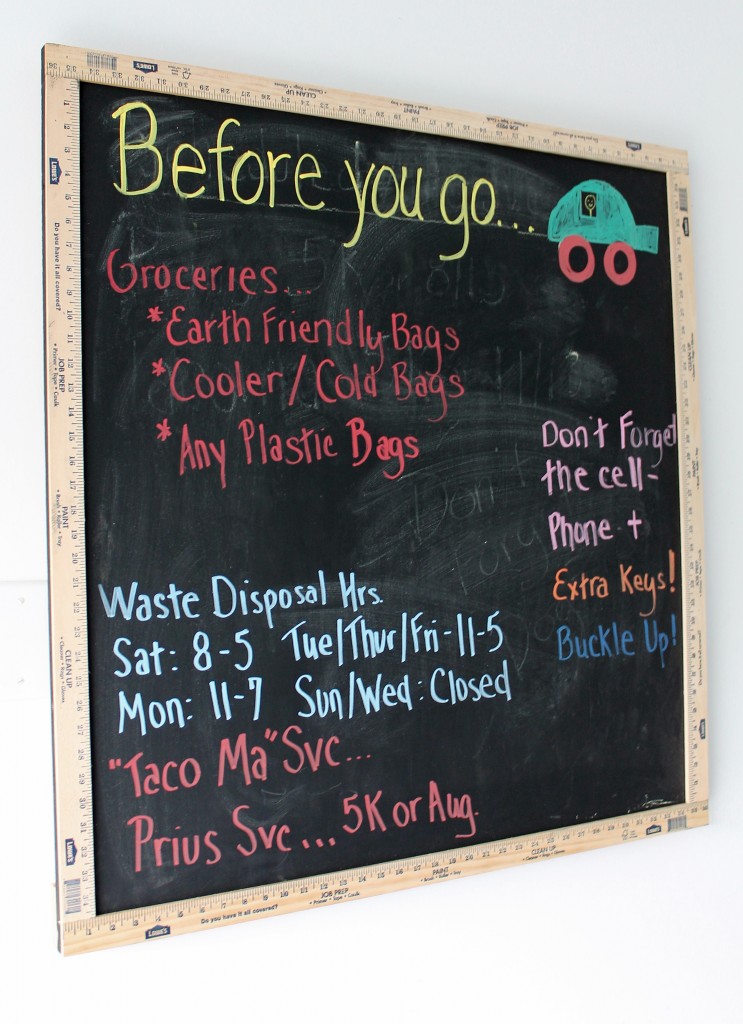 The other most useful project also involved chalkpaint spray.  I redid my pantry and decided to make a spice drawer.  I'd been pricing one and wanting it, but never got around to making the purchase.   Too many twitty days.   Finally, I went this route (below) and   thought I was a genius until I Googled and found this was a common household organization thing.   Can't I be first at anything?  I am going to redo my pantry again, but this spice drawer will stay exactly as it is.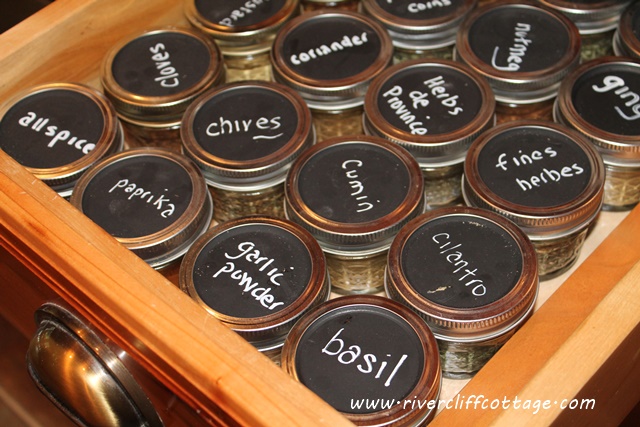 2013 was an amazing year for me.  2014 was just so blah.  2015 is started out to be another amazing year.    Life is good here at RiverCliff Cottage.
Thank you for reading.   It's Friday night.  Are many of you like me and clean the house on Friday night just so you'll have the weekend free?   I'll be exhausted but happy at 11 pm tonight.
Have a wonderful weekend.   Thank you for reading RiverCliff Cottage.
(320)