If you read this often, you know I've lost my camera.  I keep thinking I'll find it.   Do you think I'll do a better job of taking care of a good camera next time around?  Some lessons are just hard lessons, but they must be learned.
I'm still learning a lot.   I wish I didn't have to learn as much because it would allow me to be lazy.    However, when you stop learning and growing, you stop.    Mike and I are both moving along!
I'm working on the website for Adventure Mendota.   It's easy for me to write stuff, but putting it together on the WordPress platform is…excuse me for sounding crude…a bitch.    However, each time I have a small victory, I feel  accomplished.
And….technology rocks.  I use the ipad to watch a tutorial on how to do something while I'm doing it on the laptop.  Today's learning is on SMTP ports.  I have already forgot what SMTP stands for, but I can tell you that my web-based email now interfaces with my Google Gmail, and when you email me at eva@adventuremendota.com, I can read it on Gmail.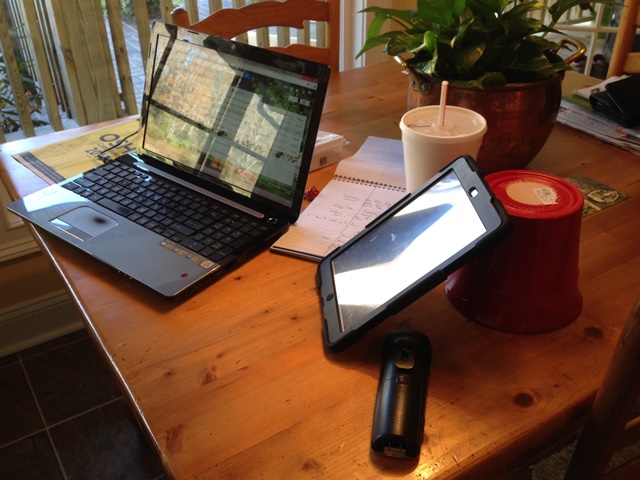 Each time I figure something out on my own, with help from tutorials or a Help Desk person, I save money for things that will be useful in the future such as Facebook Boosts and Search Engine Optimization expertise.
We have been stumped by words like "branding" and "logo".    Finally, in last week's Lunch & Learn at the Virginia Small Business Incubator, we had that "aha" moment that we do not really have to spend a great deal of money.  We're never going to be a national firm where branding our brand so we stand out from the competition is extremely important.   So our home-grown logo came to life.  Do you like it?

Naturally, Mr. Picky Britches came down and said, "is it outfitter or outfitters."    See the red pot?   It has multiple uses.   It is a flower pot, a thing to hold the ipod upright, and now it's a weapon.   I'm going to throw it at him.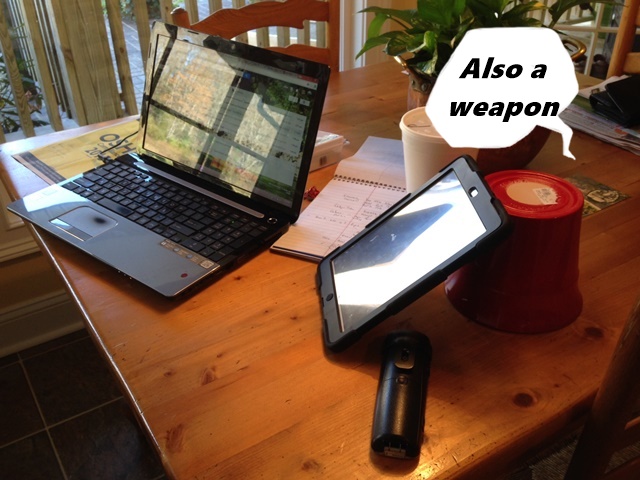 (220)