This post has two things — an update on our bees and honey but also a You Tube video that Mike came across that is funny. Please scroll down and watch the video.
Lots of neighbors and folks who read RiverCliff Cottage have messaged me about the availability of our honey.
Unfortunately, we will not have any additional honey in 2014. We have checked the hives to determine if there is enough honey to extract, and we found in most cases that the top "supers" had little to no honey. We must leave three "boxes" which are a combination of deep hive bodies and supers on each hive so our bees will have adequate food for the winter. Their health is our first priority, and during our first year, we took too much honey and starved our bees. On the upside, our bees look healthy and numerous so, hopefully, we will be greeted with healthy bees come spring. In the meanwhile, you can rest assured that if there is another Polar Vortex with -8 temperatures in Mendota, Virginia, I will be out there with bubble wrap, black trash bags, and duct table! Our hives looked strange for a few weeks, but they survived the brutal winter.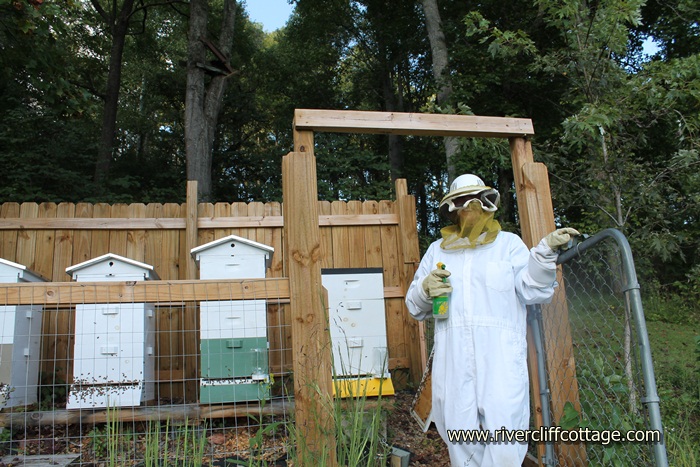 The above picture is an old one — I've lost my DSLR camera! How did I do this? I'm not sure. I'll be off RiverCliff Cottage for a couple of weeks–at least the remainder of October– while I (1) finally find my camera or (2) purchase a new one. Ouch!
In the interim, while Mike has been researching kayaks and the potential to have Go Pro cameras for Adventure Mendota (yay) he came across this You Tube video which is hilarious. I hope you enjoy it was much as I did.
Have a great October and I'll be back in November!! I'll miss you!!
(328)