By now everyone knows that in the spring of 2015, Adventure Mendota will open renting very cool inner-tubes and totally awesome kayaks.  I'm messing around here with the early stages of a logo.  That is not a double-sided pitchfork.  It's a kayak paddle in the middle of an oval.   Pretty rough, but you have to start somewhere, right?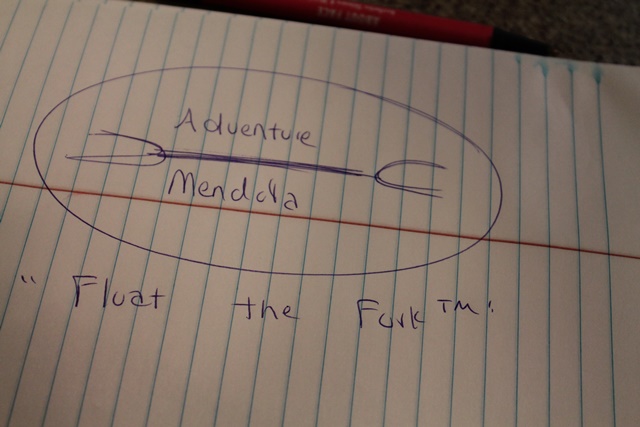 Speaking of starting…..did I bother to tell anyone I've never been in a kayak?   Yes…moi.…conjured this up with Mike before I'd ever been in a kayak.    Until now.    Do I not look like a professional?  Even though the river is barely 4 ft. deep anywhere right now, I put on my life jacket!  I do not break rules!!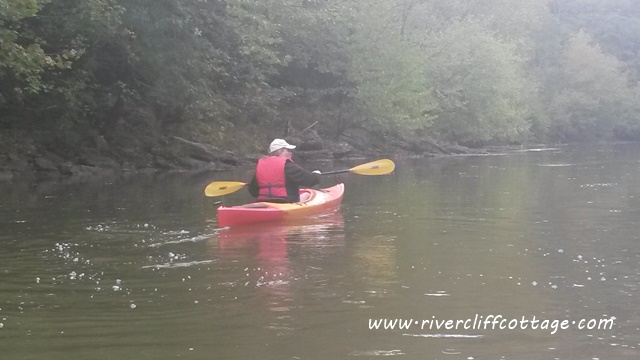 Since I don't yet own a kayak (that's about to change in a BIG way), my sister, Pat, and I borrowed DeeDee and Eric Taylor's kayaks.    "Float the Fork…we are on it, baby!"    Mike, who has kayaked before, is busy studying this to death.  He is into details and close to deciding what kind of kayaks we will offer.  Not just brands…but styles.   We are at a crossroads…do we want to order  "sit on top" kayaks or a "sit in" kayaks?   We are leaning toward the "sit on top" like the one below.    Do you have an opinion?   If so, please tell us!!

Everyone keeps saying that tubing will be the larger part of our business, but honestly, I with my vast knowledge acquired from today only, think that the kayaks will be the most popular!   Mike thinks 12 is the sweet number…I'm like..a MILLION!    I don't know if I can wait until we place our kayak order…I may have to just go buy one in town NOW. Tonight.    All it takes is about six inches of water and they move along beautifully.  The North Fork was made for kayaking.  Here's a picture I took of some friends last year.   Had I known how fun it is, I'd have ran out and stole their kayaks and took off!  This is in front of my house people!    Why haven't we done this sooner!?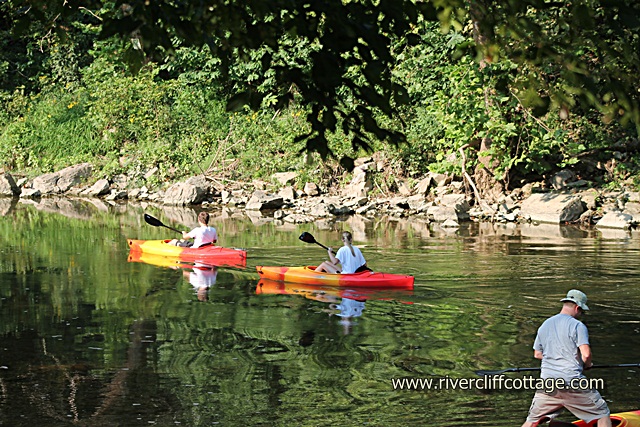 My sister, Pat, is an experienced kayaker.   It was supposed to rain today, but when she and I talked, we decided it was not going to rain.  We are W. T. and Vivian Barker's daughters, and we're totally optimistic about things like this.    Pat, however, did have the good sense to wear rain gear and water shoes.   I wore a heavy, cotton sweatshirt (translate that into super absorbent), shorts, socks and tennis shoes.   Seriously…it wasn't going to rain so why even bother with all that other stuff?
As we launched, it began to sprinkle.   The reason these pictures are not clear…it was raining!!  Hard!   I'm here to tell you when I got out of that kayak, I weighed about 30 pounds more than I weighed in this picture…that sweatshirt can hold some water!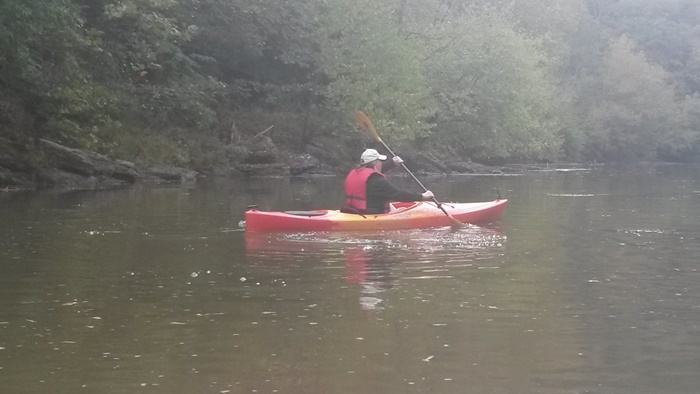 It was so fun.  I got stuck on a rock once or twice because I wasn't paying attention, but I just pushed off with my paddle.  Nothing to it.
It was raining so hard that we pulled out at the second Swinging Bridge…about an hour into our trip…and ran and climbed in the Big Loop Farm truck.  It was lightening and thundering.   Scary!!  We flew over to that truck praying it was unlocked.  It was. Thank goodness!!  Neal Faust did not know he was an angel (okay…he was an angel only for a few seconds).    I knew I looked really fine so I posed by the truck when the rain let up a little bit.   Even just standing on this big truck makes me feel…well..AWESOME!  I love heavy equipment!   Remember the late  Liz Taylor?   Her last and final husband, Larry Fortensky, was a heavy equipment operator.  I wondered about that relationship, but I'll bet he let her drive the big trucks and stuff.   I now get it, Liz!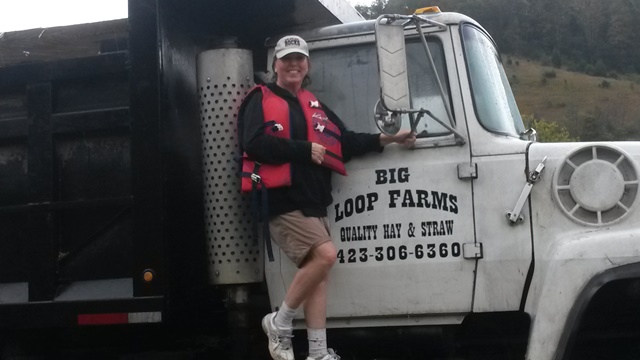 Discussion then began on how in the heck we were going to get home.  We did not "take out" where we had planned to.   We had Pat's cell phone.    Naturally, it did not work.  However, we were able to pick up a little bit of a data signal.  So…we emailed Mike.   This just looks so sad…a cry for help.   I printed it off when I finally got home.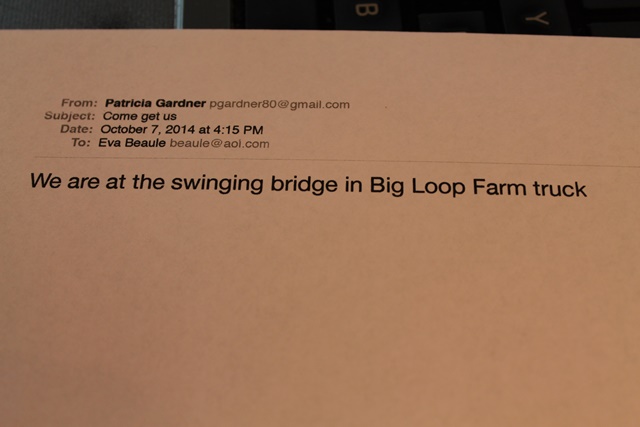 The email did go through, but Mike wasn't at home.    We sat in the truck a bit….maybe ten minutes.  When the electrical part of the storm passed and it was a nice gentle rain, we set out walking home.    We had to hide the kayaks in the river bank brush.  I swear…I was starting to feel like an Indian movie where the Indians hide the canoes along the shores of the river from the white man.  In this case,  Pat and I were Indians…trying to be FOUND by the white man (Mike) who was hanging out with neighboring white man Jim Otis seeking firewood to keep the fort warm for winter.    Seriously…where is this man when I need him?
I was soaking wet.  My shoes squished.    See my loveliness..the wet sagging shorts…the sopping wet sweatshirt…the attractive vest…the hat that says "Dad Rocks?"   And how about those legs?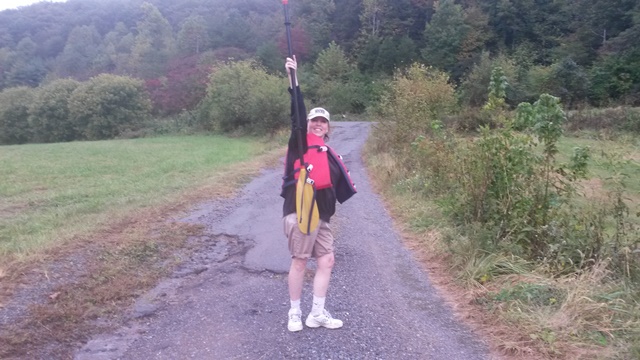 We started walking.  We walked the 3/4 mile up the road in the pouring rain, got Pat's car, went and got my truck, and then parked the car and took the truck down to get the kayaks.    Pat drove the truck and I sat in the back in the pouring rain anchoring the two kayaks.  What difference does a little rain make after you've been in the rain for hours?  She forgot I was back there and speeded up, and I was pelted with stinging rain drops.   Thank you sista!
What I can't find in the pictures my sister sent are any of her (hmmmm), but I will share that at one point after we got off the river, she was covered in mud and had to remove all of her clothes except her shirt and underwear.   She was very confident that no one was around to see….it's a weekday…lots of woods, very remote area.  Totally confident.  No worries.
I reminded her…"honey, it's deer season."     Whoops!  
(1030)