Quite a few folks commented or wrote to me on Facebook about the slipcovered chair and ottoman that is now in our living room.     Here's the post.  While I knew that I loved the concept of slipcovers which could be washed, I was a little worried about the slipcovers because they looked so tailored and perfect when Danette installed them.    I wondered how they would look after I washed them since I don't own a steamer and don't really have any plans to buy one.
I found out earlier this week, as I went up into the loft which we're not using right now.    Luckie can't climb the steps, and she gets lonesome when we're not around, so we're just not going up there.    Luckie, while elderly and deaf and almost 15,  is our lone dog and is pretty much running things around here.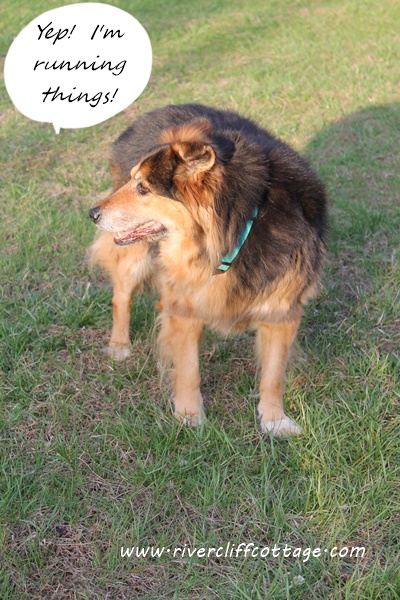 At any rate, I went up into the loft which, like most rooms that are not being used, has become a respository for stuff we are too lazy to put away.  I try and keep the cats out of the room, but Sam the Cat had made a visit.    Here's the little sh*t when he was in jail and headed to the vet a few months ago.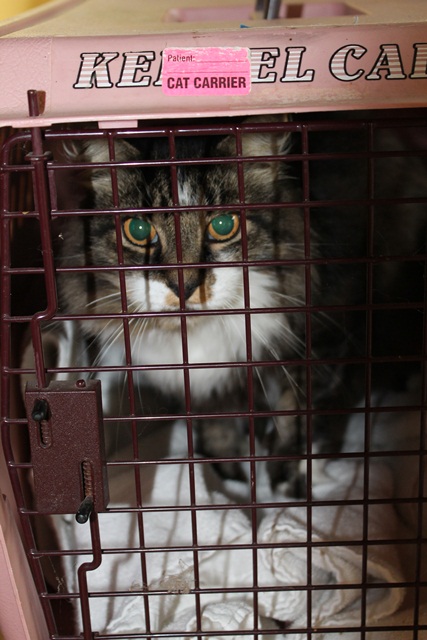 In his defense, he may have gotten locked up there.  It's happened a time or two.    However,  the net-net was that Sam had peed on the slipcovered chair that was up there.  I was so angry.
Here was the chair when it was brand spanking newly slipcovered.   It is a brighter white than the one downstairs.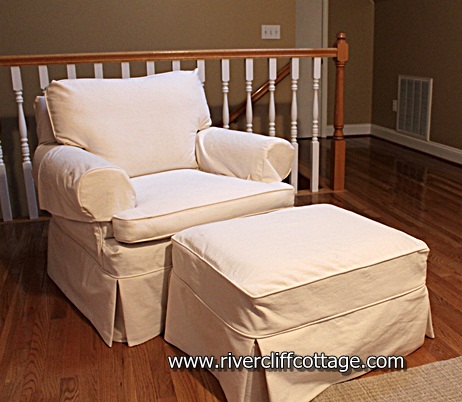 So..the very reason that I wanted slipcovers was because of the pets.   It was the time when the "rubber meets the road"…the crucial moment of action.   I took the slipcover off, sprayed the offending yellow stain with Oxyclean (and almost choked from the smell) and placed it in the high efficiency washer with a Tide Pod (something else I love).  When the washer stopped, I took it out and hung it on the clothesline.    When it was almost dry, I bought it in and attempted to iron it a little bit.    This process was a little sad.   I only attempted to iron the "tail" of the slipcvoer.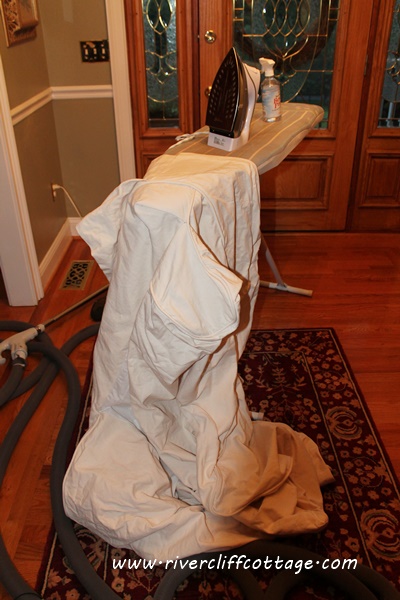 I took it upstairs, and I pretended like I was Danette Mayfield, the very nice lady who made the slipcover.  I zipped and tucked, humming as if I knew what I was doing, and even though you can tell my ironing wasn't a high priority, I think it looks pretty good.   I like the "shabby chic" look.   And…the stain and the offending smell is gone.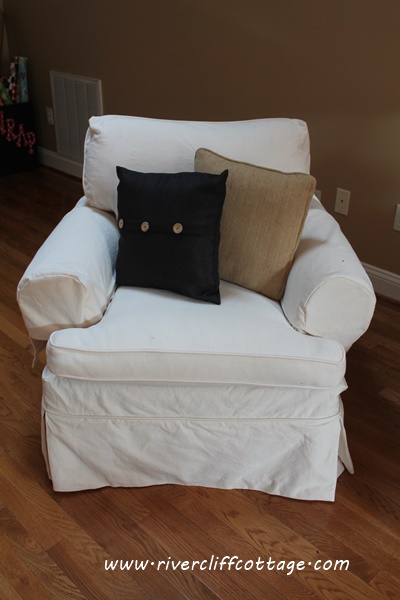 And I know my investment in slipcovers for existing pieces of furniture is a good one.   Yay!
(269)