Today Gerald's bees swarmed AGAIN!   A healthy queen may lay 2000 eggs per day, and it takes 16 days for the eggs to hatch.  The queen in his hive must be AWESOME, because this hive has swarmed not once but twice and he still has lots of bees!     Fortunately, he saw the swarm and CAUGHT them.    While he was catching the bees, I was taking pictures.    By the time I got there, he had already captured most of the bees but you can see quite a few on the tree below.     Gerald was pretty sure he had already moved the queen into the "nuc" box, but in doing so, he had sprayed the swarm with sugar water.   They think it has rained yummy sugar water and are hoping for another downpour.     Look closely to see the bees; they blend in with the bark.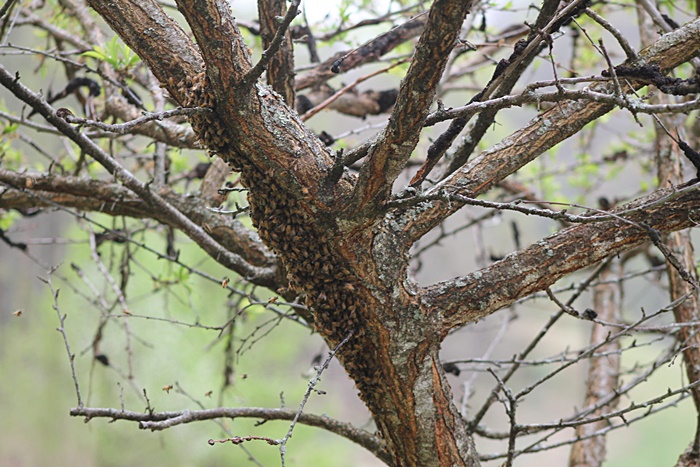 Gerald used a plastic bin which was light and he could hold it up to the tree and brush the bees into it.     That is the "nuc" box beside him.  You also see the plastic spray bottle with sugar water in it.   Bees are crazy about sugar water!   Further down, you'll see our golfcarts…the "bee mobiles!"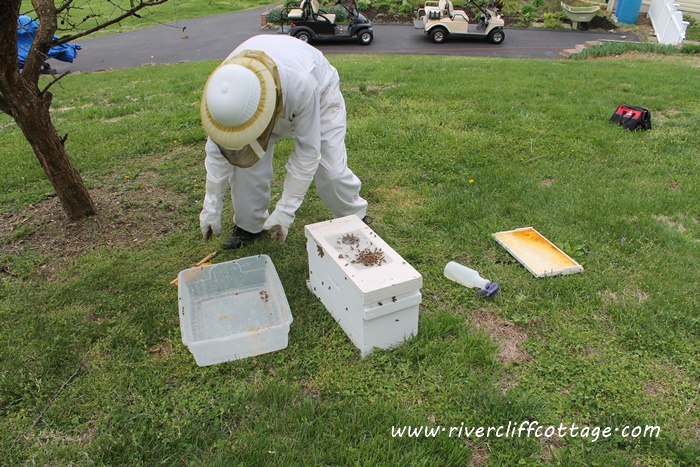 Here we go…they seem happy to land in the plastic box!   Probably were giving up on the idea of a sugar water rainfall and starting to wonder where their queen was.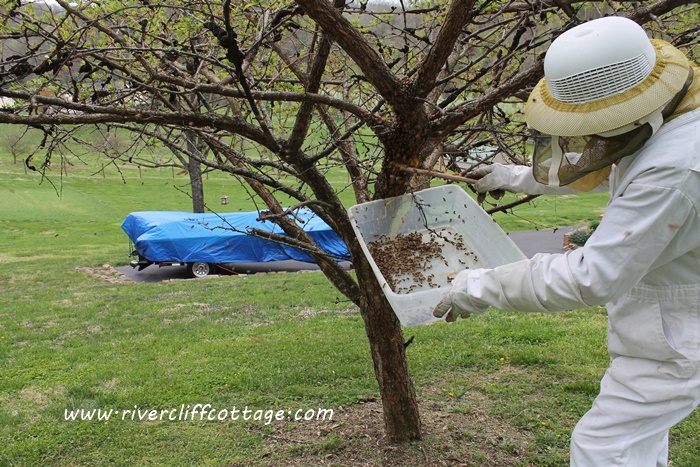 Staying after it…he said this was just a small amount of bees compared to what he'd had on the tree earlier.   Most were already captured.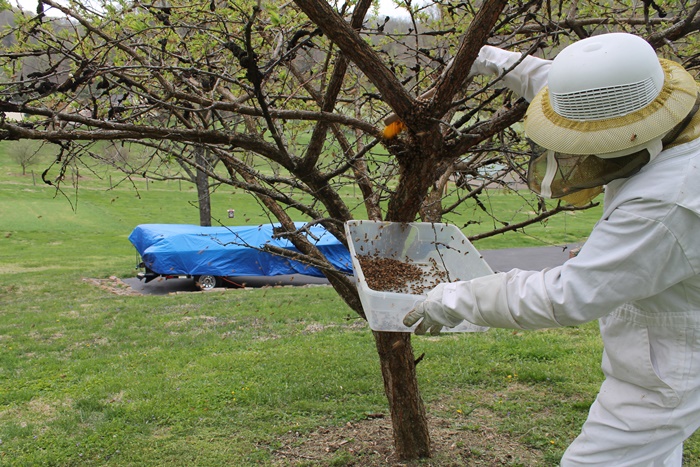 So…in this picture, he's transferring the bees from the plastic bin to the "nuc" box.   I'm sure they were happy…back with their queen!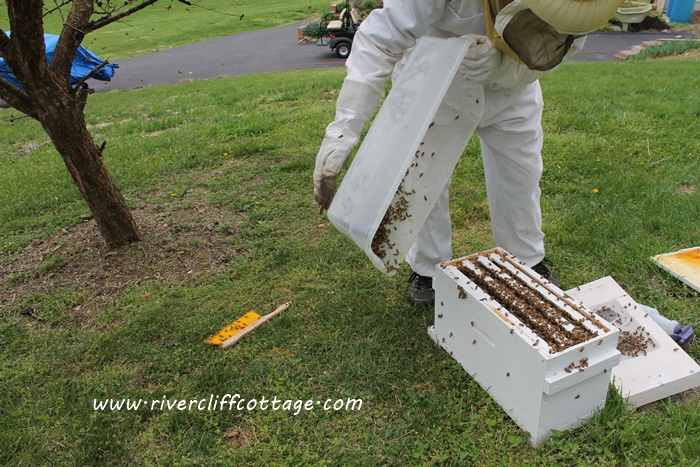 That nuc box is full.  It normally has five frames in it, but the bees were so crowded, we left one frame out.    In the picture below, they are dropping into the nuc.  Very docile.  (This hive of bees has been meaner than Sh*t so this was a surprise.)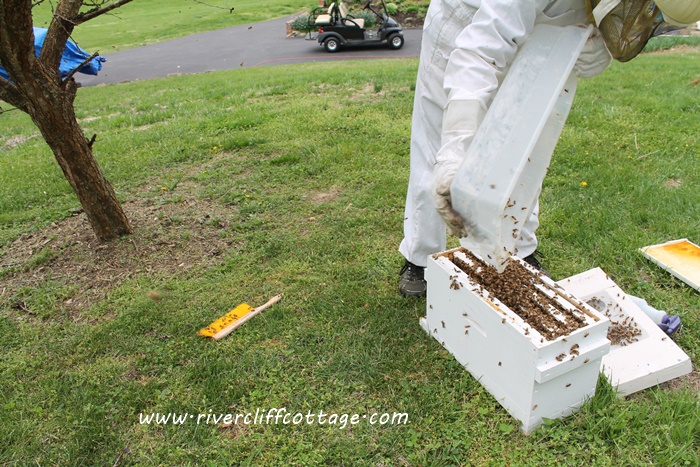 It's time to put the lid on the nuc.    Easy does it.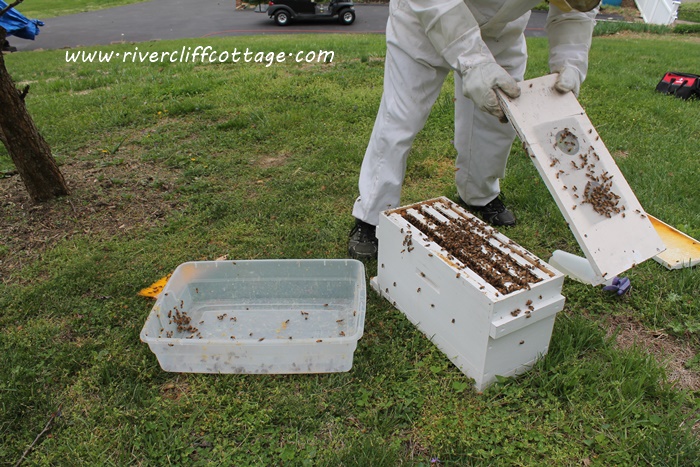 Just about done in this picture.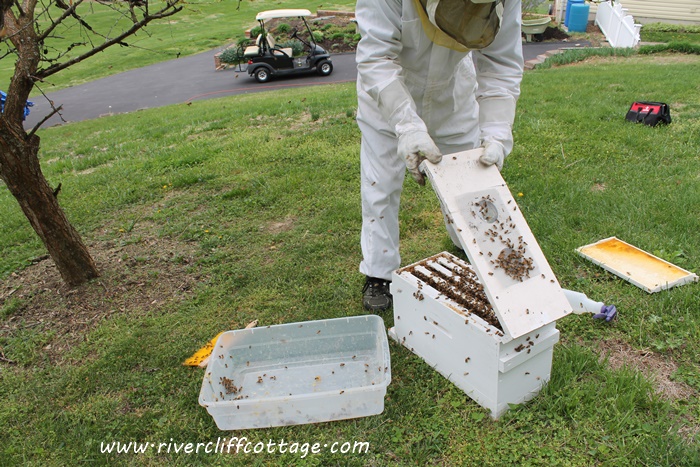 At this point, he'll leave them in the nuc box while he sets another hive up.  We are very lucky to have captured these bees, and now there will be two hives over at Gerald's house and two hives at my house.  We are back in the bee business!!
These bees are swarming because they are hatching out new queens.    I'm worried my hive will be next, even though it's already split once  earlier this week.   We hate losing them after we've cared for them and tried to give them a perfect place to live.  In the wild, their chance of survival is very slim.
Just another beekeeping day in Mendota!
(526)