Happy Wednesday!  It's snowing in Mendota.  Yay!
I have a favor to ask. If you read this blog regularly, once in a while or whenever, would you mind "Liking" me on the Facebook button to the right of the page and subscribing so it will enter your email. I've been told that the email is not working. If you try to subscribe to the email and it doesn't work, please let me know. You can comment or leave a message. Thank you. So much!
Do you remember my Pumpkin Blocks? Check them out here.  I really like them.  I liked them so much I started making more blocks at the same time…something to cheer me up on a winter day.  I finished them up today.   Let me introduce you to my Fence Post Block Pals.
Mr. Snowman Block. He originated from a Christmas ornament that fell and lost it's hook.   It's now a blockhead.  Like Charlie Brown…only not as famous!   Oh my goodness…it looks crooked in the picture!!!  It's really not!  (I don't think so anyway.)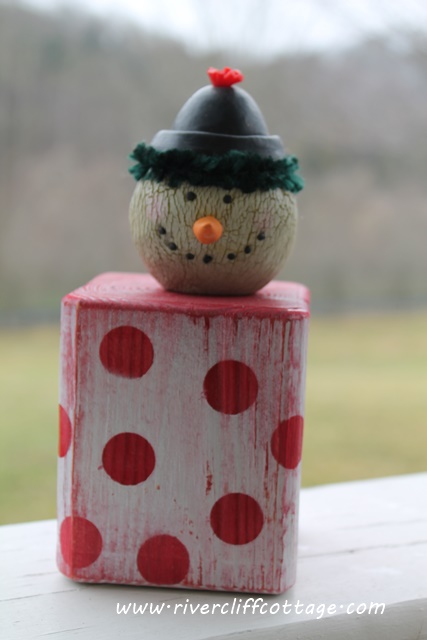 And because there was more fencepost to be cut…a few friends showed up. Mr. Blackbird Block.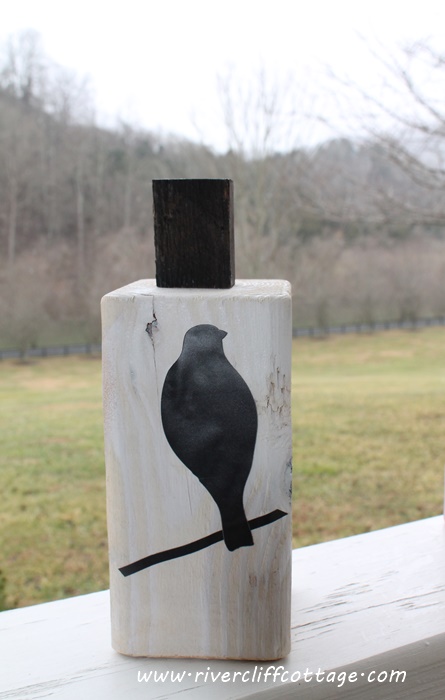 And a taller, striped block with yet another bird appeared. Mr. Red Striped Black Bird Block.   I thought long and hard on these names.  These bird decals are leftover from my bathroom project. Read about that here. Read about it here if you want the realities of how difficult it is for me to get anything done.  My husband pouted for a week after that post. He said I was making fun of him…hmmm…why would he think that?   
At any rate, these Fence Post Block Pals are something that are more on my level of expertise.  Low…very low.   A trio of winter block people pals..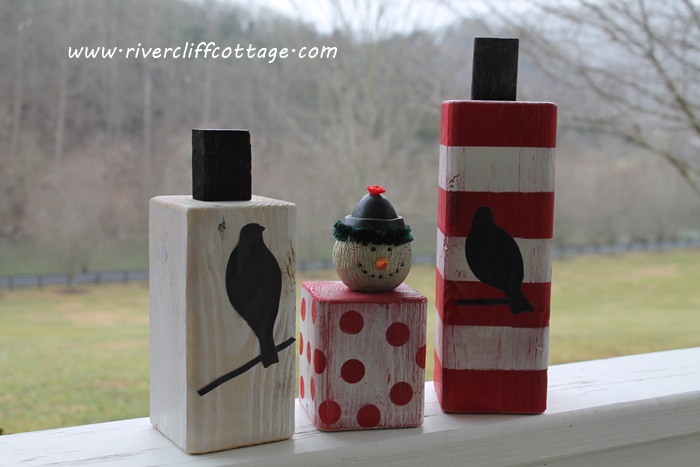 Instructions! Really you could just look at them, but here ya go:
1) Fencepost cut in various sizes. My True Love (Lowe's) made the first cuts for me. Mike ended up cutting them again. I think some of the big box stores will do this, but not all. It helps to beg and coax. Most CAN do it if they will. For free.
2) Spray paint your base. It doesn't matter if it's red or white or whatever color you like.  Sand like crazy on those sharp corners after paint dries.
3) Tape (plain old masking tape is what I used — no expensive Frog tape…I used the cheeepest.  After all it was birds, and they cheep!!)    Paint your stripes if you want them.
4) Spray again with alternate color.
5) I put bird decals on mine, but you could stencil something on them. Or not.
That's it.
(801)