Today Chris, Marie and I purchased fabric for the 2014 Mendota Cemetery Quilt. It's going to be a beauty…A Heartbreaker…A Quilt to Love….and I'll post on that later this week. But today's post is about another quilt. Do you remember this quilt?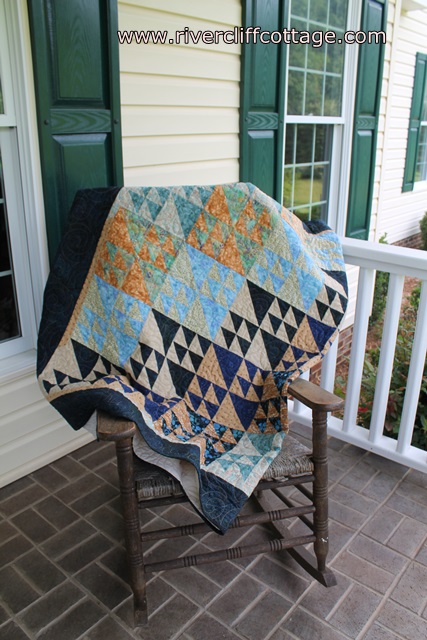 Of course you do! I had it on my Facebook page and on RiverCliff Cottage numerous times asking if you'd like to buy a chance on the quilt. I was begging! Every week! This was the 2013 Mendota Cemetery Quilt. So many hours went into making this quilt. Chris Schanzenbach led the process. She is one of the most gracious women I know. Her hands at work…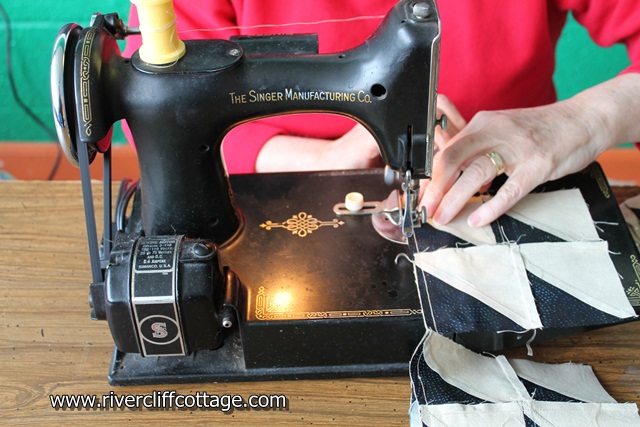 Machines whirring along. This is Margie — if we were in high school, and obviously we're not, Margie would be voted "Best All Around."  Definitely.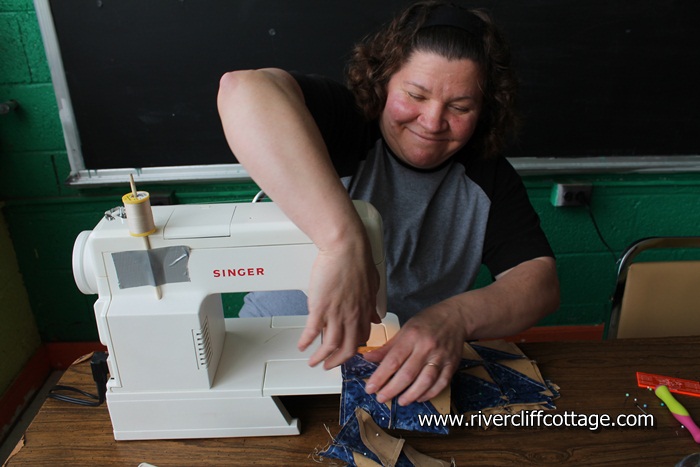 This quilt raised almost $2,000 — all of which went to the Mendota Cemetery. It will be put to good use. The drive of the cemetery was resealed this past summer. We love that cemetery on the hill.
The quilt came to life as "I'll Fly Away" and that is what is stitched onto the label of the quilt. See my name? Yes! I helped a teeny, tiny (really teeny, tiny) bit!  Everyone has a talent…Patsy is our lead sales person…I'm the PR person…Margie does it all…Chris is the lead quilter.   Linda is right in there with Chris.  Everyone pitches in.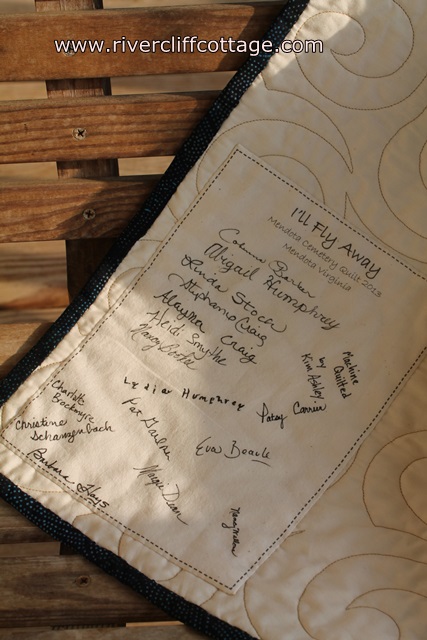 Initially, we drew for the quilt during the Mendota Homecoming. Over 1400 tickets had been sold spanning 42 states and 8 countries. Pretty cool for a little country quilt.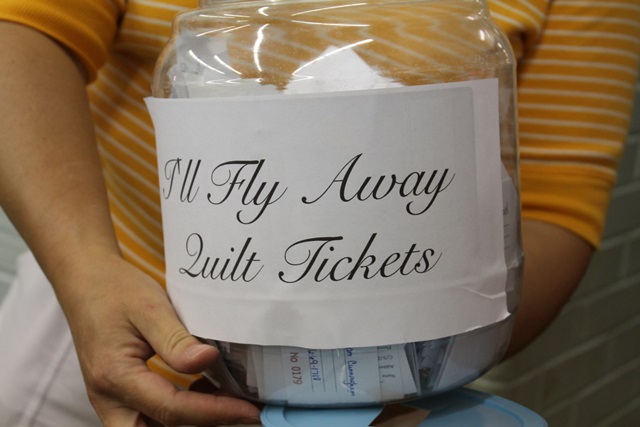 The very first ticket sold was to Mrs. Ruth Rice, and that ticket turned out to be the winning ticket. Amazing.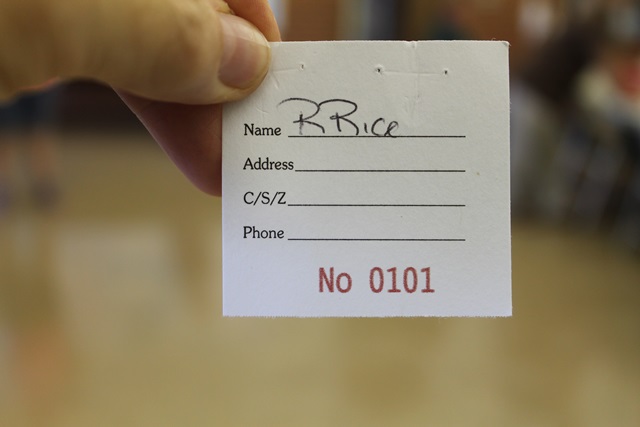 In a very generous decision, Ruth's family (she has been ill and is of an age where she does not get out), decided that the quilt would be immediately donated back to the Mendota Cemetery Association to be "re-raffled". We called it "Ruth's Quilt." It just seemed right. More tickets were purchased, and a little under 600 tickets were sold between August and December for Ruth's Quilt. I bought approximately 100. I wanted that quilt. I bragged that I had about a 1 in 5 chance of going home with the quilt. During the Mendota Christmas Dinner, we had the second drawing for the quilt. Chris reached in and drew out Billy Carrier's name. Billy is Ruth's son-in-law. It was settled. The quilt was meant to reside with the Rice/Carrier family. We laughed, congratulated Billy and went home. I recall my sister Nancy and I saying on the way home that "we just were not meant to have that quilt."  Drat!
Screech!  Not so fast!!
That same night, Patsy and Billy called and said they wanted to drop in for a minute. They arrived at about 10 pm. They were carrying the "I'll Fly Away"…"Ruth's Quilt." Billy, who I have known all my life along with Patsy, wanted to give me the most amazing gift I've ever received. I told him…then them…"No!"   It was too much! Seriously! I really said that! They reached out with the quilt, and oh…you might as well know…I jumped up and down! I was so happy!!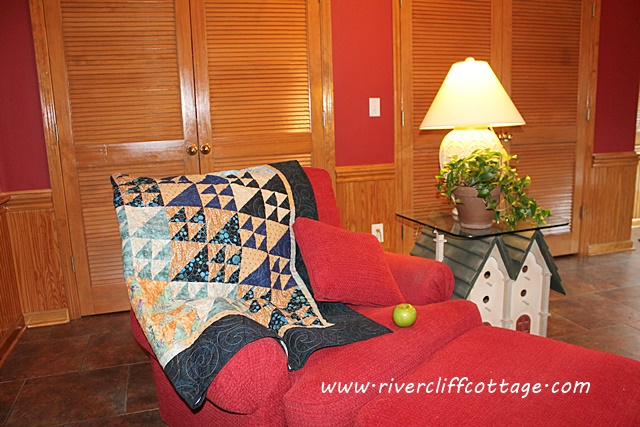 So now you know. I have "I'll Fly Away…"Ruth's Quilt." Here it is draped over the chair. It's actually moving to the bedroom in the spring, and I'll show you pictures.
And the disclaimer…The person who sold a bunch of the tickets has ended up with the quilt!!   Please understand it was all above board!   And I'm in love with it. Please don't hate me because I have this beautiful treasure.   I walk by it and touch it. I think of Ruth…I think of Billy and Patsy…I think of Chris…and I understand that "loving your neighbor" is not just words in Mendota, Virginia. We don't always agree…we are all different…but we do love one another.
Thank you Billy and Patsy Carrier.
(512)