I was up until 3:30 am last night thinking about things I want to do.   First on my list was another diaper cake.  My Mendota gal pal, DeeDee, is having a baby shower for her sister-in-law with a shabby chic theme.    I'm so excited to contribute this Shabby Chic Diaper Cake!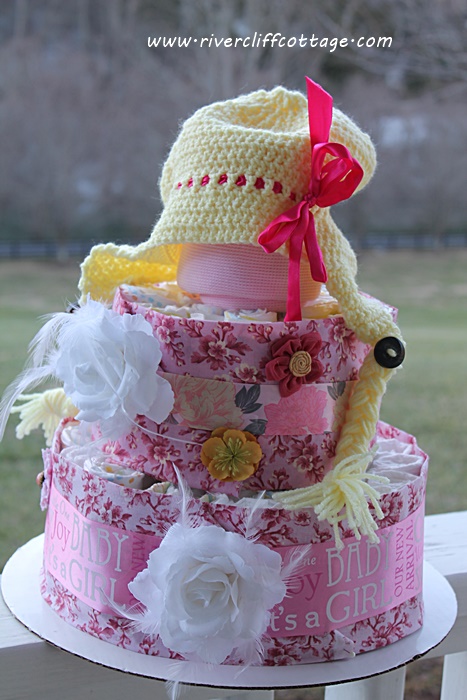 These are so easy. If you have an opportunity to make one, you should give it a try. You will need:
1) A base for your diaper cake to sit on. You might gift wrap cardboard if you don't have a base handy.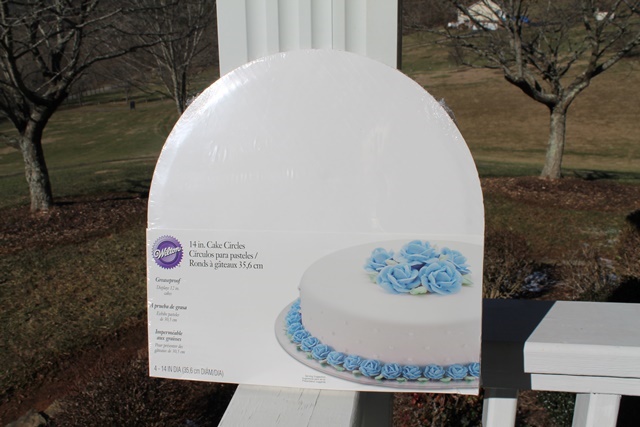 2) Diapers!! For this small diaper cake of two tiers (the 3rd tier is a receiving blanket), 50 or 60 diapers will be enough. Instructions I've seen suggest using two sizes of diapers–smaller ones for the second tier and larger ones for the base tier–but this adds to the expense and doesn't seem to be necessary. Once the cake is disassembled, the diapers will probably all end up in a Walmart bag where the new mama will "fish" around and grab one. She's not going to have time to check if it's a Size 0 or a Size 1. See! I'm saving money and helping little mama out!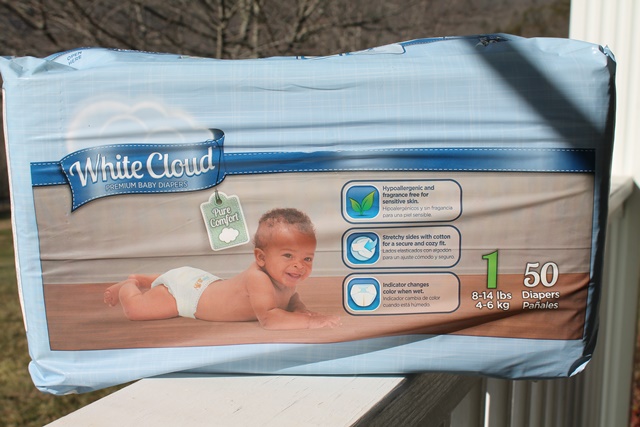 3) You'll need rubber bands to roll up your diapers. I made sure I had the same size rubber band for each diaper so that they were eveningly "scrunched." I learned this from my first diaper cake. You're "ready to roll" (literally) at this point!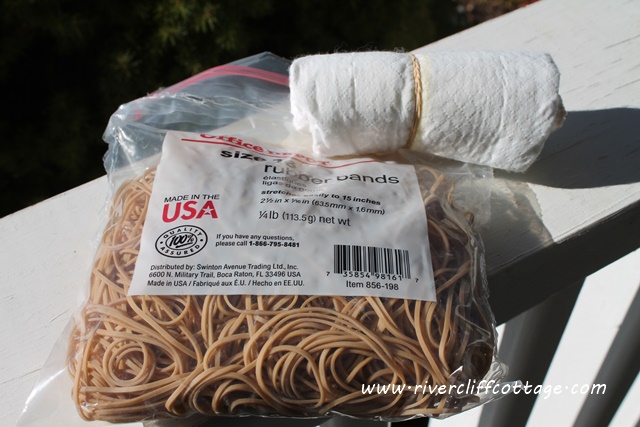 Use white diapers if at all possible. I accidentally have boy diapers. Ugh…these are for worms and snails and puppy dog tails. No!! I wanted a diaper for sugar and spice and everything nice!! However, I managed to work through this by folding them in such a way the tiny blue bear is hidden. Sorry little mama!
4) An anchor for your circle of diapers is needed. A baby bottle works really well. The picture below is not from this Shabby Chic Diaper Cake. It was from my first one where I had all different colors and sizes of rubber bands. I was still learning…definitely diaper inexperienced! (This was three days ago when I was a young, inexperienced diaper cake maker. Now…well, I'm feeling like a pro!)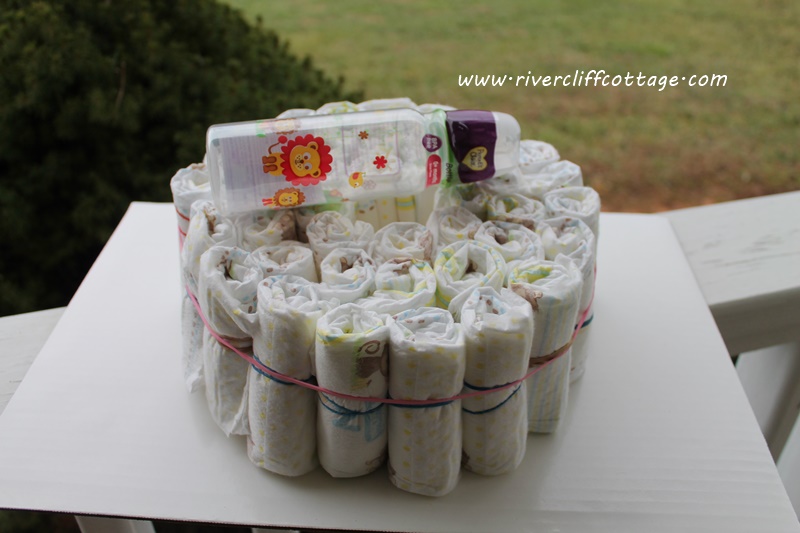 5) You'll need a giant rubber band to hold all of these diaper together. The rolled up diapers are like herding cats!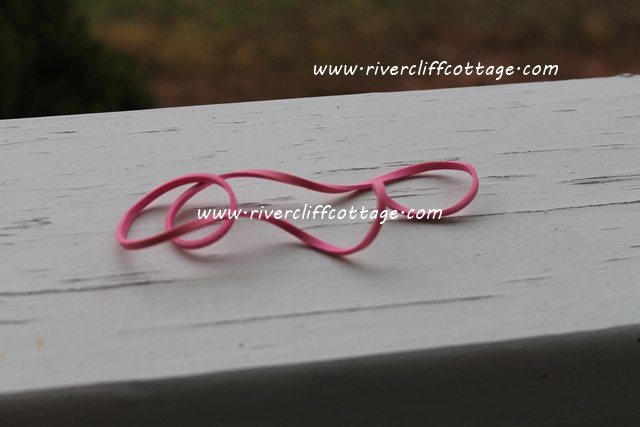 6) And the fun part…decorating your diaper cake. Gather all your pretties together.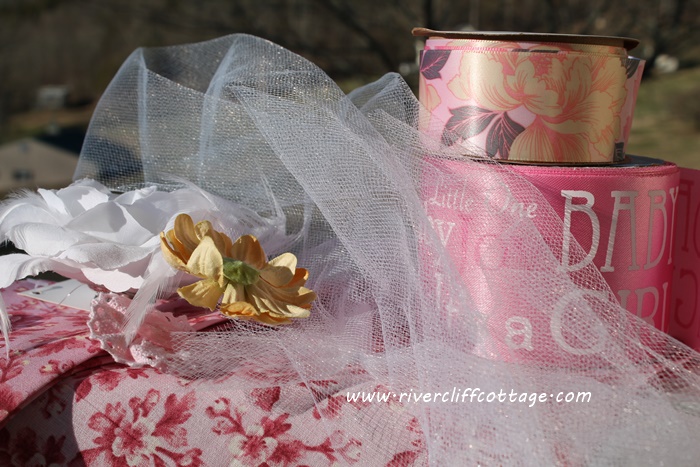 I used fabric to cover my first and second tiers. Because I was going for a shabby chic look, I turned it wrongside out to make it look softer. Here it is…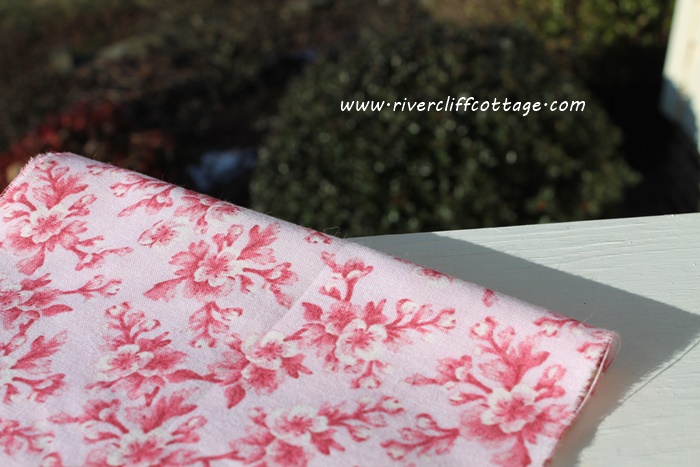 However, I changed my mind on the second tier and turned it right size out to bring out a little bit of yellow…the subtle change in the fabric makes it more interesting.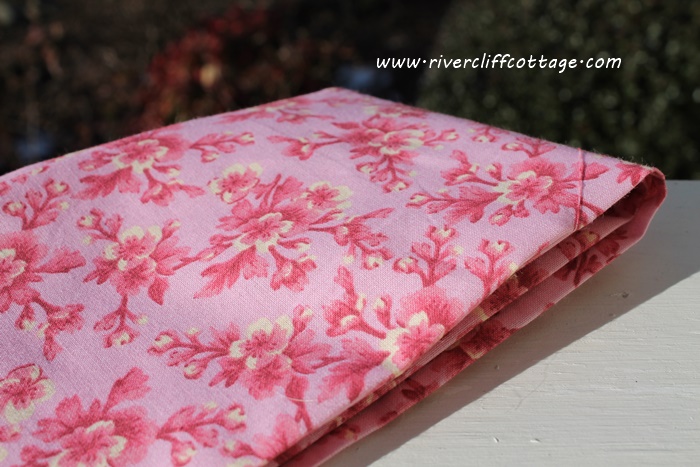 I measured the fabric against the height of the first diaper tier. I ironed and hot glued the seams. Then, I wrapped it around the diaper tier and hot glued again — during this process, you're not gluing directly to the diapers. Your glue is placed so that it adheres fabric to fabric which, as it dries, becomes snug enough to stay in place on your diaper tier. This is also the time that you add an embellishment or two. Be careful! I hot glued my finger. Ouch!!
I like the pretty white flower. I put two of them on the cake.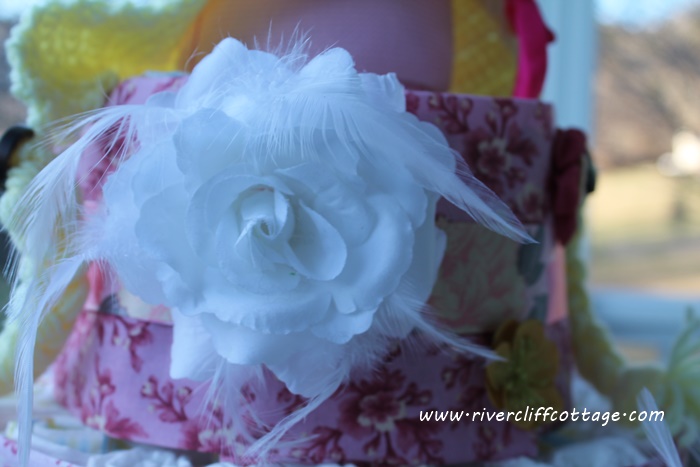 The third tier is a pink receiving blanket with a crocheted yellow child's hat. My friend via this blog, Libby Brewer, made it for me. Thank you Libby!! Libby made four other Christmas gifts for my family members. She's very talented.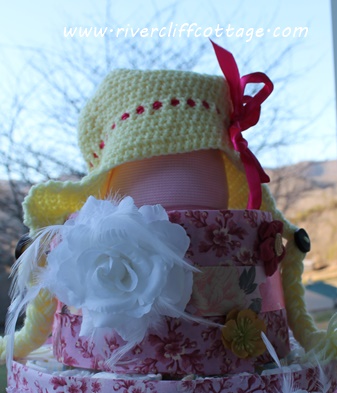 I hope the new mama likes her Shabby Chic Cake.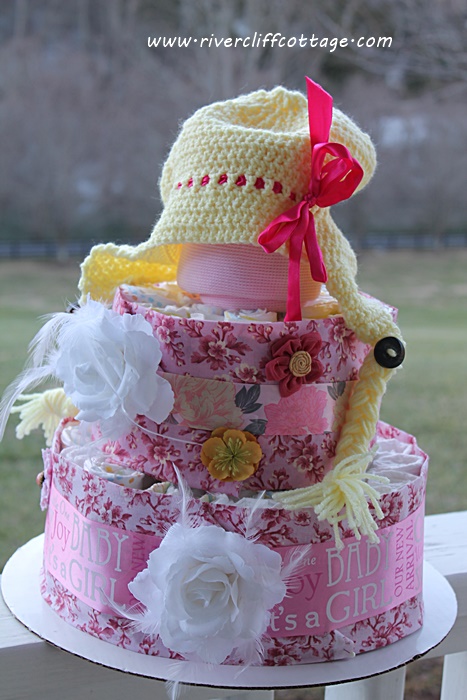 (1745)