While the evening temperatures went back to -5 degrees last night, we welcomed the sun back yesterday.    I promise this is my last drive around showing you weather pictures.  However, I slap these up and get about 150 views in a short period of time, so someone enjoys them as much as me.
My girlfriend texted early yesterday and asked "how are the roads?   Hmmm…that answer would be "negative, my dear!"   This is the road in front of my house yesterday morning. This snow hung to the roads more than the grass and it was about zero degrees when this was taken.  Brrr.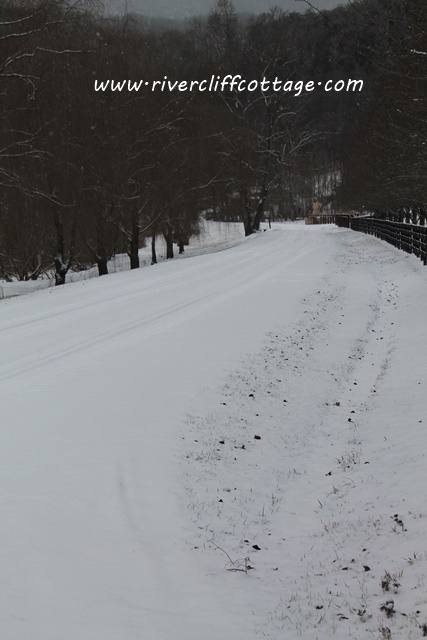 A bit later, Mike and I put the truck in four-wheel drive and drove down to the Mendota Bridge. Here's the North Fork flowing toward the bridge. The ice backs up at the bridge.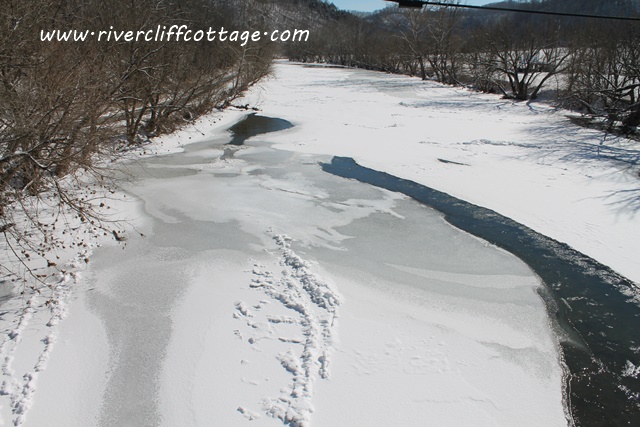 On the opposite side of the bridge, the water is flowing more freely; and if you look closely, you'll see four ducks enjoying the sunshine.  And if you are a mountain person like me, you feel the "sigh" looking at Clinch Mountain.  I never feel safe when Clinch Mountain is out of my line my sight.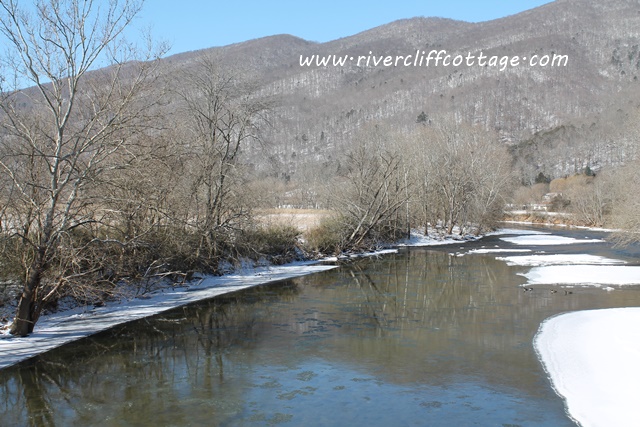 Further down in Hiltons, there was more ice backed up. On this this day, our river is the bride of Clinch Mountain….all decked out in white!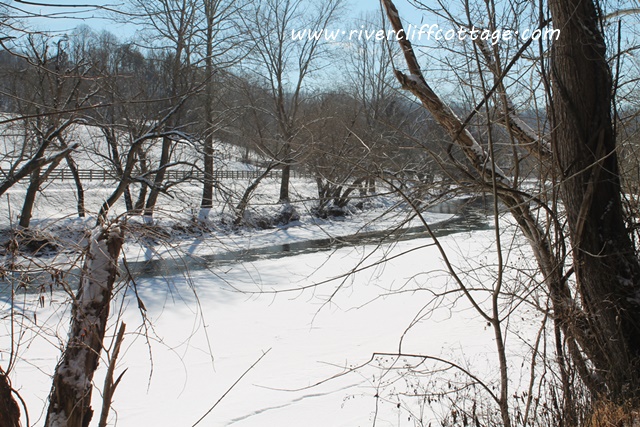 And then a snake…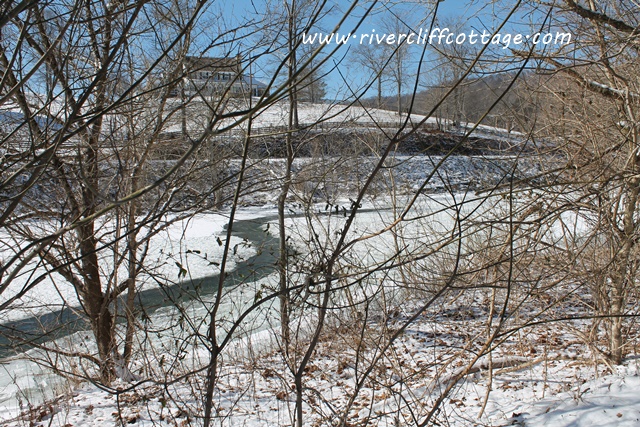 I took the picture below at the bridge below Lunford's Mill in Hiltons.  While not visible in the picture there are little animal tracks on the frozen part.  I hope they are careful.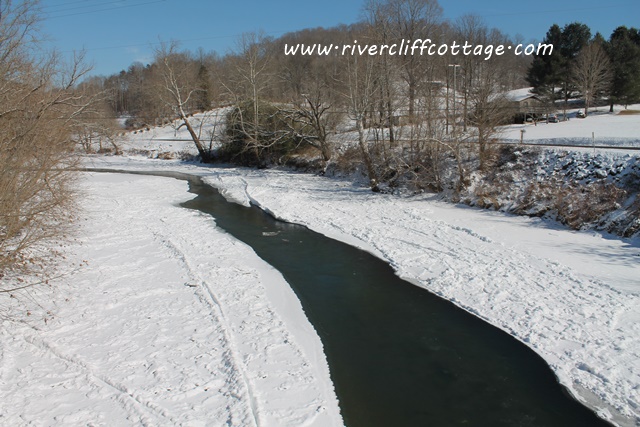 I'm sure these cows were enjoying the sunshine and I thought they were pretty crazy to be that close to the icy river. Cows…don't you know it's freezing? If you're from the city, you may be thinking "ice cream." Nope, think "chilled burgers." These are beef cattle.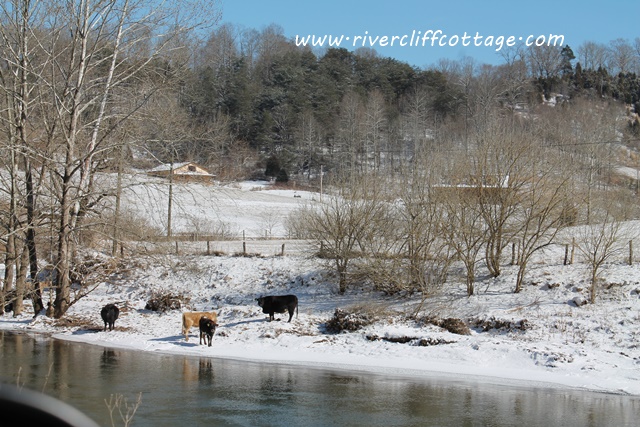 Here's a little deer thawing out. I wonder if it's a farting deer. If you don't get that, please go here. You'll crack up.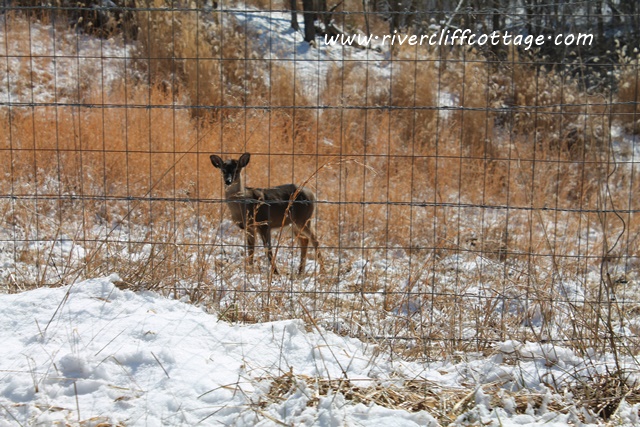 While it's not the 7th Wonder of the World, a recent "wonder" topic in Hiltons is pictured below with the Black Angus cows.  What caused it…what does it mean? Mmm…looks like a leaky pipe to me.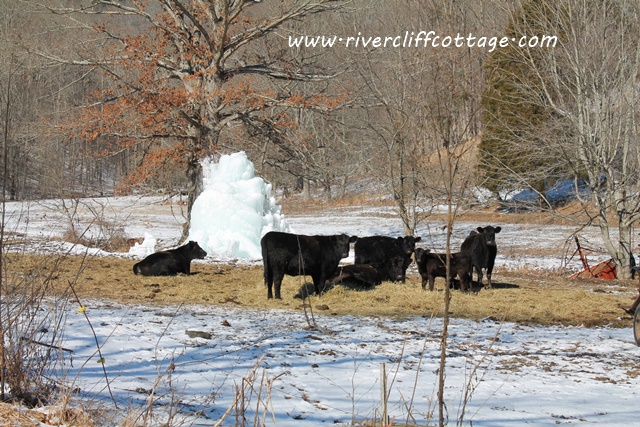 Went straight to the source with Neal Faust.   He first told me that he was not allowed to tell because he'd been asked 501 times and because I was from around here I should know what caused this.   Yep…it's a leaky pipe.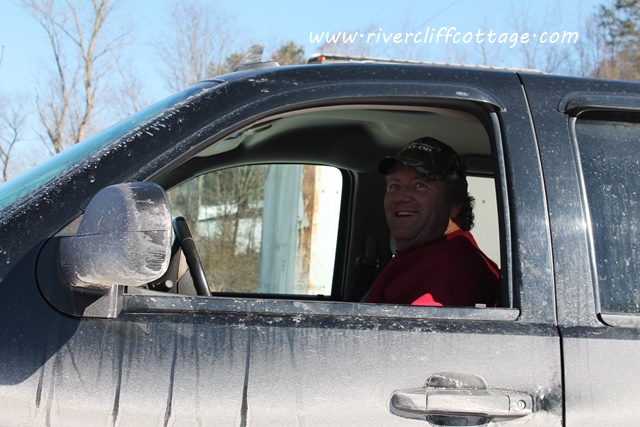 Later in the evening at the Nordyke Bridge, everything looks blue. It could have been my camera setting, but who knows?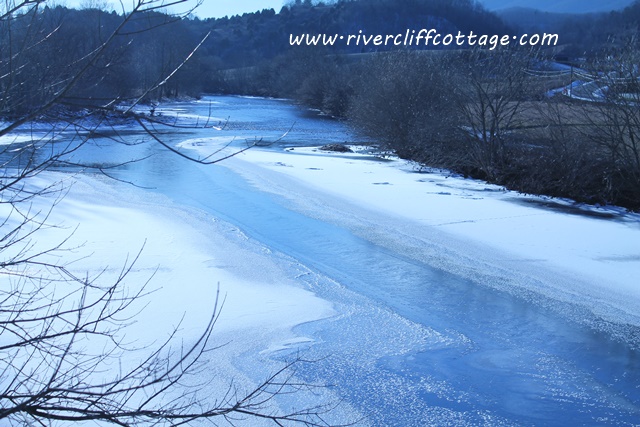 The extreme cold is "breaking up" tonight and our low will be about 10 degrees. However, I still think we'll have snow in the next two weeks. It's just a feeling.
(620)