Are you ready for the New Year?  I am!  Goodbye 2013!  Hello 2014!!  My first month of 2014 is going to be involved in Project Realization Decraptification.   There's no point in trying to organize crap.   Last year, I organized a lot of stuff, but that included crap items that I haven't touched since.  I've arrived at the realization these things need to leave.  C ya!    Also, there are a lot of Zombie projects lying about.  The walking dead.   They either need to come to life or go away.    I'm planning on doing some organizing in January, and one thing that must happen is to finish or get rid of the Zombies.     Project Realization Decrapification is going to happen!
Here's a Zombie project — it's a diaper cake. It's also a little underwhelming and not the look I was going for, but it still is useful.   It's full of diapers, a baby bottle and a cute little doggy on top.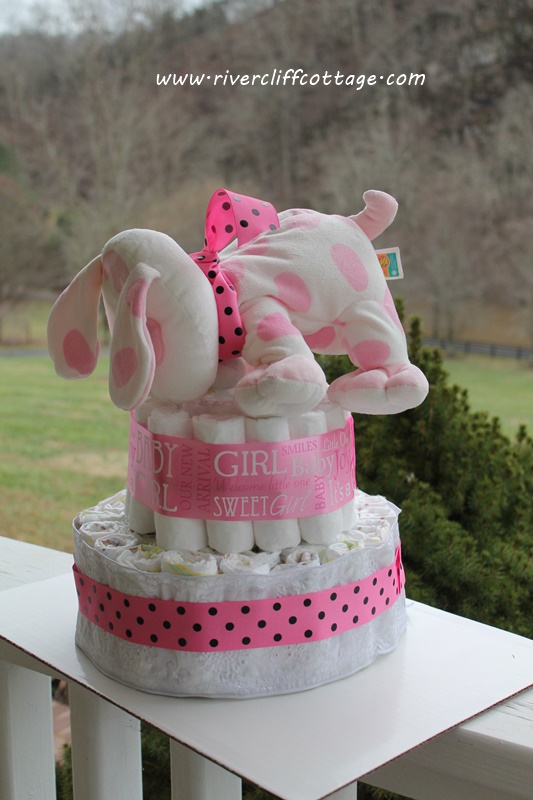 This started out being a cake for the Cake Walk for the Mendota Heritage Festival. That was September. It spent a lot of days with its body parts lying about.  I drug out a few yesterday and looked at them.  Yep.  They are there.  Rubber bands, diapers and stuff.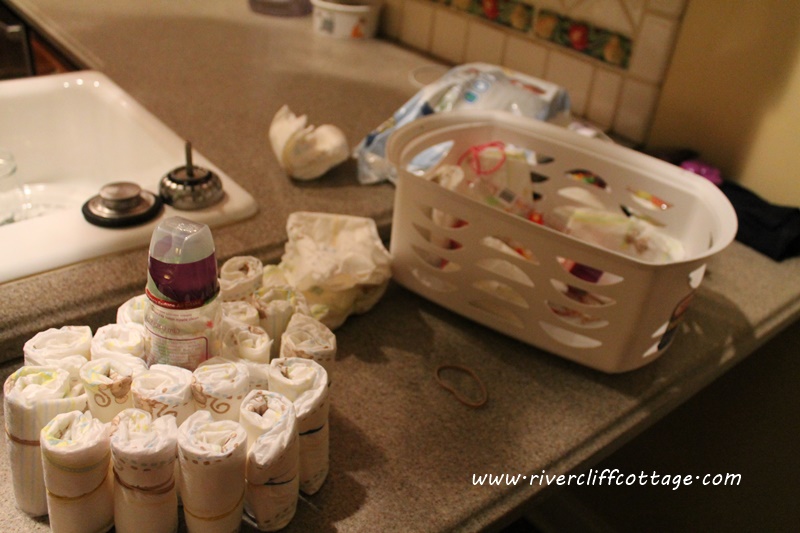 I rolled up the diapers..and anchored them with a baby bottle.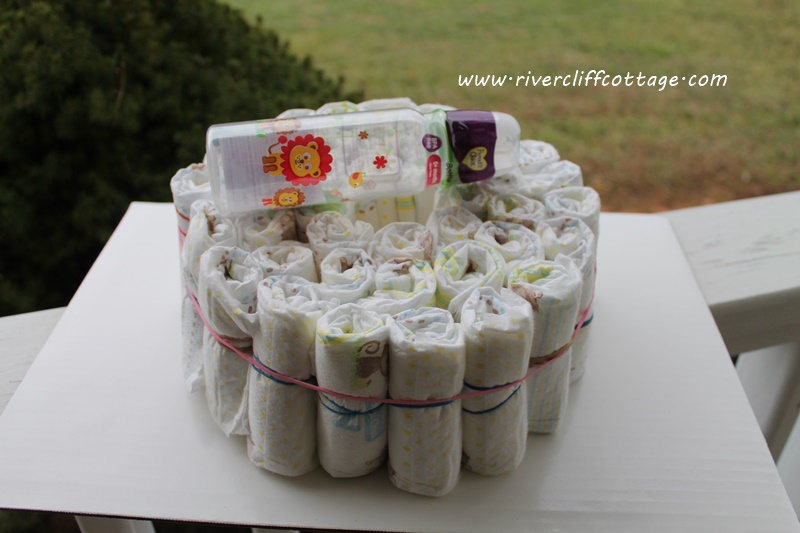 Wrapped with a pretty ribbon..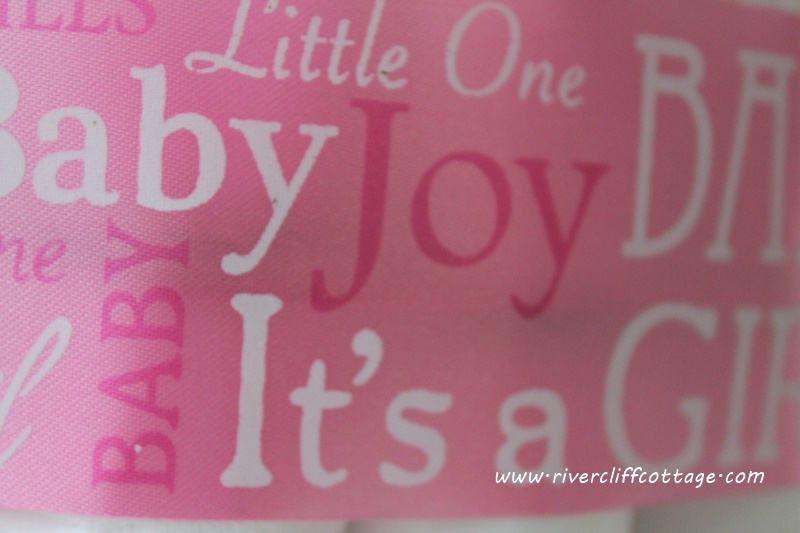 And here it is…cute in spite of all the imperfections.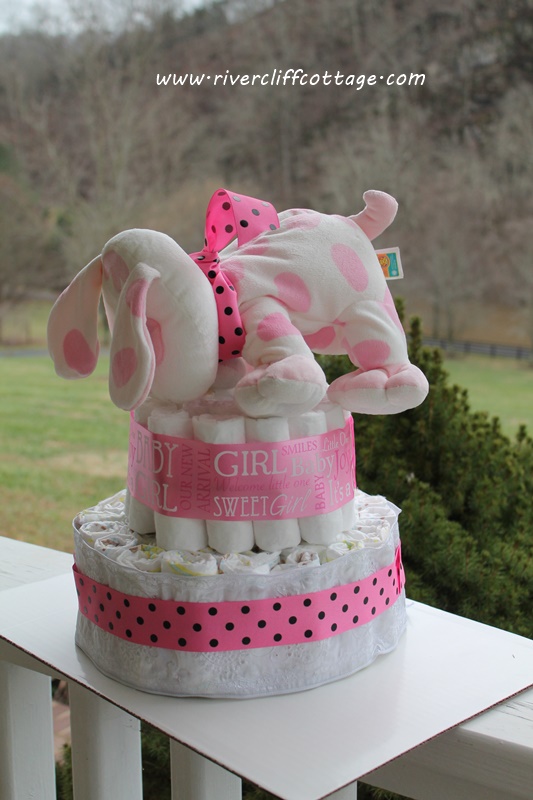 I love this little dog on top.  I hope the baby does, too.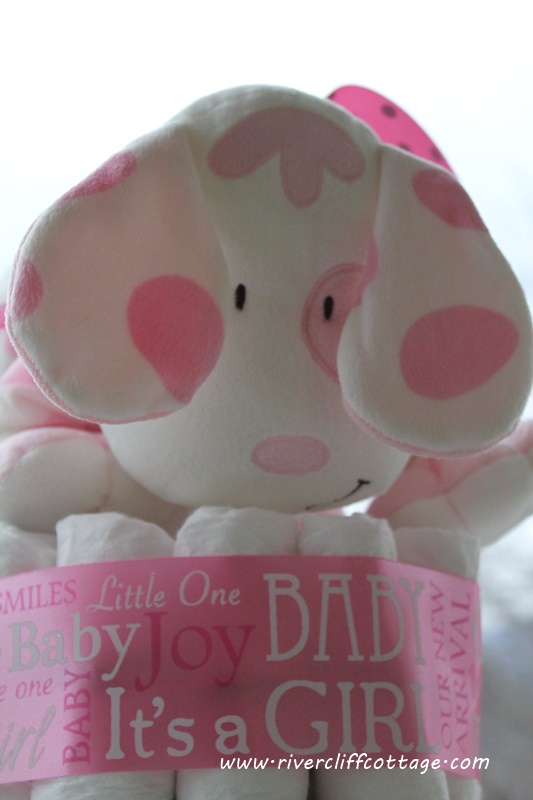 This is far from perfect, but I had to get these diapers out of the closet.  I know everything to do now to make one that looks so much better– and I will— but this one has to go!!   I'm giving it to Neth and EJ's mother who will be having a little girl next month. Neth and EJ are our young friends who help Mike keep this place mowed and trimmed in the summer, chop wood in the winter and so on.    Neth also shows up to watch college football with Mike frequently.    Neth loves Nebraska…Mike loves Ohio State (excuse me…that is The Ohio State University), and they pretty much talk trash about every other team–except South Carolina (our grandson's favorite team), Virginia Tech and the University of Tennessee.
Speaking of Neth, he is almost recovered from the leg fracture received when Gate City played Abingdon High School this past fall. He was making the greatest play…the best run..we were on our feet…cowbells were ringing…and he was tackled.   The ensuing moments moved him from the field to the Emergency Room with a fractured leg.   Coach Blevins of Emory & Henry was on the field that evening.   He had come to watch some of the boys– including Neth–play.  Neth met Coach Blevins at a fall kicking camp.   Doug Blevins served on the coaching staff of the Miami Dolphins for six seasons. He's coached NFL kickers, including future Hall of Famer Adam Vinatieri of the New England Patriots and Indianapolis Colts.   He's a wonderful person, and he has been gracious enough to take an interest in Neth who was at another kicking camp this past weekend.
Speaking of kicking camp, I could not keep Mike away.   Neth arrived at 11 am at Emory & Henry, and Mike showed up at noon.   He brought Neth's younger brother with him.  That was his excuse so that he wouldn't look like a lurker.  He took my camera for a few pictures.   My question from this picture is .."why does Neth have on shorts when it was about 35 degrees?"    In fact, it looks like everyone on the field lost their mind and wore shorts.   Surely you can kick in sweat pants?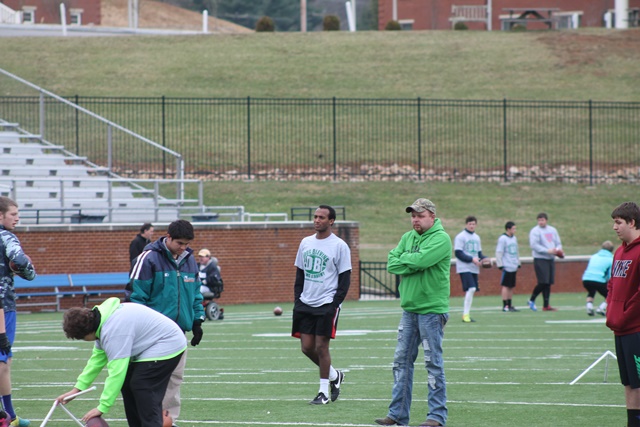 Here's another….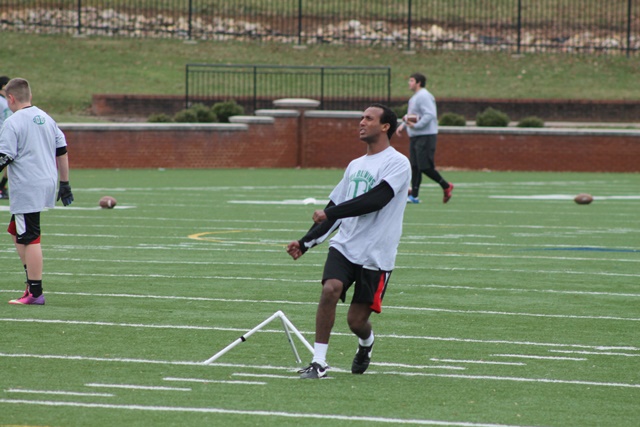 Watch out VHSL football…our boy will be back next fall…faster and better than ever!!
(791)