All of the very successful bloggers have a "wrap up" at the onset of a new month. They list their accomplishments and posts in the prior month. I thought I'd follow along suit. For me, it's more of an unraveling. Several of this month's posts have involved our "Little Bathroom Project". It was conceptually just a simple "redo".
I droned on and on in numerous posts about the Little Bathroom Project, and allow me to tell you, I don't think we'll ever get that bathroom finished.
The successful part of this bathroom redo is in the pot. Seriously. The Saran Wrap about the commode did keep it from getting paint on it. Score 1 for Eva.
It's moved so slow that the cat mistook the drop cloth for a litter box and peed on it. It really smelled bad, and I think this is who gets that score. Score 1 for Sam.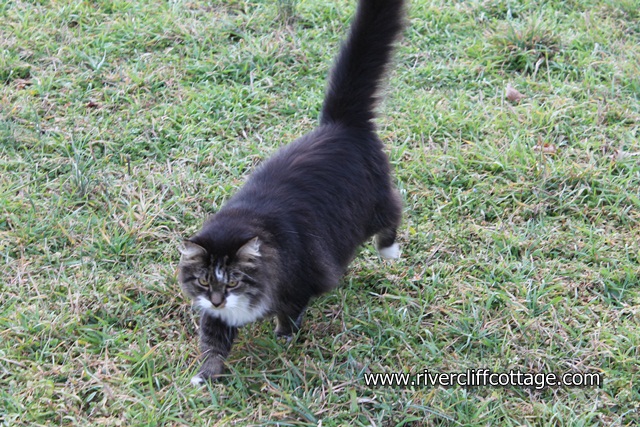 Now, here's where it all gets tricky, and honestly, goes downhill for poor Mike.
I'm not much of a painter, but Mike informed me that he was and would have no problem trimming the wall's blue paint out to meet the ceiling's white paint. I asked him…"are you sure you can climb around on that ladder to paint with your not-so-awesome new knee?" "Are you kidding?" was his reply. No, honey, I'm not. You're sort of gimpy. He can paint, but he can't climb.
The blue paint that got on the white ceiling doesn't look too bad, and we're now just going to paint it blue, too. Score -1 for Mike.
Mike was going to remove the mirror but we decided this would be too hard, so with the shop that he has, he was going to put trim up around the mirror for the look I wanted. He almost scored 1 here, but the Liquid Nails he used did not adhere to the mirror and the trim all fell down. It chipped and broke, so he now has to remake it. Score another -1 for Mike.
And then..he insisted he could change out the light fixture. This required turning off the breaker to make sure he did not electrocute himself with very specific instructions for me not to flip it back to the "on" position as he was going to tackle that light change at any moment. It's been one.full.week with no lights on in the kitchen as the ceiling lights and the bathroom lights are apparently on the same circuit. Everything else works in the kitchen–just not the lights. I've got an extension cord and lamp dimly illuminating the counter. Just for timing alone…let's score Mike with another -1.
The crap all over the dining room table is now on the countertop and kitchen table. It's multiplied. There are tools everywhere. Is he building a house or doing a few things in a bathroom that has only a commode and a sink? Thankfully, because of the no-light situation, it's too dark to see all the crap on the counters and table so no worries for me. I'm going to quit wearing my contact lense in this house. What's the use? I can't see anything in the dark.
Today, he started looking at this realistically. He needed some help, so he called an electrician. The only problem that occurred in this, however, is that he dialed the wrong number and left a message on our neighbor's phone about an electrical job. She called and said she wanted to be a good neighbor, had been glad to help on the "I'll Fly Away" quilt, but she just didn't have the knowledge to help him swap out a light, a fan and rewire our gate. I'd score another -1 for Mike for that one.
So…I came up to him today telling him all of this and we both cracked up laughing. I think I said (sort of cheered as in cheerleading) "L" (as in Loser). He looked a little puzzled. I added a big "O". He caught on (or so I thought)and said "V". I said "what are you spelling?" He said "aren't' you spelling "Lover"? I'm giving him another -1 Score on this one.
Not until that bathroom is all complete.
He is being such a good sport about this. Score a 10 for that! 🙂
(1049)