Look what is hanging up as part of my Little Bathroom Project…isn't that plate sweet? Did you see something wrong? I do. The vinyl wire does not align with the horizontal stripes on the plate. I'll fix that before I finish the bathroom. If I ever finish the bathroom. Man..is it ever going slow.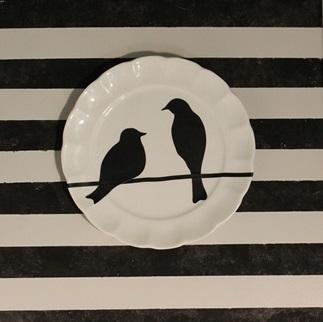 I got this idea…this birds on a wire idea… from the blogger Karianne at Thistlewood Farms (www.thistlewoodfarms.com) She has a zillion projects, and I could not find the specific link to this project. However, if you have some time, you might want to visit her and look through the many, many projects she does. Every.Day. The girl is a project machine.

At any rate, Karianne said this was really easy, and she was right. It takes only two things — plates and the vinyl which you apply to the plates.
1) Take a plain plate. I used white. You can get these at the Dollar Tree.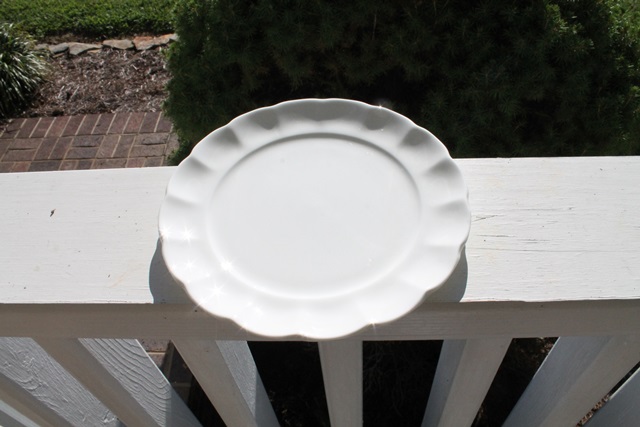 2) The next step is applying the vinyl. I got this vinyl kit at Hobby Lobby for $10. It was $18.99 but marked down 50 percent. Everything is marked up..and then marked down…at Hobby Lobby. I also saw some kits at Walmart for under $6 but they were not birds. It's a no brainer to apply the vinyl. Peel and stick. The downside is that I have all these birds left behind. Oh well.
3) I decided not to add wire to this plate. I have four plates and this is the only one with the bird soaring. Ta da!!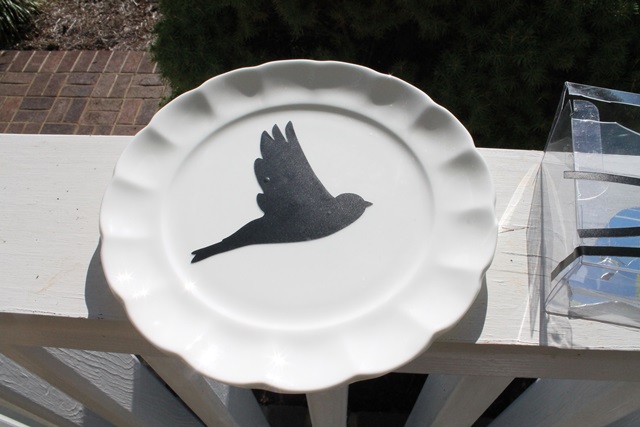 Mike is currently working on the bathroom. It's like watching paint dry.
(389)